Best Quotes in Urdu
Here below I will share you the best quotes in Urdu. Urdu quotes or Urdu saying are very popular among all people in the world who can read and speak the Urdu language.
If you are searching for the best quotes in Urdu language, best quotes on love, life and other topics than you are on a right place.
The authors you love and like Maolana Rumi, Qasim Ali Shah, Ashfaq Ahmed, Sheikh Saadi, Nelson Mandela and many more local and English authors. These Urdu quotes will bring a change in your life. you will think big and grow rich.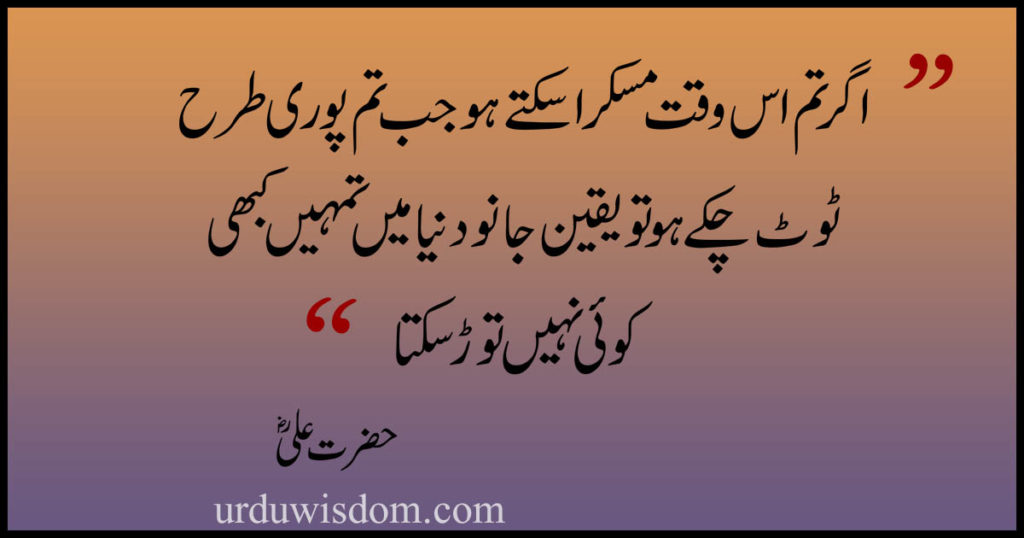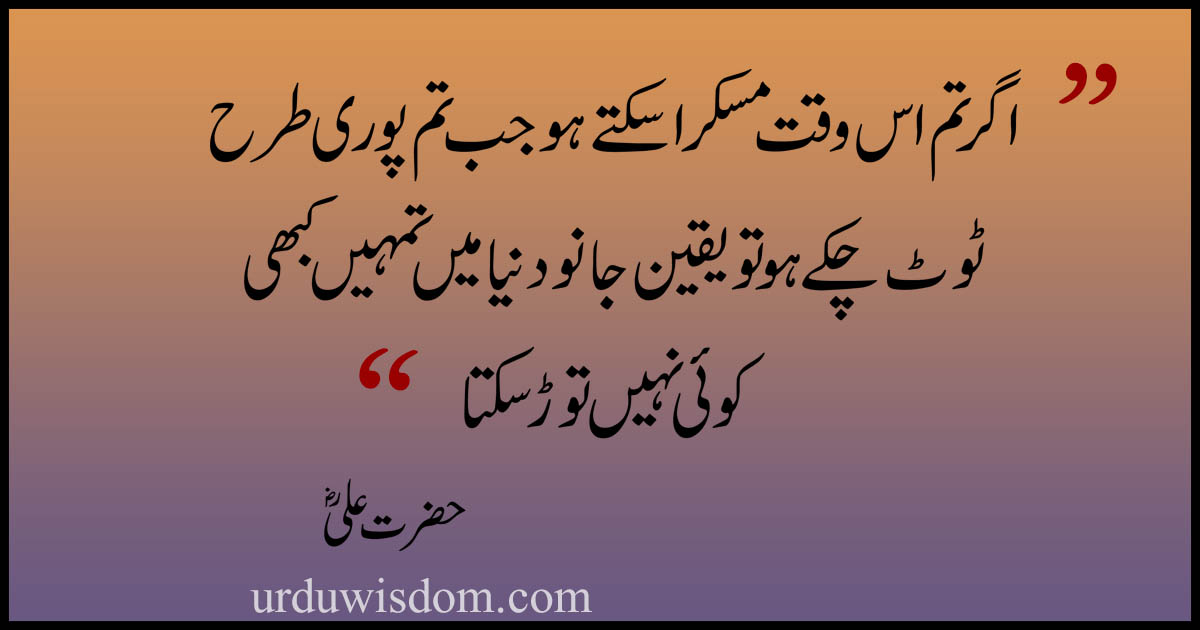 Agar tum us waqt muskara saktay ho jab tum pori tarha toot chukay ho, to Yakeen jano dunya mein tumain koi nahe tore sakta.
اگر تم اس وقت مسکرا سکتے ہو جب تم پوری طرح  ٹوٹ چکے ہو, تو یقین جانو دنیا میں تمیں کوئی نہی توڑ سکتا.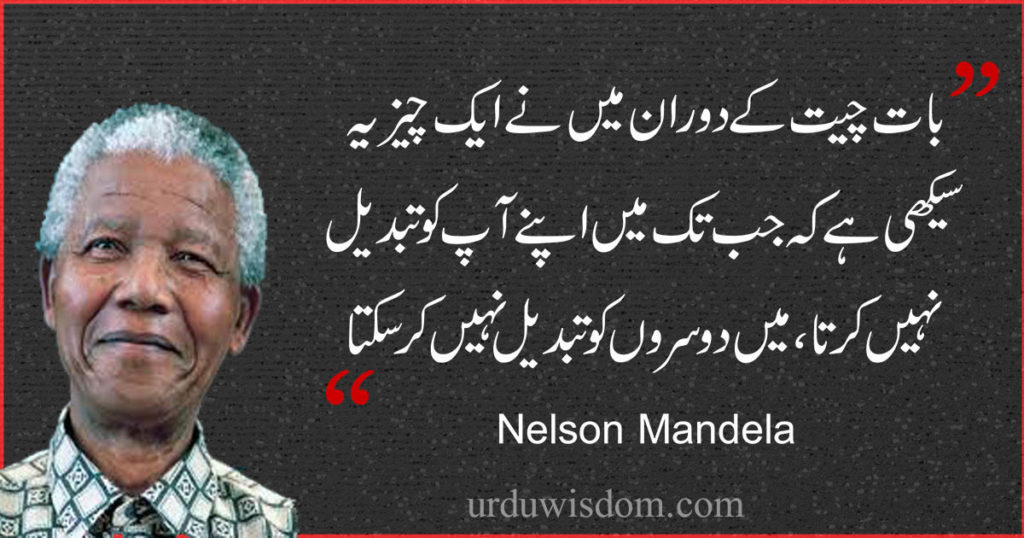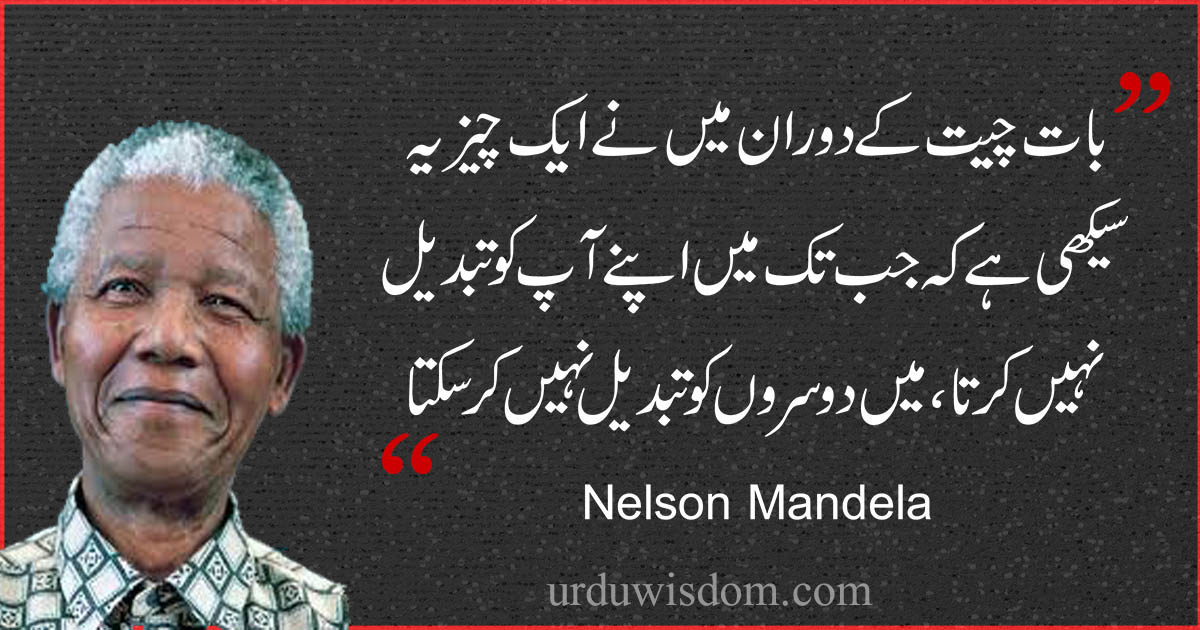 Baat cheet kay doraan mein nay eak cheze yeh seekhi hay keh jab tak mein apnay ap ko Tabdeel nahe kar sakta, Mein dosron ko bhe tabdeel nahe kar sakta.
بات چیت کے دوران میں نے ایک چیز یہ سیکھی ہے کہ جب تک میں اپنے اپ کو تبدیل نہی کر سکتا, میں دوسروں کو بھی تبدیل نہی کر سکتا
One thing I've learned during the conversation is that unless I can change myself, I can't change others.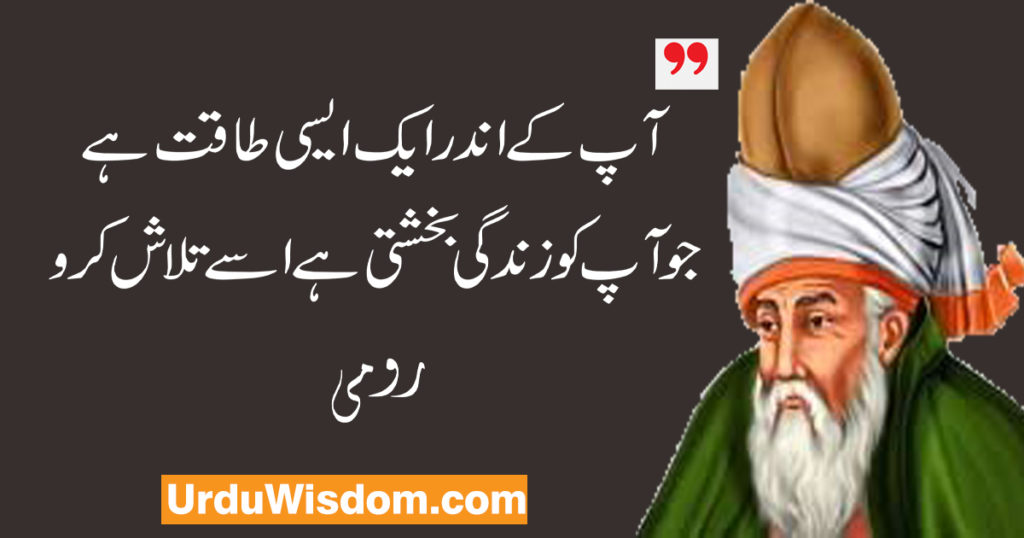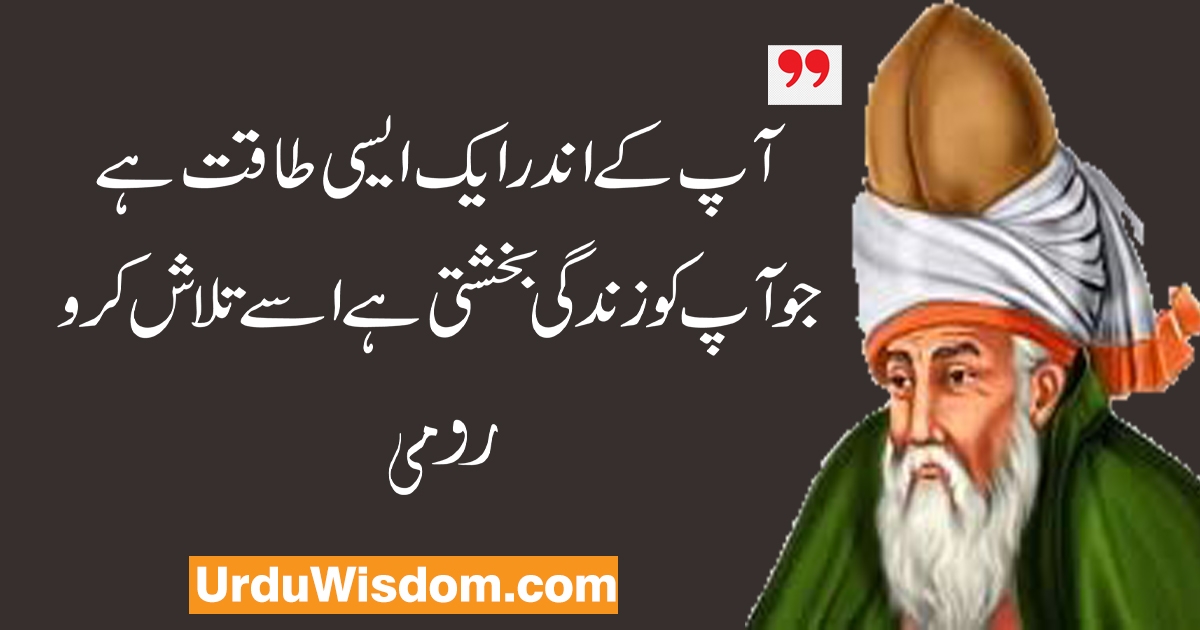 Aap kay andar eak aise taqat hay, Jo aap ko zindagi Bakhashti hay, Usay Talaash karo.
آپ کے اندر ا یک ایسے طاقت ہے, جو آپ کو زندگی بخشتی ہے, اسے تلاش کرو.
There is a power within you that gives you life, find it.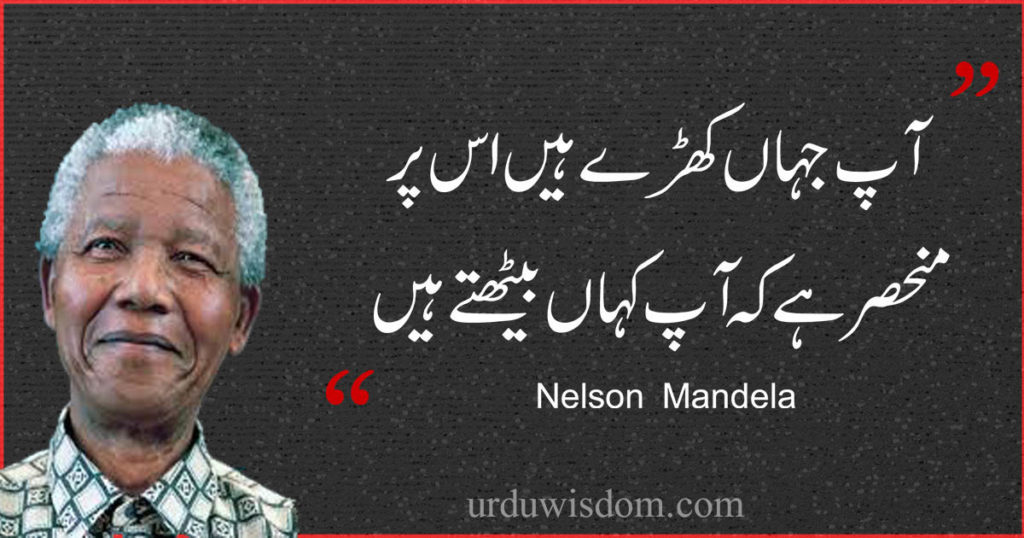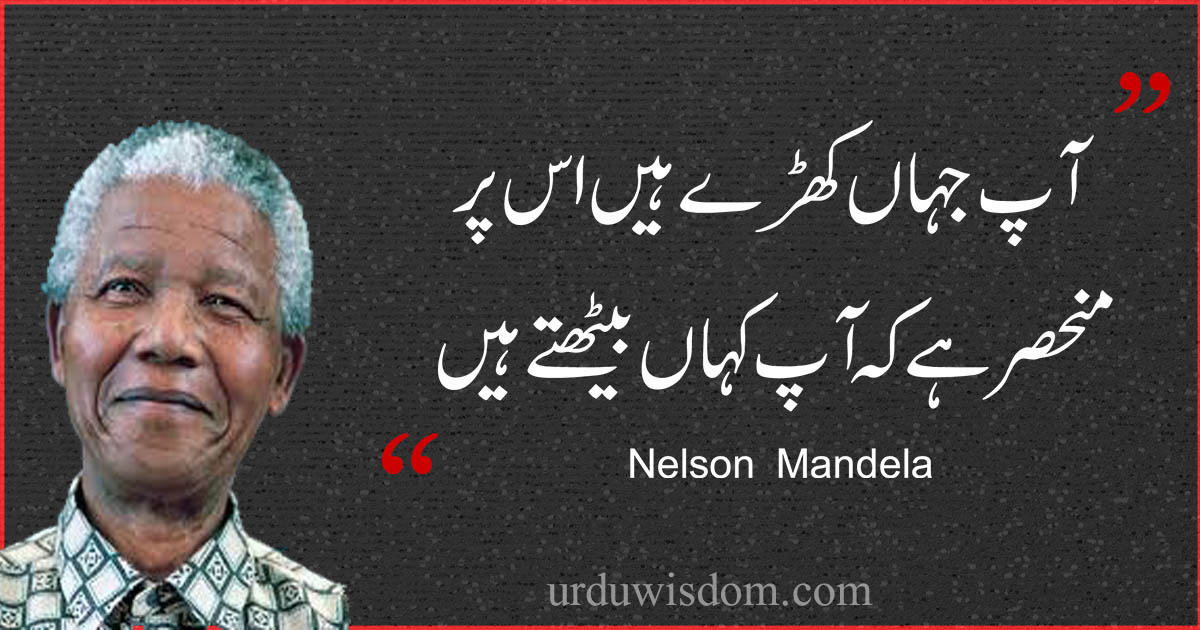 Aap Jahan kharay hain is Par Munhasir Hay keh Aap Kahan Baithtay hain.
آپ جہاں کھڑے ہیں اس پر منحصر ہے کہ آپ کہاں بیٹھتے ہیں.
Where you stand depends on where you sit.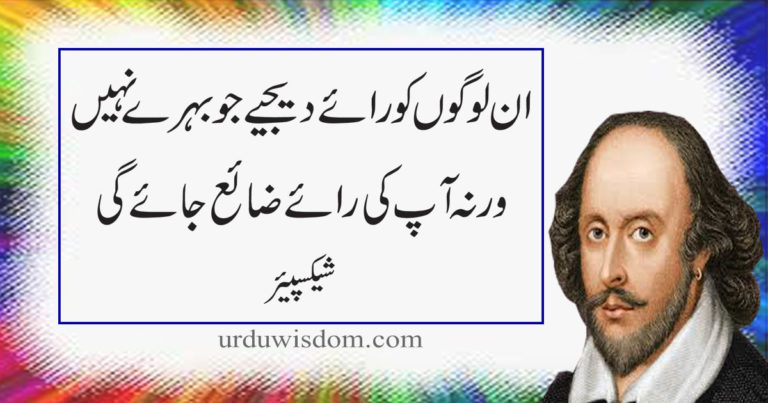 Un logo ko rauy Dijya Jo Behray nahe warna aap ke raye Zaya jay gei.
ان لوگوں کو رائے دیجیئے جو بہرے نہیں ورنہ آپ کی رائے ضائع ہو جائے گی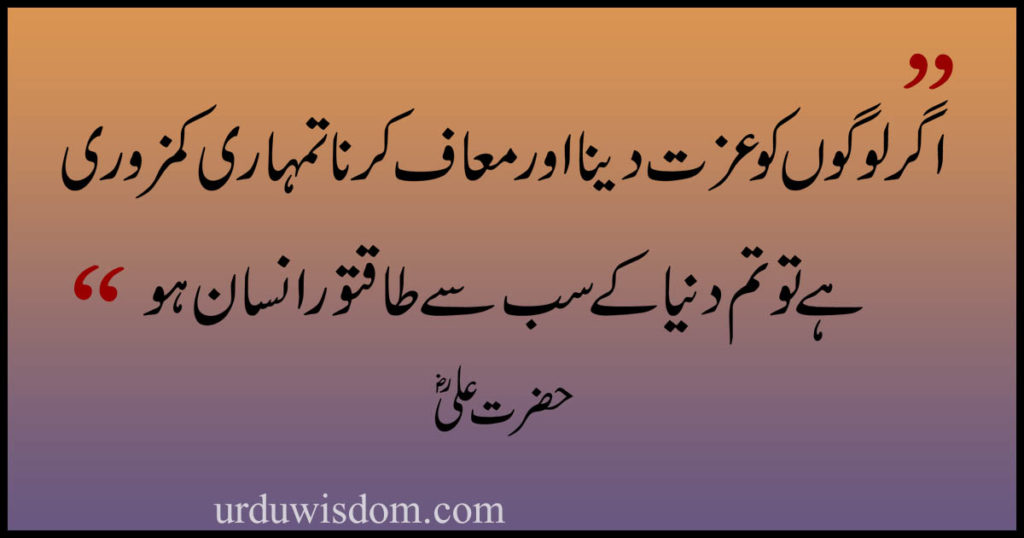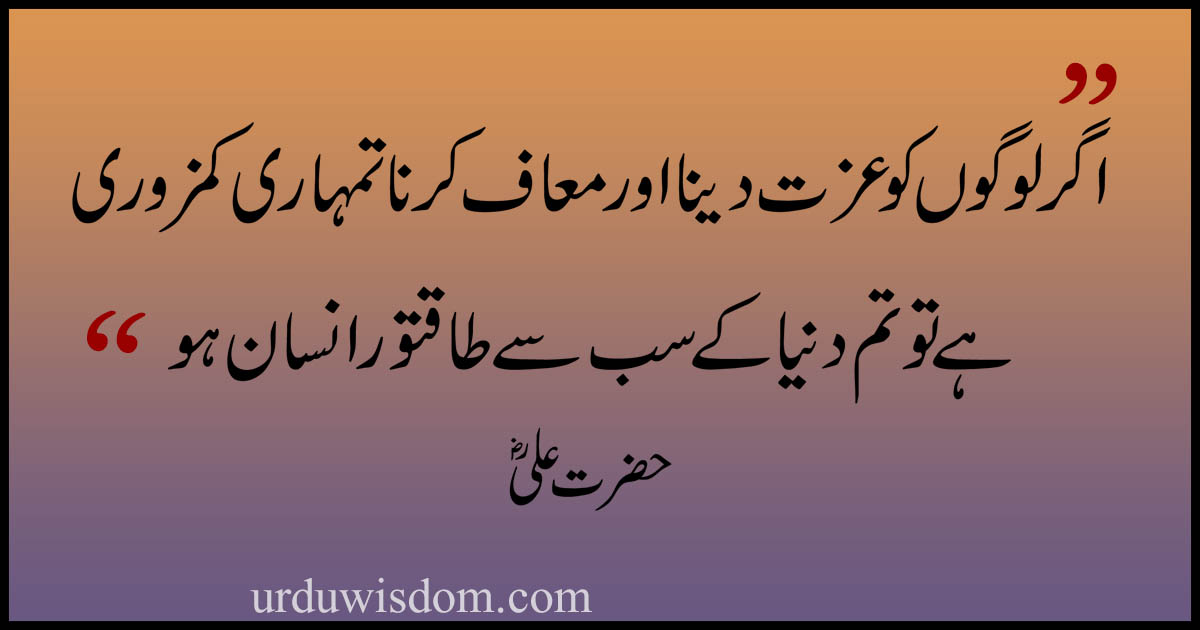 Agar logo ko izzat daina aur Moaaf karna Tumhari kamzori hay to tum dunya kay sab say Taqatwar insaan ho.
اگر لوگوں کو عزت دینا اور معاف کرنا تمہاری کمزوری ہے تو تم دنیا کے سب سے طاقتور انسان ہو.
If respecting and forgiving people is your weakness then you are the most powerful person in the world.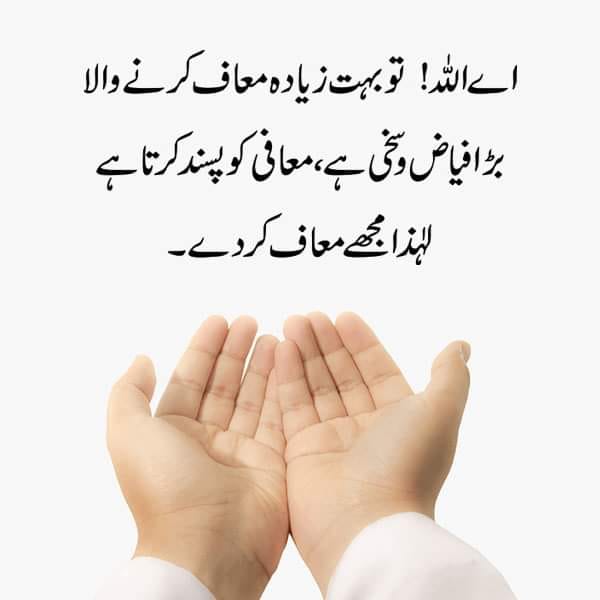 Aye Allah to bahut Zyada maaf karne wala, bada fayaz o sakhi hai. moafi ko Pasand karta hai lehaza mujhe maaf kar de.
اے اللہ تو بہت زیادہ معاف کرنے والا ، بڑا فیاض و سخی ہے معافی کو پسند کرتا ہے لہذا مجھے معاف کردے۔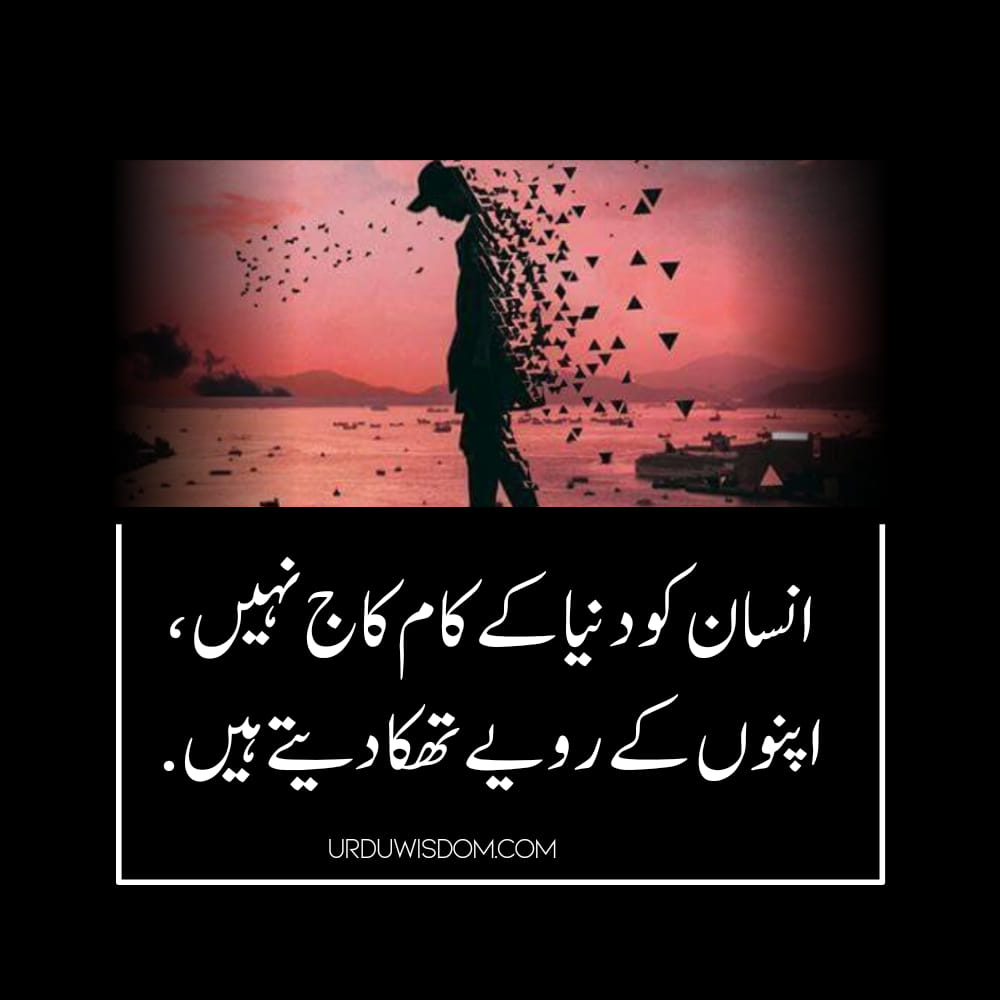 انسان کو دنیا کے کام کاج نہیں اپنوں کے رویے تھکا دیتے ہیں
Shak karna bhi eak roog jaisa hayjisay lagg jay wo kissi pa Ehtabaar dnahe karta.
شک کرنا بھی ایک روگ جیسا ہے جسے لگ جائے وہ کسی پے اعتبار کے قابل نہیں رہتا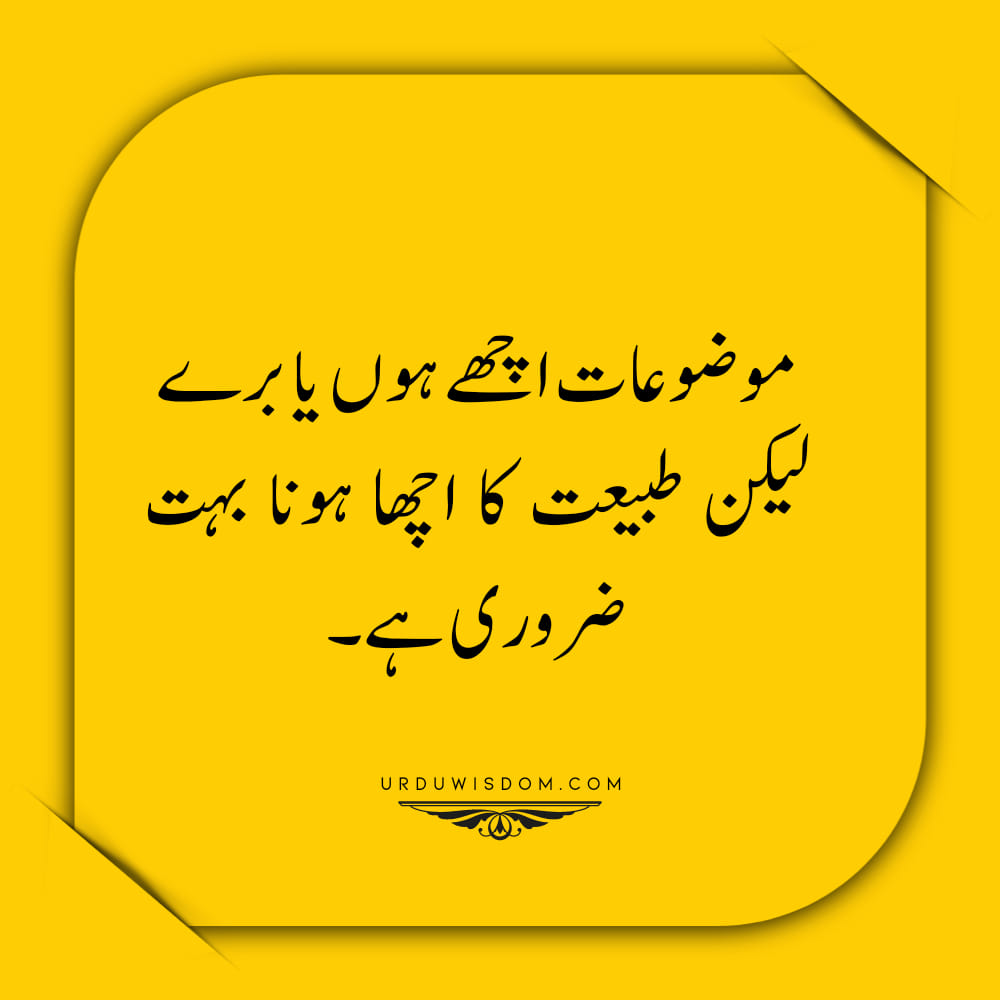 Mozoaat achay hin ya Burray lekan Tabyat ka acha hona Bahot zaroori hay
موضوعات اچھے ہوں یا برے لیکن طبیعت کا اچھا ہونا بہت ضروری ہے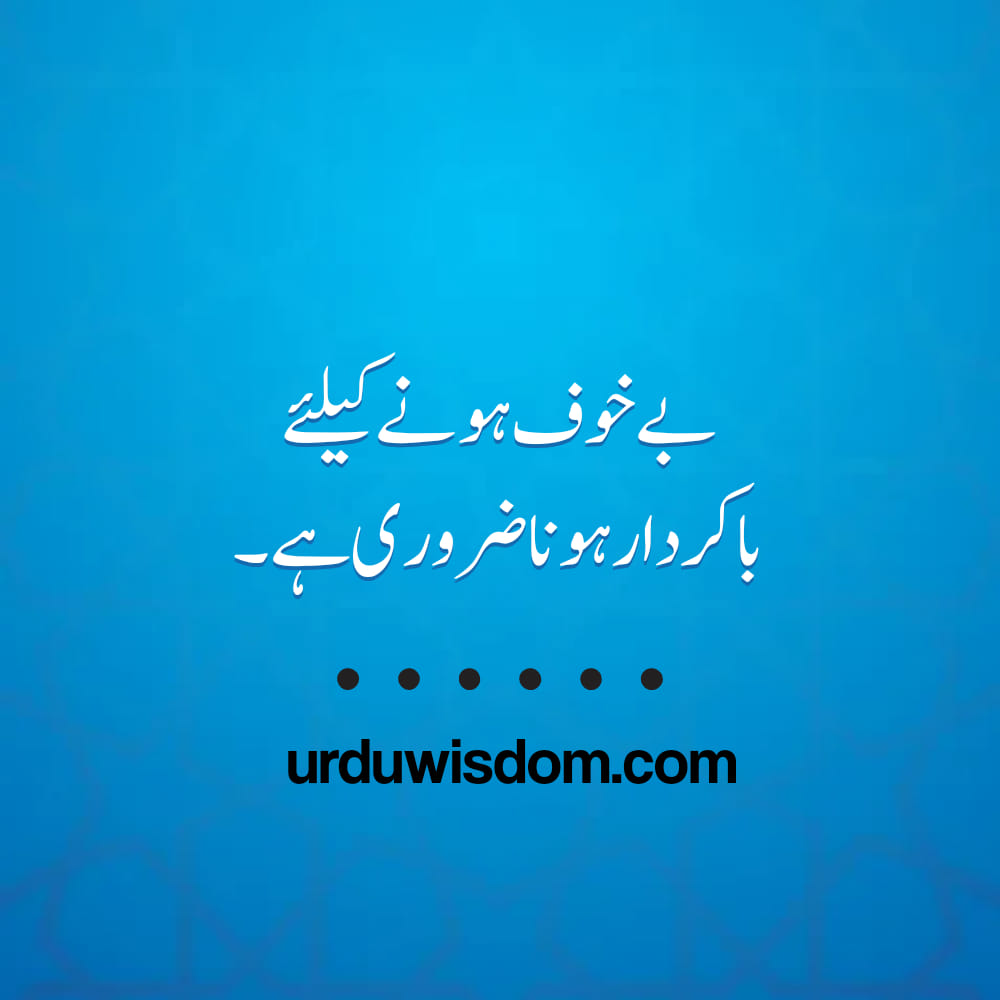 Ba, Khaoof honay kay lya Ba Kirdaar hona zarori hay
بے خوف ہونے کے لیے با کردار ہونا ضروری ہے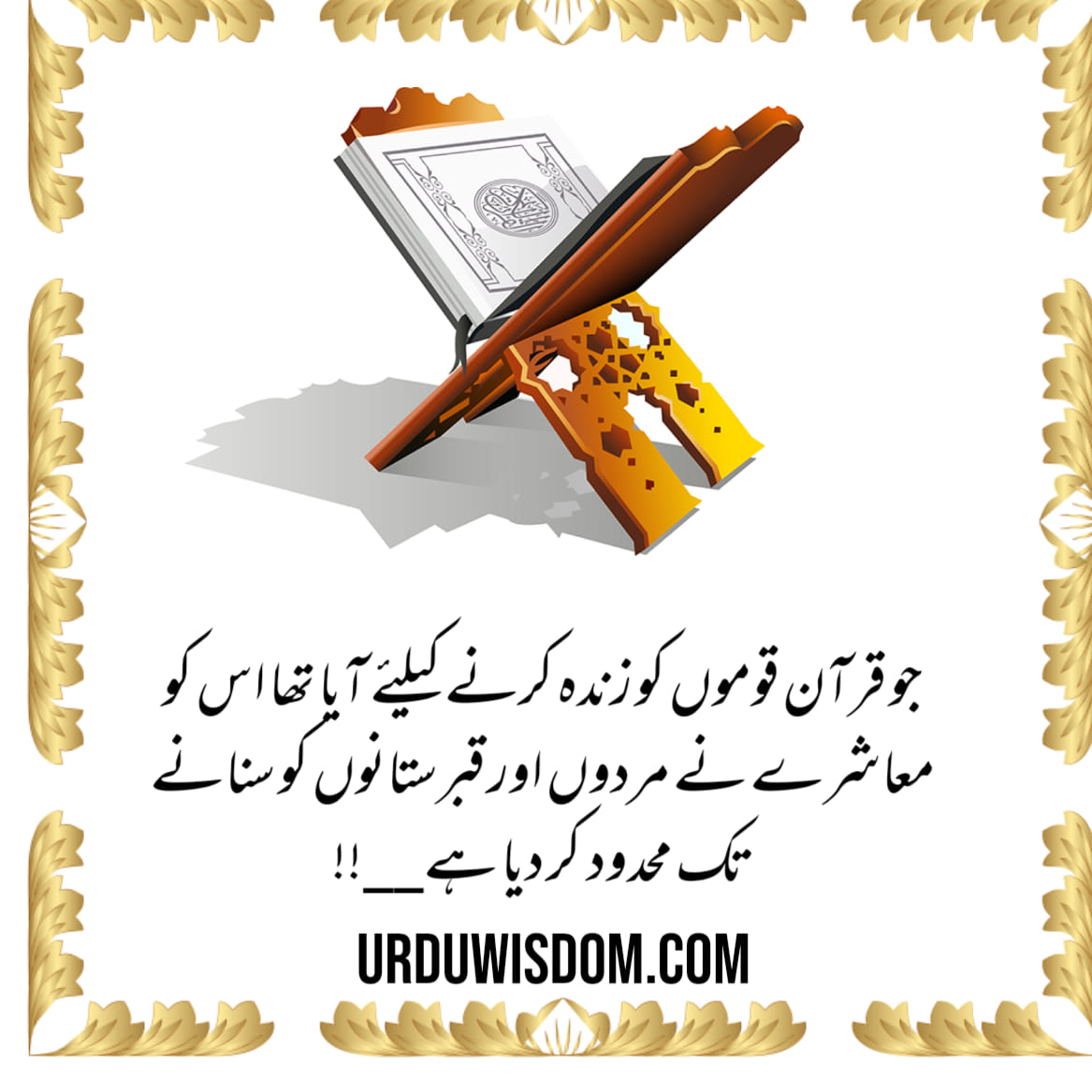 Jo Quran Qaomo ko zinda karnay kay lya aya tha is ko moashray nay Murdon aur Qabron ko sonanay takk mehdood kar dya hay.
جو قرآن قوموں کو زندہ کرنے کے لیے آیا تھا اس کو معاشرے نے مردوں اور قبرستانوں کو سنانے تک محدود کردیا ہے
Jo aurat attar lagye aur phir logo kay samnay say guzray ta keh wo is ki khushboo songay to wo zania hay.
جو عورت عطر لگائے اور پھر لوگوں کے سامنے سے گزرے تاکہ وہ اس کی خوشبو سونگھیں تو وہ زانیاں ہے
Mohtajon say menga maal khareedna Ehsaan me hay aur sadkay say behtar hay, Allah hamain mohtajon ki madad karany ki tafiq day.
محتاجوں سے مہنگا مال خریدنا احسان میں ہے اور صدقے سے بہتر ہے اللہ ہمیں محتاجوں کی مدد کی توفیق دے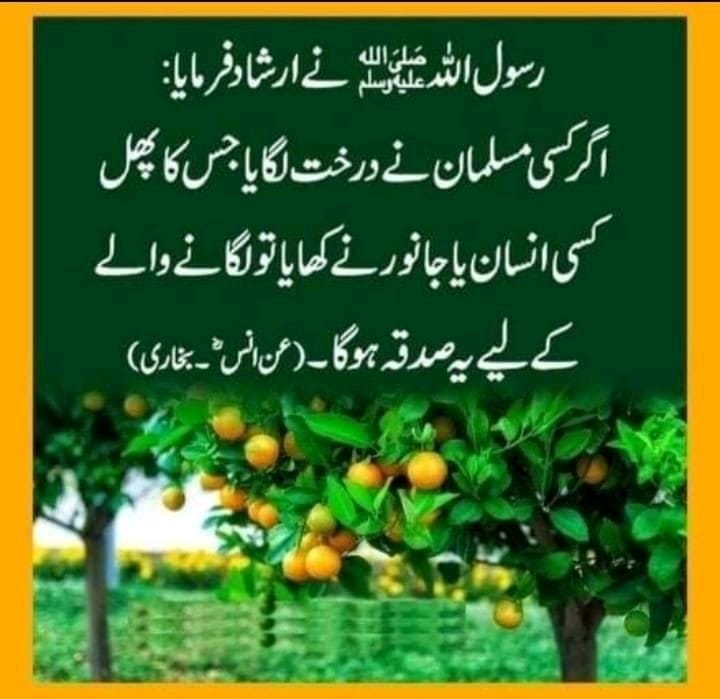 اگر کسی مسلمان نے درخت لگایا جس کا پھل کسی انسان یا جانور نے کھایا تو لگانے والے کے لیے یہ صدقہ ہوگا۔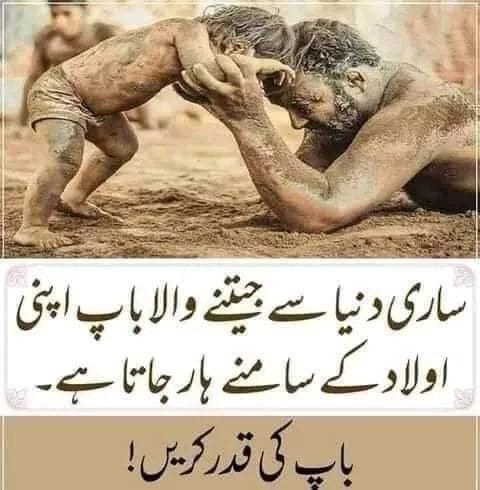 ساری دنیا سے جیتنے والا باپ اپنی اولاد کے سامنے ہار جاتا ہے باپ کی قدر کریں
These are the best quotes in urdu which we collect from different sources. We hope you enjoyed and inspired from this collection. urduwisdom.com trying to provide best collection of urdu quotes and poetry.