Explore Sad Poetry in Urdu With Images For SMS and Status on Facebook, Whatsapp and Instagram. Urdu Poetry is about life and love.
Sad Poetry In Urdu 2 Line. Here the all sad poetry which we are going to be shared with you is 2 lines. Shayari which contains two lines is very famous because it is very easy to recite, sing and remember.
You can use Sad Poetry in Urdu text for Urdu SMS. If you want your sad feelings in form of Urdu poetry then it is very useful for you. You can easily share it with your friends, family and relatives as an SMS. We are sharing very sad poetry in Urdu images. All poetry has a nice image that reflects the message which you are going to express.
You can find and explore the new sad poetry about love and life here. Poetry is the inner feeling and grief of many poets which come from the looseness in love and its direct impact on their life.
Sad Poetry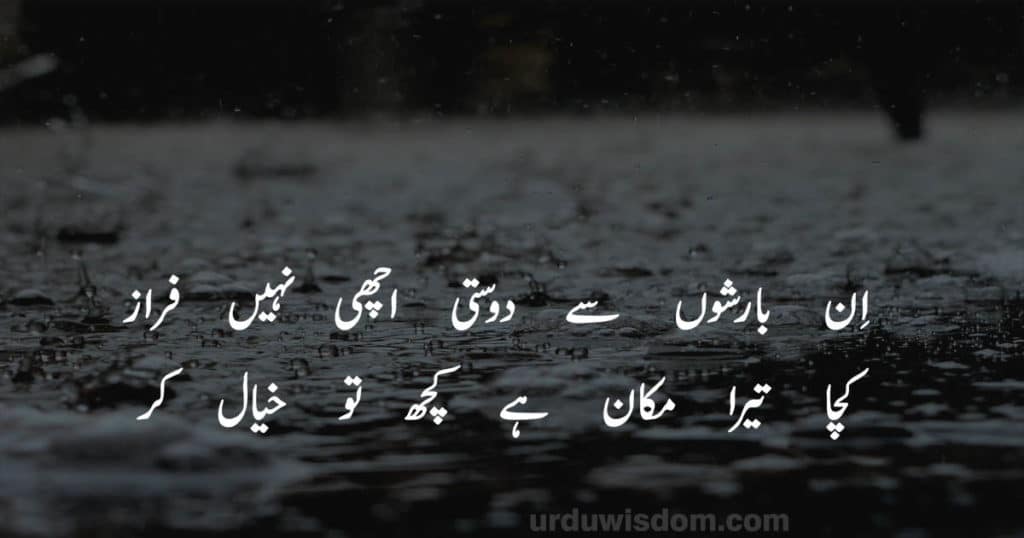 In  Barshon   Say    Dosti   Achi  Nahe     Faraz
Kacha Taira  Makaan  Hay  Kuch To Khayal Kar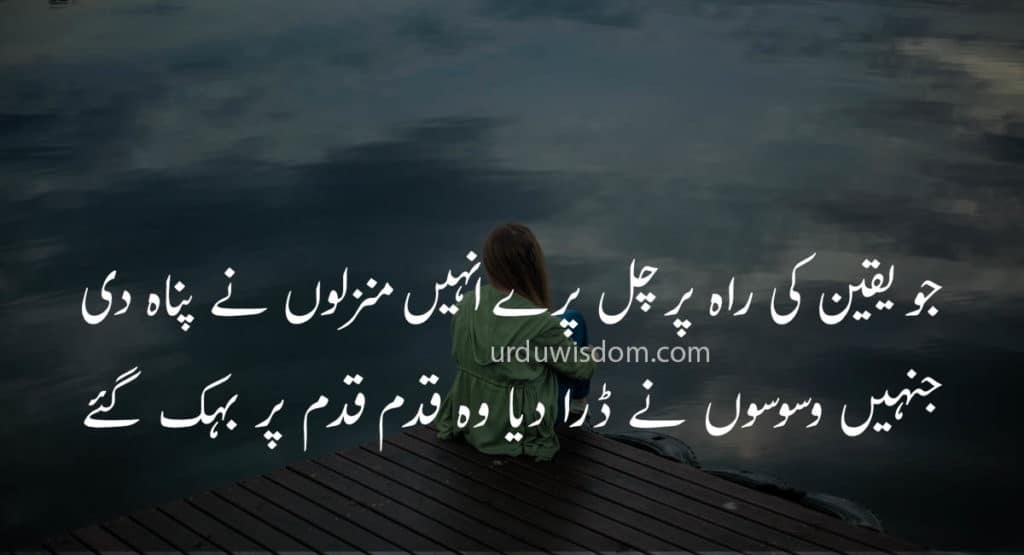 Jo Yaqeen Ke Rah pay Chal Paray Enhain  Manzalon Nay Panah  De
Jinhain Waswason Nay Dara Dya wo Qadam Qadam par Bahehk Gay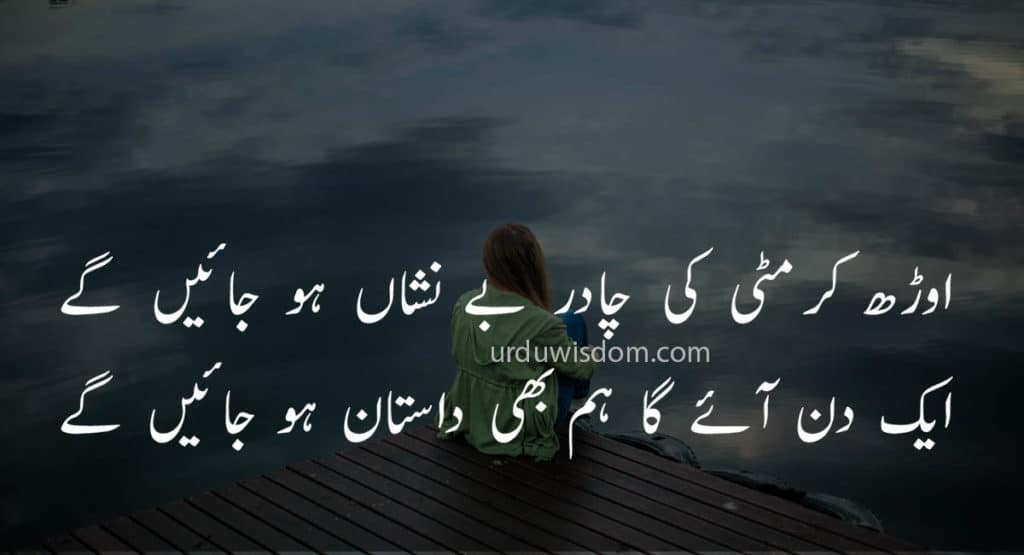 Orh kar Matti Ke Chadar Ba Neshaan Ho Jain Gay
Eak Din Aye Ga Hum Bhe Daastaan Ho Jain  Gay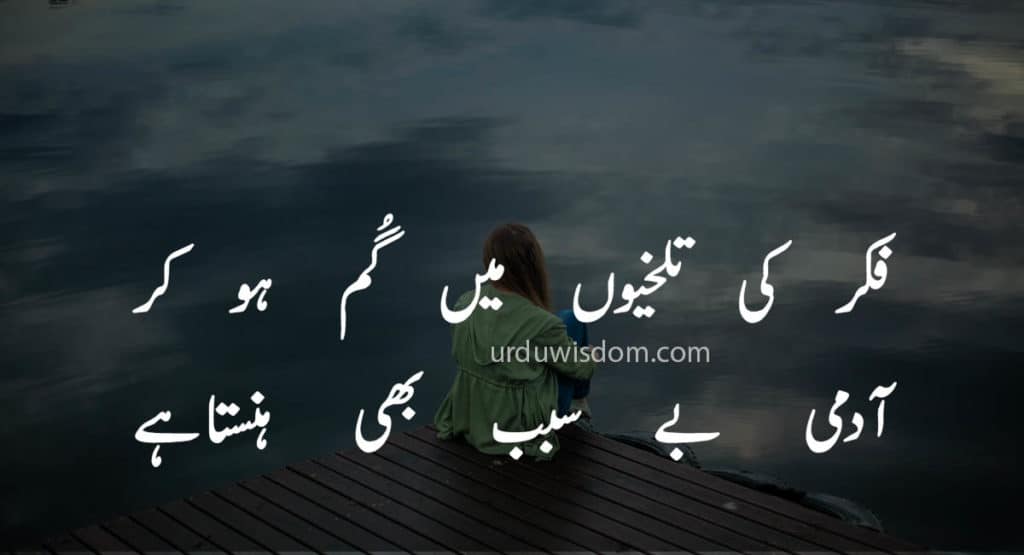 Fiqar Ke Talkhyon Me Gum Ho Kar
Admi  Ba  Sabab Bhe Hansta    hay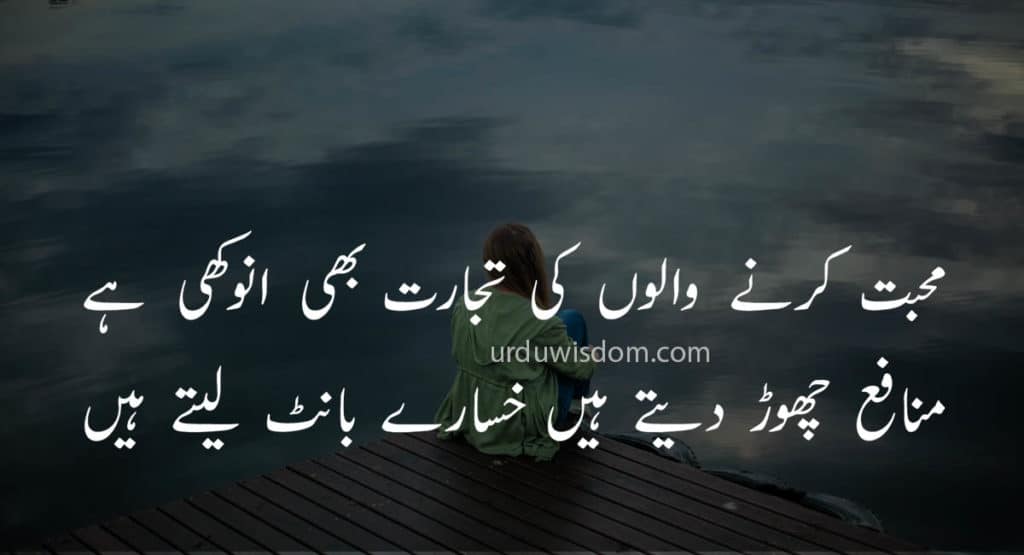 Mohabbat karnay walon Ke Tajarat Bhe Anokhe Hay
Monafa Chor Datay Hain Khasara Bant Latay   Hain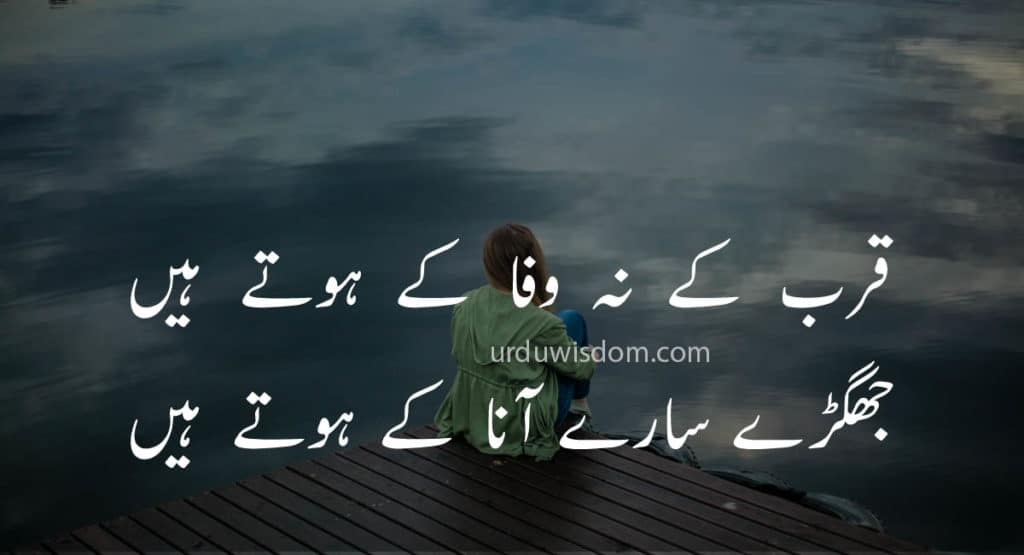 Qurb kay Nah wafa kay   Hotay  Hain
Jhagray Saray Aanaa Kay Hotay Hain
Sad Poetry In Urdu 2 Line: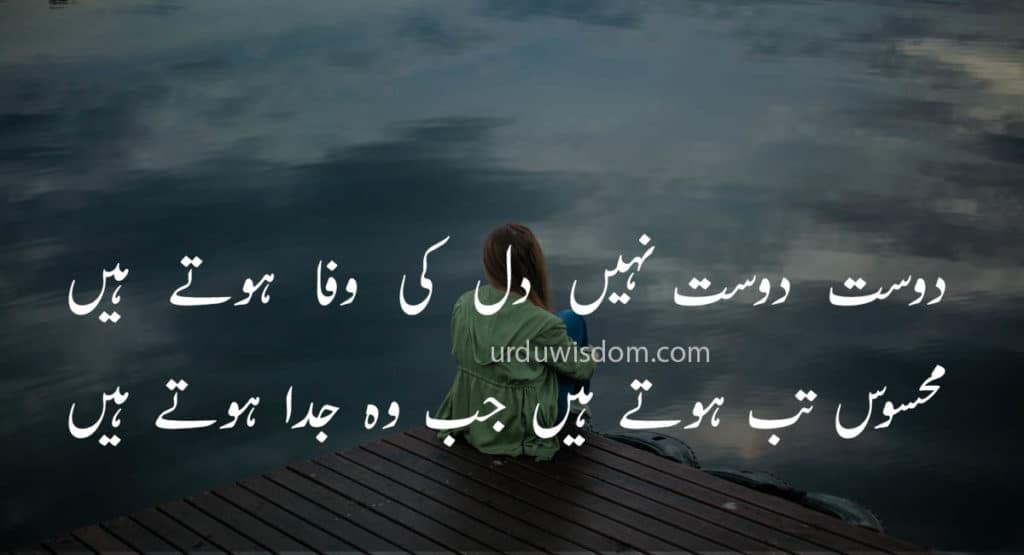 Dost   … Dost   Nahe  Dil  Ke Wafa  Hotay   Hain
Mehsos Tab hotay hain Jab Woh Juda Hotay Hain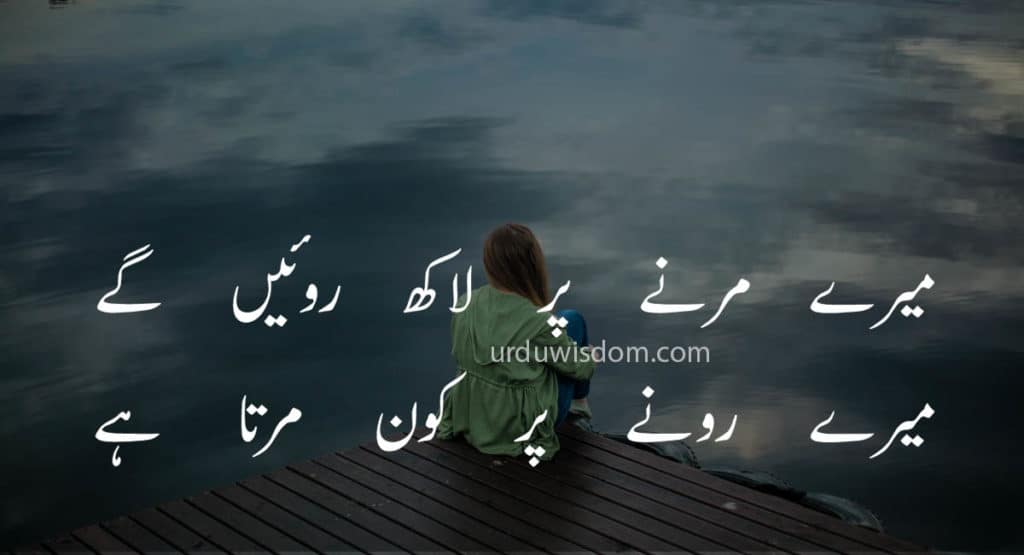 Maray Marnay Pah Laakh Roain Gay
Maray  Ronay  Par  Kon Marta    hay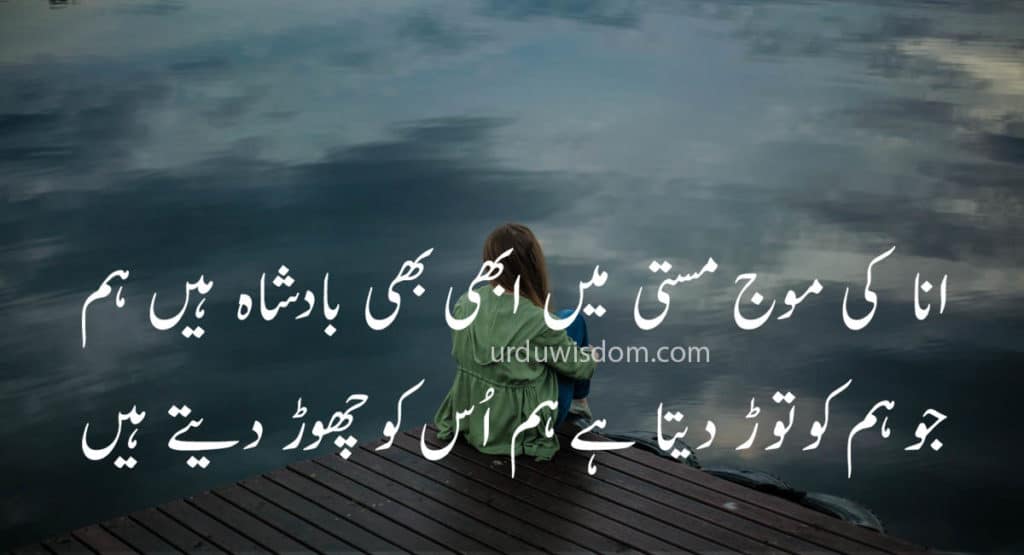 Annaa Ke Maoj Masti Mein Abhi bhe Badshah hain  Hum
Jo Hum Ko Toor Daita Hay Hum Us Ko Chor Daitay Hain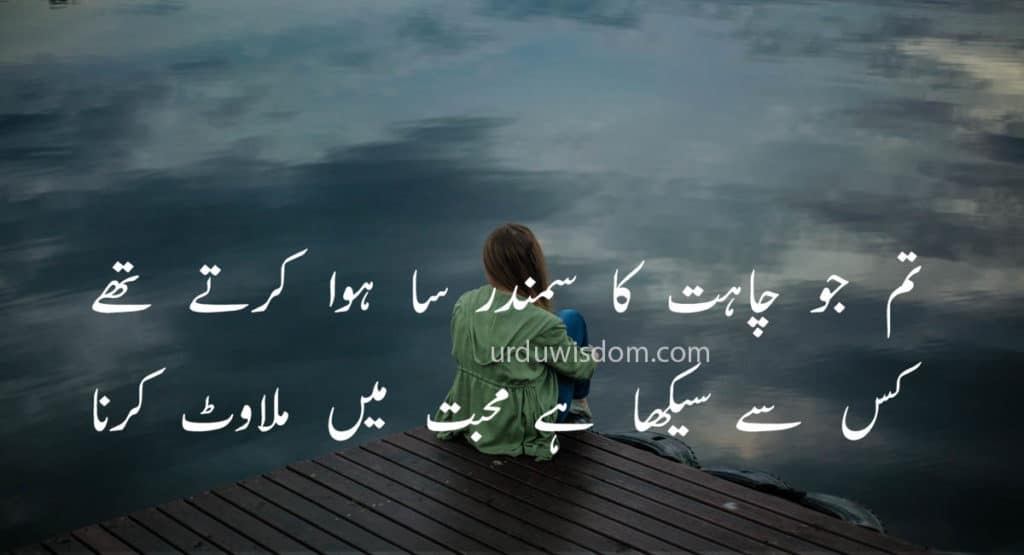 Tum Jo Chahat Ka Samandar Sa Hoa Kartay Thay
Kis Say Seekha Hay Mohabbat Me Melawat Karna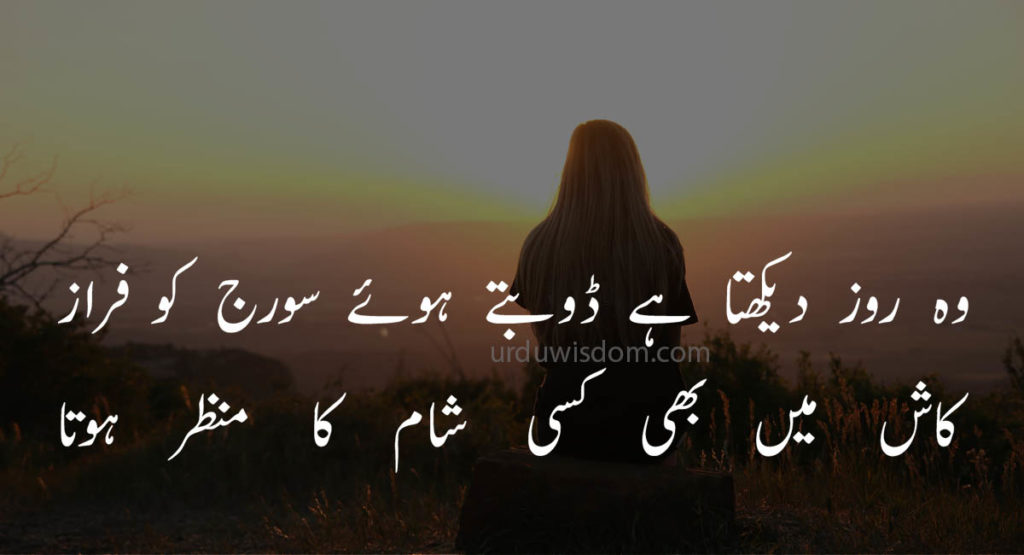 Woh Roz Dakhta hay Dobtay Hoa Soraj Ko Faraz
Kaash  Mein  Bhe  Kisi Shaam Ka  Manzar   Hota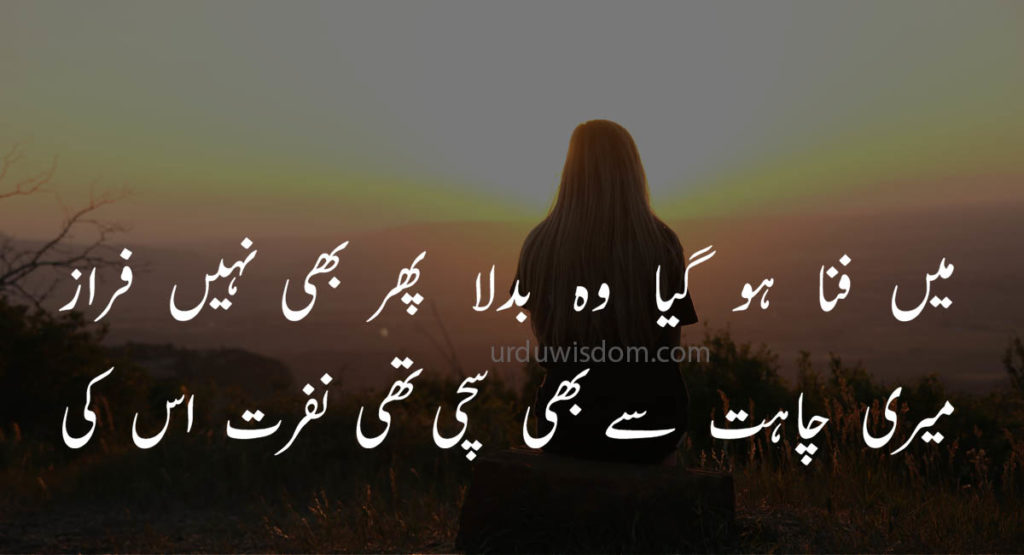 Mein Fanna Ho Gya Woh Badla Phir Bhe nahe Faraz
Mere Chahat  Say Bhe Sachi Thei Nafferat Us Key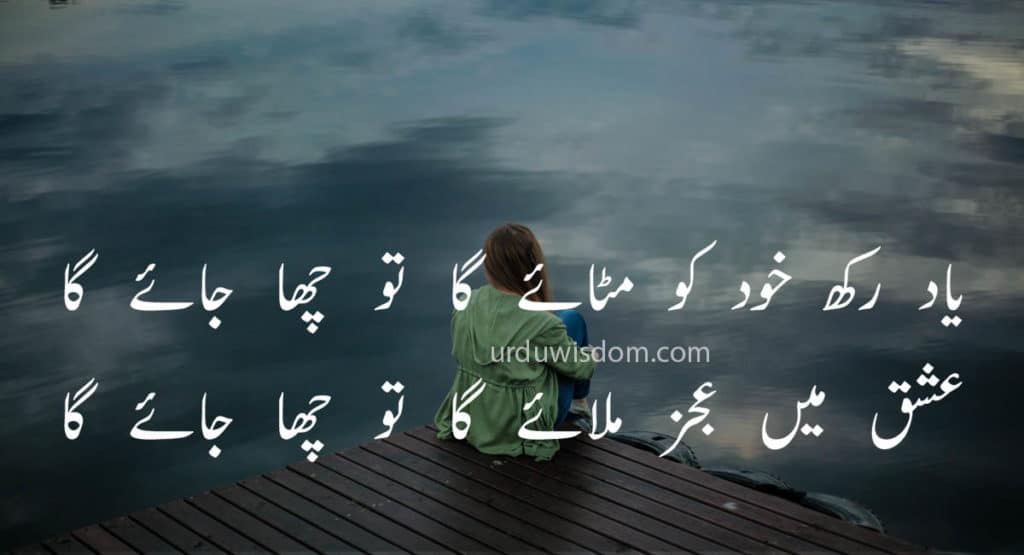 Yaad Rakh Khud Ko Mataye Ga To Chaa Jay Ga
Ishq  Mein  Ijaz  Milaye  Ga To  Chaa  Jay  Ga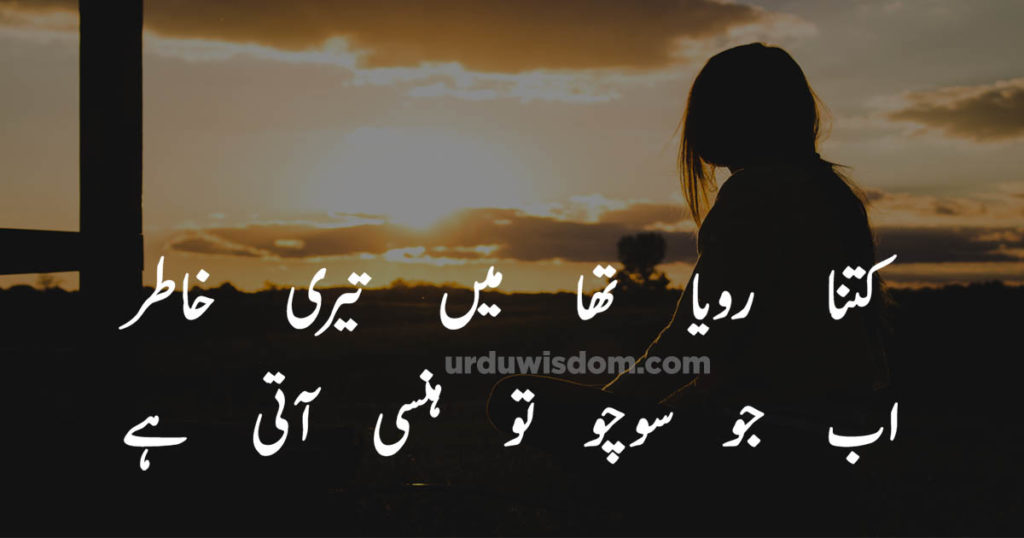 Kitna Roya Tha Main Tere Khatar
Abb Jo Sochon To Hansi Ati Hay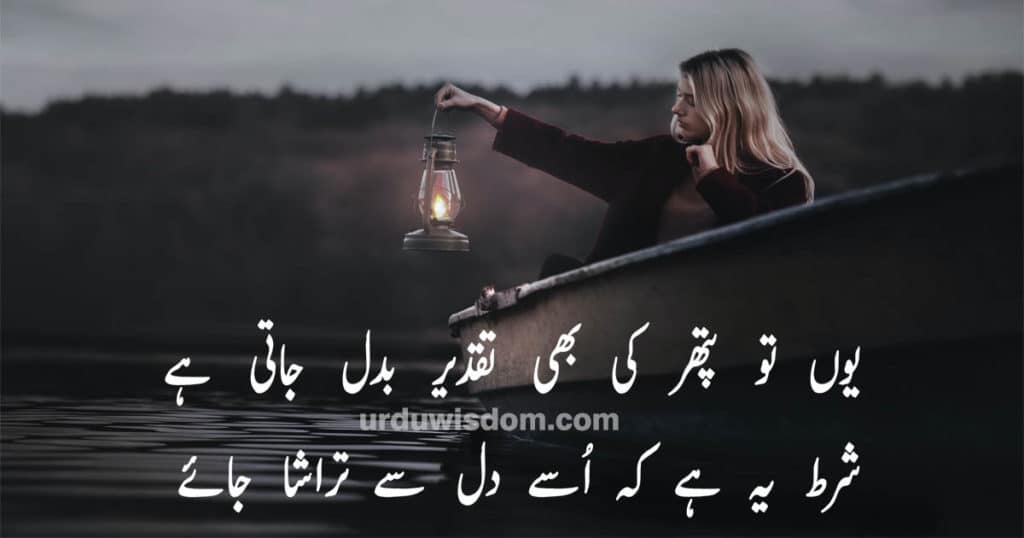 Yun To Pathar Ke Bhe Taqdeer Badal Jati Hay
Shart Yeh Hay keh Ussay Dil Say Tarasha Jay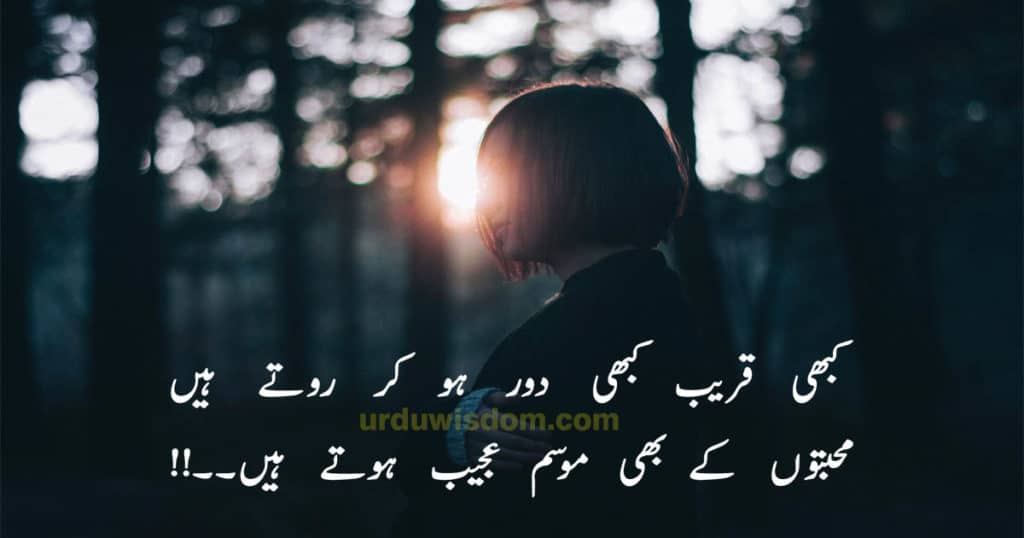 Kabhi Kareeb Kabhi Door Ho Kar Rotay Hain
Mohabton Kay Mosam Bhe Ajeeb Hotay Hain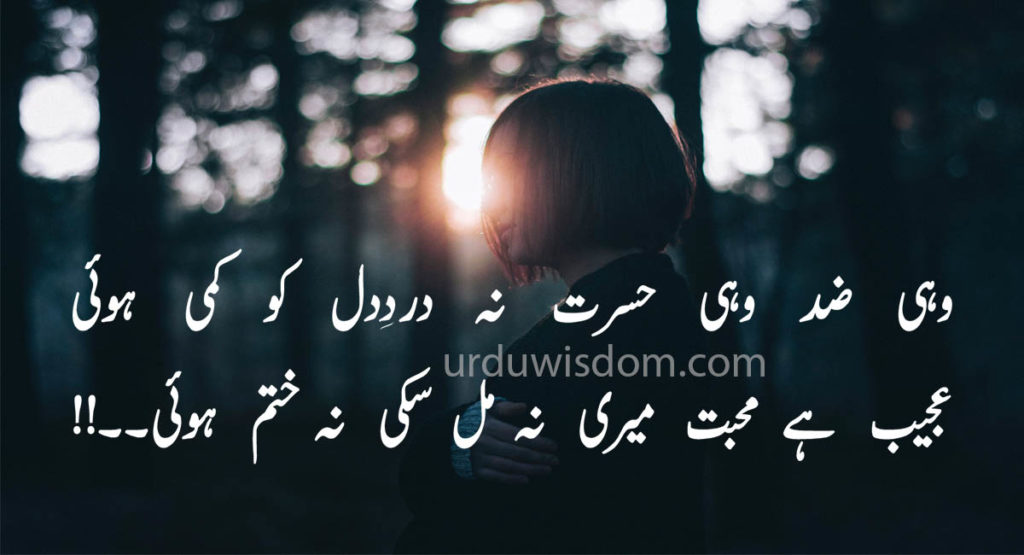 Wohe Zid Wohe Hasrat Na Dard e Dil Ko kammi Hoi
Ajeeb ahy Mohabbat Mere Na Mil Saki Na khatam Hoi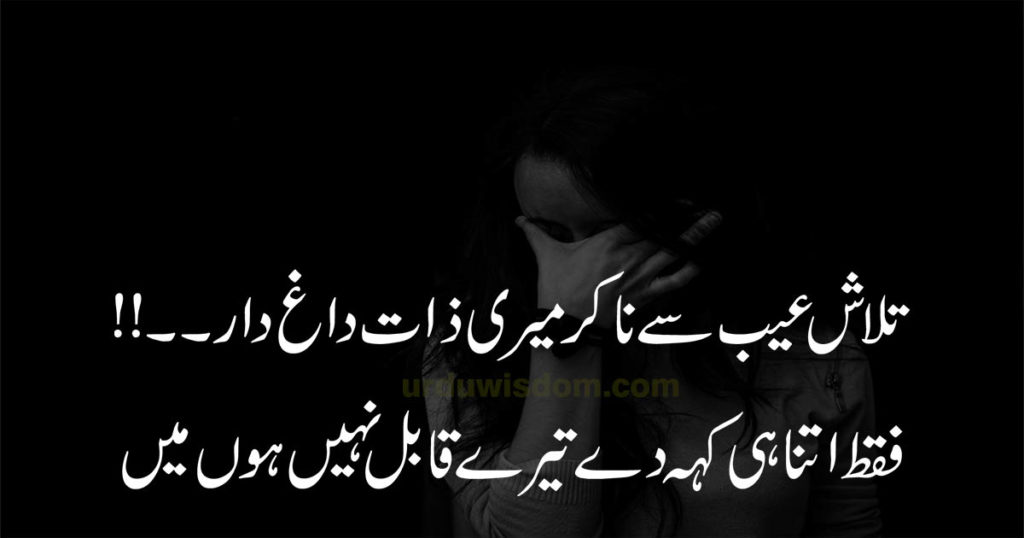 Talaash Aib Say Nah Kar Mere Zaat E Daagh Daar
Faqt Itna He Keh Day Taray Qabil Nahe Hon Mein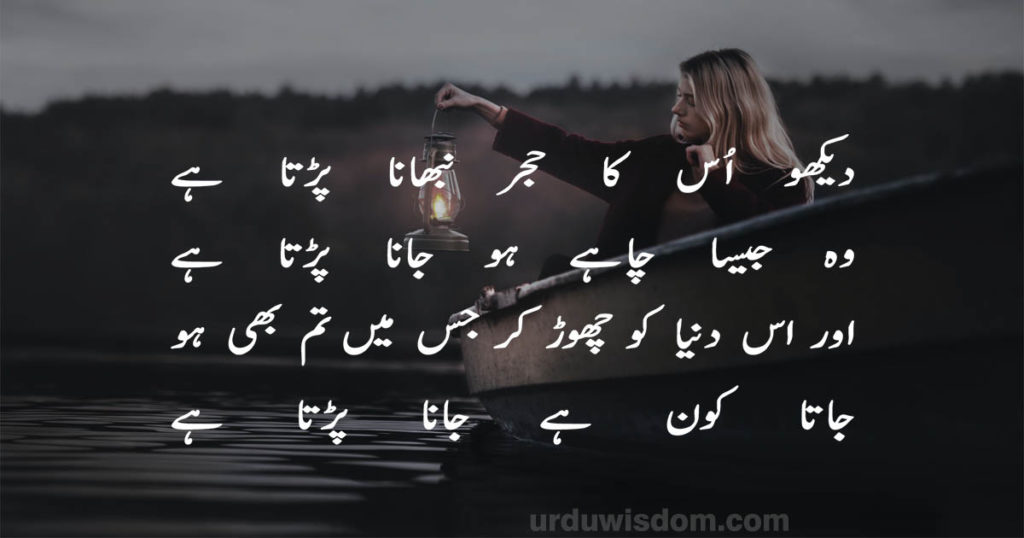 Daikho Us ka Hijjar Nibhana Parta Hay
Wo Jaisa Chaye Nibhana Parta Hay
Aur Is Dunya Ko Chor kar Jis Mein Tum Bhe Ho
Jata Kon Hay Jana Parta Hay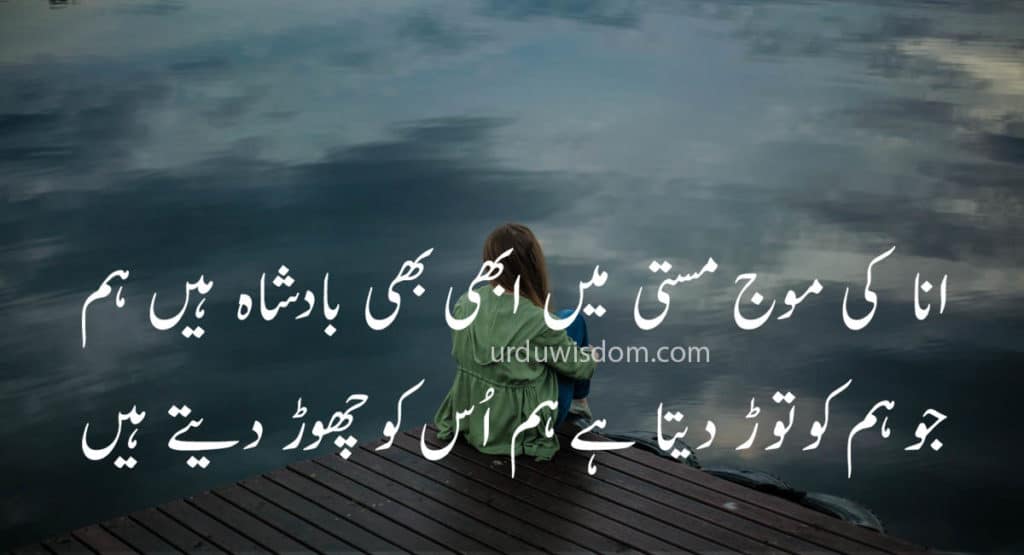 Annaa Ke Moaj Masti Mein Abhi bhe Badshah Hain Hum
Jo Hum Ko Tor Daita Hay Hum Us Ko Chor Datay Hain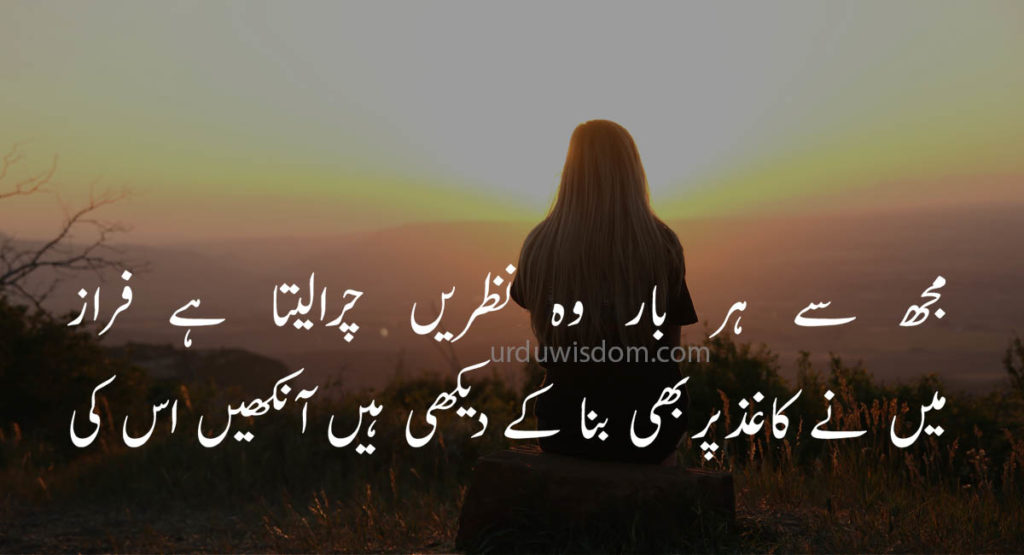 Mujh Say Har Baar Woh Nazrain Chora Laita Hay Faraz
Mein Kagaz pa Bhi Bana keh Daikhe hain Ankhain Us ke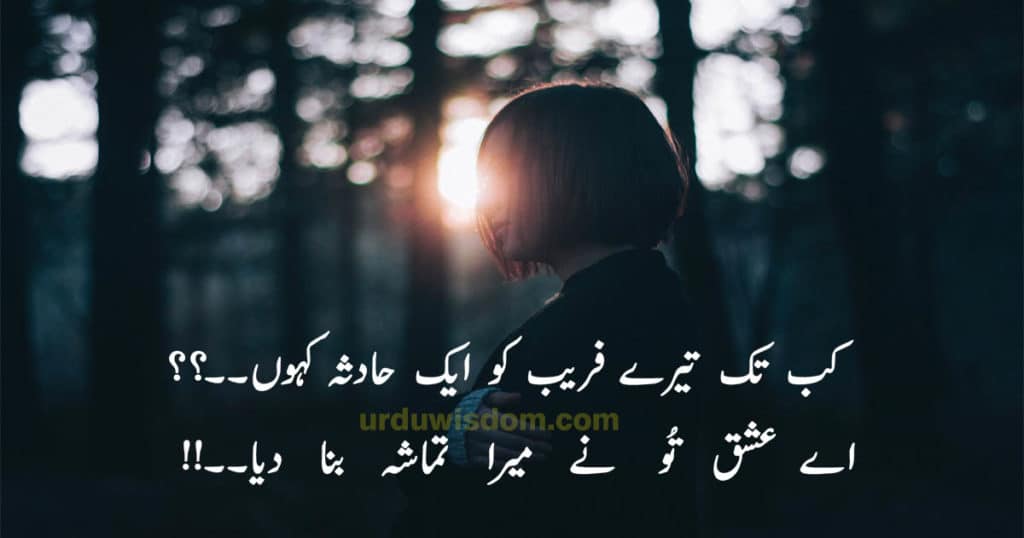 Kab Tak Taray Fareeb Ko ik Hadsa kahon
Aye Ishq To Nay Maira Tamasha Bana Dya
Sad Poetry in Urdu text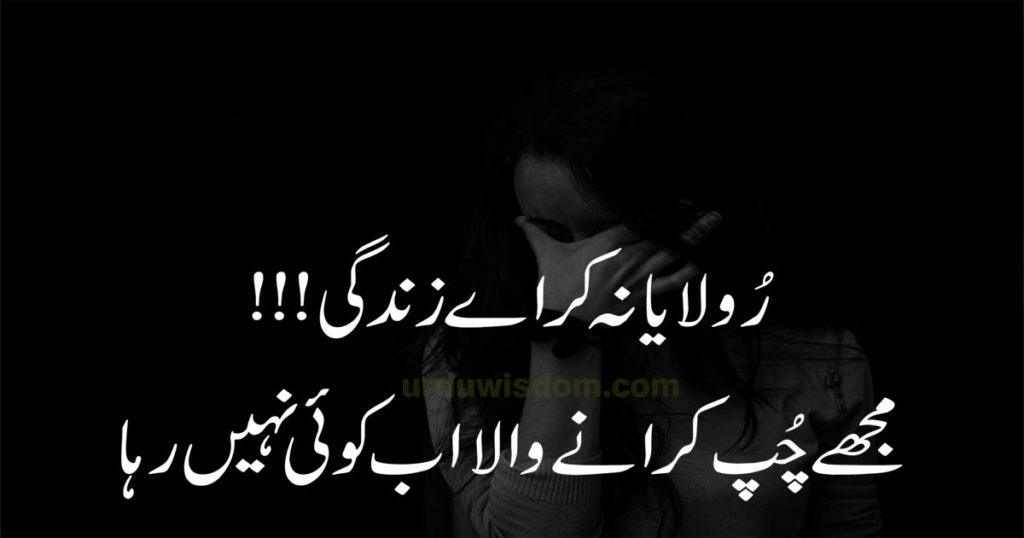 Rolaya Nah Kar Aye Zindagi…..
Mujhay Chup Karanay Wala Ab Koi Nahe Raha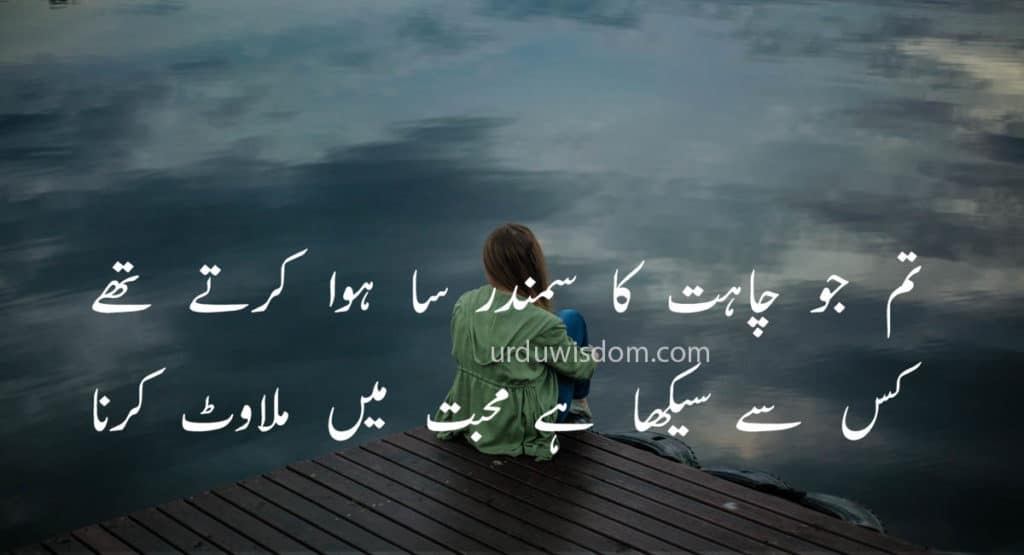 Tum Jo Chahat Ka Samandar Hoa Kartay Thay……
Kis Say Sekha Hay Mohabbat Mein Melawat Karna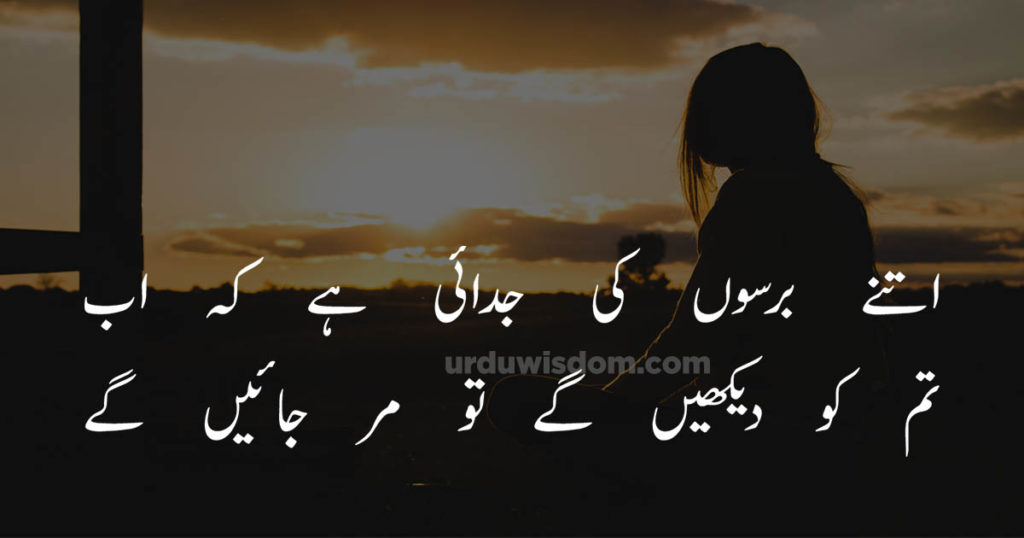 Itnay Barson Ke Judai Hay Keh Ab……..
Tum Ko Daikhain Gay To Mar Jain Gay
Wo Morawat Say Mila Hay To Jhoka Do Gardan
Maray Dushman Ka Koi Waar Nah Khali Jay…..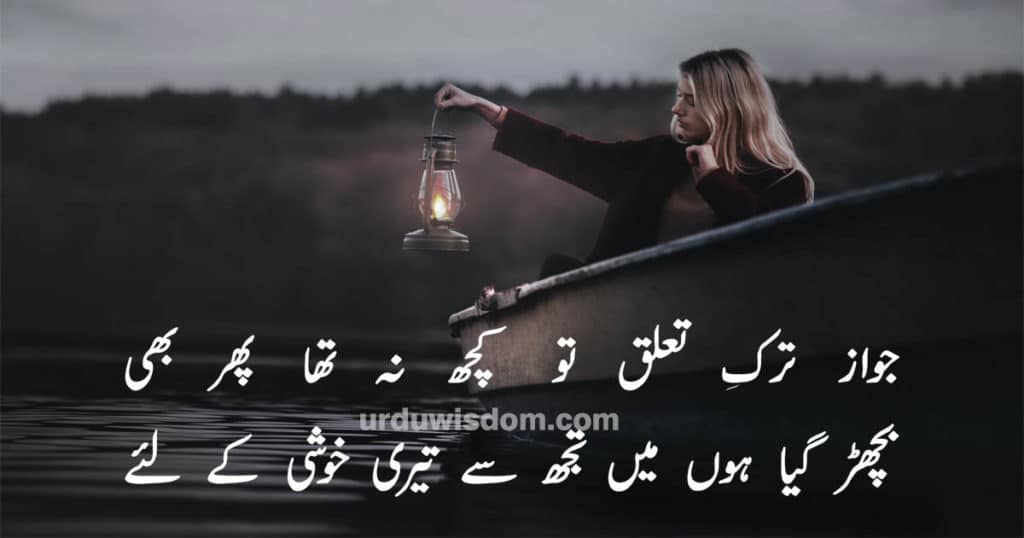 Jawaz Tark e Ta,aluk To Kuch Nah Tha Phir Bhe
Bicher Gya Hon Mein Tujh Say Tere Khushi k Lya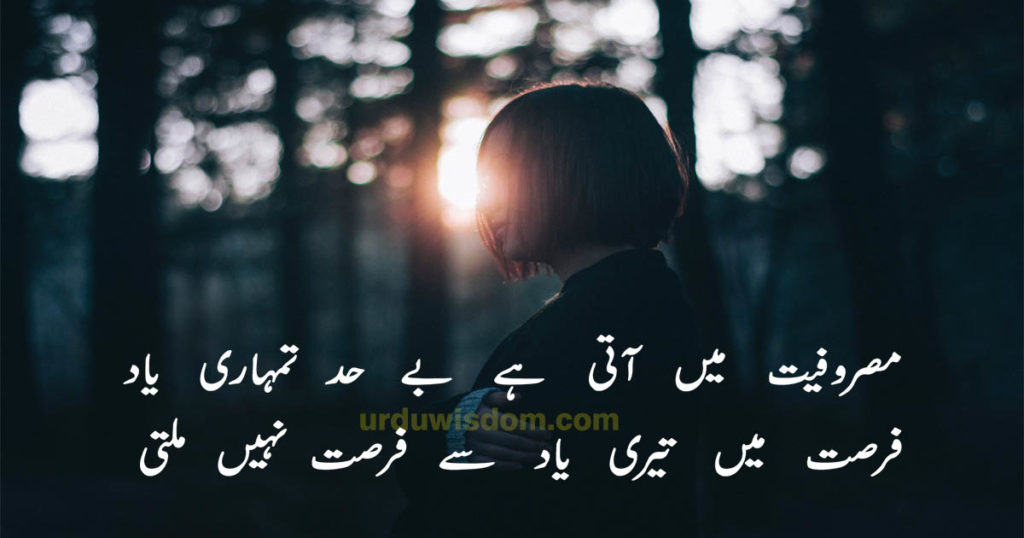 Masrofiat Mein Ati Hay Be had Tere Yad
Fursat me Tere Yad Say Fursat Nahe Milti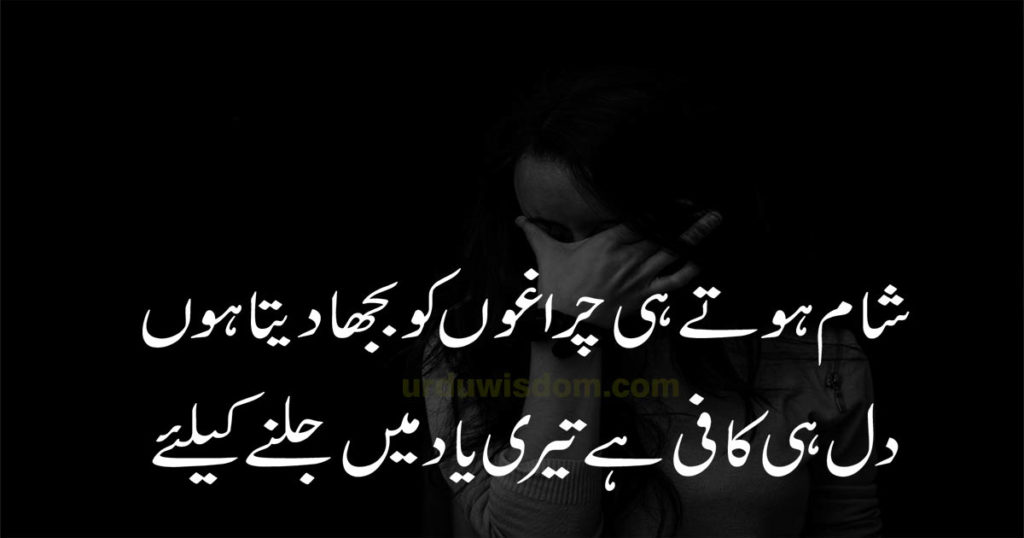 Shaam Hotay He Charagon Ko Bhoja Daita Hon
Dil He Kafi Hay Tere Yad Mein Jalnay Kay Lya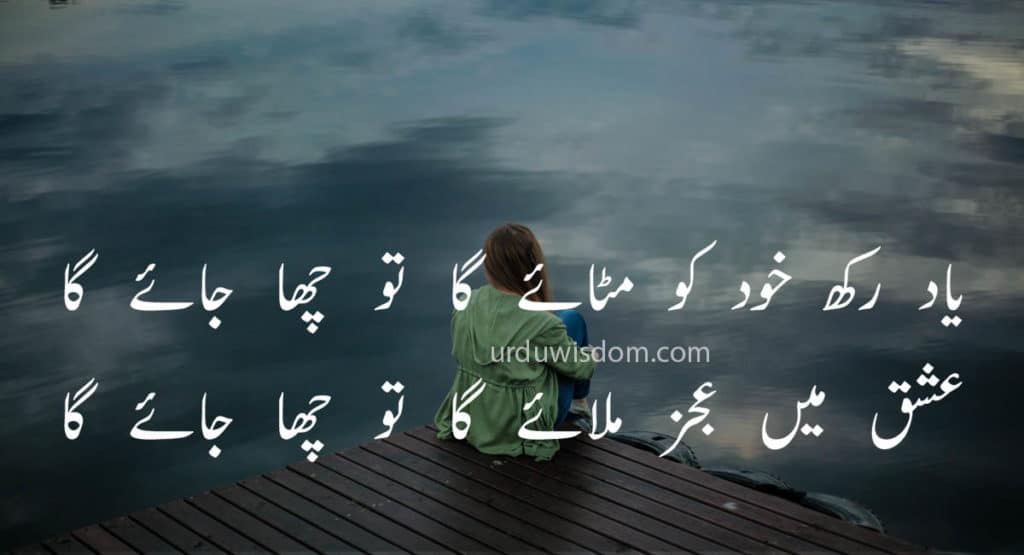 Yad Rakh Khud Ko Metaye Ga To Cha Jay Ga
Ishq Mein Ijz Milay Ga To Chaa Jay Ga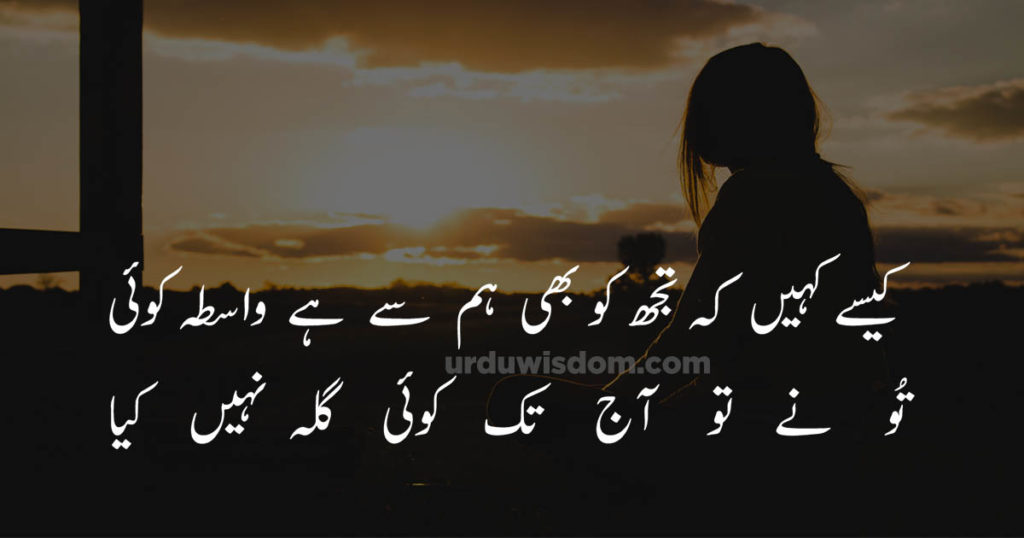 Kasay Kahe keh Tujh Ko Bhe Hay Hum Say Wasta Koi
Toon nay To Ajj Tak Koi Gilla Nahe Kya……………….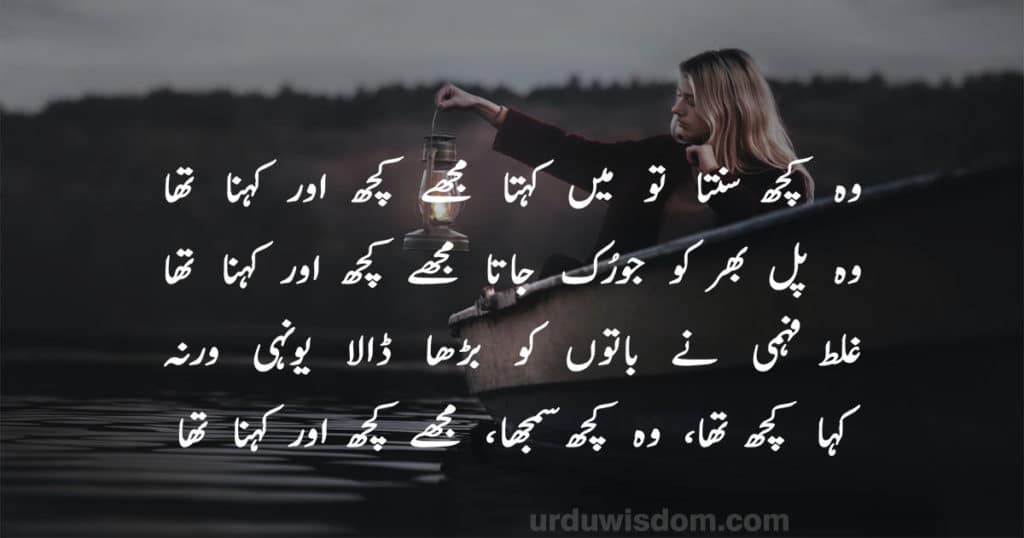 Wo Kuch Sunta To Mein Kehta Mujhay Kuch aur Kehna Tha
Wo Pal Bhar Ko JO Ruk Jata Mujhay Kuch Aur Kehna Tha
Galat Fehmi Nay Baton Ko Barha Dala Yon He Warna
Kaha Kuch Tha Wo Kuch Samjha, Mujhy Kuch Aur Kehna Tha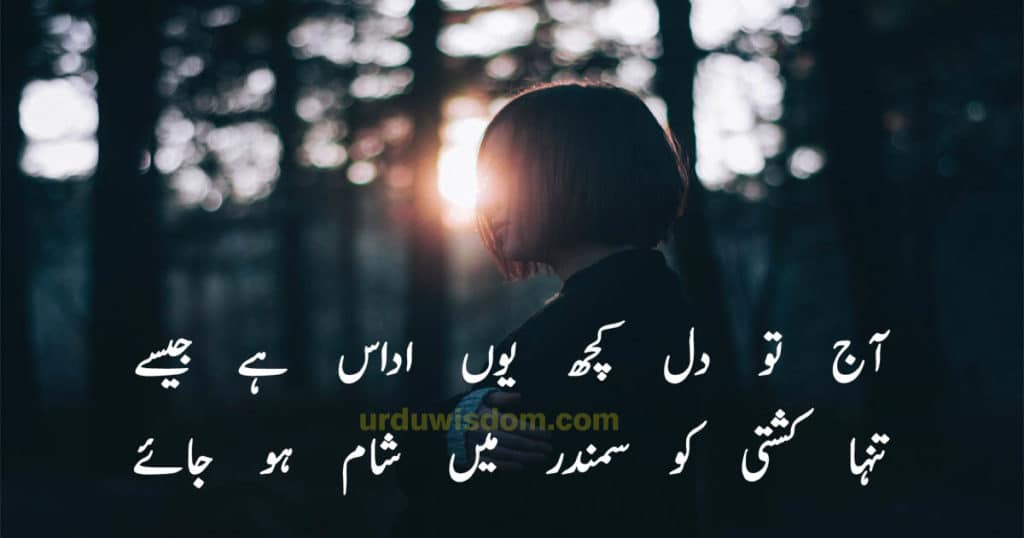 Ajj To Dil kuch Yon Oddas Hay Jaisay
Tanha Kashti Ko Samandar Mein Shaam Ho Jay
Urdu Poetry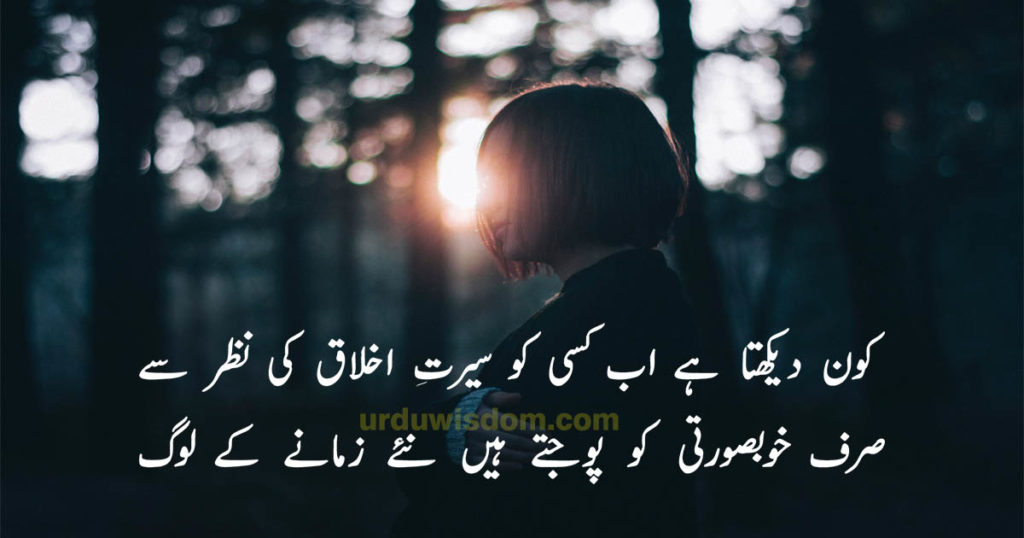 Kon Daikhta Hay Ab Kise Ko Seerat e Akhlaq ke Nazar Say
Sirf Khobsorti Ko Pojhtain Hain Nai Zamanay Kay Log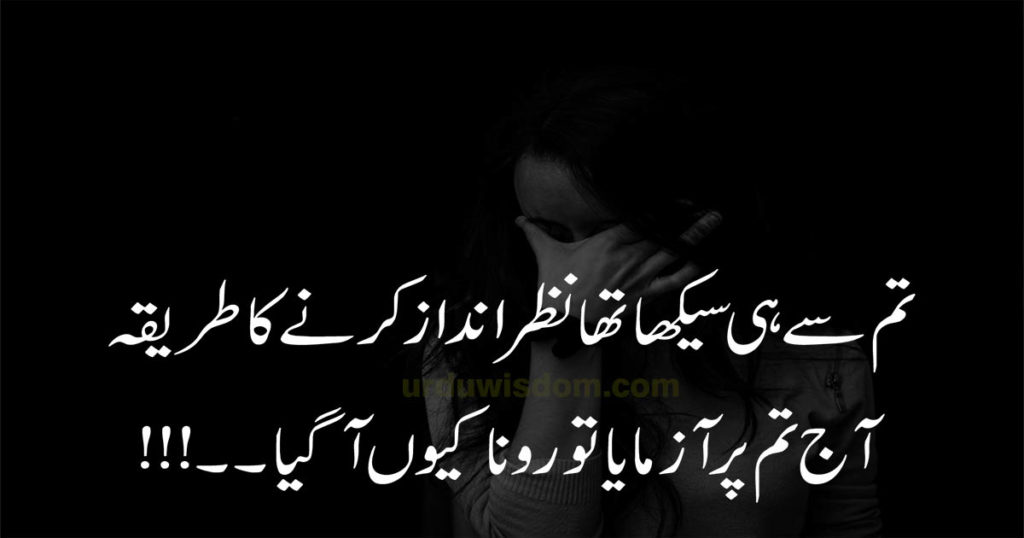 Tum Say He Seekha Tha Nazar Andaz Karnay Ka Tarika
Ajj Tum Par Aazmaya To Rona Kion A Gya…………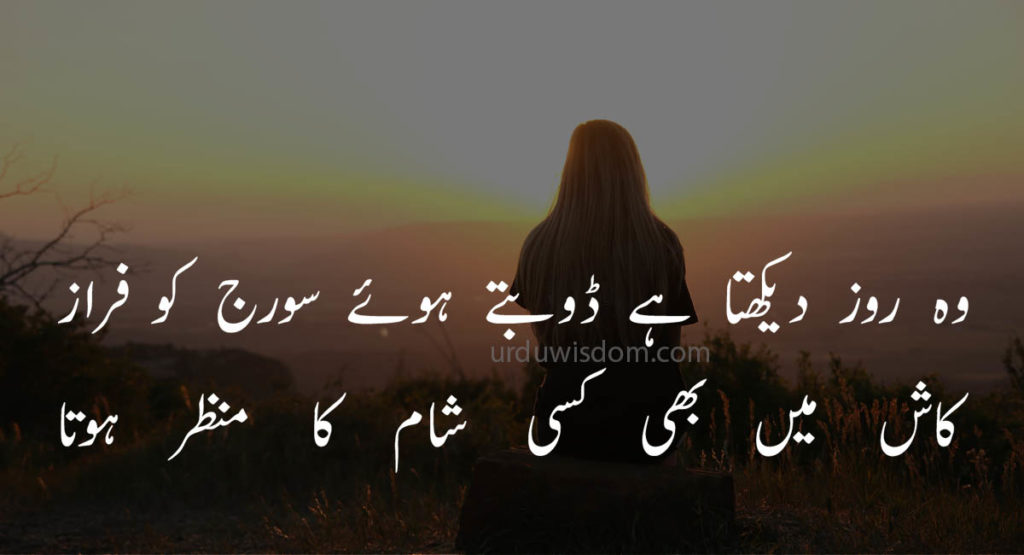 Wo Roz Daikhta Hay Dobtay Hoa Soraj Ko Faraz
Kaash Mein Bhe Kisi Shaam Ka Manzar Hota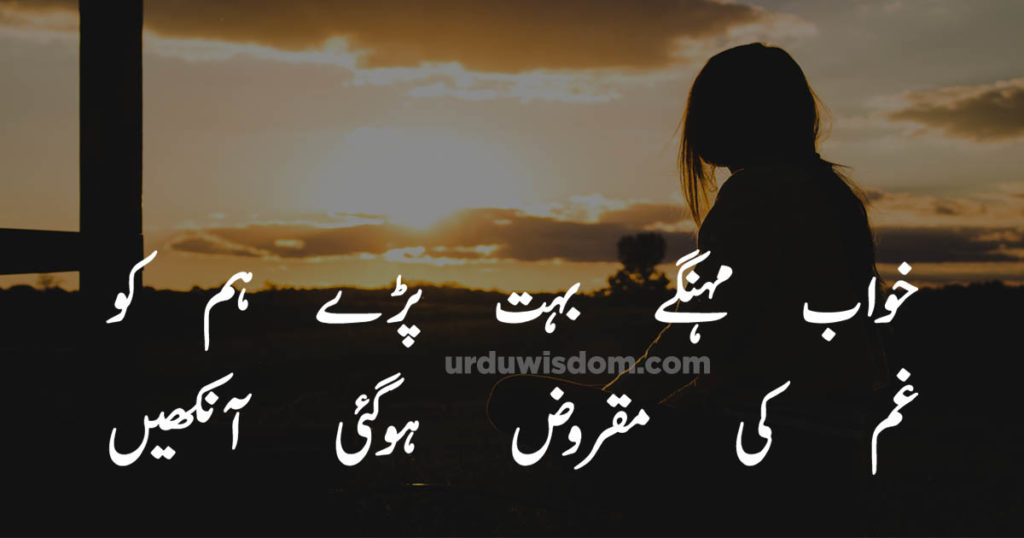 Khawab Mehngay Bahot paray Hum Ko
Gham Ke Makroz Ho Gai Ankhain……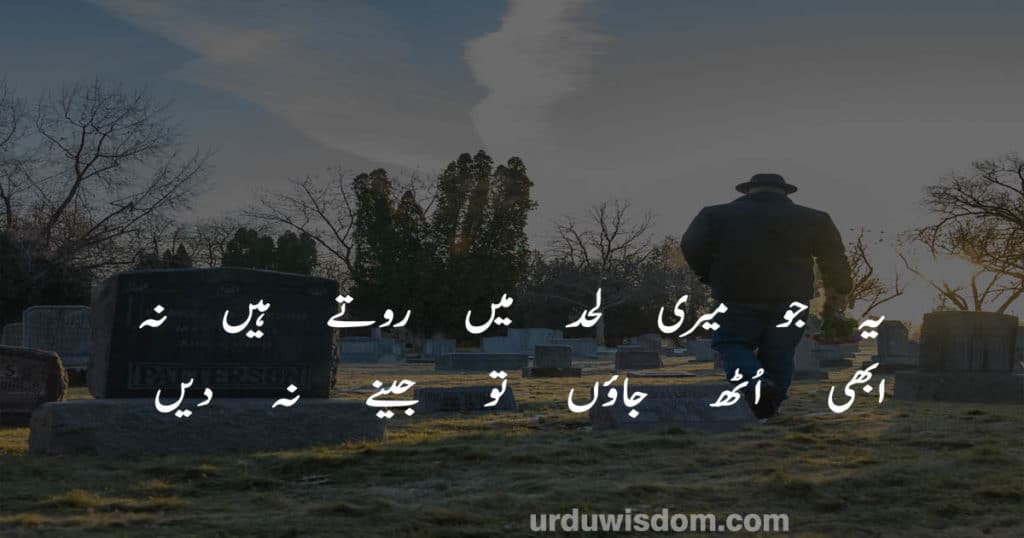 Ye Jo Mere Lahad Pa Rotay Hain Na
Abhi Uth Jaon To Jeenay Nah Dain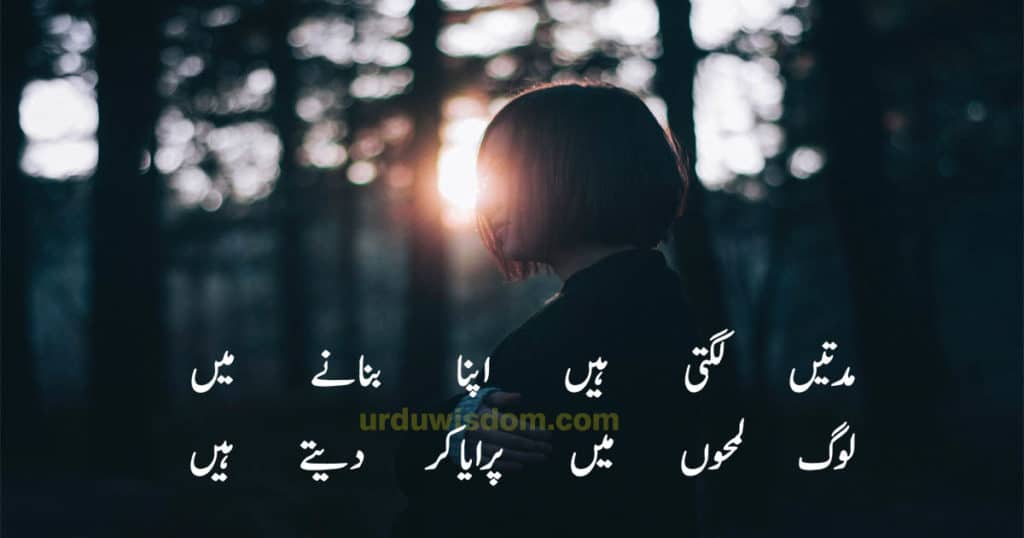 Muddatain Lagti Hain Apna Bananay Mein
Log Lasmhon Mein Paraya Kar Daitay Hain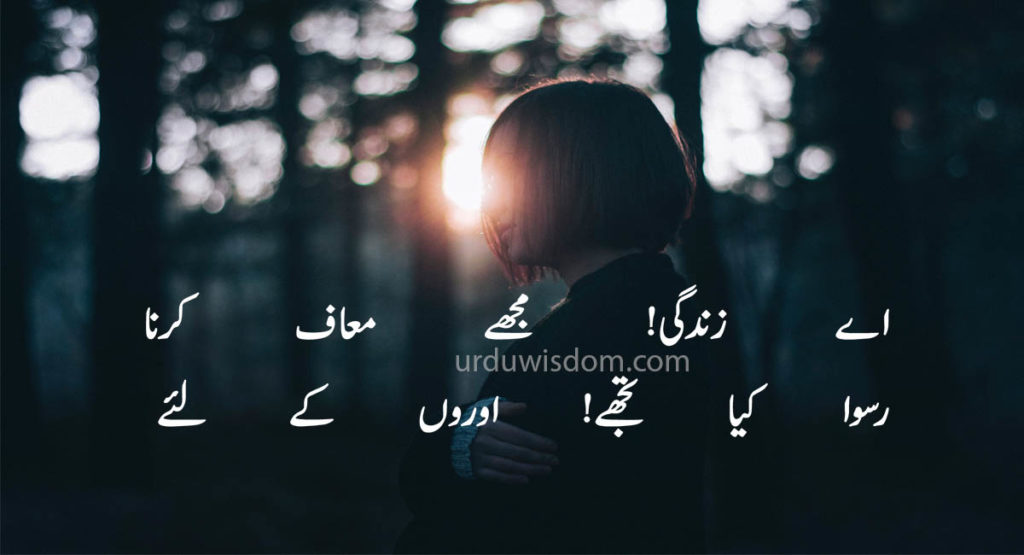 Aye Zindagi Mujhy Moaf Karna
Ruswa Kya Tujhay Aoron Kay Lya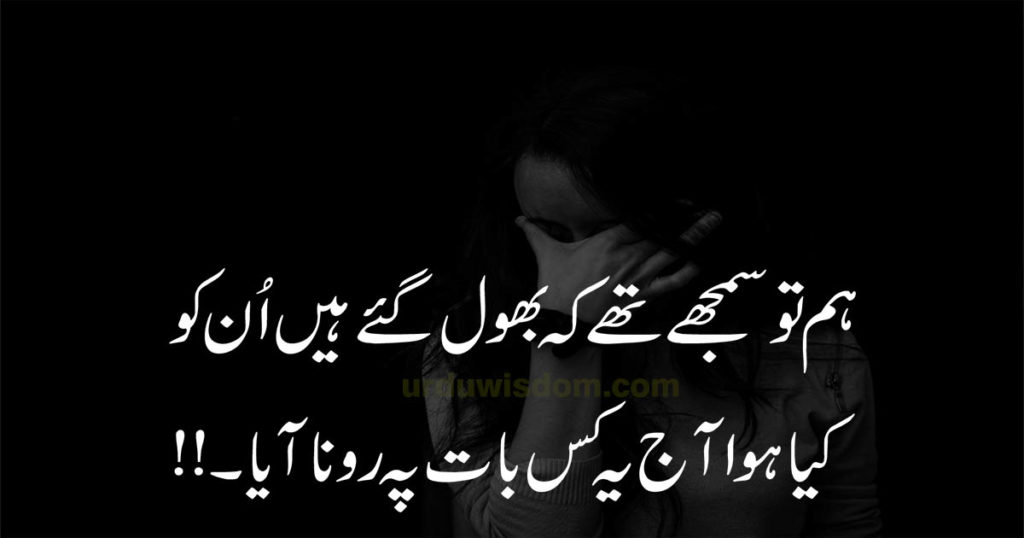 Hum To Samjhay Thay Bhool Gay Hain Un ko
Kya Hoa Ajj Ye kis Bat Pa Rona Aya……………..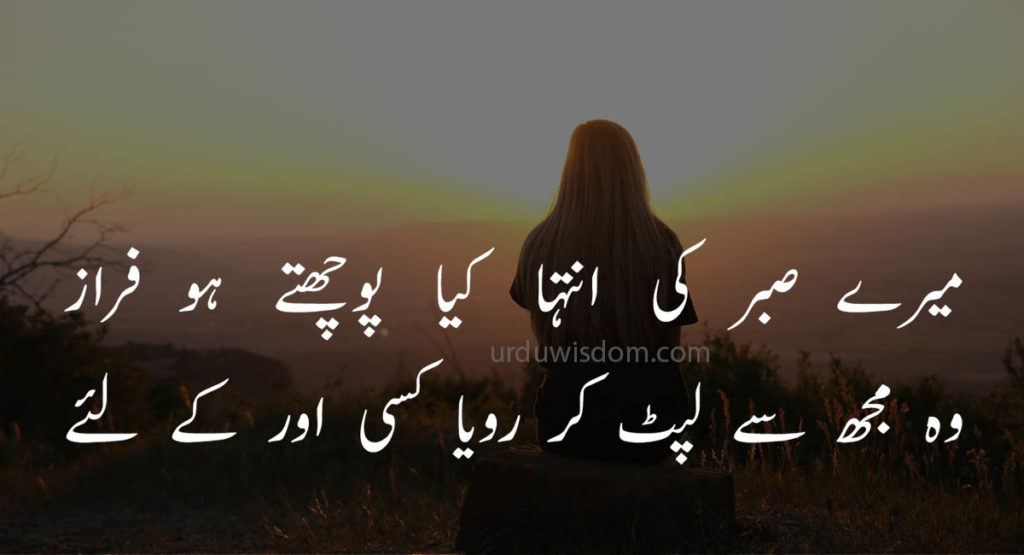 Maray Sabar Ke Kya Inteha Pochtay Hoi Faraz
Wo Mujh Sa Lipat Kar Roya Kisi Aur Kay Lya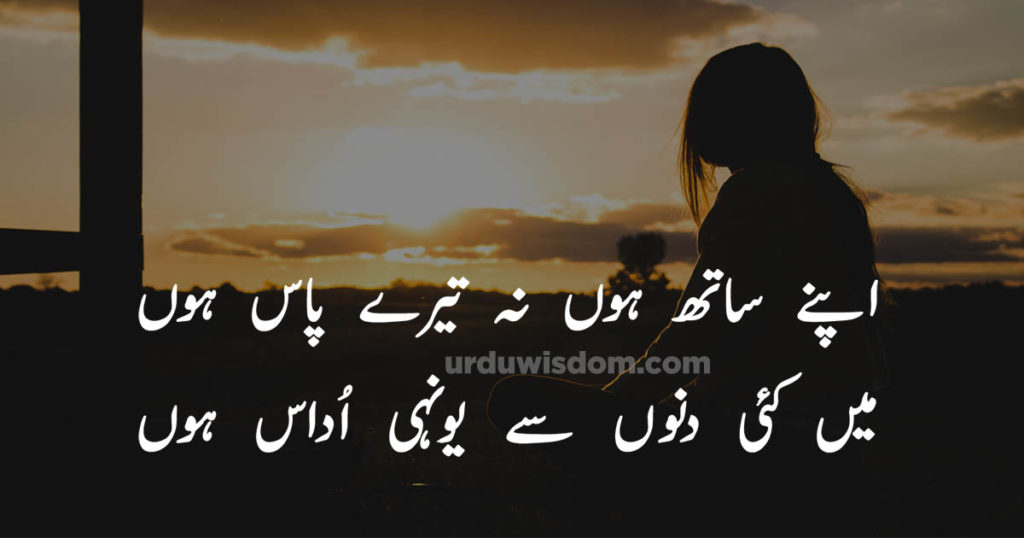 Apnay Sath Hon Nah Taray Pass Hon
Mein Kai Dinno Sa Yoon He Odaas Hon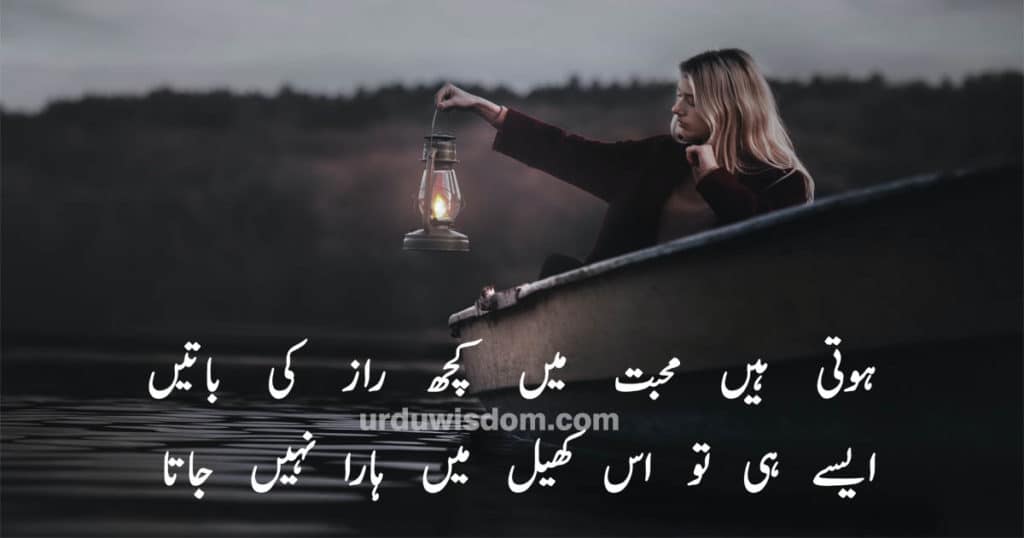 Hoti Hain Mohabbat Mein Kuch Raaz Ke Batain
Aisay He To Is Kheil Mein Hara Nahe Jata………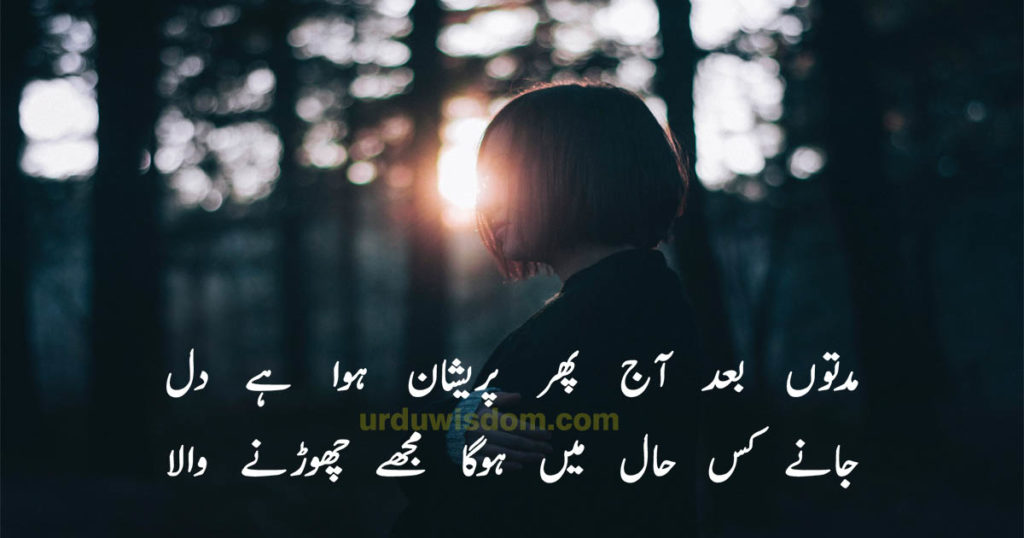 Mudaton Bahd Ajj Phir Peryshan Hoa Hay Dil
Janay Kis Hal Mein Ho ga Mujhay Chornay Wala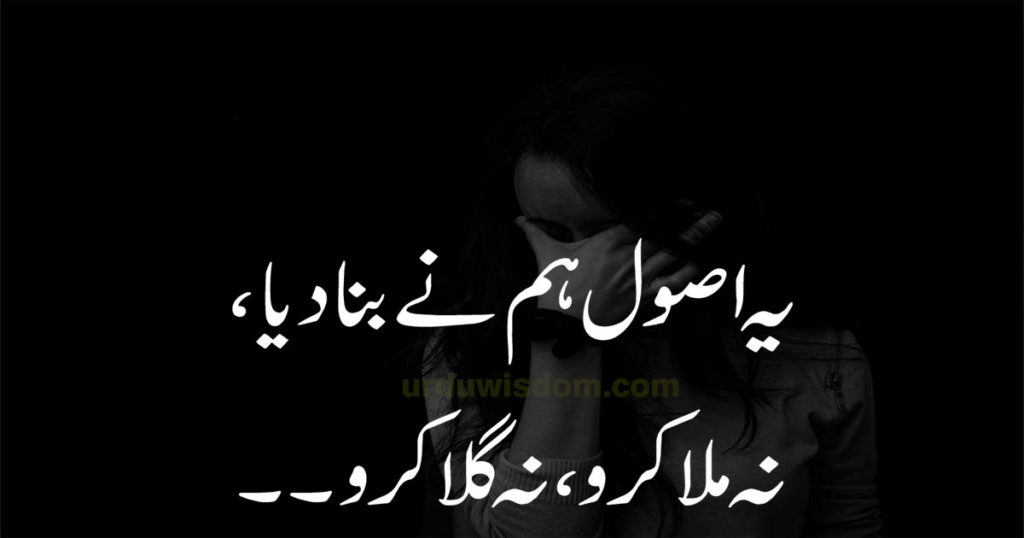 Yeh Asool Hum Nay Bana Dya
Na Mila Karo Na Gilla Karo…….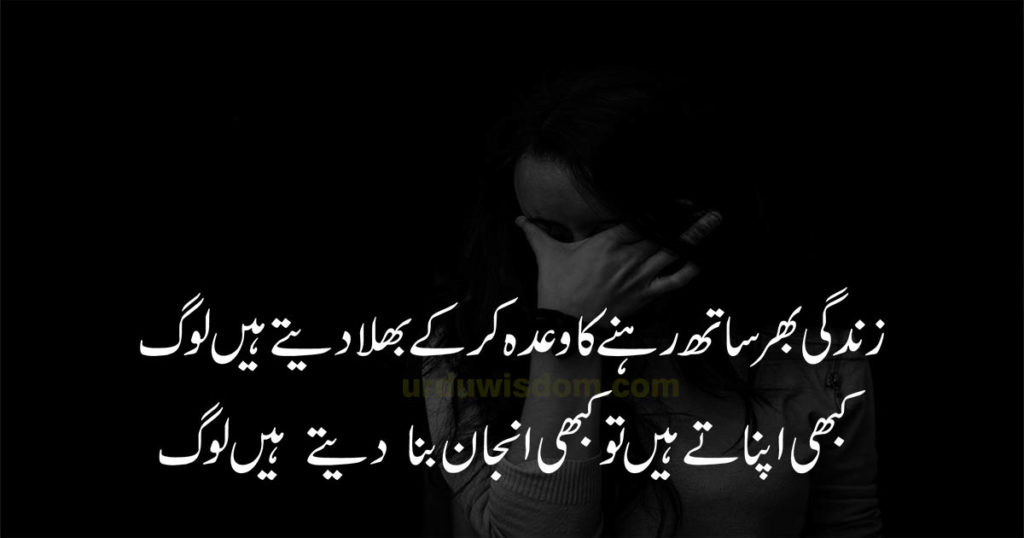 Zindagi Bhar Ka Wahda Kar Keh Bhola Daitay Hain Log
Kabhi Apnatay Hain To Kabi Anjaan Bana Daitay hain log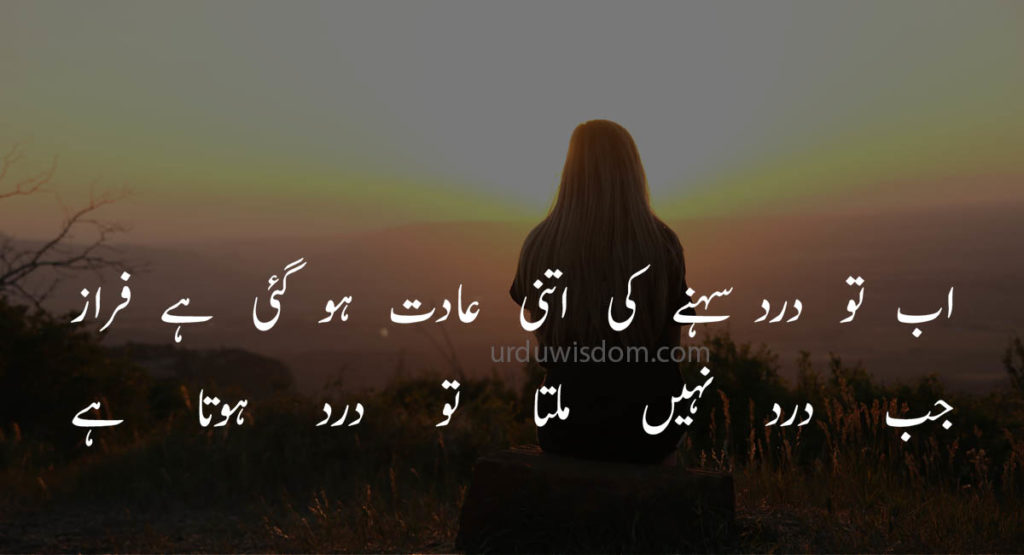 Ab To Dard Sehnay Ke Itni Aadat Ho Gai Hay Faraz
Jab   Dard   Nahe   Milta   To  Dard   Hota    Hay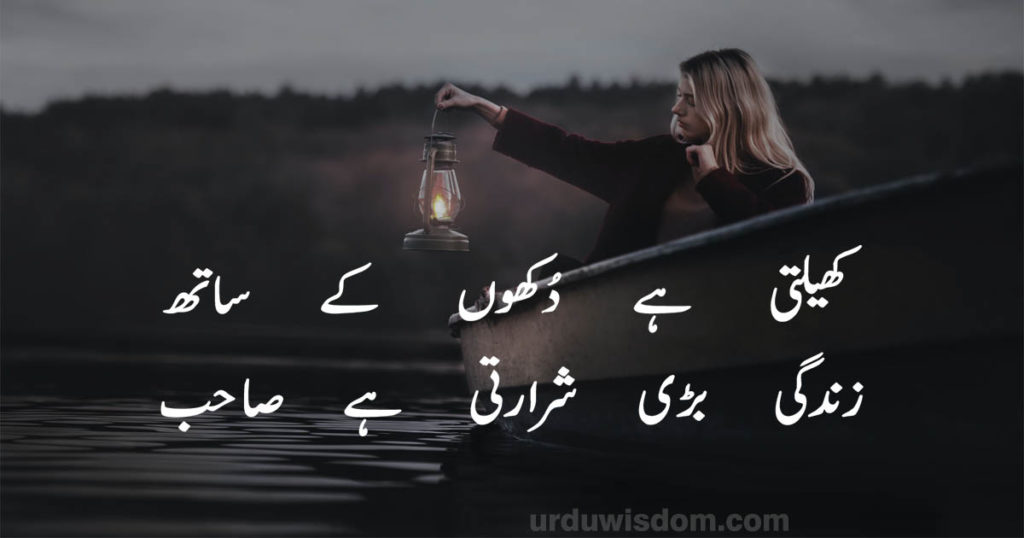 Khailti  Hay  Dukhon  Kay  Saath
Zindagi Barri Sherarti Hay Sahab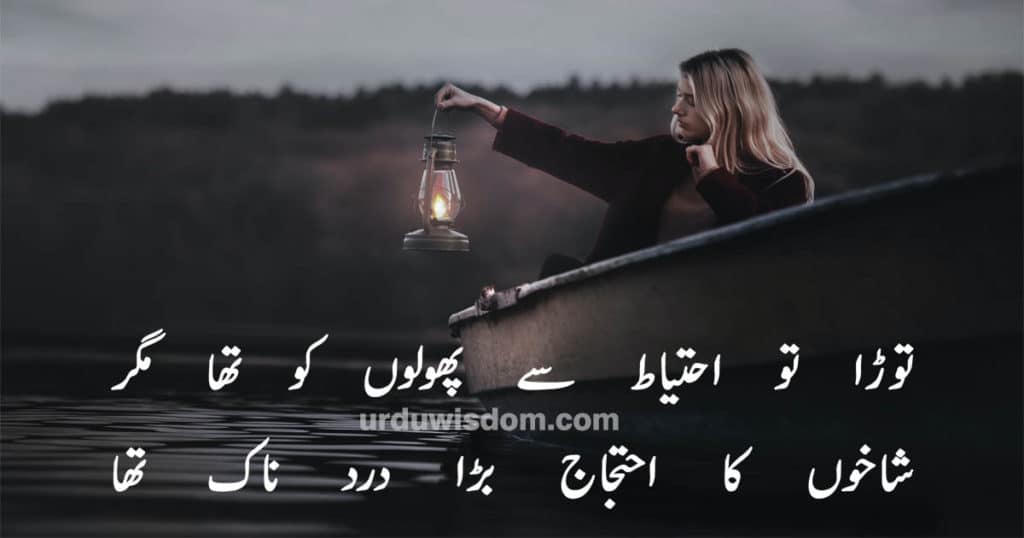 Torra To Ehtyaat say Pholon Ko Tha Magar
Shakhon Ka Ehtejaaj Bara Dard Naak   Tha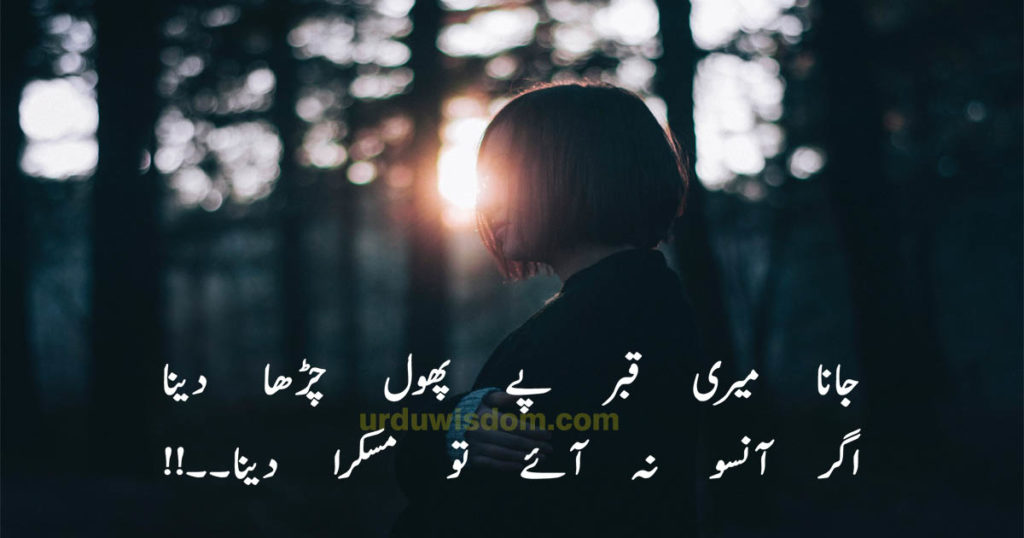 Jana Mere Kabbar Pa Phool Jarha Daina
Agar Anson Nah Ain To Muskara Daina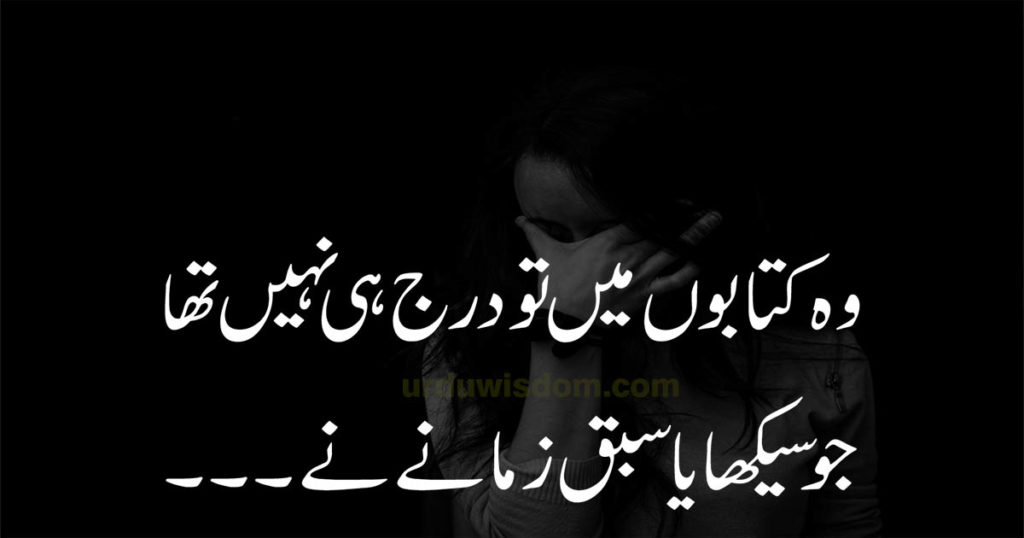 Wo Kitabo Mein To Darj He Nahe Tha
Jo Sikhaya Sabaq Zamanay nay…………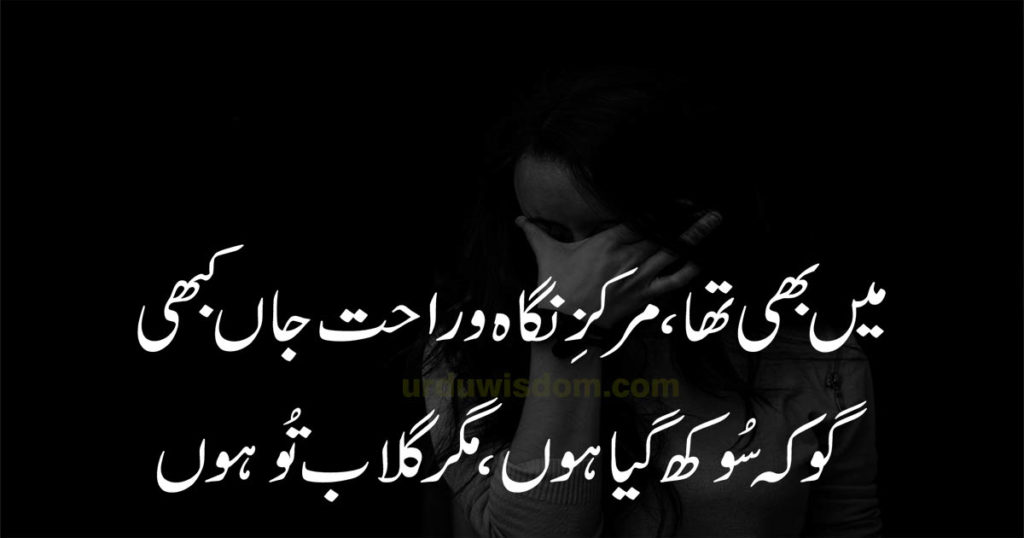 Main Bhe Tha Markz e Nighah o Rahat Jaan Kabhi
Go Keh Sookh Gya Hon, Maghar Golab To Hon
It has many forms including Ghazal, Hamd, Manqabat, Marsiya, Naat, Masnavi, Nazm, Qasida, Qawali, Rubai and Tazkira. Urdu poetry is adored all over the subcontinent.
I hope you have enjoyed this post about sad poetry in Urdu. Urdu literature is blessed with great poets, all of them gave splendid poetry of their time. The names of Mir Taqi Mir, Allama Iqbal, Mirza Ghalib, Faiz Ahmed Faiz, Josh Malihabadi and Mir Anees, Perveen Shakir are highly regarded.
Urdu Poetry