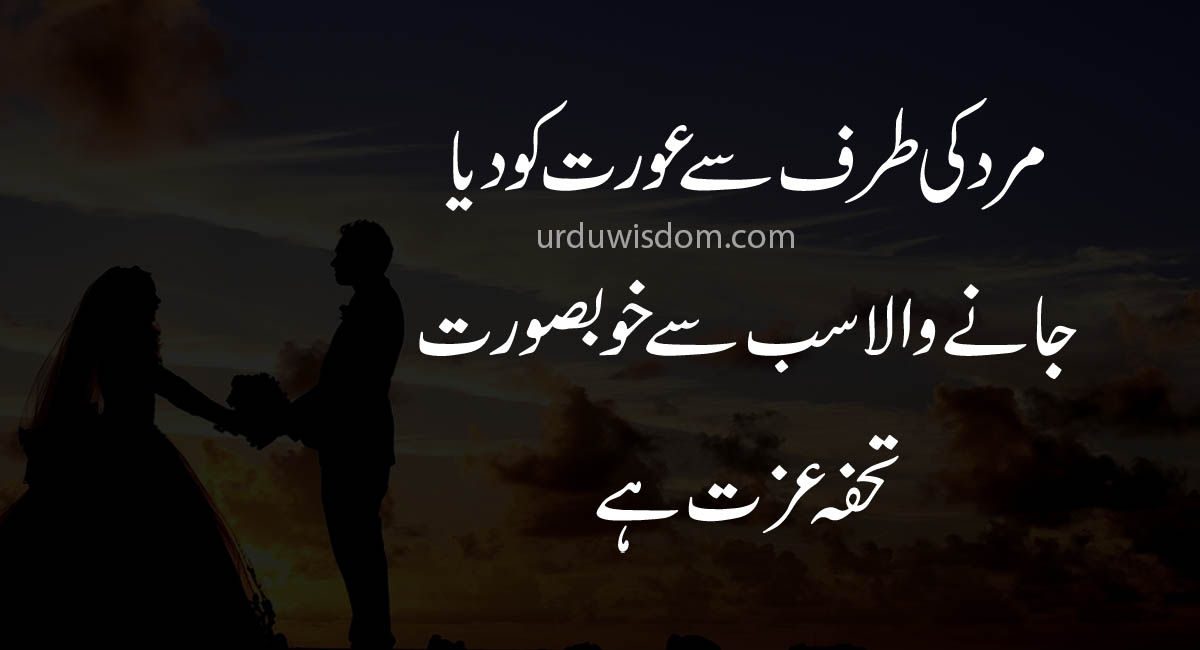 Love Quotes in Urdu:
You can explore the best love quotes in Urdu. These romantic quotes will trigger your mood and your heart will be filled with love. Share it with your loved ones.
The best love quotes in Urdu have been translated into English. These love quotes have given us much guidance, and they will continue to do so for the rest of our lives.
However, the great thing about love is that you can be loved anywhere in the world. We are all created by the same creator, God. You are loved by your mother, your father, your sister, and your brother, you can be valued anywhere and at any time.
But here you can see the love quotes which are very famous among the young people of society. These exciting and attractive Urdu quotes and sad poetry can be shared on Facebook, Instagram, Twitter and other social media platforms—love Quotes in Urdu.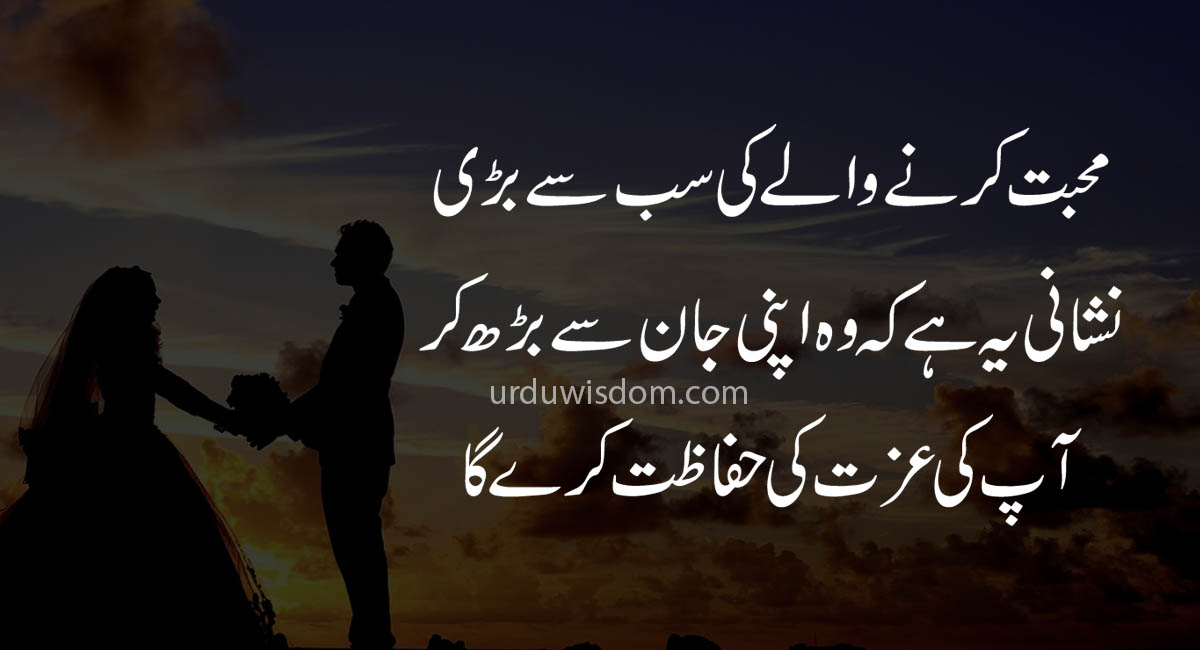 Mohabbat karnay walay ke sab sa barri nishani yeh hay
kay wo apni jaan sa barh kar, aap ki izzat ki hefazat karay ga.
محبّت کرنے والے کی سب سا بڑی نشانی یہ ہے
کے وہ اپنی جان سے بڑھ کر, آپ کی عزت کی حفاظت کرے گا.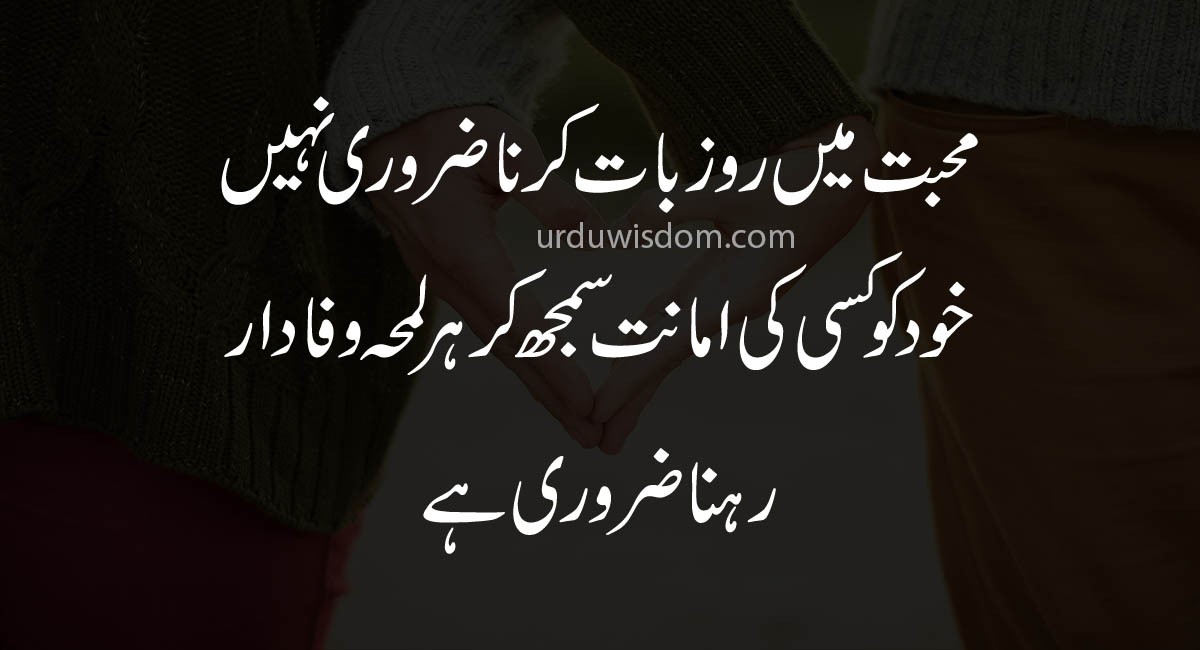 Mohabbat me rozana bat karna zarori nahe,
khud ko kisi ki amanat samjh kar har lamha wafadar rehna zarori hay.
محبّت میں روزانہ بات کرنا ضروری نہیں,
خود کو کسی کی امانت سمجھ کر ہر لمحہ وفادار رہنا ضروری ہے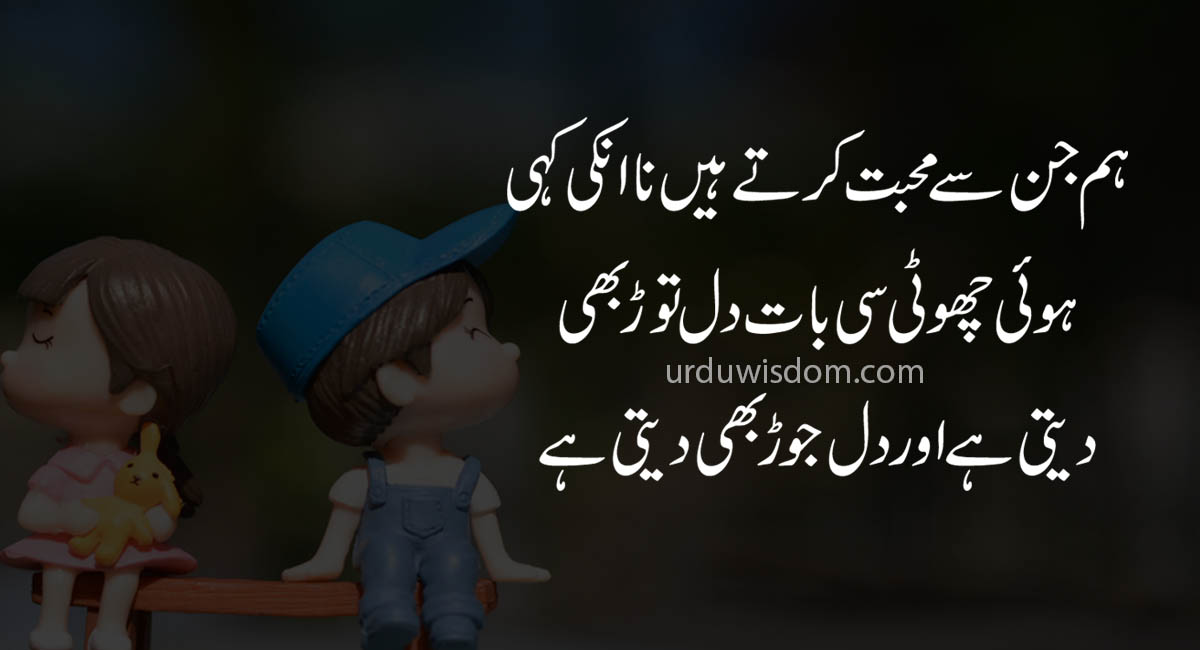 Hum jin say mohabbat kartay hain na un ki kahe hoi choti c baat,
Dil tore bhe daiti hay aur jore bhe daiti hay.
ہم جن سے محبّت کرتے ہیں نہ ان کی کہی ہوئی چھوٹی سی بات,
دل توڑ بھی دیتی ہے اور جوڑ بھی دیتی ہے.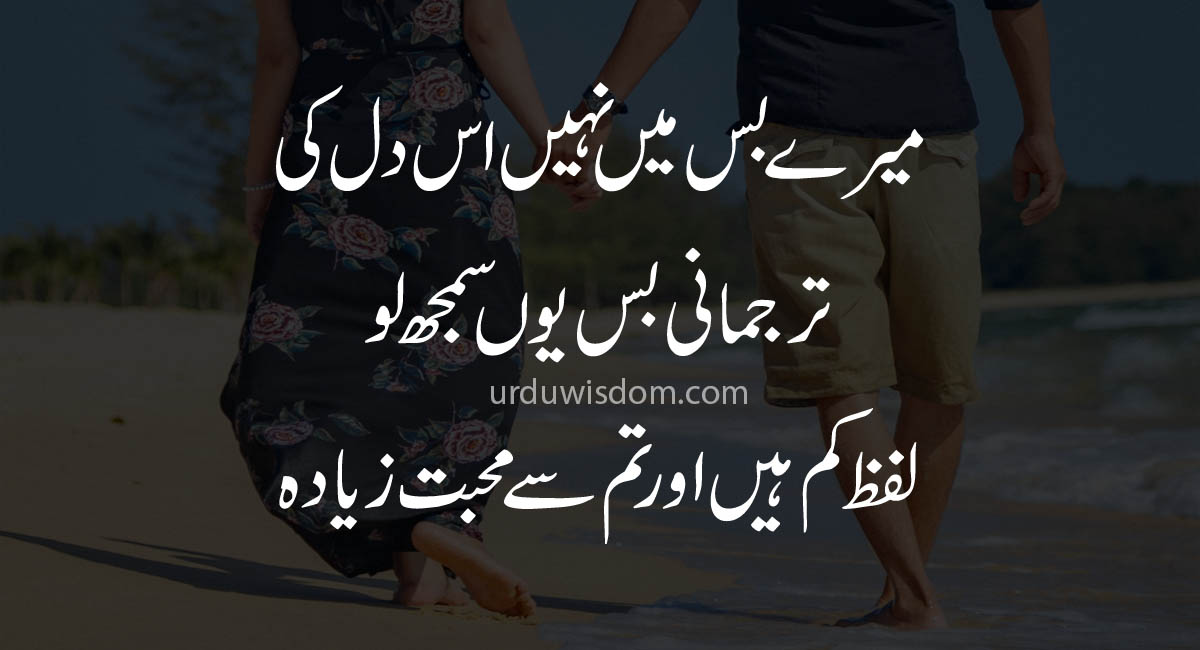 Maray bas mein nahe is dil ki tarjamani, Bas youn samajh lo
Lafz kam hain aur tum say mohabbat zyada
میرے بس میں نہیں اس دل کی ترجمانی, بس یوں سمجھ لو
لفظ کم ہیں اور تم سے محبّت زیادہ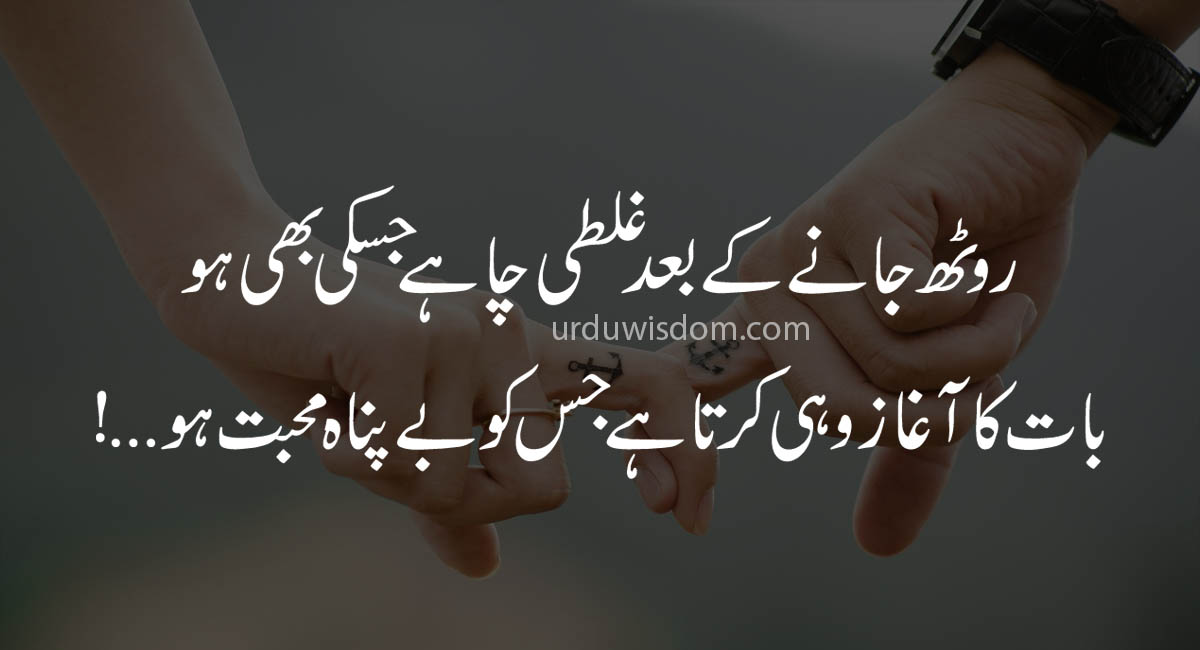 Roth janay k bahd Galti chaye jis ki bhe ho
Baat ka agaaz wohi karta hay, Jis ko be panah mohabbat ho.
روٹھ جانے ک بعد غلطی جس کی بھی ہو
بات کا آغاز وہی کرتا ہے, جس کو بے پناہ محبّت ہو.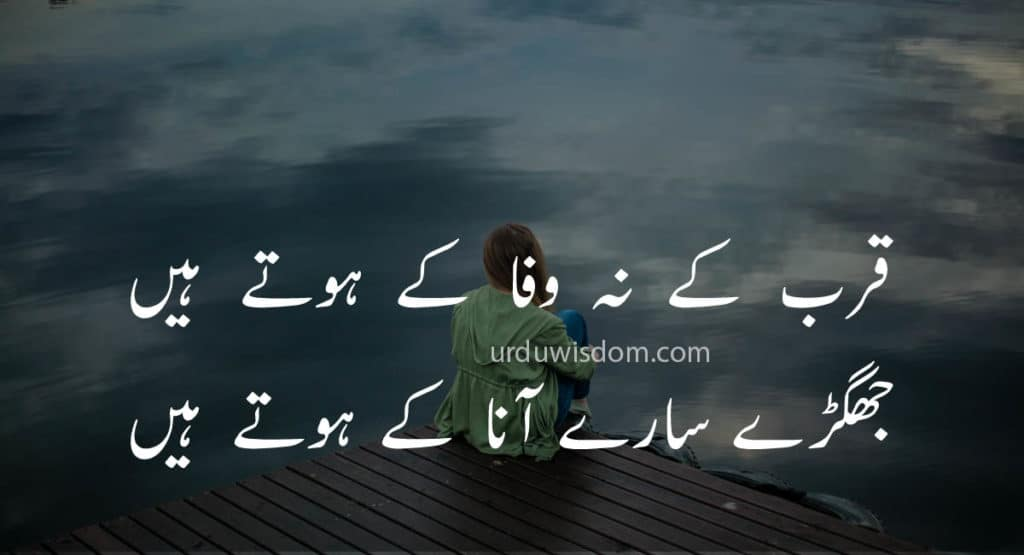 قرب کے نہ وفا کے ہوتے ہیں
جھگڑے سارے آنا کے ہوتے ہیں
Quotes about love in Urdu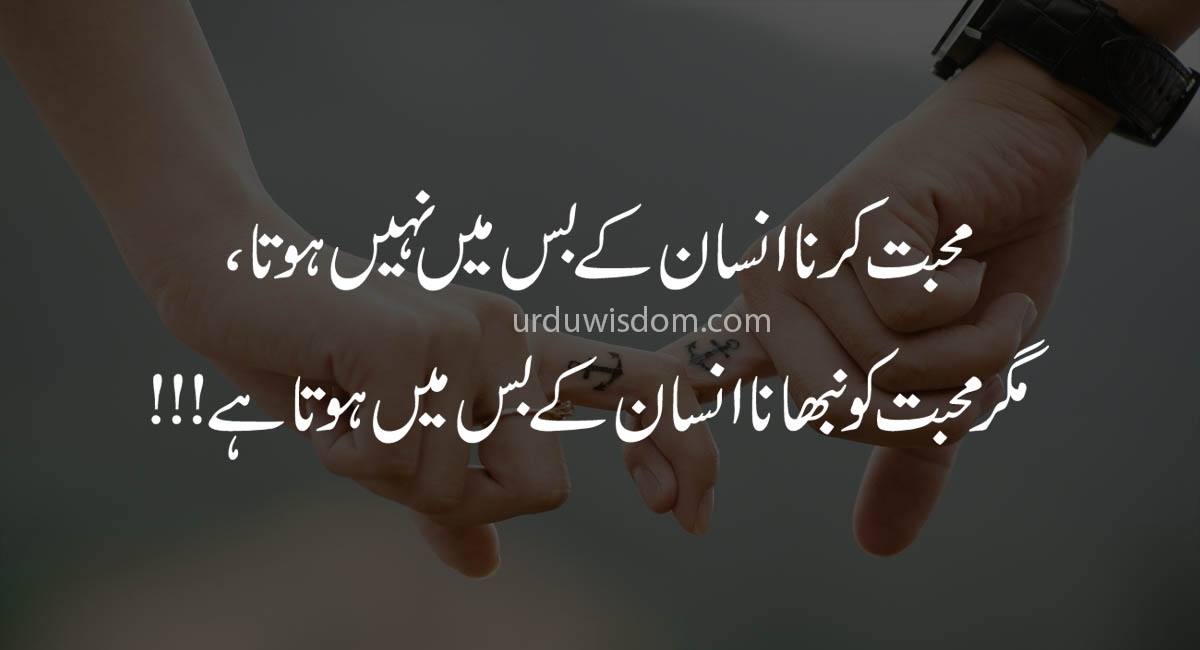 Mohabbat karna insaan kay bas mein nahe hota,
Magar nibhana insan kay bas mein hota hay
محبّت کرنا انسان کے بس میں نہیں ہوتا,
مگر نبھانا انسان کے بس میں ہوتا ہے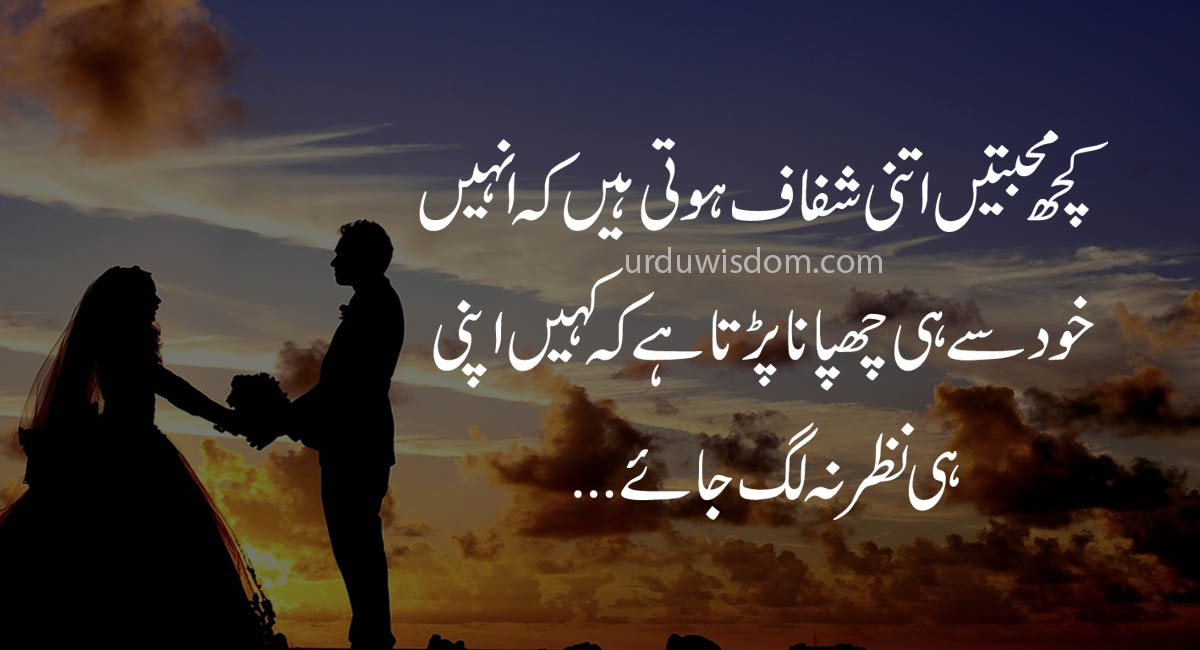 Kuch Mohabtain itni shaffaf hoti hain keh inhain khud say he chopana parta hay keh,
Kahe apni he nazar nah lag jay
کچھ محبتیں اتنی شفّاف ہوتی ہیں کہ انہیں خود سے ہی چھپانا پڑتا ہے کہ,
کہیں اپنی ہی نظر نہ لگ جائے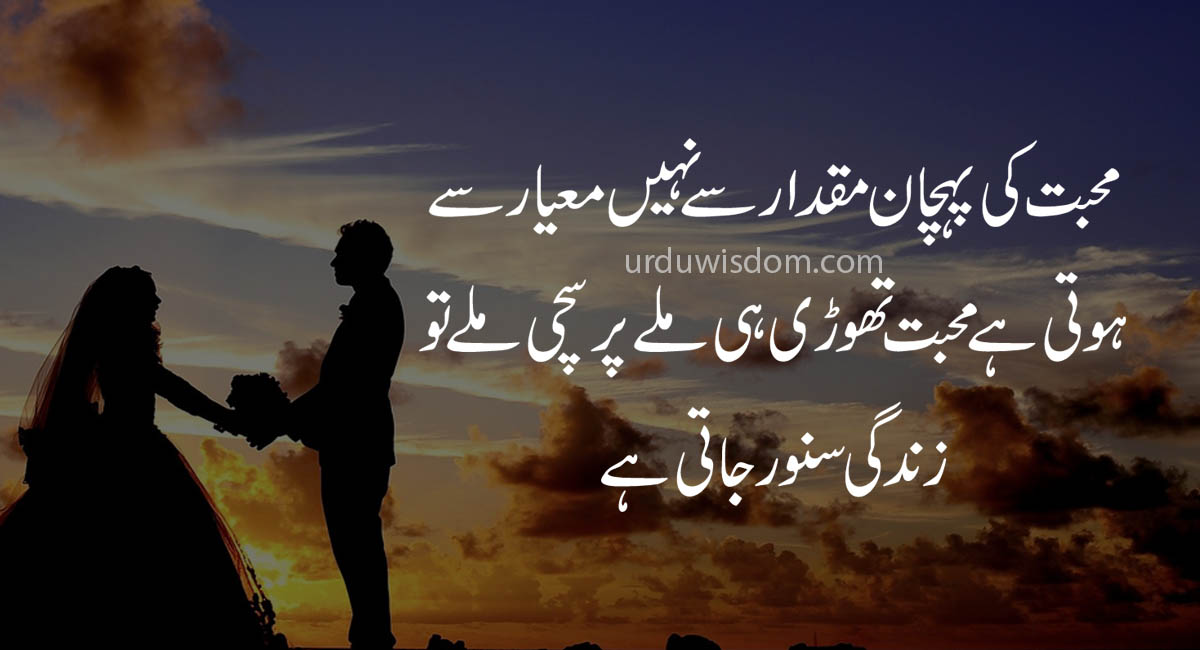 Mohabbat ke pehchaan Miqdaar sa nahe Myaar say hoti hay,
Mohabbat thori he milay par sachi milay to Zindagi sanwar jati hay
محبّت کی پہچان مقدار سا نہیں میعار سے ہوتی ہے,
محبّت تھوڑی ہی ملے پر سچی ملے تو زندگی سنور جاتی ہے
Love Quotes in Urdu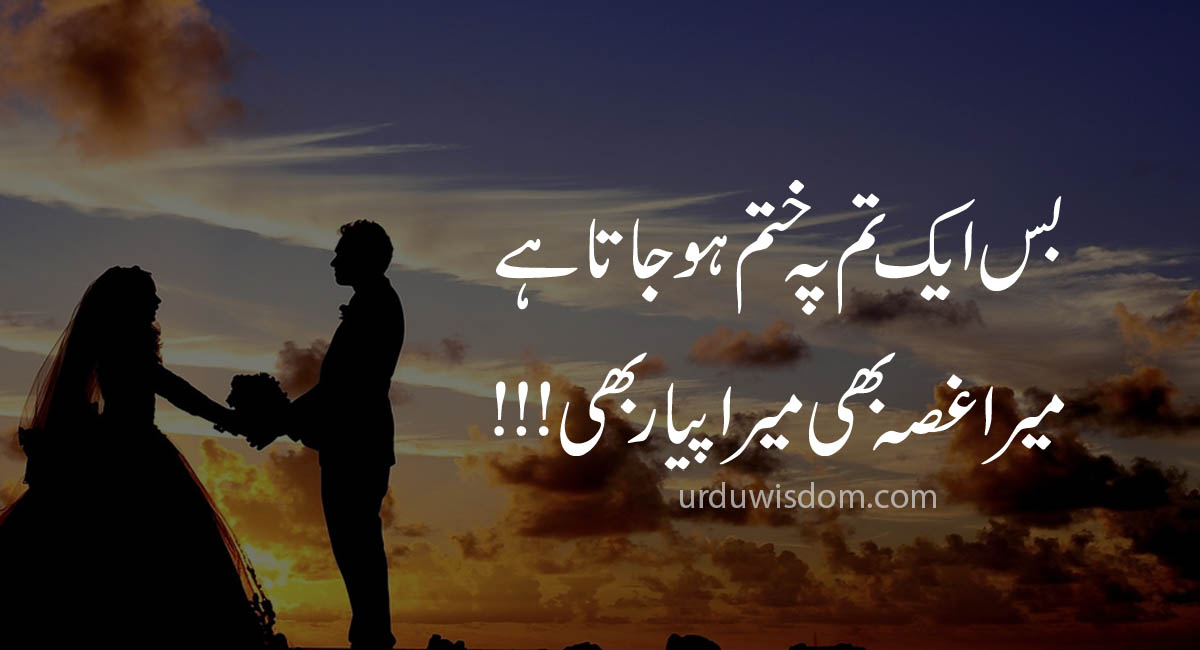 Bus eak tum pa khattam ho jata hay,
maira ghussa bhe Maira Pyar bhe
بس ایک تم پہ ختم ہو جاتا ہے,
میرا غصّہ بھی میرا پیار بھی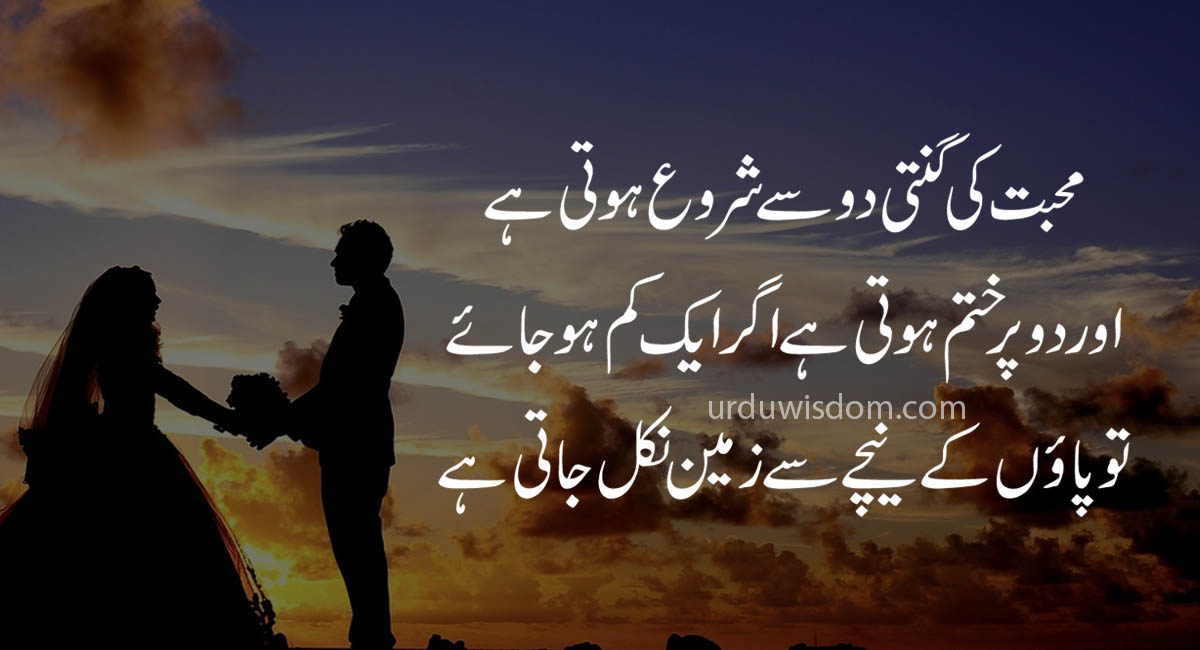 Mohabbat ki ginti do sa shuron hoti hay,
aur Do par khatam hoti hay, agar eak kam ho jay,
to paon kay nechay sa zameen nikal jati hay
محبّت کی گنتی دو سے شروع ہوتی ہے,
اور دو پر ختم ہوتی ہے, اگر ایک کم ہو جئے,
تو پاؤں کے نیچے سا زمین نکل جاتی ہے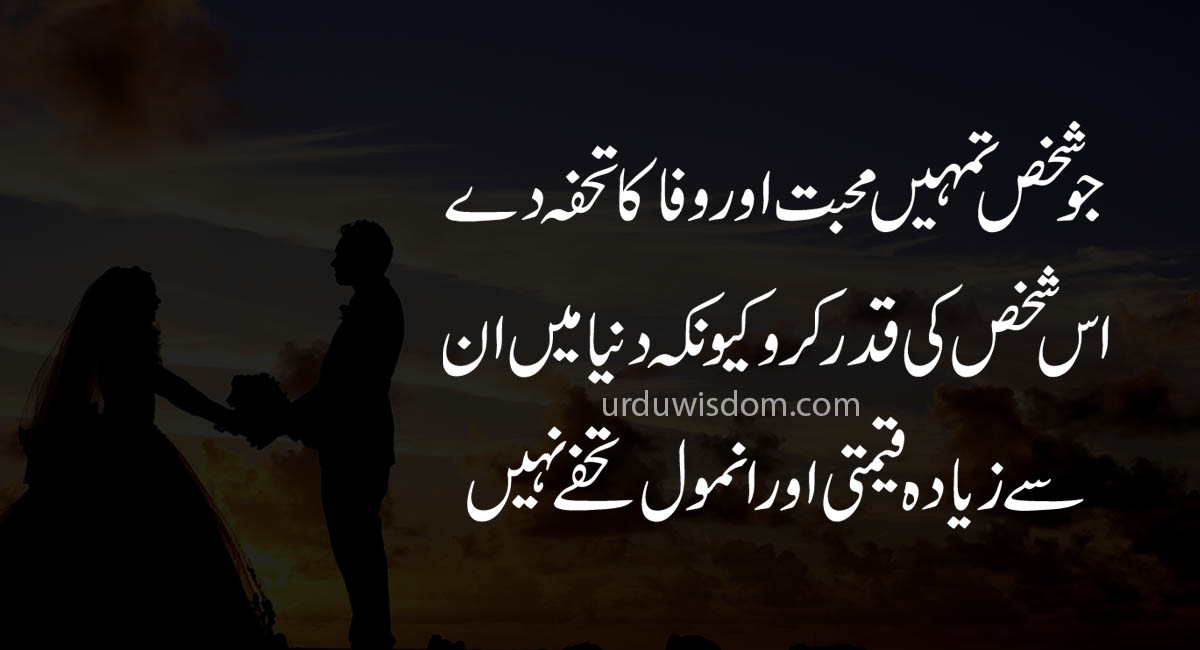 Jo shakhs tumain Mohabbat aur wafa ka tohfa day
is shakhs ki Qadar karo Kion keh dunya mein in sa zyada,
Qeemti aur Anmol Tohfay nahe
جو شخص تمہیں محبّت اور وفا کا تحفہ دے
اس شخص کی قدر کرو کیوں کہ دنیا میں ان سے زیادہ,
قیمتی اور انمول تحفہ نہیں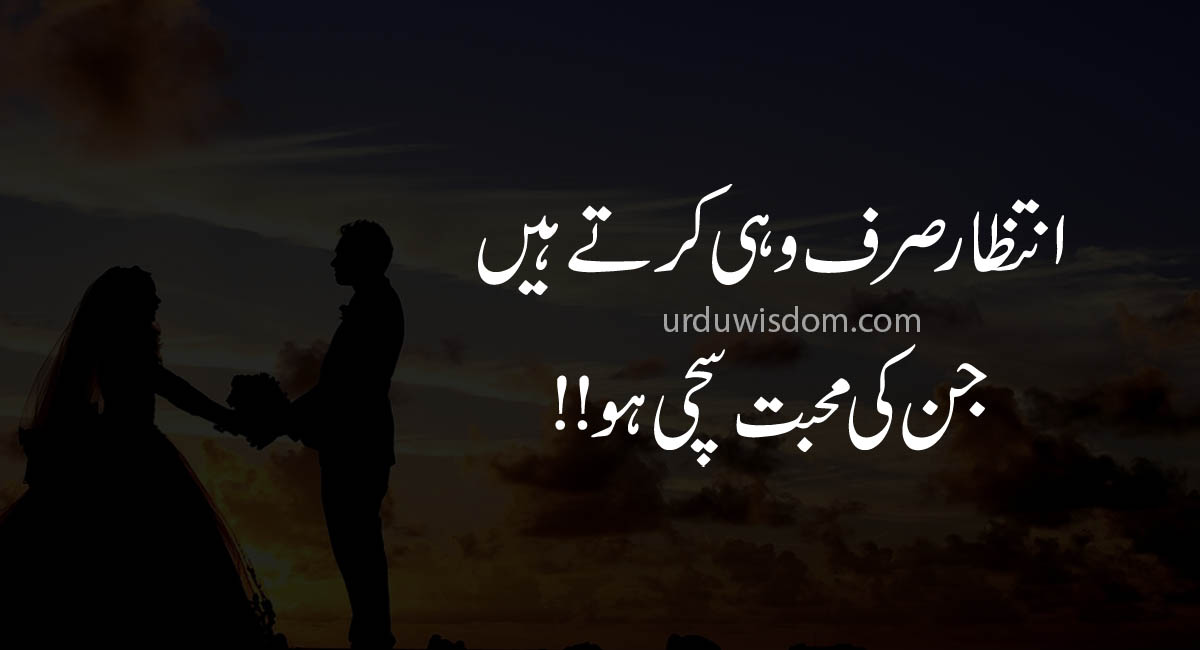 Intezaar sirf wohe kartay hain
Jin ki Mohabbat sachi ho
انتظار صرف وہی کرتے ہیں
جن کی محبّت سچی ہوتی ہے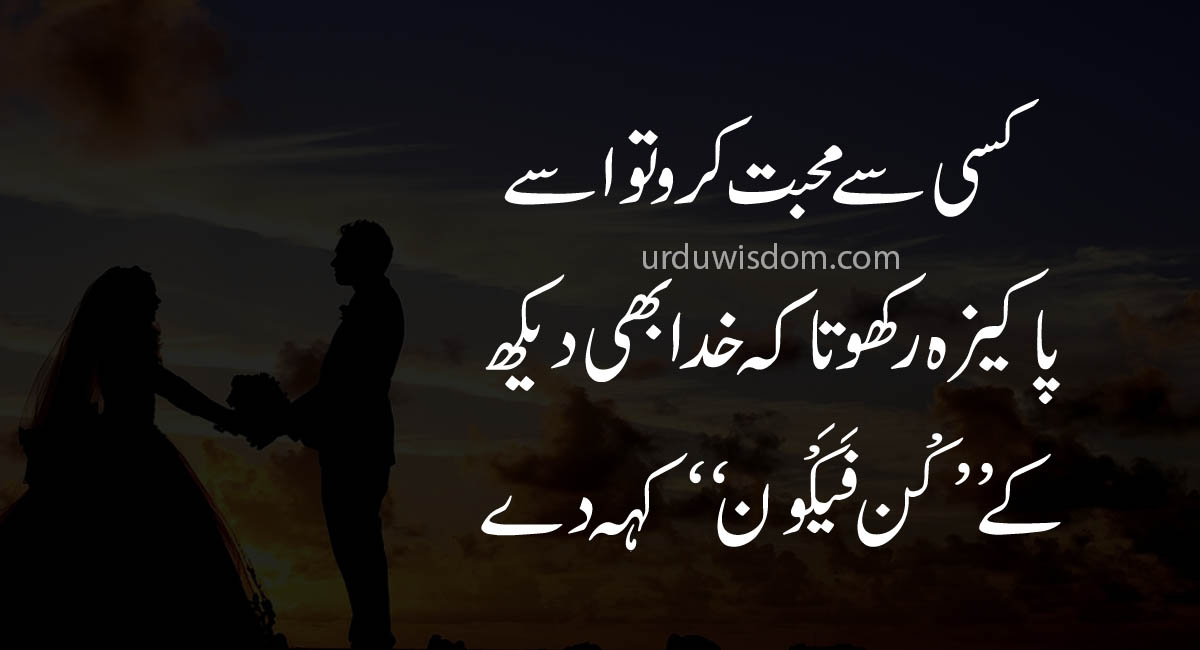 Kisi sa Mohabbat karo to ussay pakeeza rakho,
Ta keh khuda bhe daikh keh Kun Fa Ya Koon Keh day
کسی سے محبّت کرو تو اسے پاکیزہ رکھو,
تا کہ خدا بھی دیکھ کہ کن فیا کون کہ دے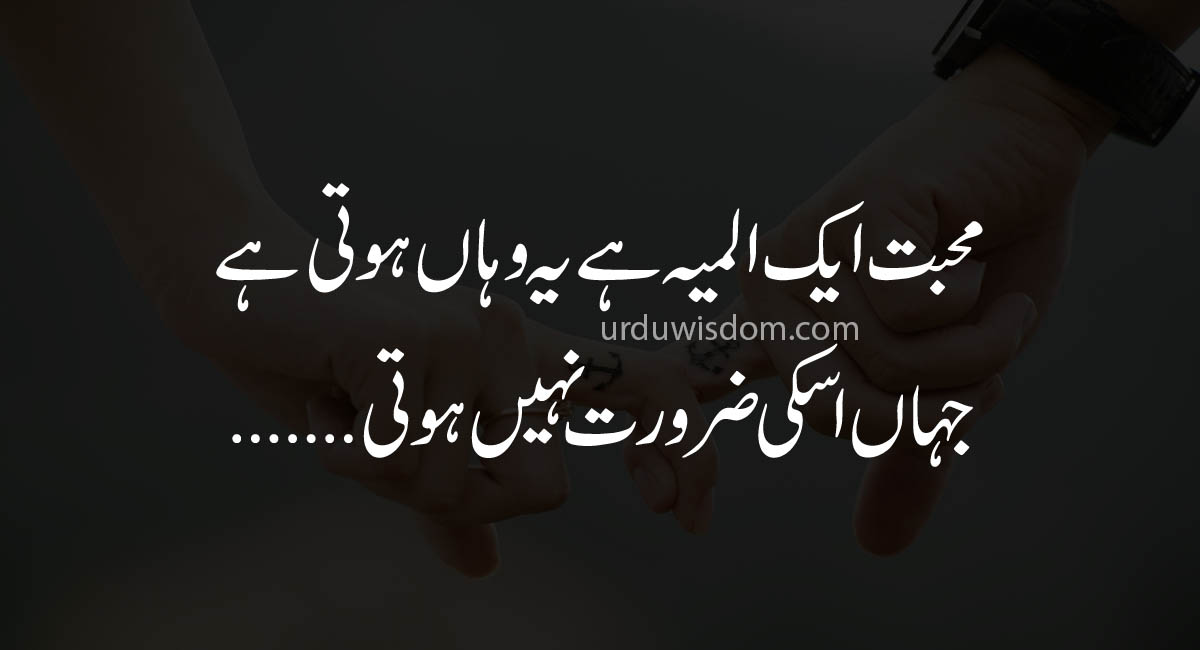 Mohabbat eak almya hay ye wahan hoti hay
Jahan is ki Zarorat nahe hoti
محبّت ایک المیہ ہے یہ وہاں ہوتی ہے
جہاں اس کی ضرورت نہیں ہوتی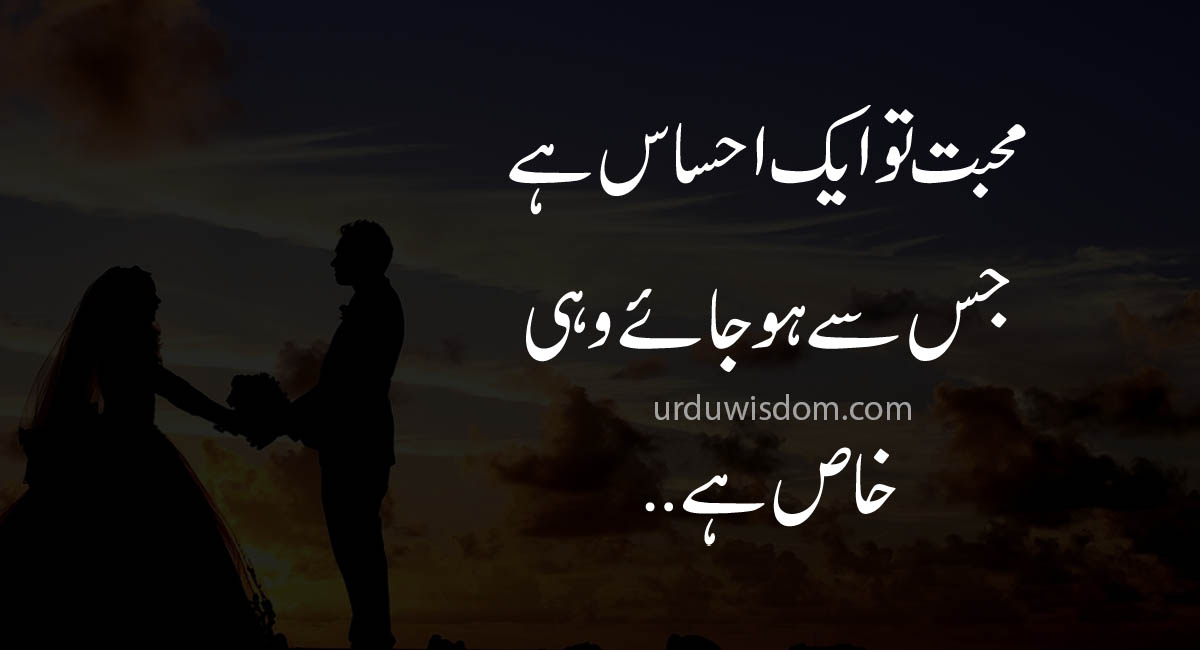 Mohabbat to eak Ehsaas hay,
Jis sa ho jay wohe khaas hay
محبّت تو ایک احساس ہے,
جس سے ہو جائے وہی خاص ہے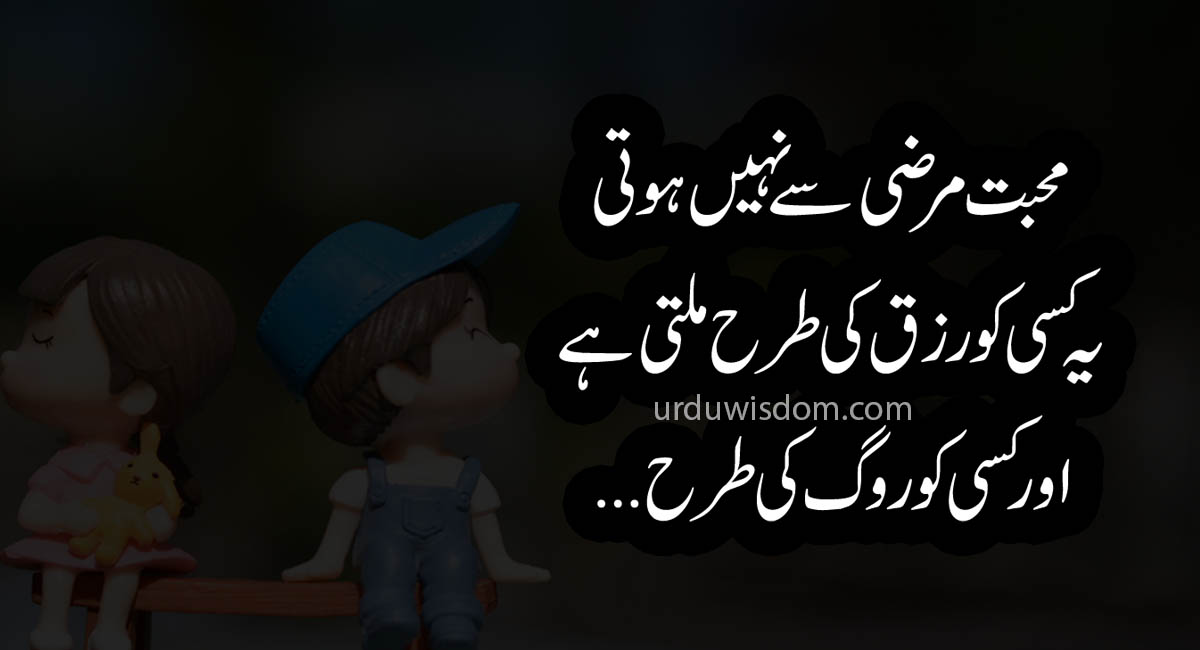 Mohabbat marzi say nahe hoti, kisi ko Rizq ke tarha
Milti hay, aur kisi ko rog ke tarha
محبّت مرضی سے نہیں ہوتی, کسی کو رزق کے طرح
ملتی ہے, اور کسی کو روگ کے طرح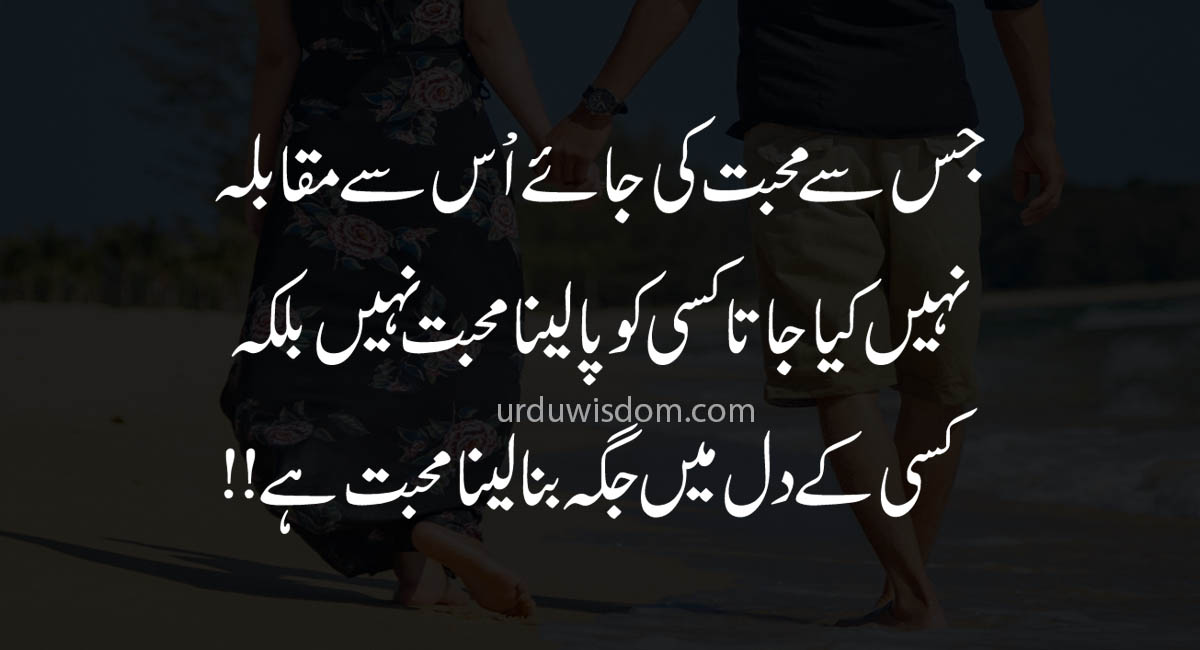 Jis sa mohabbat ki jay us sa mokabla Nahe kya jata
Kisi ko paa lain mohabbat nahe, balkay kisi kay Dil mein jaga bana laina mohabbat hay
جس سے محبّت کی جائے اس سے مقابلا نہیں کیا جاتا
کسی کو پا لینا محبّت نہیں, بلکہ کسی کے دل میں جگہ بنا لینا محبّت ہے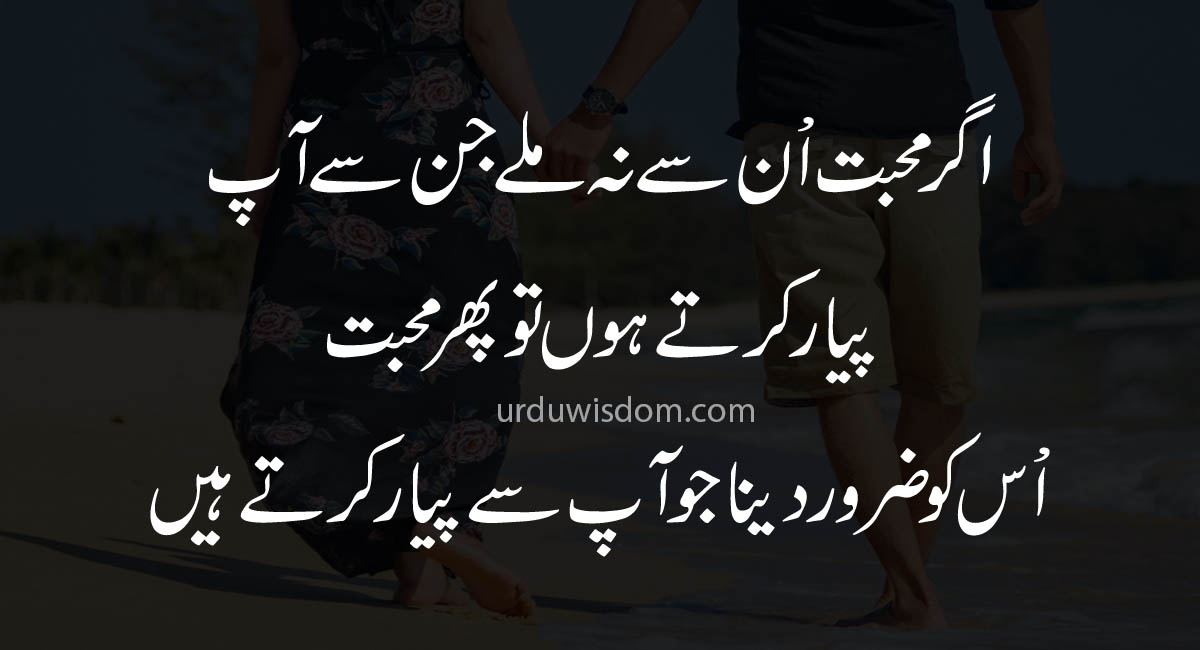 Agar Mohabbat un say nah milay Jin say aap pyar kartay hain
To phir Mohabbat Us ko Zaror daina Jo aap say pyar kartay hain
اگر محبّت ان سے نہ ملے جن سے آپ پیار کرتے ہیں
تو پھر محبّت اس کو ضرور دینا جو آپ سے پیار کرتا ہیں
Love Quotes in Urdu with images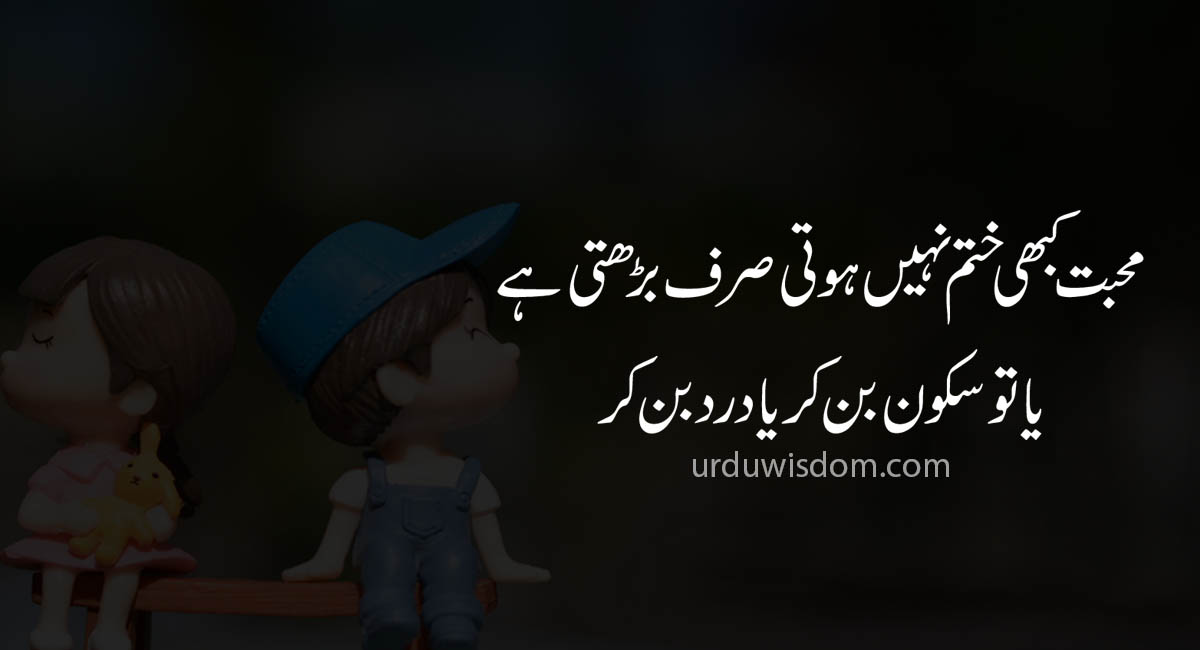 Mohabbat kabhe khatam nahe hoti Sirf barti hay,
Ya to sakoon ban kar ya Dard ban kar
محبّت کبھی ختم نہیں ہوتی صرف بڑھتی ہے,
یا تو سکون بن کر یا درد بن کر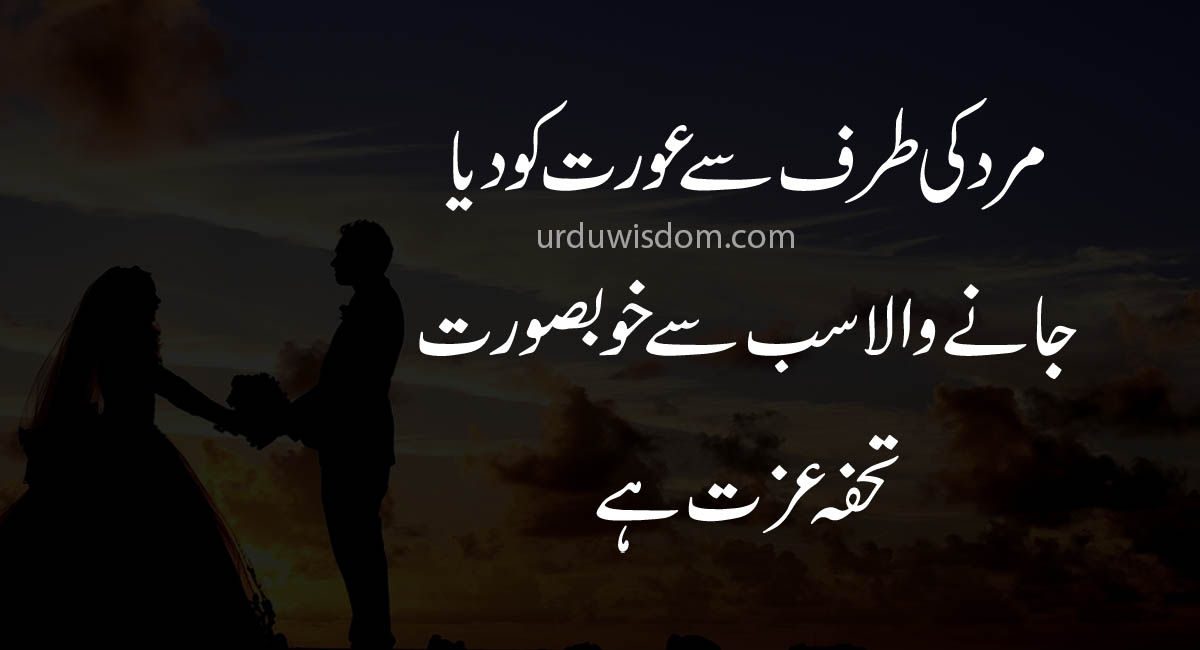 Mard ki taraf say aurat ko dya janay wala sab say,
Khobsorat tohfa Izzat hay
مرد کی طرف سے عورت کو دیا جانے والا سب سے,
خوبصورت تحفہ عزت ہے
I hope you have enjoyed these beautiful love quotes in Urdu. You can share these quotes with your friend who is very close to you and you love him very much. You can share these quotes on any social media.