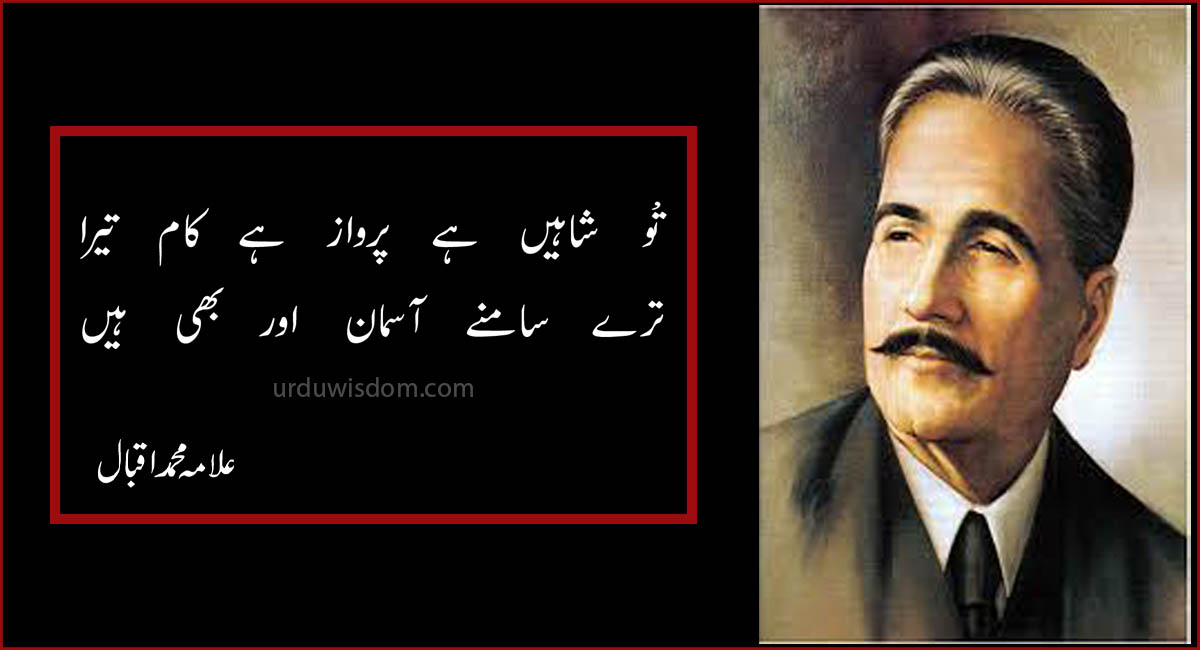 Explore the best Allama Iqbal poetry in Urdu with images. Allama Iqbal poetry has inspiration and motivation for students and youth. Allama Iqbal poetry is famous all over the world. He used poetry as a medium to convey his message to Muslim Umma. Muhammad Iqbal born in a Noble family at Sialkot. He was a poet, scholar, thinker and philosopher.
The poetry of Allama Iqbal is very difficult to understand because it has deep knowledge and thinking. So if you want to understand his poetry you have a good knowledge and thinking power.
He is the poet of Ghazal, poems and Nazams. Allama Iqbal poetry is purposeful and hopeful with all aspects of life. Here you can find the best inspirational and motivational Iqbal poetry you can share on Facebook, Instagram and Twitter as well.
Allama Iqbal Poetry In Urdu
تو شاہیں ہے پرواز ہے کام تیرا
ترے سامنے اور بھی ہیں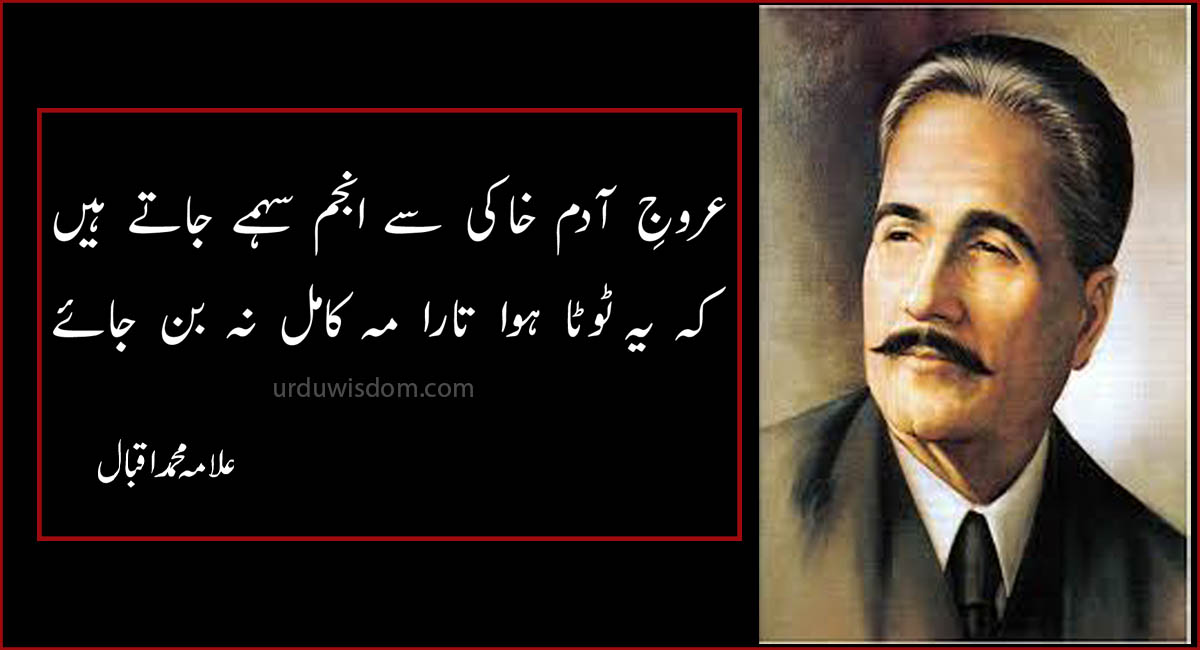 عروجِ آدم خاکی سے انجم سہمے جاتے ہیں
کہ یہ ٹوٹا ہوا تارا مہ کامل نہ بن جائے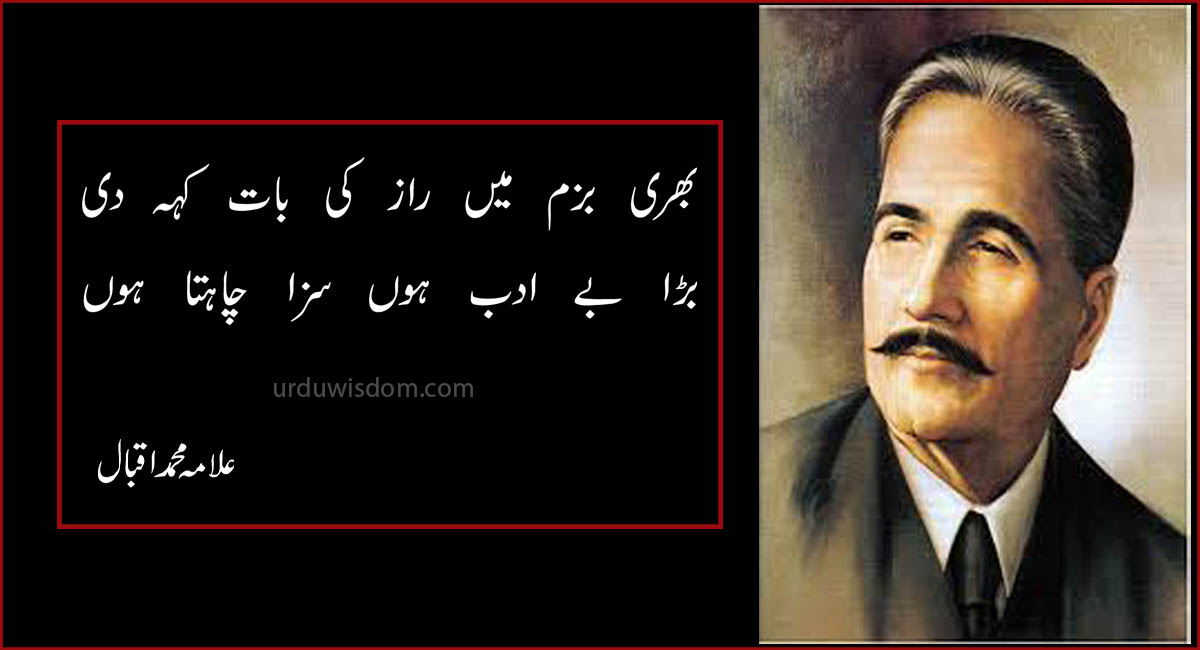 بھری بزم میں راز کی بات کہہ دی
بڑا بے ادب ہوں سزا چاہتا ہوں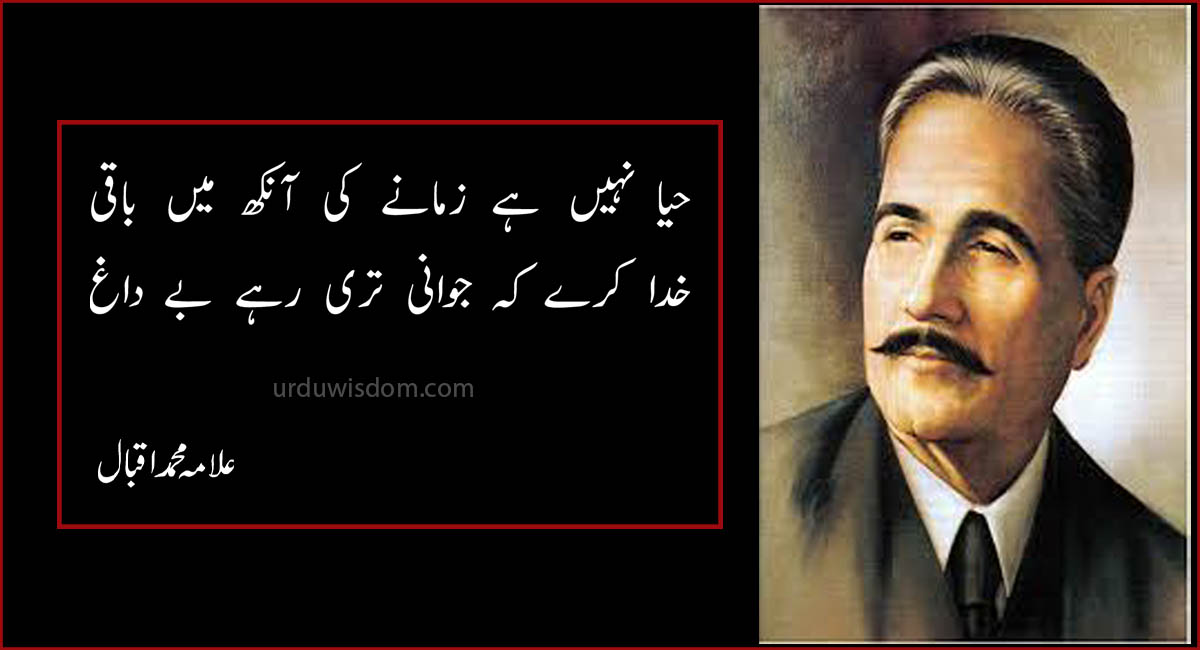 حیا نہیں ہے زمانے کی آنکھ میں باقی
خدا کرے کہ جوانی تری رہے بے داغ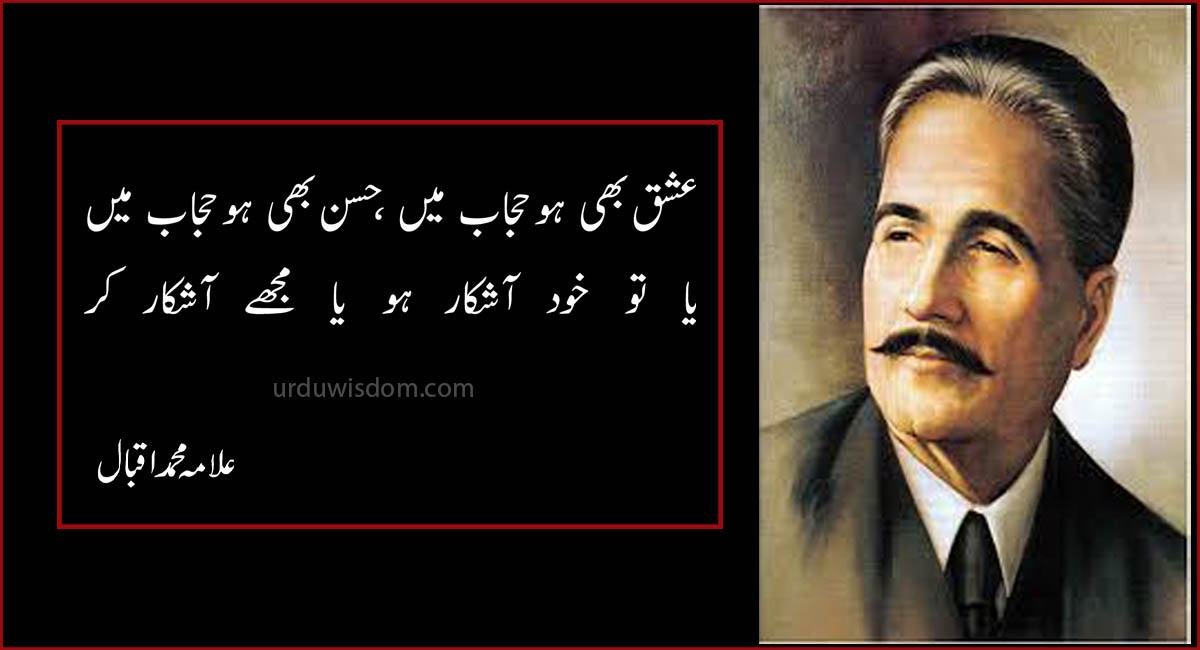 عشق بھی ہو حجاب میں، حسن بھی ہو حجاب میں
یا تو خود آشکار ہو یا مجھے آشکار کر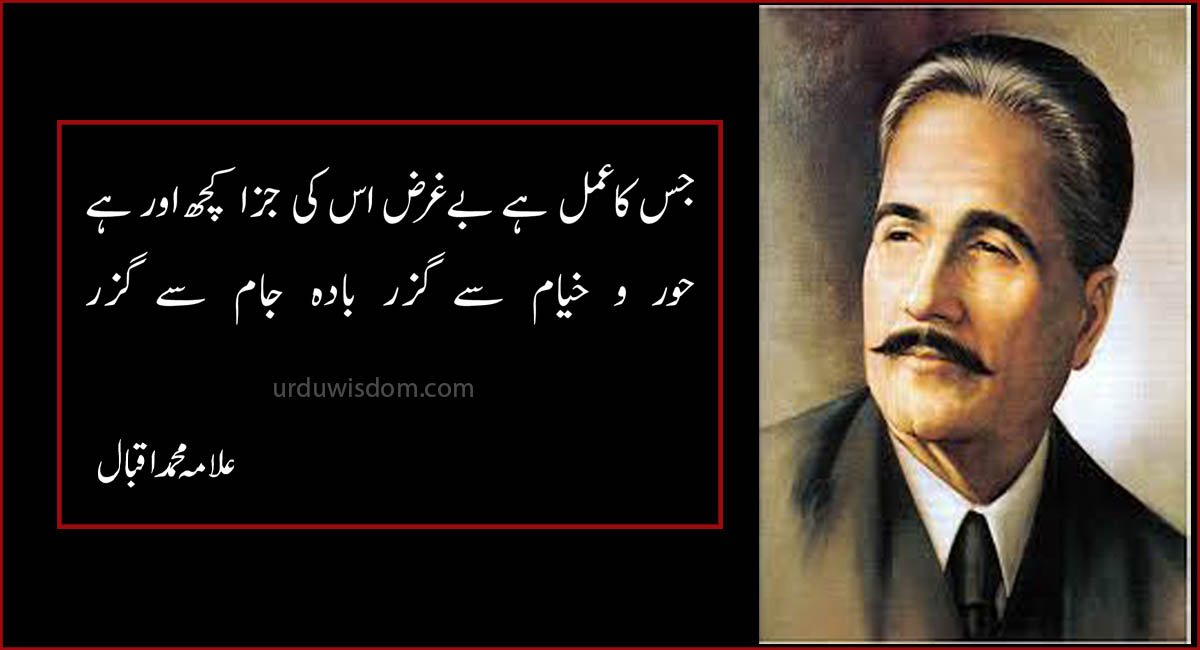 جس کا عمل ہے بے غرض اس کی جزا کچھ اور ہے
حور و خیام سے گزر بادہ جام سے گزر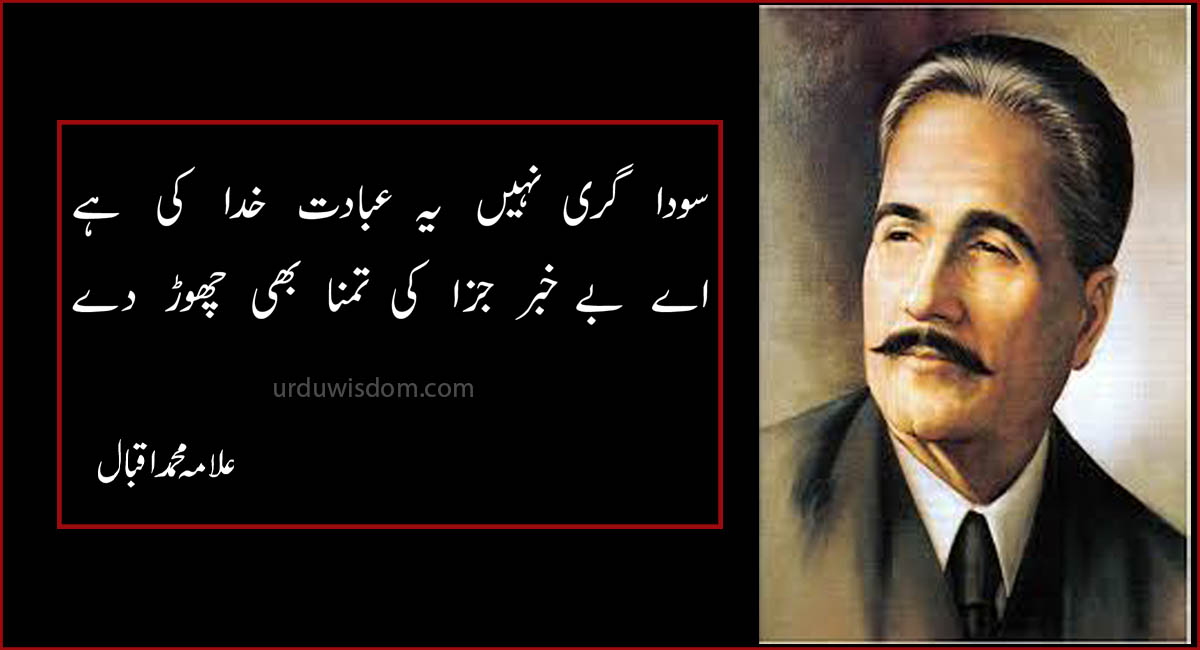 سودا گری نہیں یہ عبادت خدا کی ہے
اے بے خبر جزا کی تمنا بھی چھوڑ دے
Poetry of Allama Iqbal in Urdu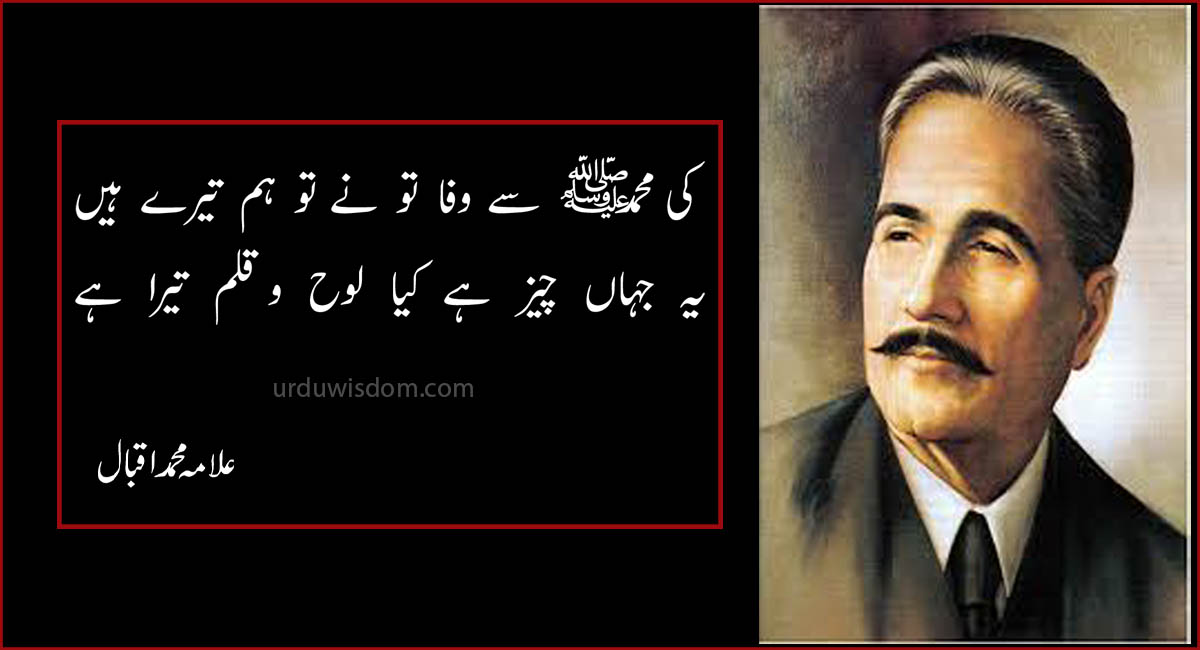 کی محمدﷺ سے وفا تو نے تو ہم تیرے ہیں
یہ جہاں چیز ہے کیا لوح و قلم تیرے ہیں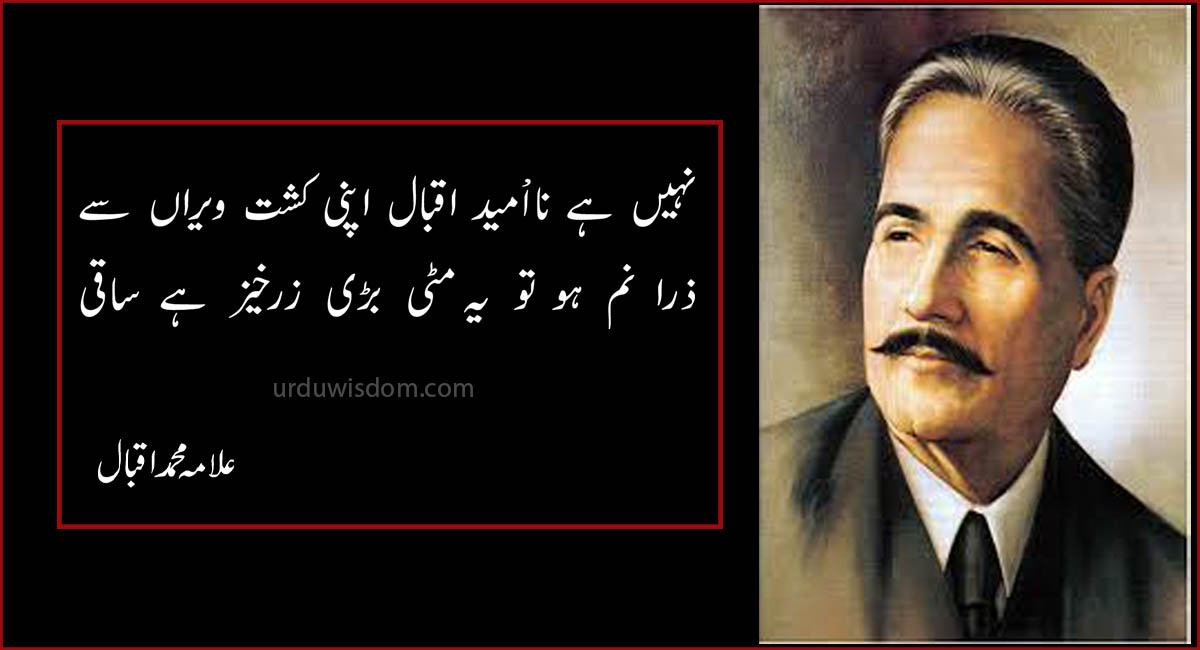 نہیں ہے نا امید اقبال اپنی کشت ویراں سے
ذرا نم ہو تو یہ مٹی بڑی زرخیز ہے ساقی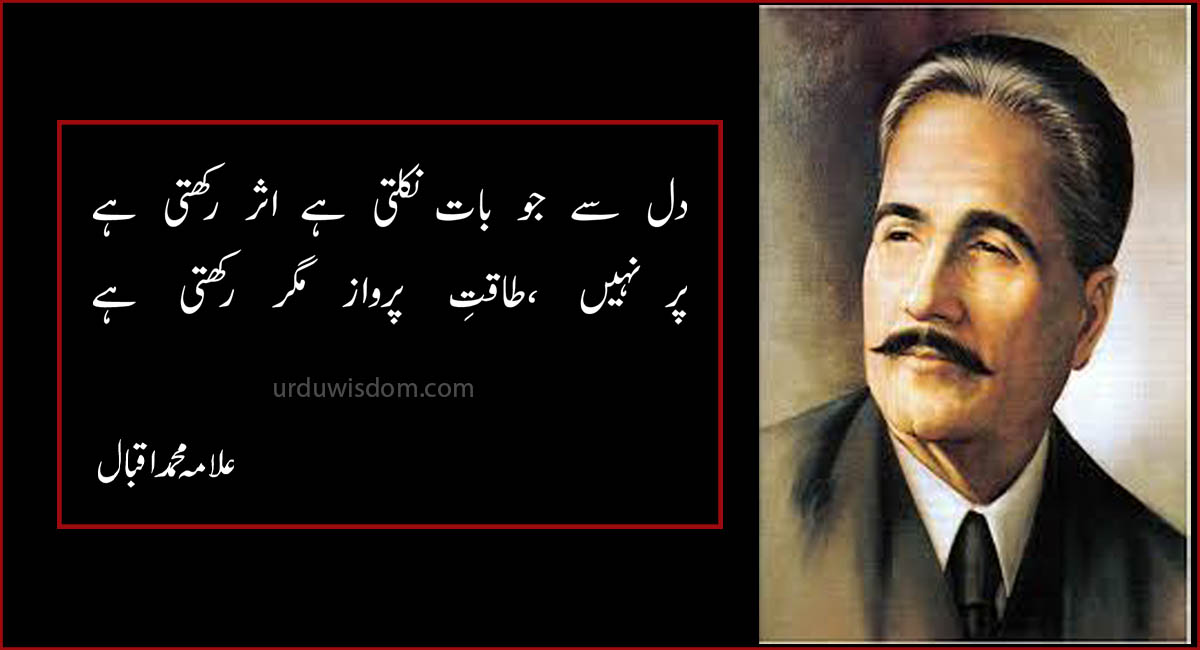 دل سے جو بات نکلتی ہے اثر رکھتی ہے
پر نہیں ،طاقتِ پرواز مگر رکھتی ہے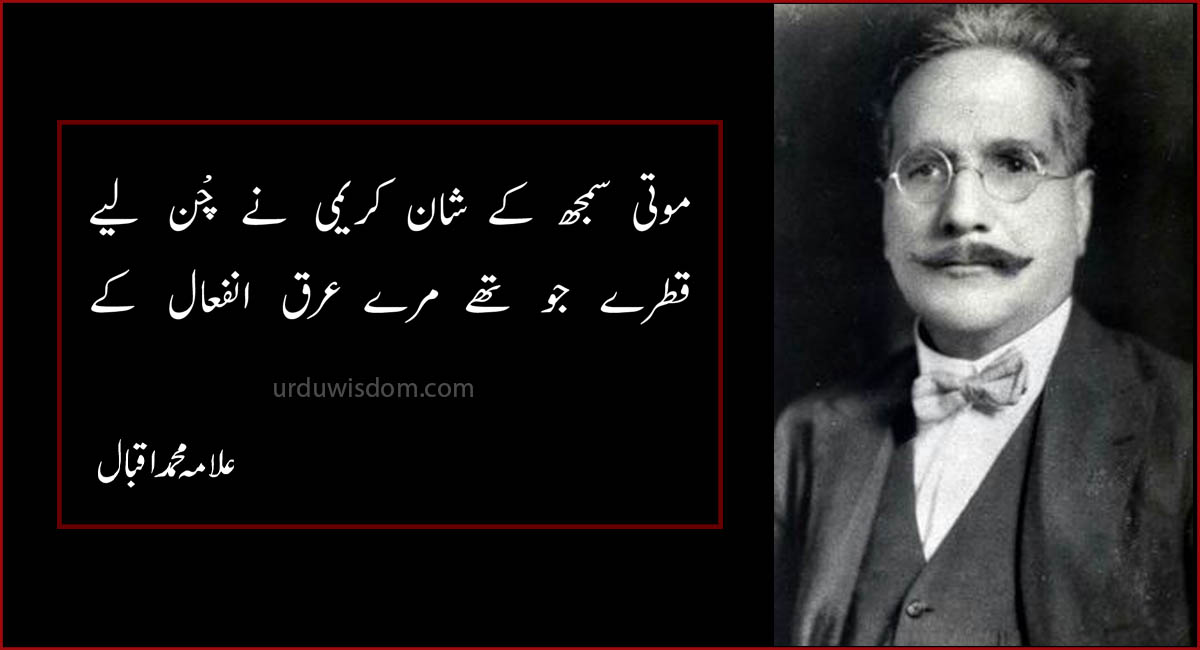 موتی سمجھ کر شانِ کریمی نے چن لیے
قطرے جو تھے میرے عرقِ انفعال کے
Allama Iqbal poetry: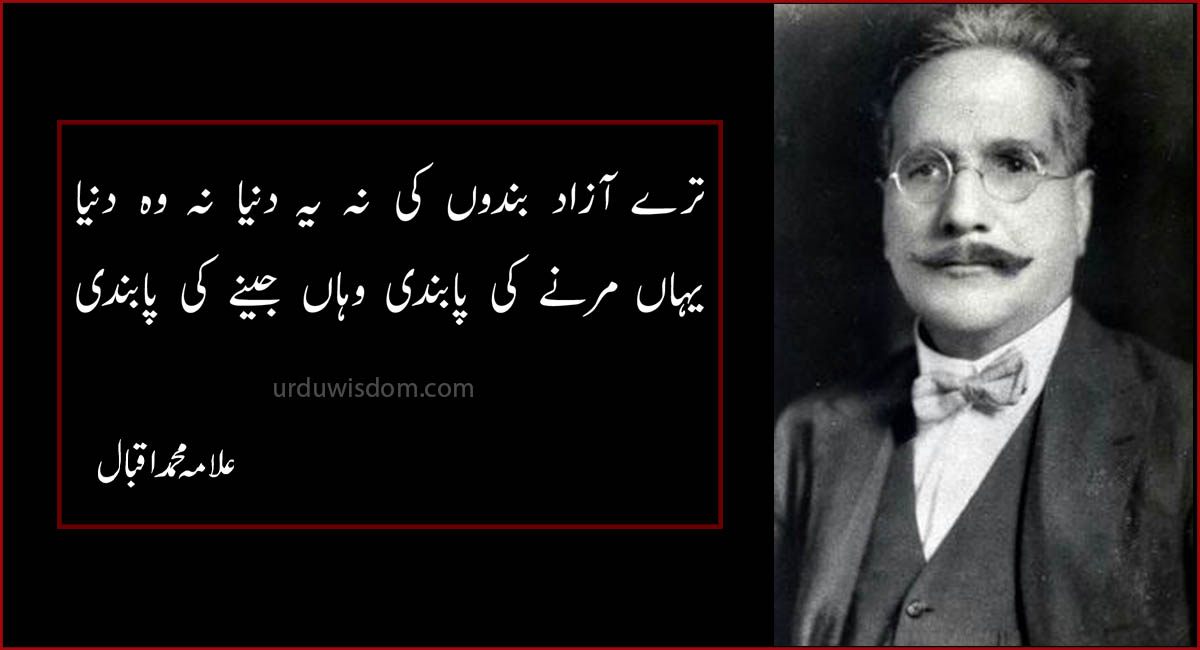 ترے آزاد بندوں کی نہ یہ دنیا نہ وہ دنیا
یہاں مرنے کی پابندی وہاں جینے کی پابندی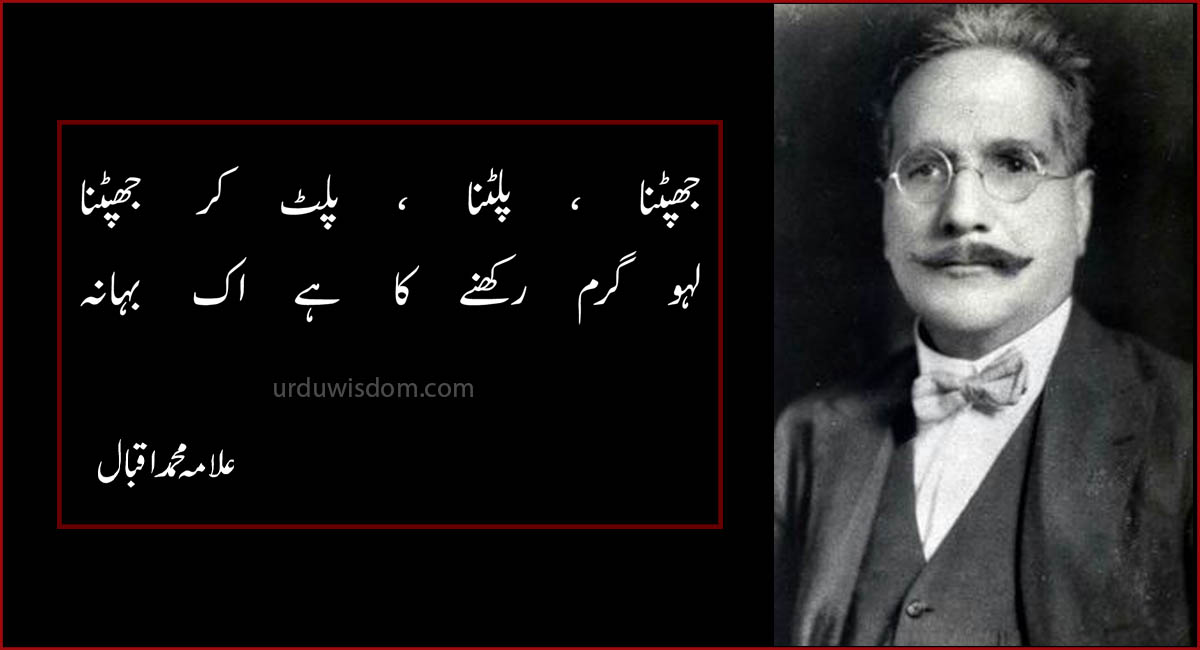 جھپٹنا ، پلٹنا، پلٹ کر جھپٹنا
لہو گرم رکھنے کا ہے اک بہانہ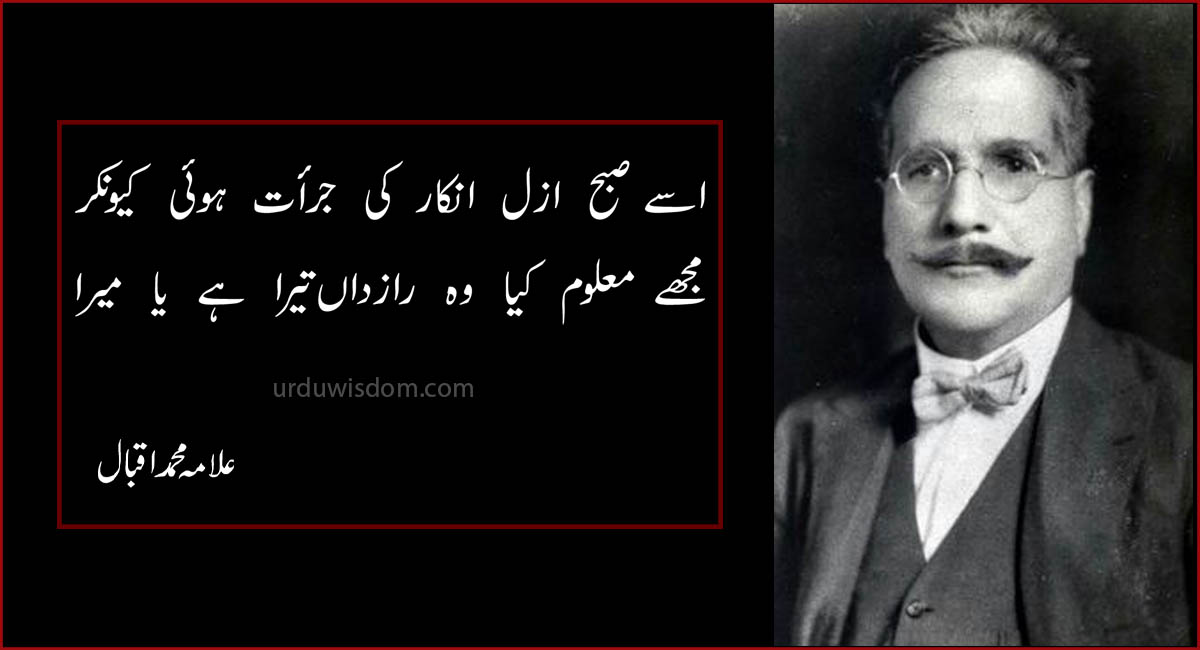 اسے صبح ازل انکار کی جرآت ہوئی کیونکر
مجھے معلوم کیا وہ رازداں تیرا ہے یا میرا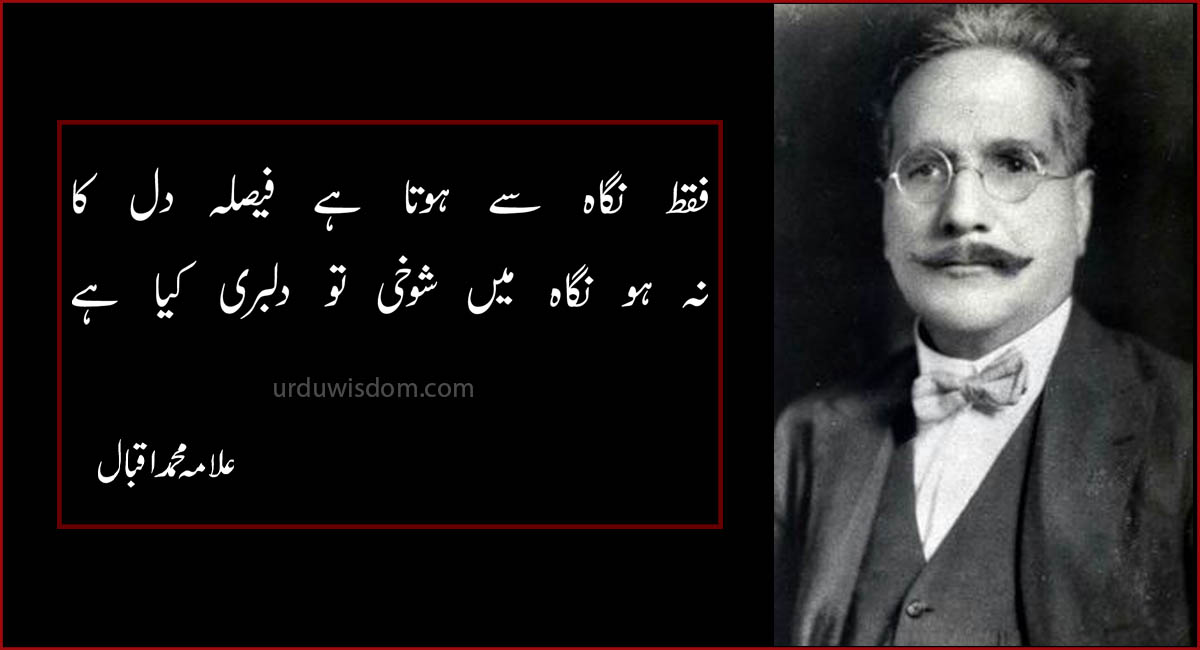 فقط نگاہ سے ہوتا ہے فیصلہ دل کا
نہ ہو نگاہ میں شوخی تو دلبری کیا ہے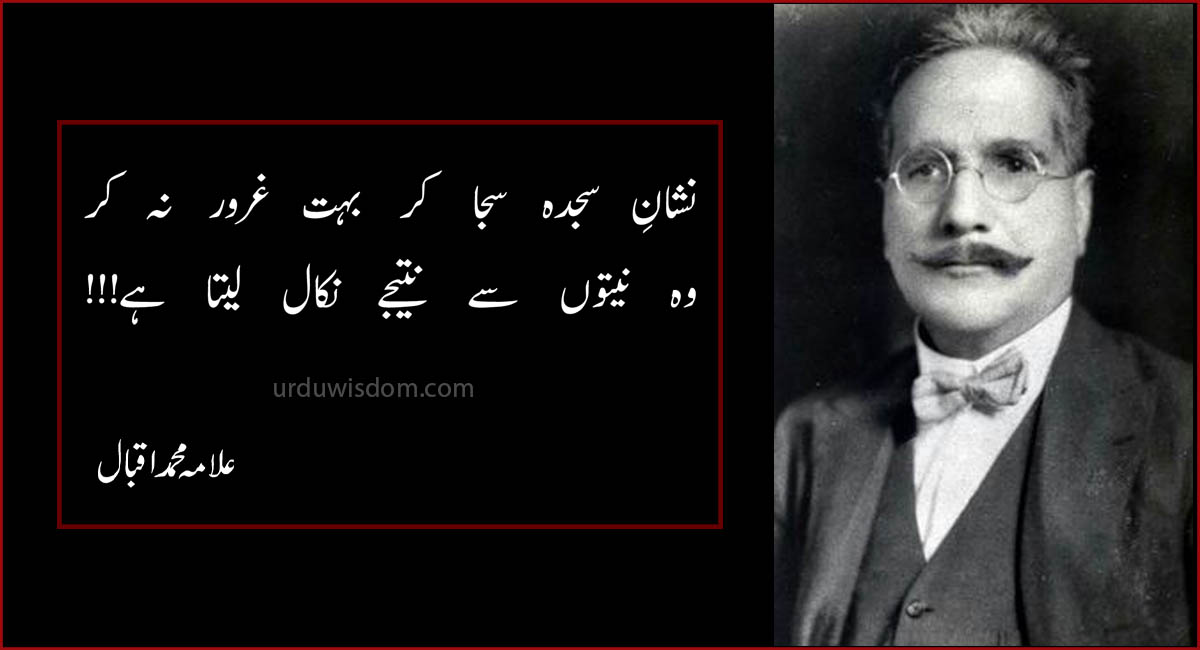 نشانِ سجدہ سجا کر بہت غرور نہ کر
وہ نیتوں سے نتیجے نکال لیتا ہے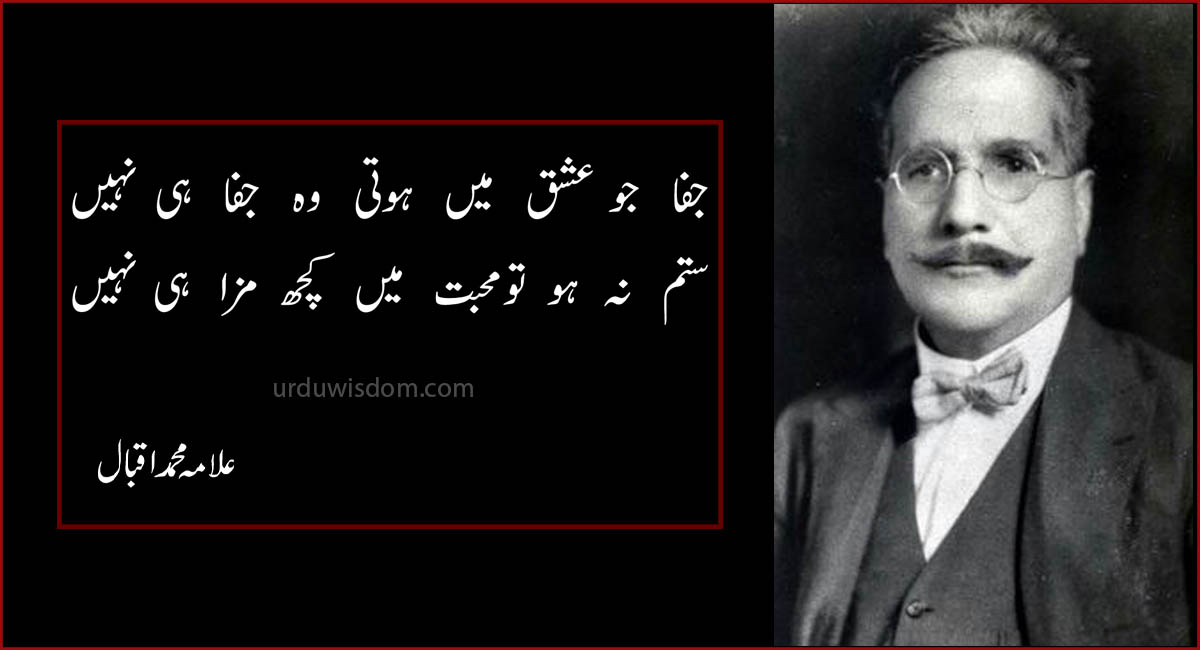 جفا جو عشق میں ہوتی وہ جفا ہی نہیں
ستم نہ ہو تو محبت میں کچھ مزا ہی نہیں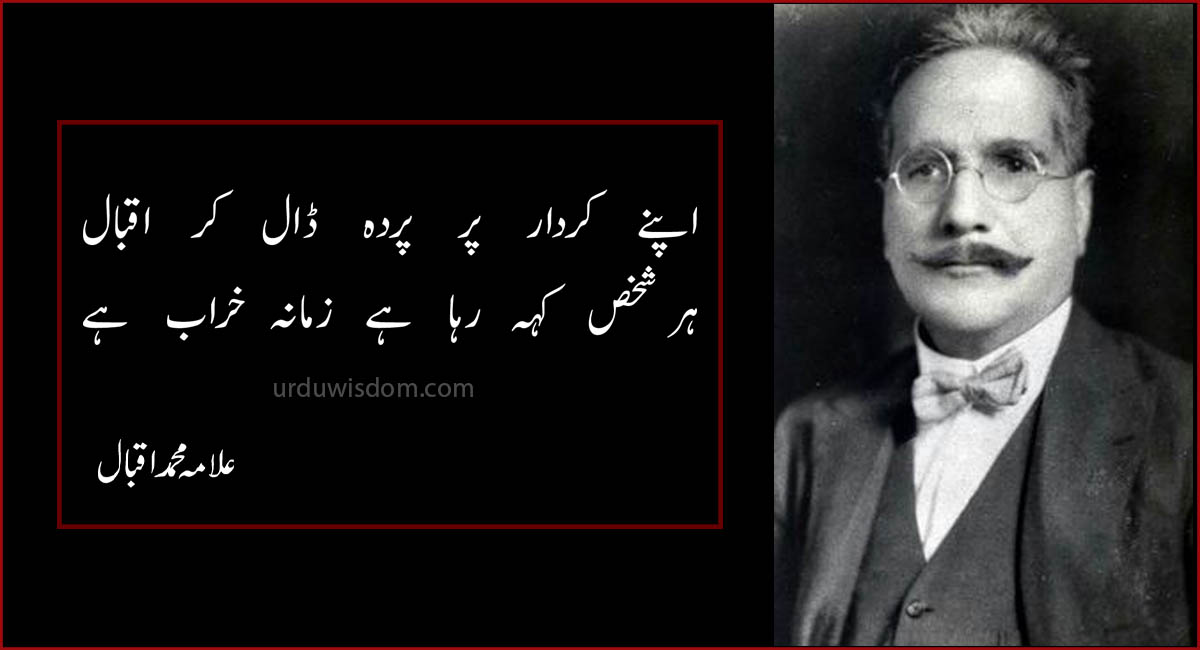 اپنے کردار پر پردہ ڈال کر اقبال
ہر شخص کہہ رہا ہے زمانہ خراب ہے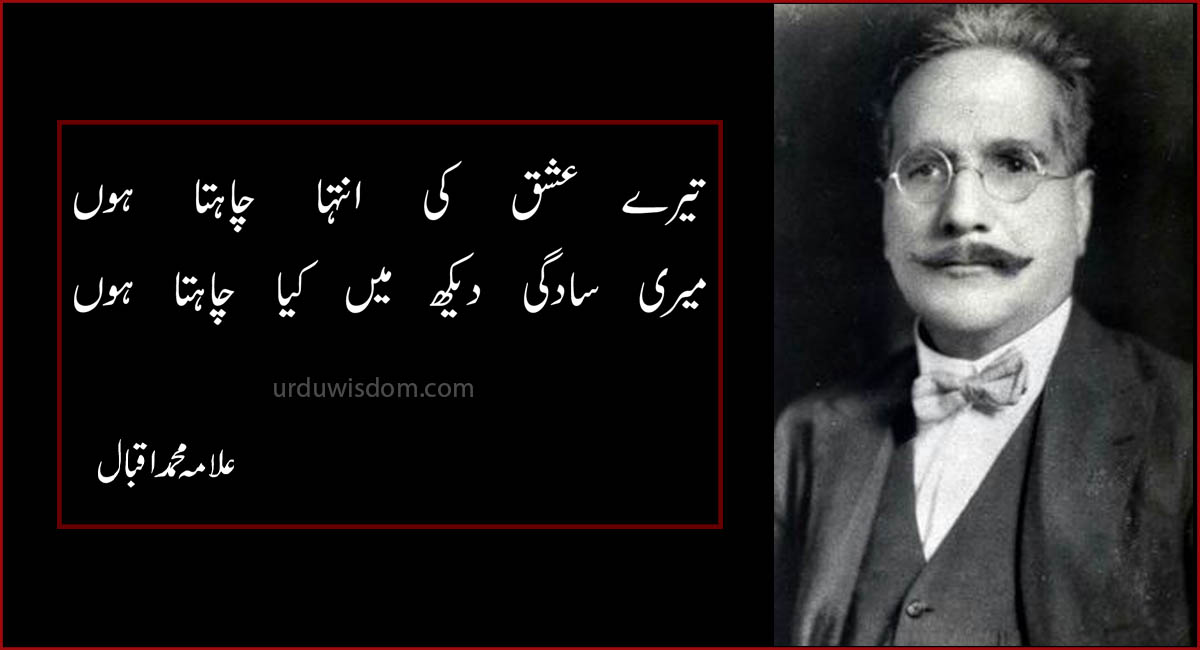 تیرے عشق کی انتہا چاہتا ہوں
میری سادگی دیکھ میں کیا چاہتا ہوں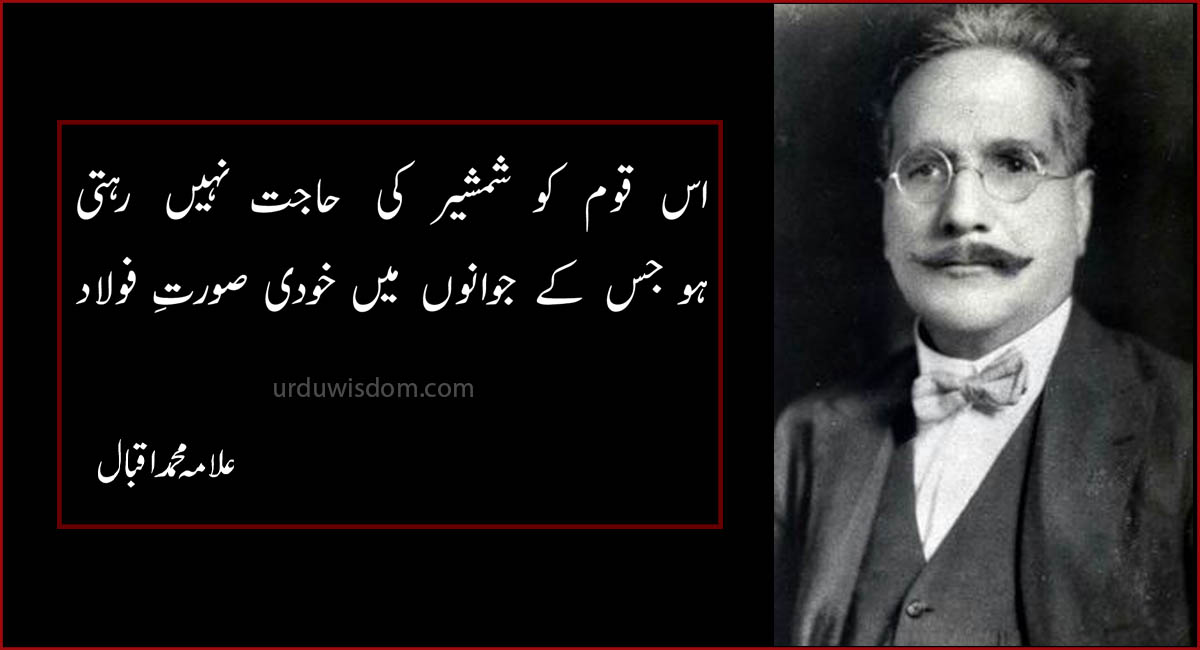 اس قوم کی شمشیر کی حاجت نہیں رہتی
ہو جس کے جوانوں میں خودی صورتِ فولاد
Thanks for reading my collection on allama iqbal poetry in urdu. I hope you have been inspired the valuable content of Muhammad Iqbal. He is the national poet of Pakistan. He gave the Idea of Pakistan. Please like, share and Comment below.