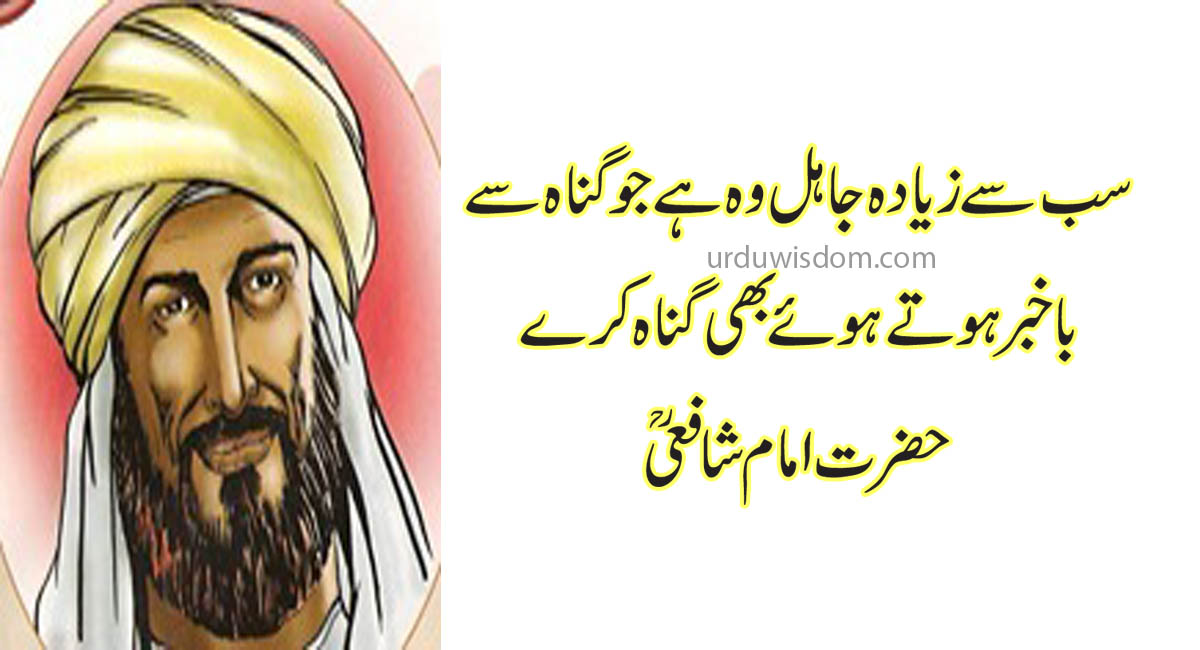 In this post, I will share you the best Imam Shafi quotes in Urdu. Imam Shafi is among of the four Aimaa's Karaam who is the symbol of knowledge and wisdom. He wrote many books in the Arabic language. He has a huge following in all over the Muslim community.
Here you can find the best collection of Imam Shafi Quotes which will inspire you. You can share these quotes with your friends and family on social media.
سب سے زیادہ جاہل وہ ہے جو گناہ سے باخبر ہوتے ہوئے بھی گناہ کرے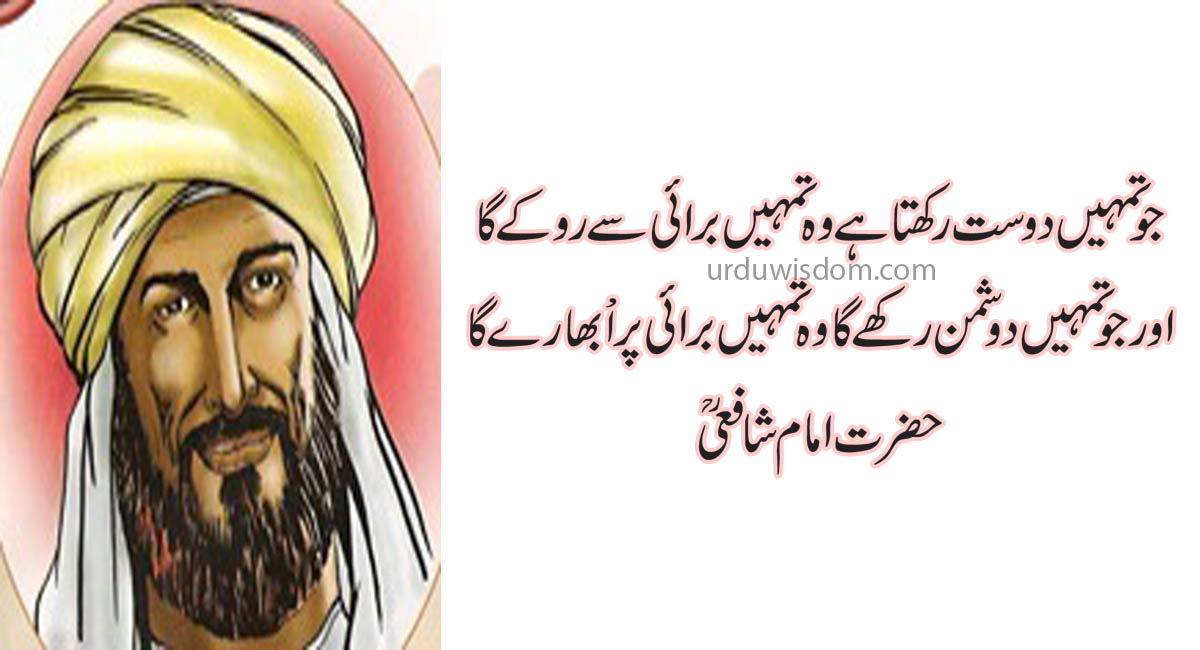 جو تمہیں دوست رکھتا ہے وہ تمہیں برائی سے بھی روکے گا
اور جو تمہیں دوشمن رکھے گا وہ تمہیں برائی پر ابھارے گا
Imam Shafi Quotes in Urdu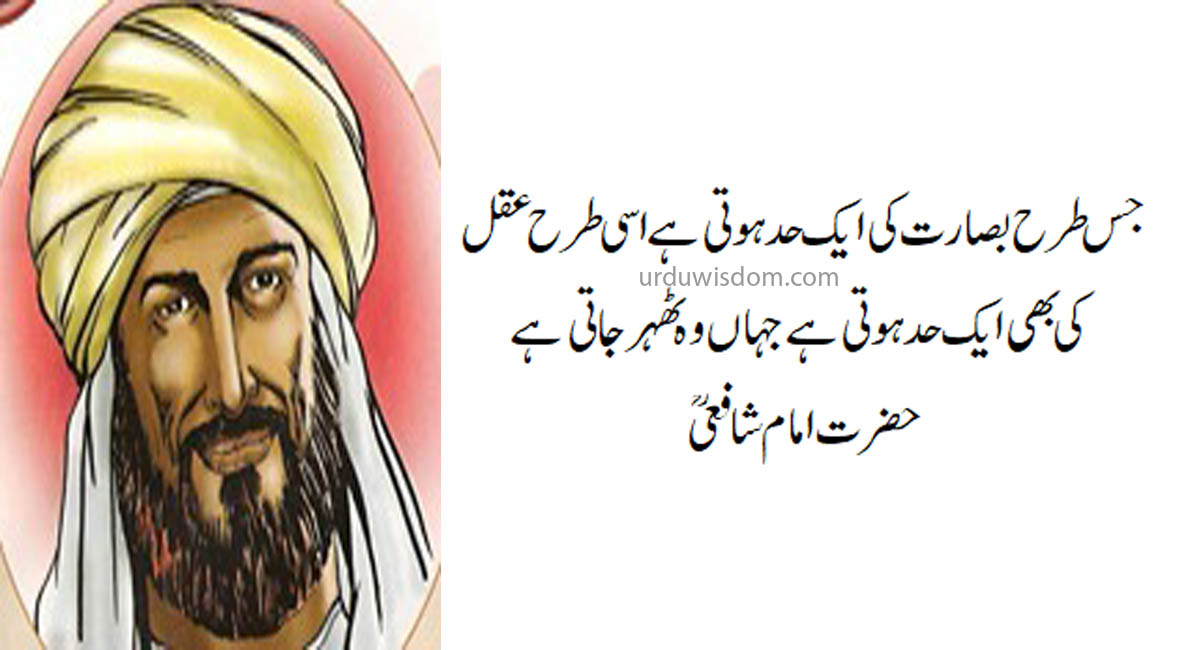 جس طرح بصارت کی ایک حد ہوتی ہے اسی طرح عقل کی
بھی ایک حد ہوتی ہے جہاں وہ ٹھہر جاتی ہے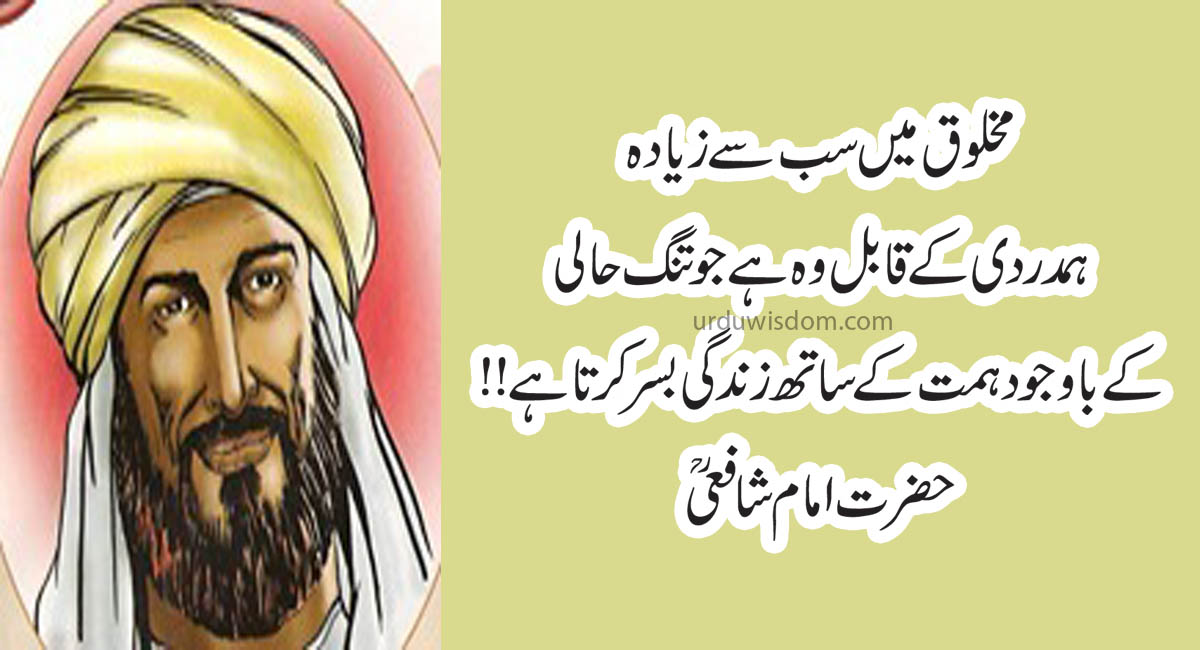 مخلوق میں سب سے زیادہ ہمدردی کے قابل وہ ہے جو تنگ
حالی کے باوجود ہمت کے ساتھ زندگی بسر کرتا ہے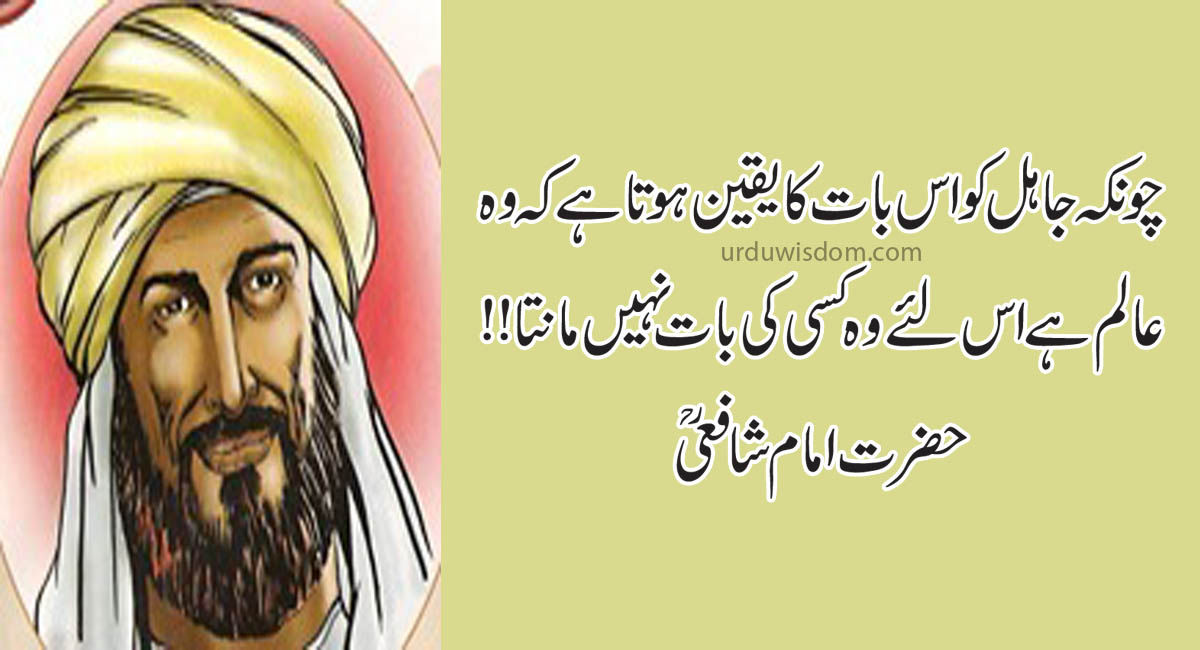 چونکہ جاہل کو اس بات کا یقین ہوتا ہے کہ وہ
علم ہے اس لئے وہ کسی کی بات نہیں مانتا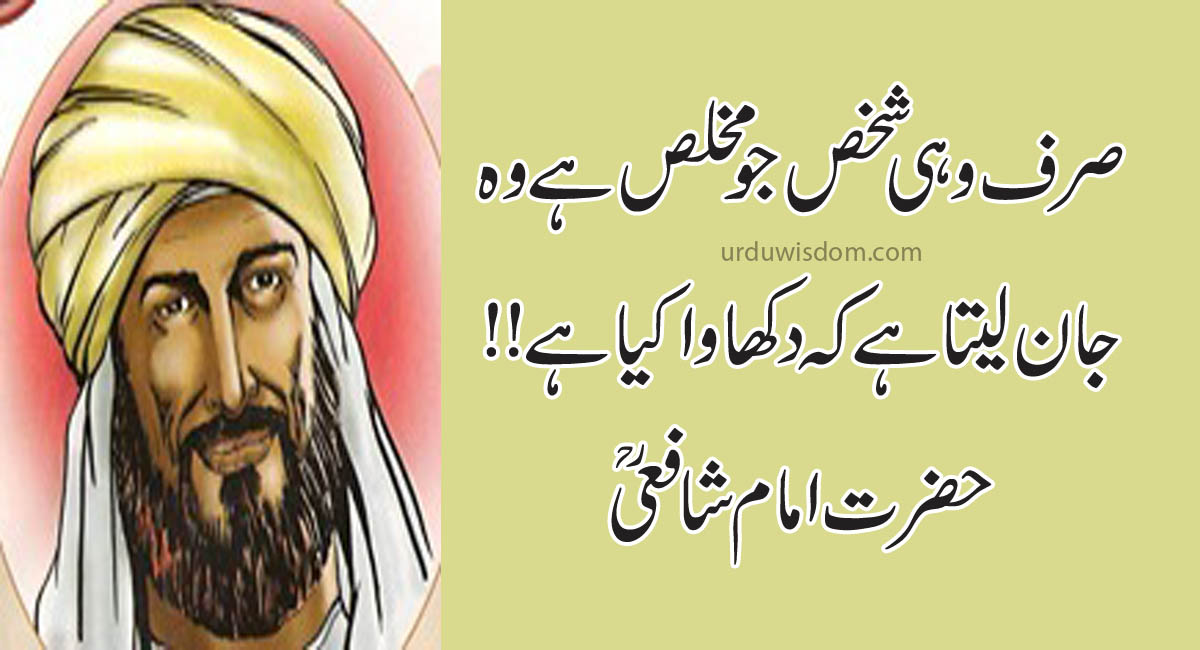 صرف وہی شخص جو مخلص ہے وہ جان لیتا ہے کہ دلھاوا کیا ہے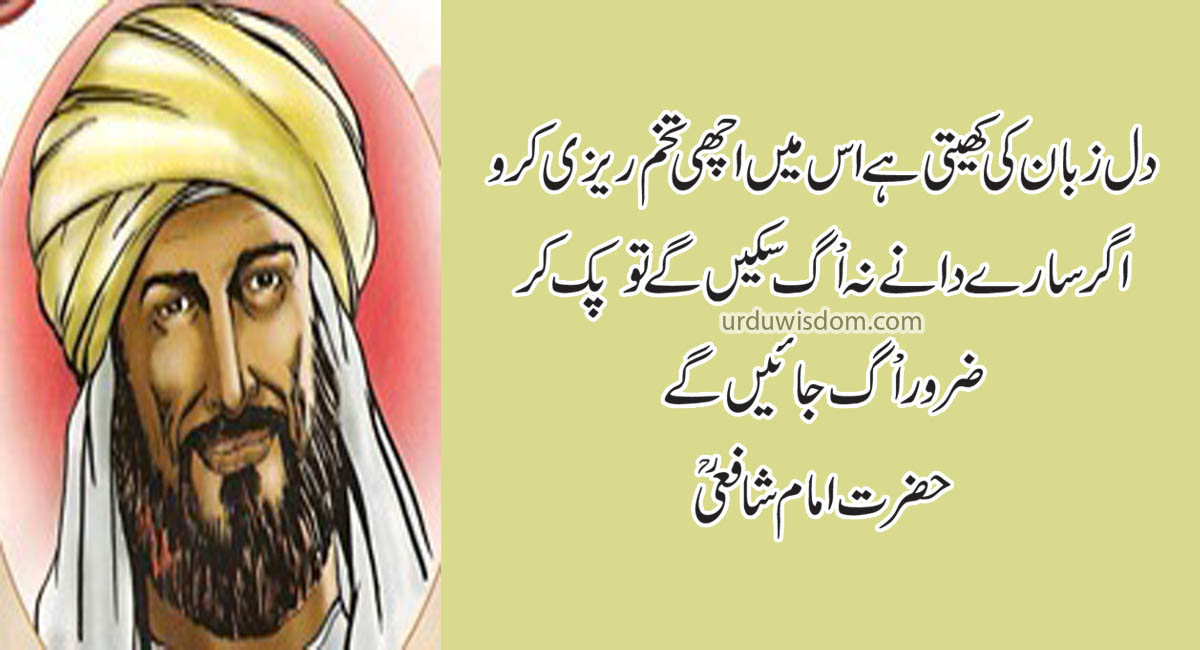 دل زبان کی کھیتی ہے اس میں اچھی تخم ریزی کرواگر سارے
دانے نہ اگ سکیں گے تو پک کر ضرور اگ جائیں گے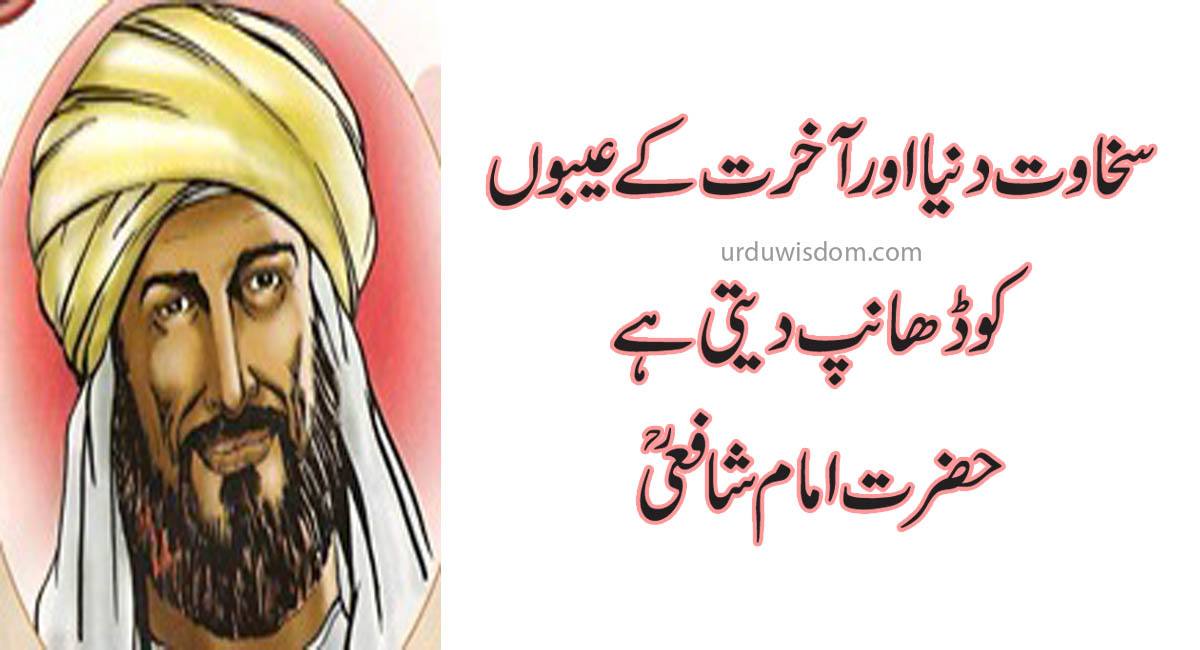 سخاوت دنیا اور آخرت کے عیبوں کو ڈھانپ دیتی ہے
imam shafi quotes about knowledge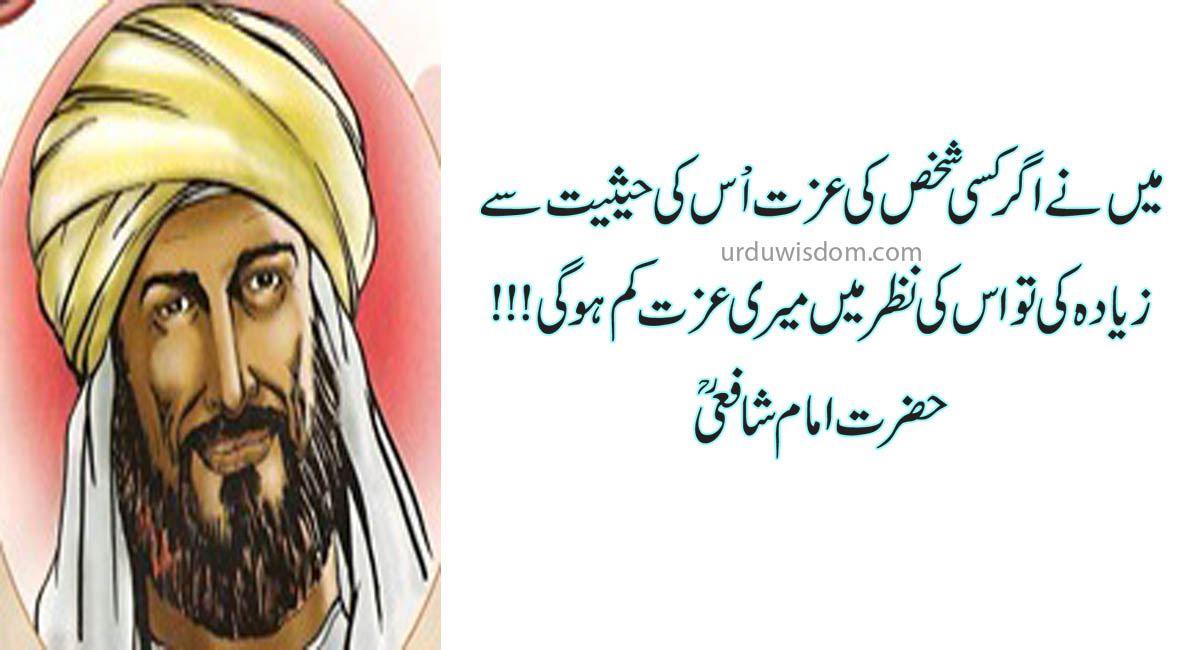 میں نے اگر کسی شخص کی عزت اس کی حیثیت سے
زیادہ کی تو اس کی نظر میں میری عزت کم ہو گی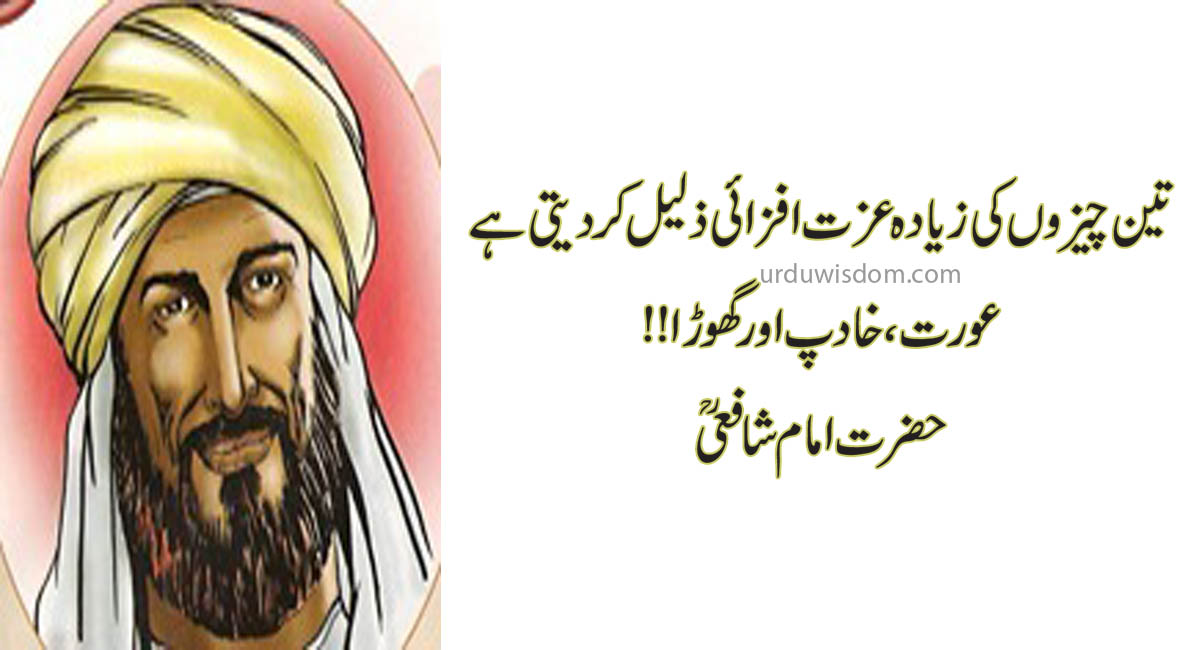 تین چیزوں کی زیادہ عزت افزائی ذلیل کر دیتی ہے
عورت ،خادم اورگھوڑا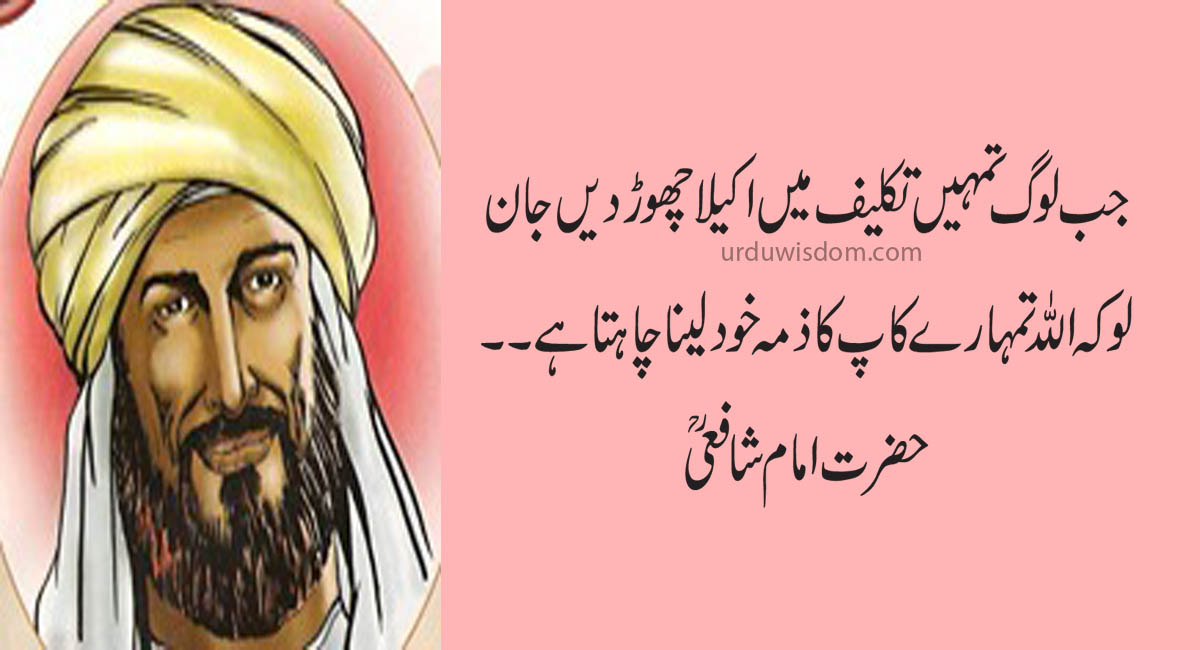 جب لوگ تمہیں تکلیف میں چھوڑ دیں جان لو کہ
اللہ تمہارے کام کا ذمہ خود لینا چاہتا ہے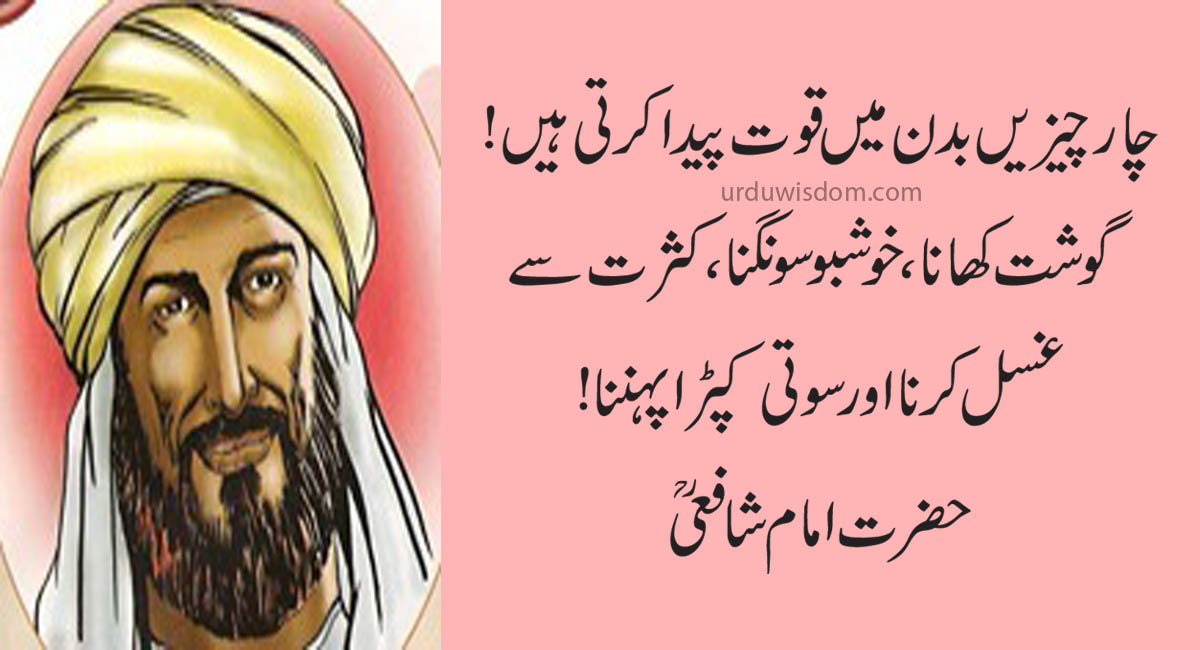 چار چیزیں بدن میں قوت پیدا کرتی ہیں ،گوشت کھانا ،خوشبو سونگنا
، کثرت سے غسل کرنا اور سوتی کپڑا پہننا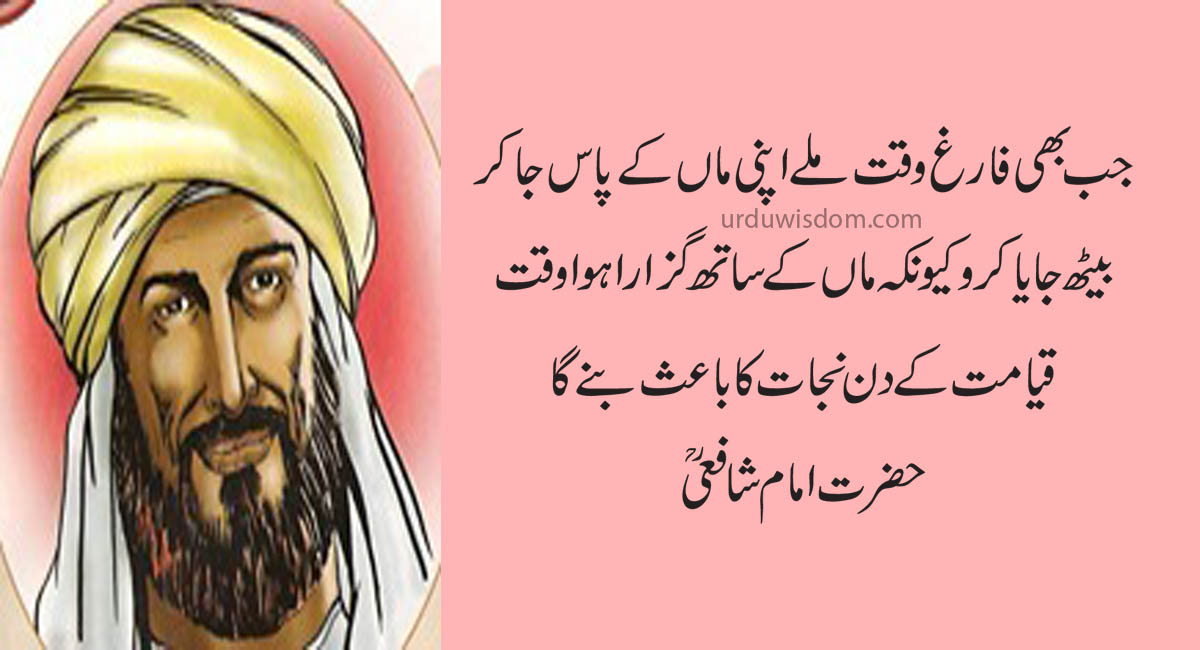 جب بھی فارغ وقت ملے اپنی ماں کے پاس جا کر بیٹھ جایا کرو
کیونکہ ماں کے ساتھ گزارا ہوا وقت قیامت کے دن نجات کا باعث بنے گا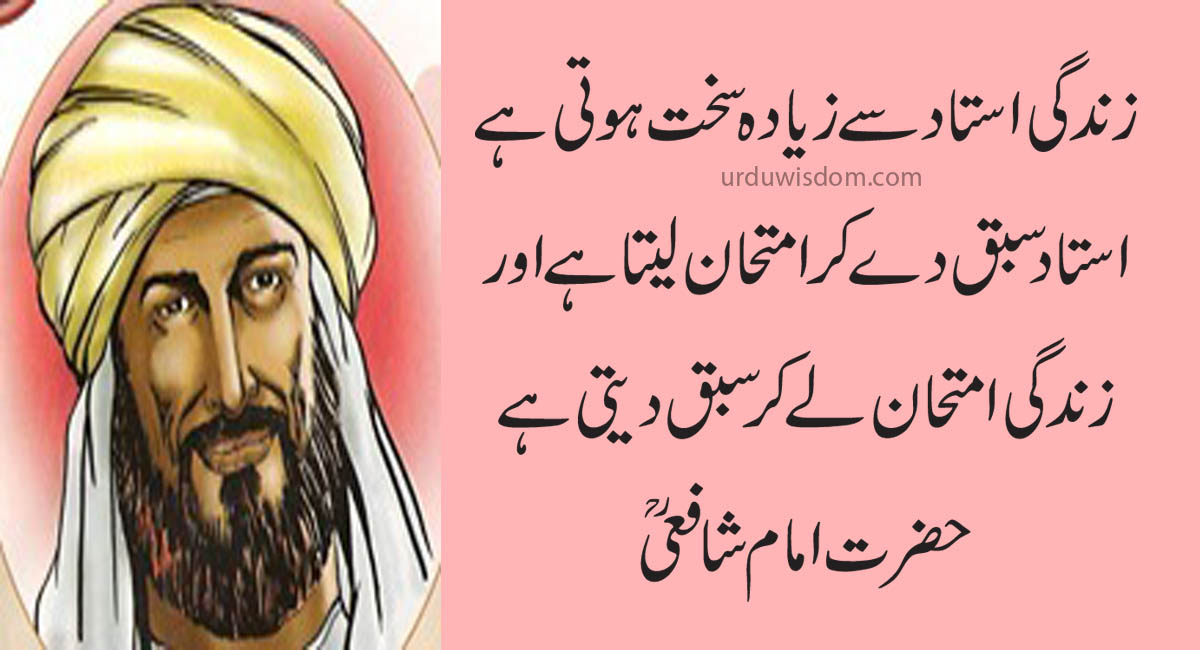 زندگی استاد سے زیادہ سخت ہوتی ہے استاد سبق دے کر
امتحان لیتا ہے اور زندگی امتحان لے کر سبق دیتی ہے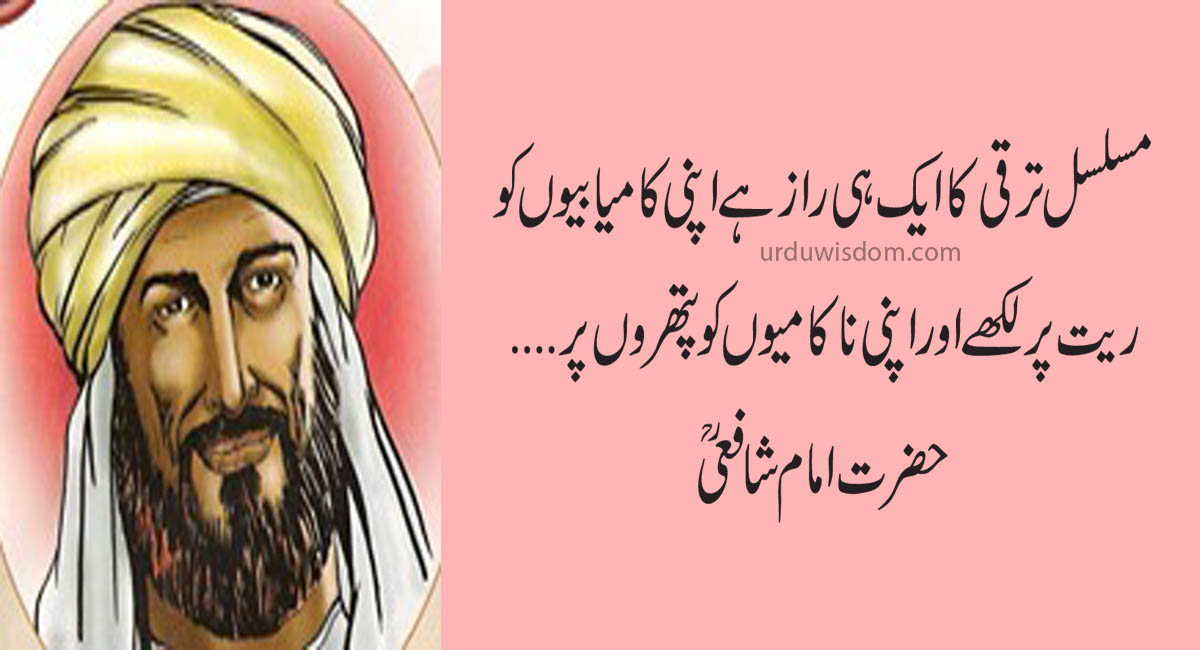 مسلسل ترقی کا ایک ہی راز ہے اپنی کامیابیوں کو ریت پر
لکھے اور اپنی ناکامیوں کو پتھروں پر۔۔۔۔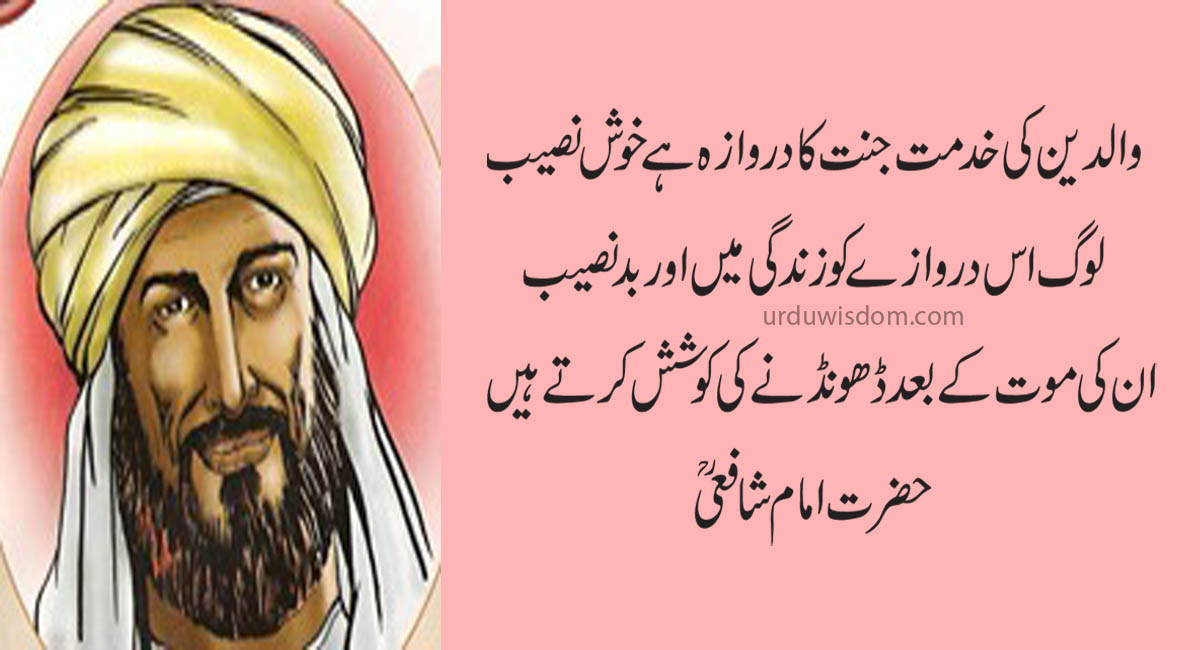 والد ین کی خدمت جنت کا دروازہ ہے خوش نصیب لوگ اس دروازے
کو زندگی میں اور بد نصیب ان کی موت کے بعد ڈھونڈنے کی کوشش کرتے ہیں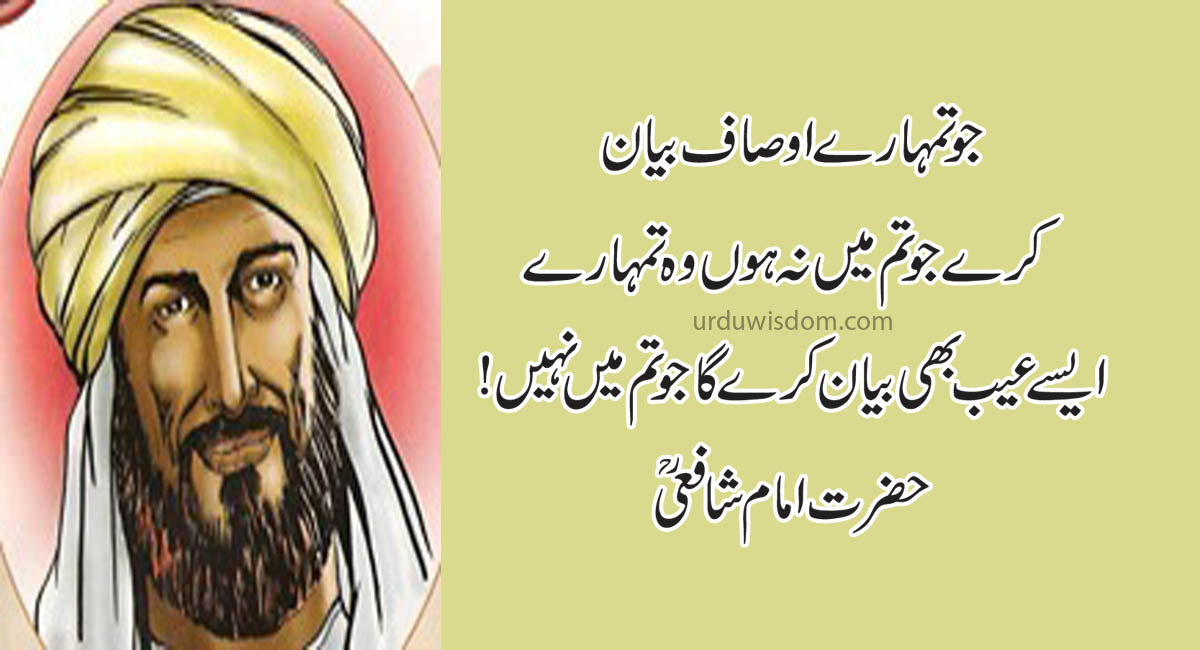 جو تمہارے اوصاف بیان کرے جو تم میں نہ ہوں وہ تمہارے
ایسے عیب بھی بیان کرے گا جو تم میں نہیں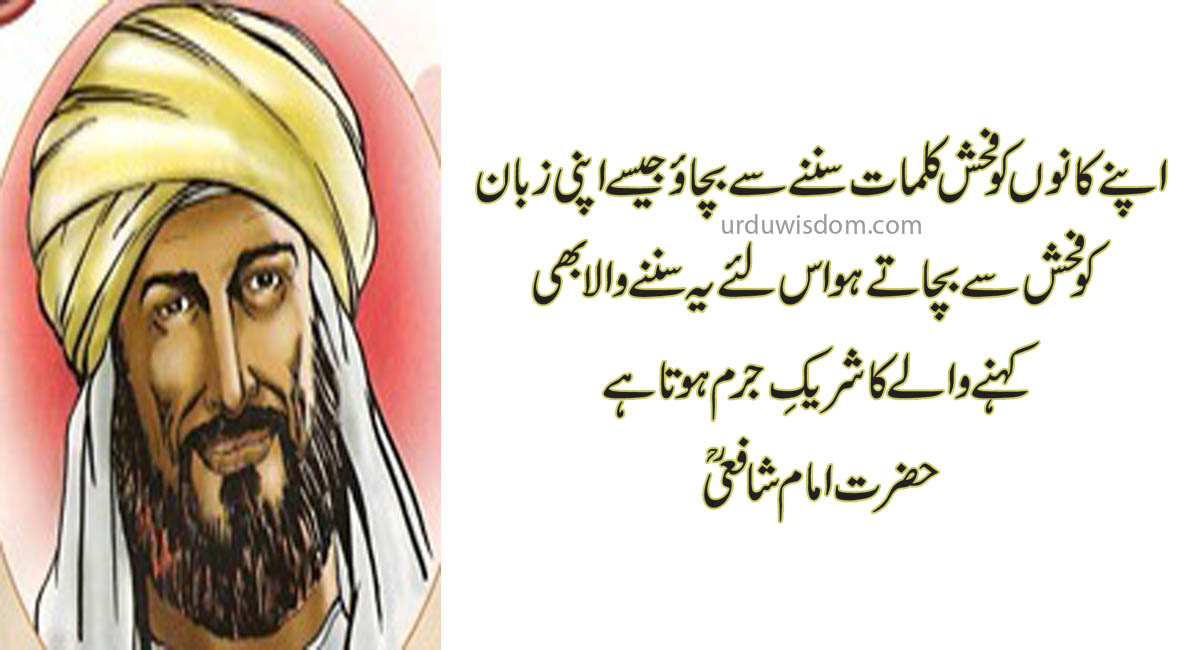 اپنے کانوں کو فحش کلمات سننے سے بچائو جیسے اپنی زبان کو فحش
سے بچاتے ہو اس لئے یہ سننے والا بھی کہنے والے کا شریکِ جرم ہوتا ہے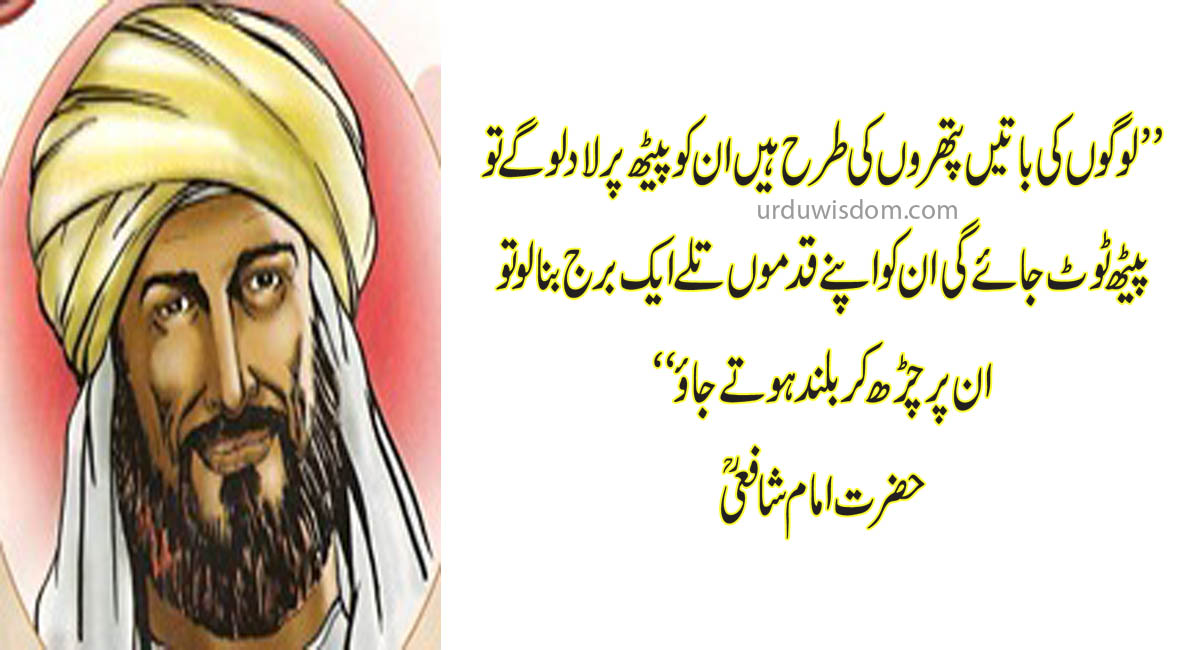 لوگوں کی باتیں پتھروں کی طرح ہیں ان کو پیٹھ پر لادلو گے تو
پیٹھ ٹوٹ جائے گی ان کو قدموں تلے ایک برج بنا لو تو ان پر چڑھ کر بلند ہوتے جائو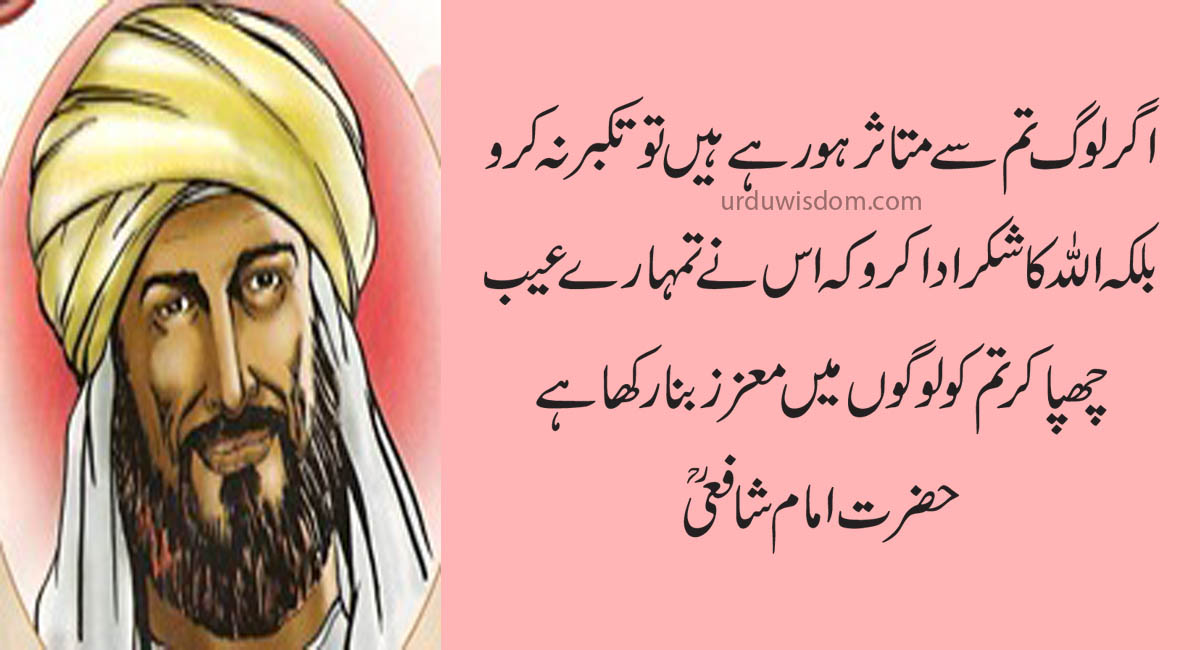 اگر لوگ تم سے متاثر ہو رہے ہیں تو تکبر نہ کرو بلکہ اللہ کا شکر
ادا کرو کہ اس نے تمہارے عیب چھپا کر تم کو لوگوں میں معزز بنا رکھاہے
I hope you enjoyed the Imam shafi quotes. You have been inspired. Thanks for reading.