Aaj ki achi baat in Urdu can be used to share your thoughts and feelings with friends and family members. It is an old saying in Urdu by renowned authors which are very famous among the masses. Achi batain are very important for our society because we are rich in our culture and heritage. You can send a mobile message in form of Aaj ki achi baat from our collection of good morning quotes in Urdu.
Achi baatain are the quotes in Urdu that can be shared on Facebook pages, groups timelines. You can also share it on WhatsApp status and groups. You can share these beautiful Aaj ki achi baat pics, wallpapers and images on any social media platform which you like. If you have an interest in Urdu quotes and urdu poetry you should browse this site urduwisdom.
Aaj Ki Achi Baat in Urdu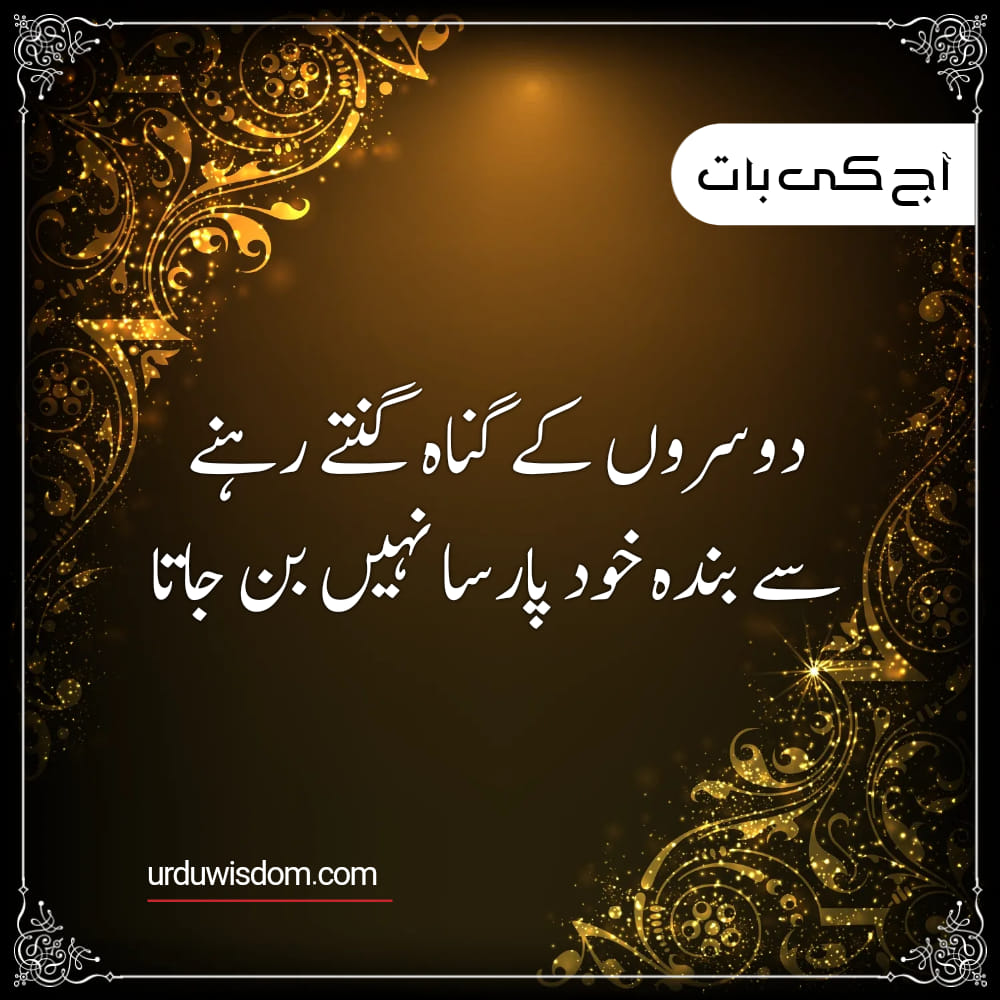 دوسروں کے گناہ گنتے رہنے سے بندہ خود پارسا نہیں بن جاتا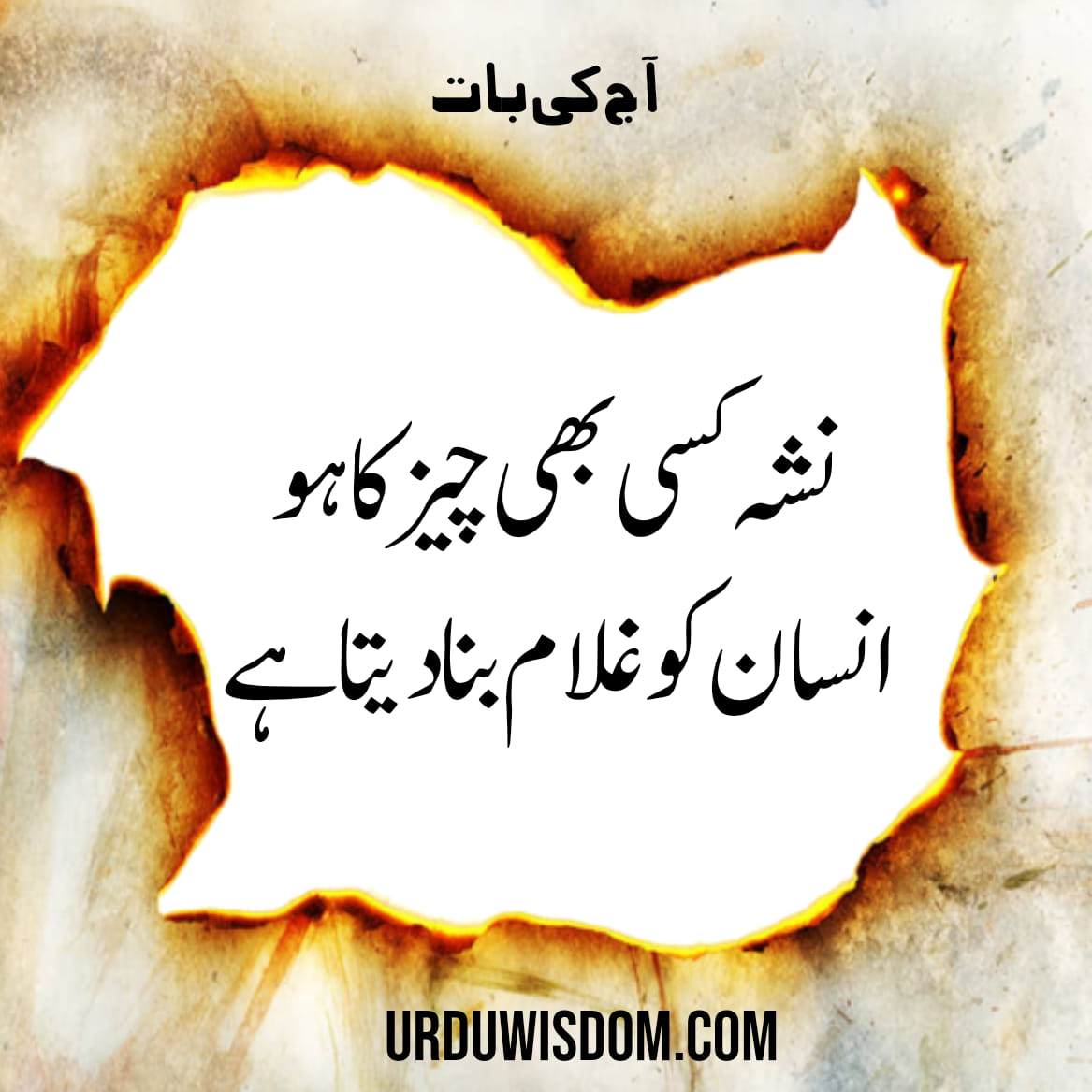 نشہ کسی بھی چیز کا ہو انسان کو غلام بنا دیتا ہے کچھ باتیں کان لگانے سے نہیں سنائی دیتی دل لگا کر سننا پڑتا ہے
کچھ باتیں کان لگانے سے نہیں سنائی دیتی دل لگا کر سننا پڑتا ہے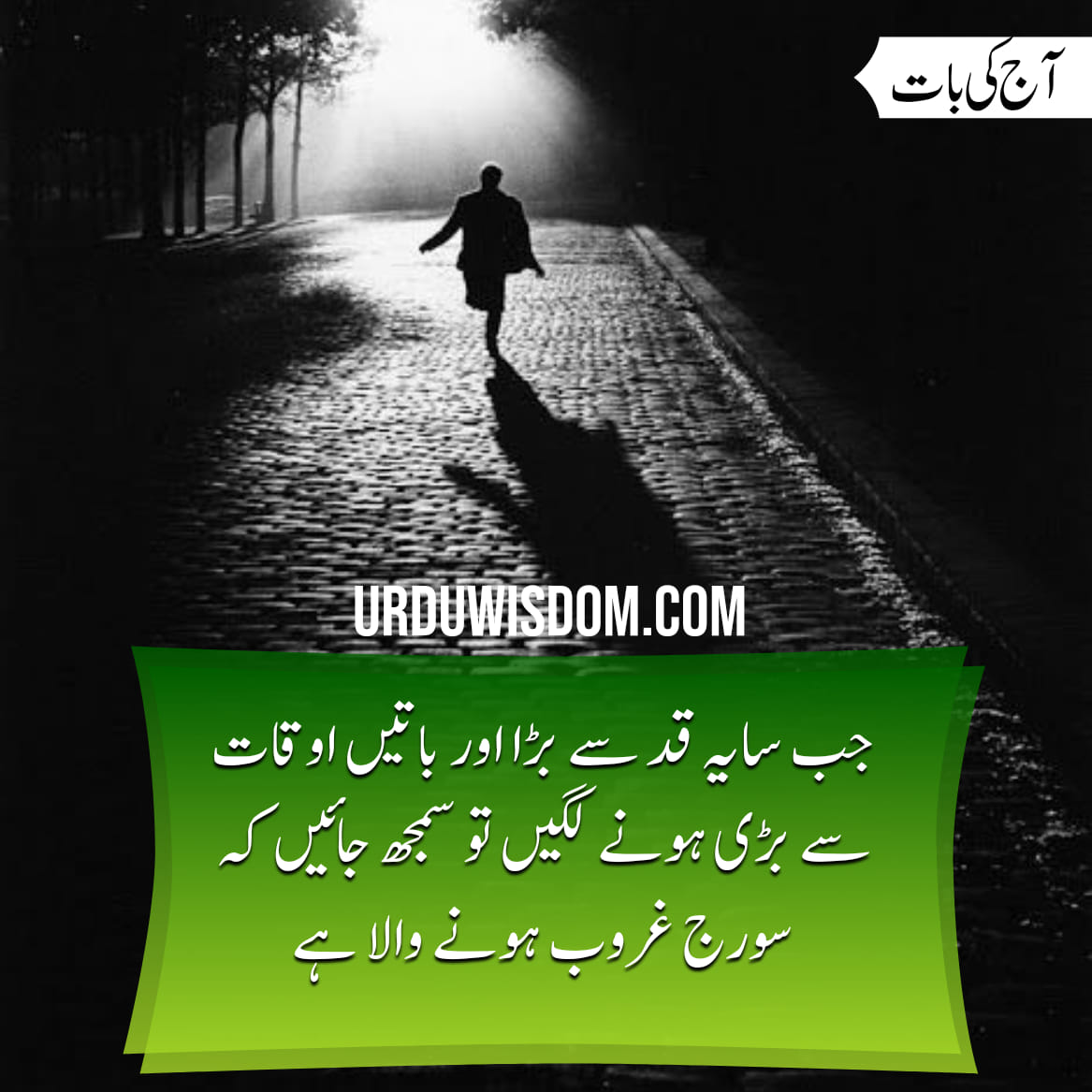 جب سایہ قد سے بڑا اور باتیں اوقات سے بڑی ہونے لگی تو سمجھ جائیں کہ سورج غروب ہونے والا ہے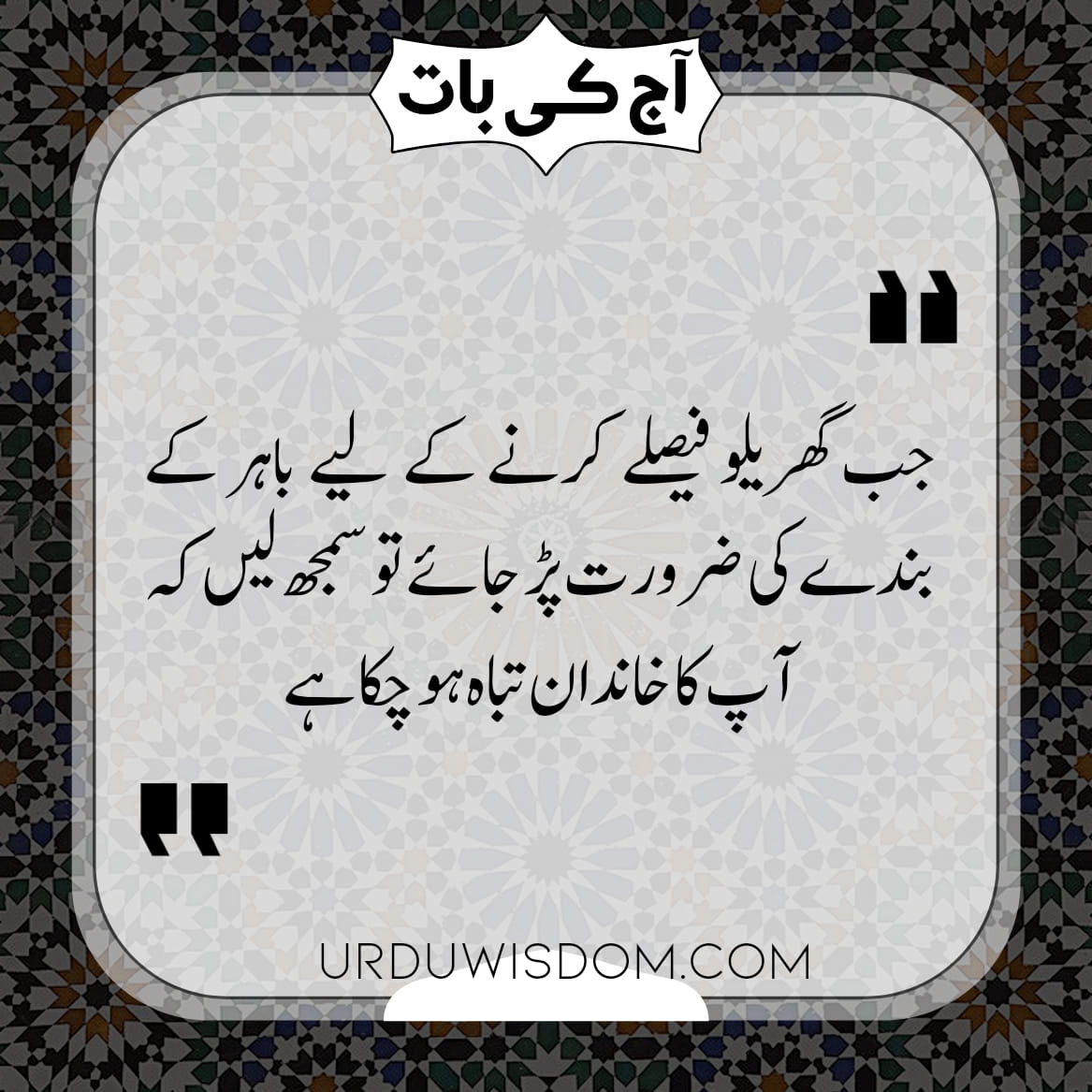 جب گھریلو فیصلے کرنے کے لیے باہر کے بندے کی ضرورت پڑ جائے تو سمجھ لیں کہ آپ کا خاندان تباہ ہو چکا ہے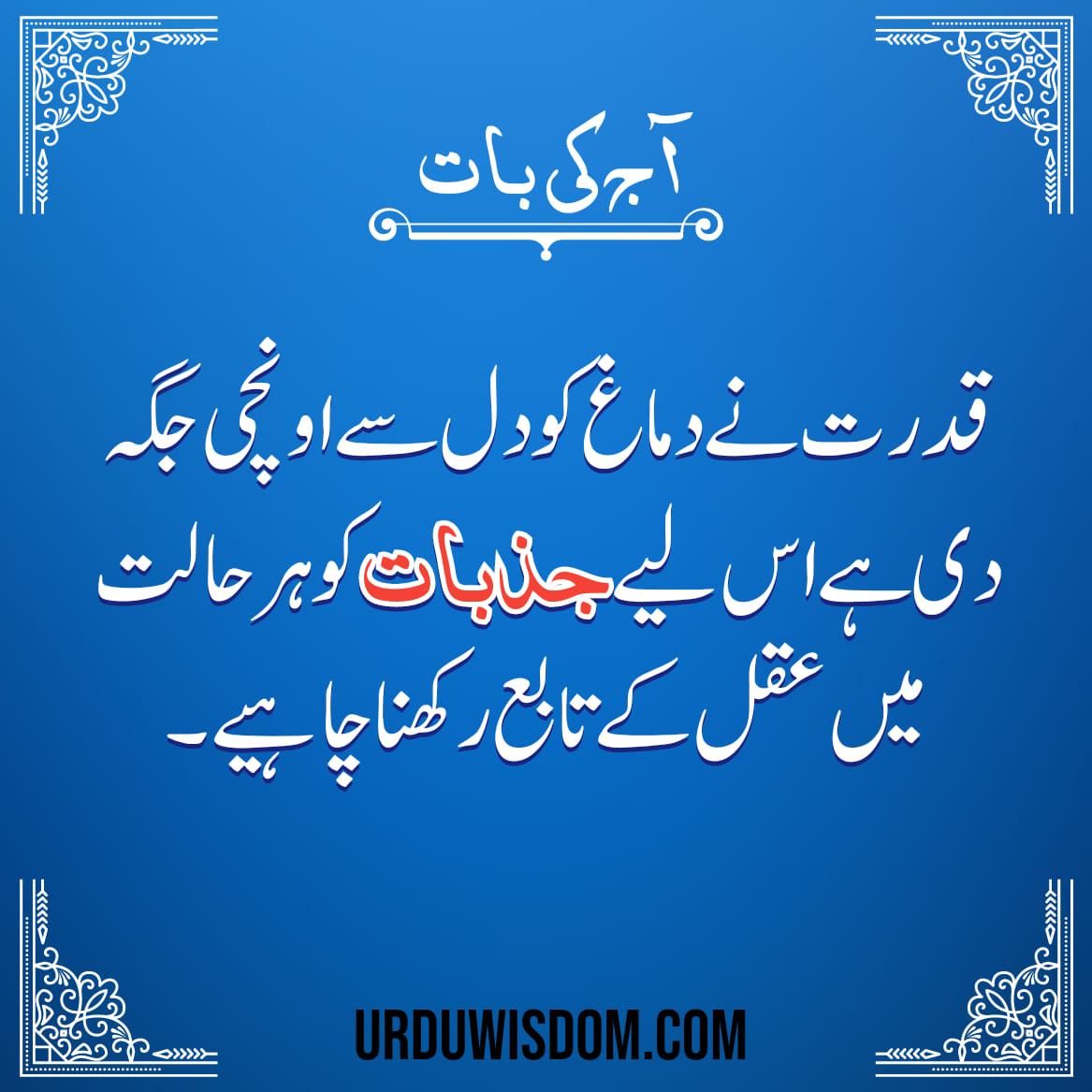 قدرت نے دماغ کو دل سے اونچی جگہ رکھا ہے ہے اس لئے جذبات کو ہر حالت میں عقل کے تابع رکھنا چاہیے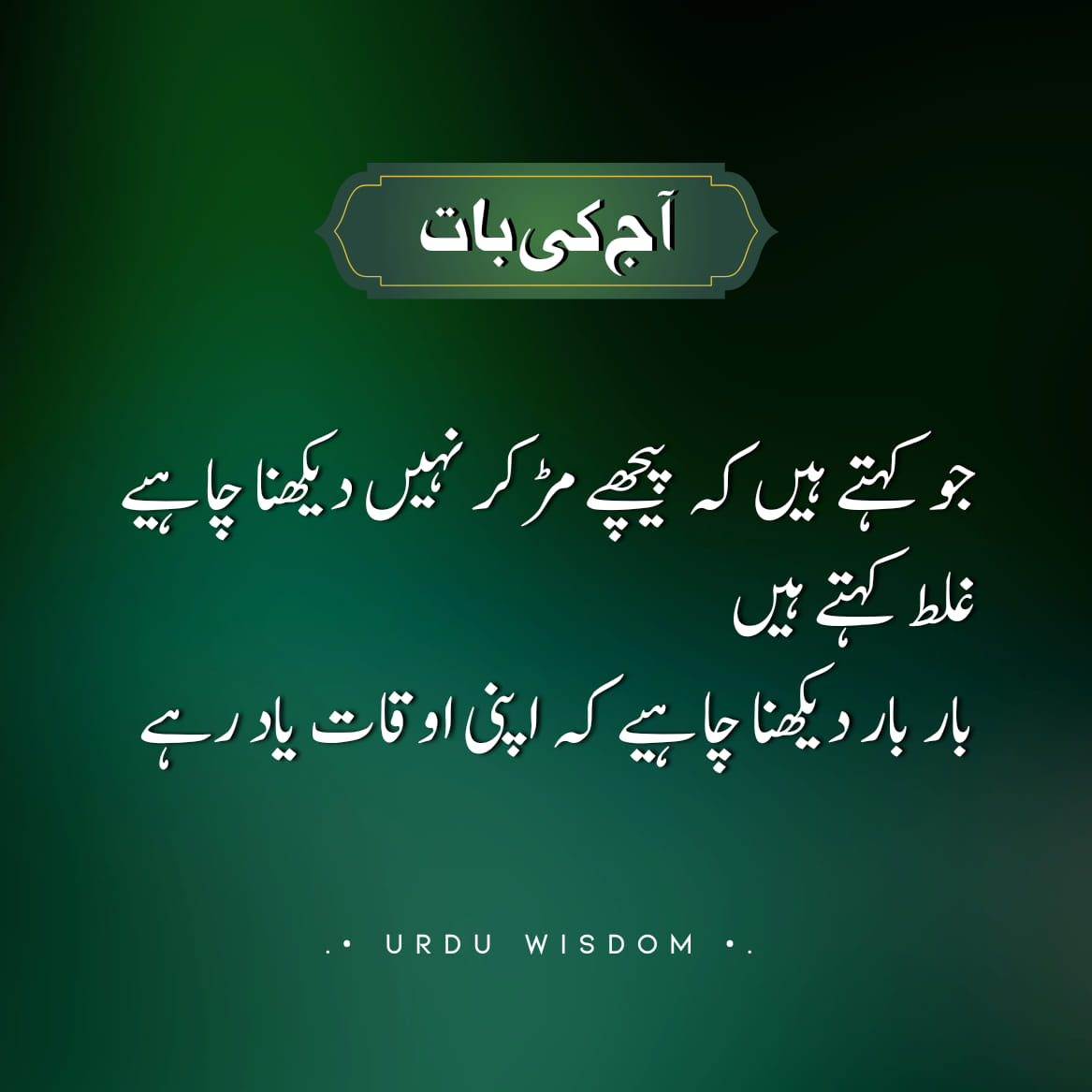 جو کہتے ہیں کہ پیچھے مڑ کر نہیں دیکھنا چاہئیے غلط کہتے ہیں بار بار دیکھنا چاہیے کہ اپنی اوقات یاد رہے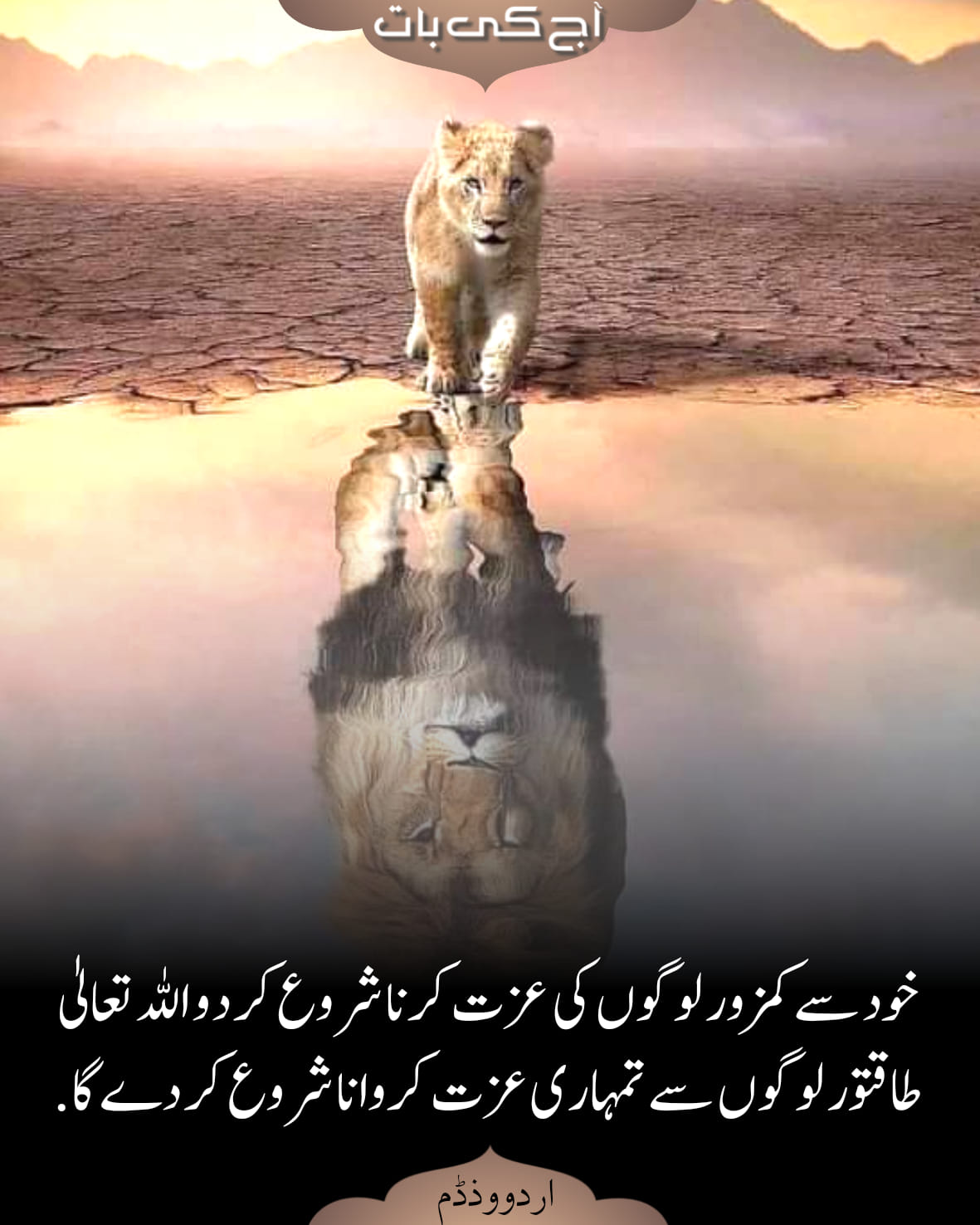 خود سے کمزور لوگوں کی عزت کرنا شروع کردو اللہ تعالی طاقتور لوگوں سے تمہاری عزت کروانا شروع کر دے گا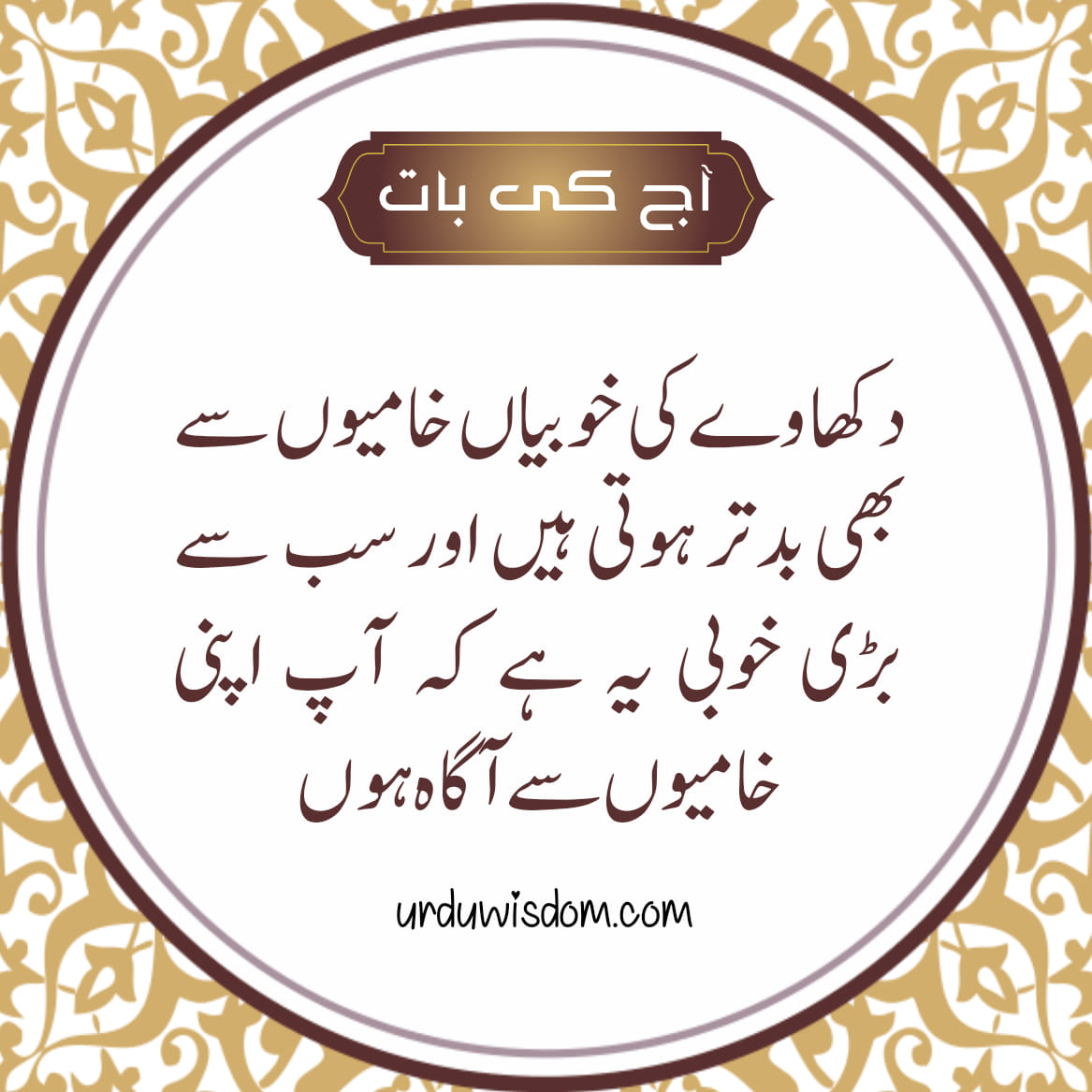 دکھاوے کی خوبیاں خامیوں سے بھی بدتر ہوتی ہیں اور سب سے بڑی خوبی یہ ہے کہ آپ اپنی خامیوں سے آگاہ ہوں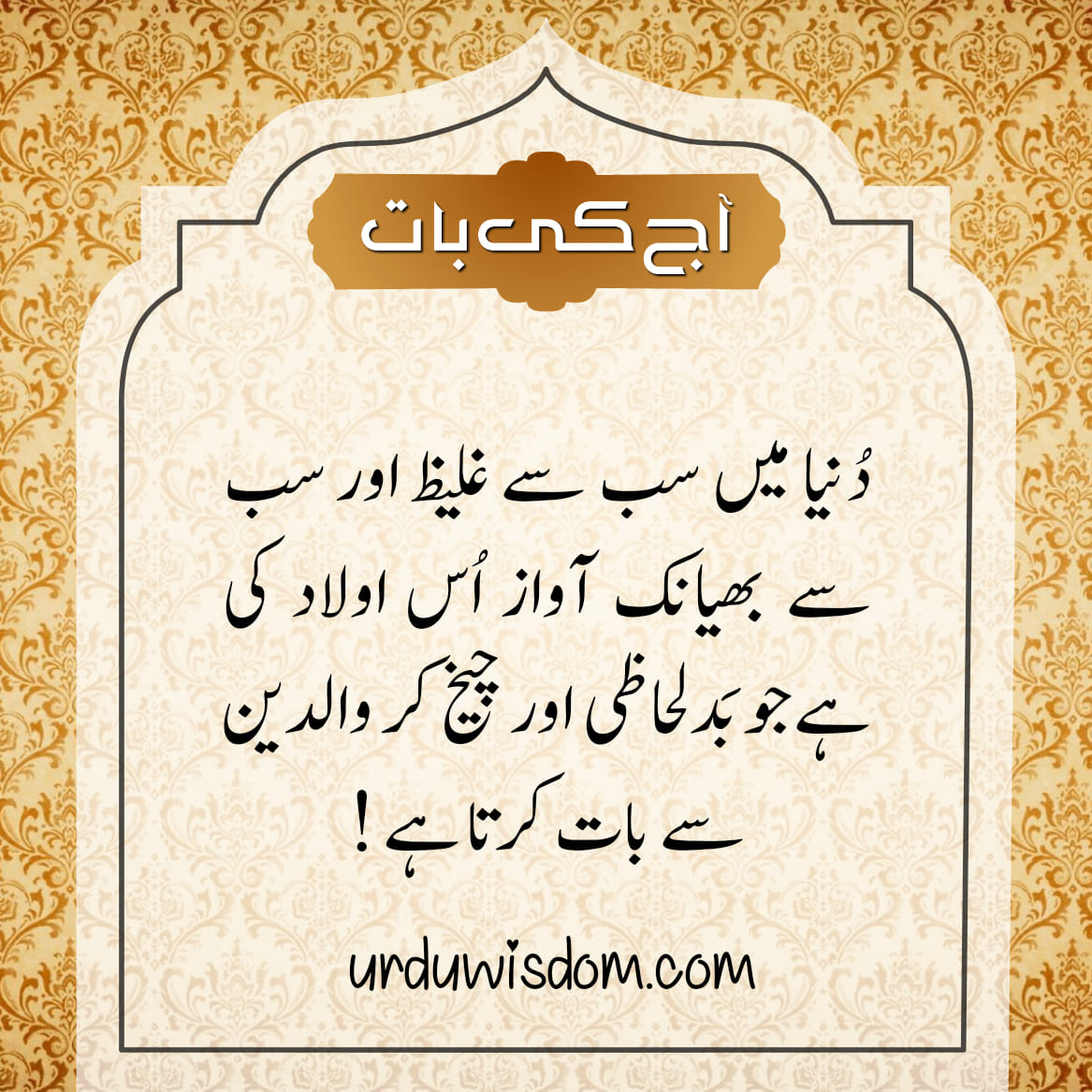 دنیا میں سب سے غلیظ اور سب سے بھیانک آواز اس اولاد کی ہے جو بد لحاضی اور چیخ کر کر وا لدین سے بات کرتا ہے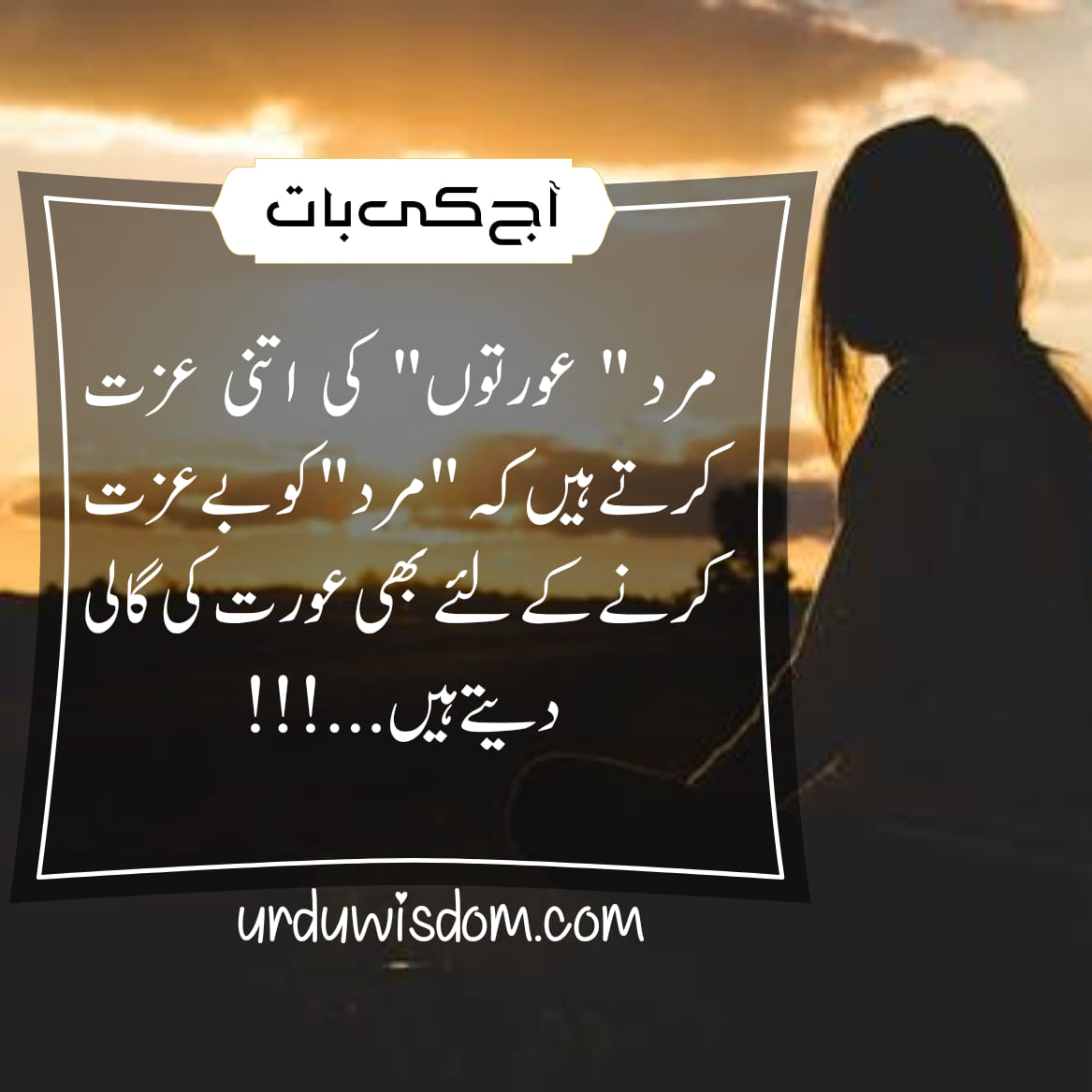 مرد عورتوں کی اتنی عزت کرتے ہیں کہ مرد کو بےعزت کرنے کے لیے بھی عورت کی گالی دیتے ہیں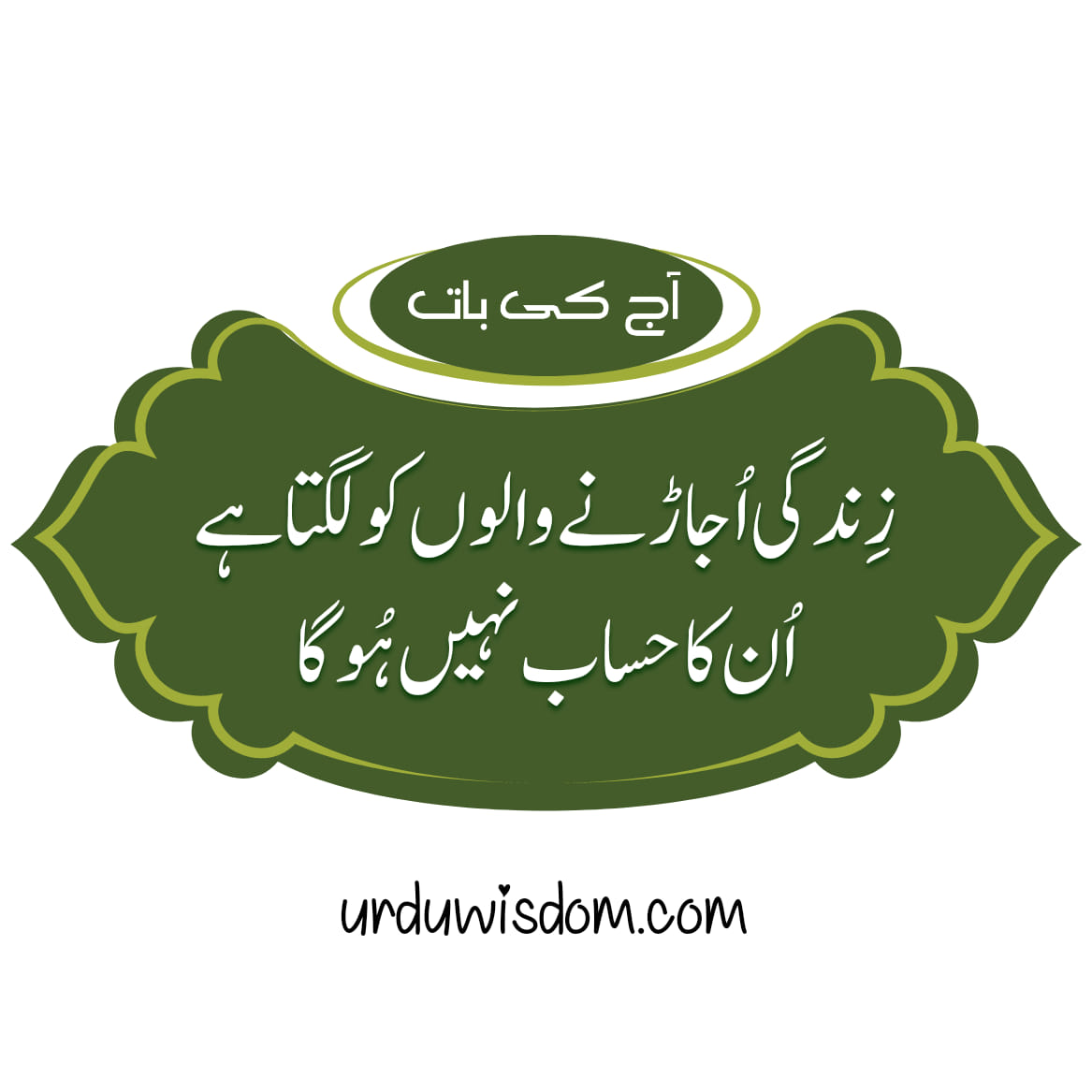 زندگی بوجھ بڑھنے والوں کو لگتا ہے ان کا حساب نہیں ہوگا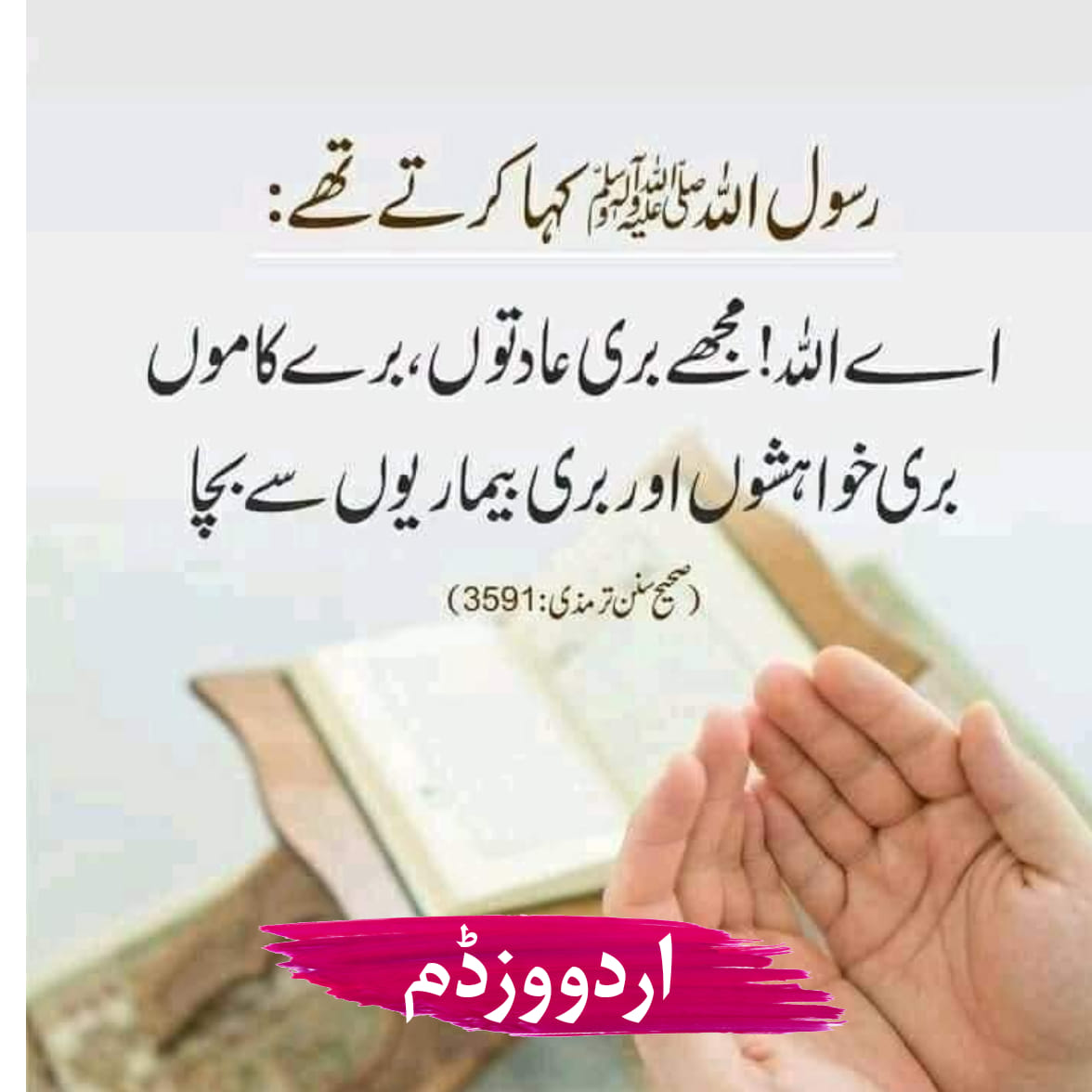 اے اللہ مجھے بری عادتوں برے کاموں مری خواہشوں اور بری بیماریوں سے بچا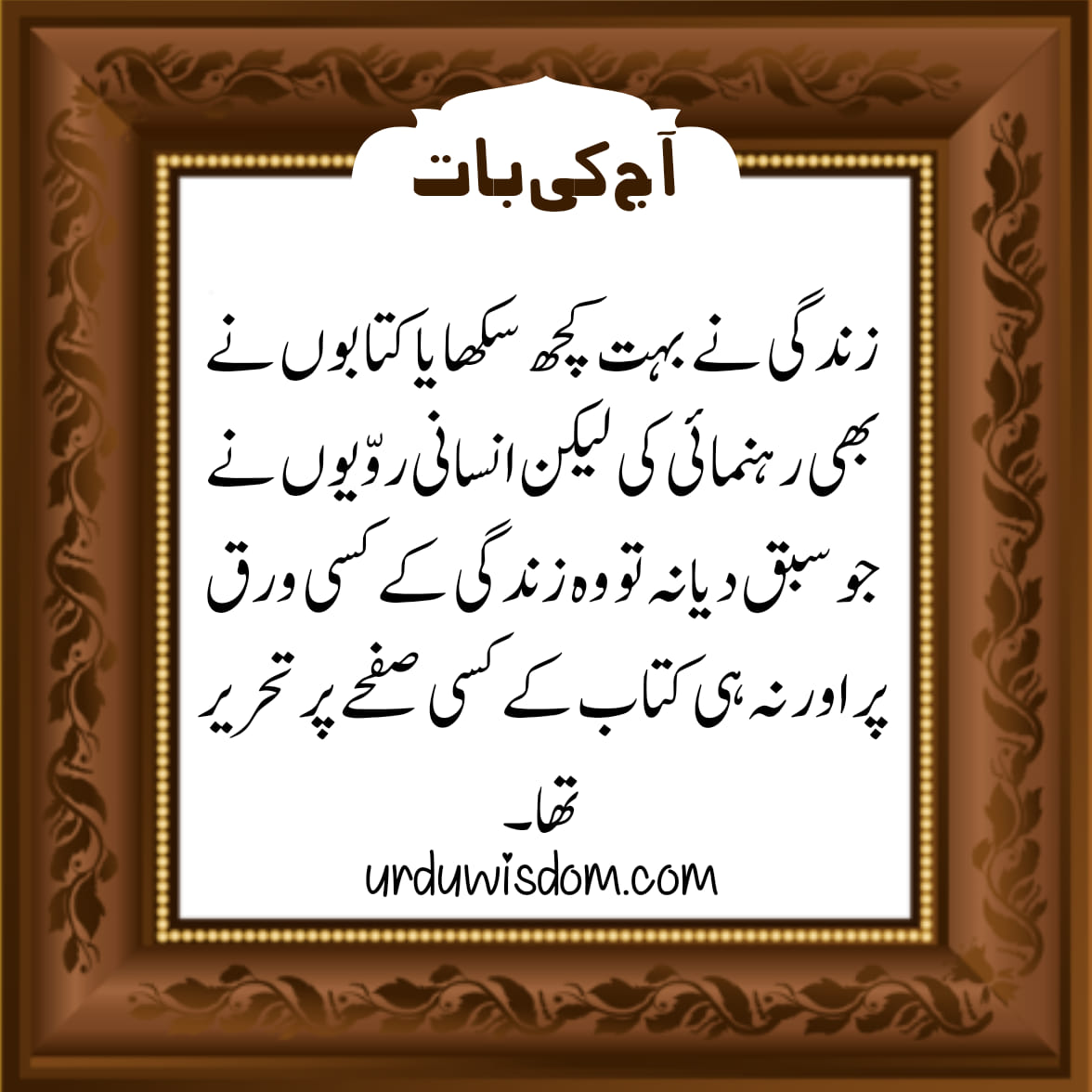 میں نے بہت کچھ سیکھا یا کتابوں نے بھی رہنمائی کی لے کر انسانی رویوں نے جو سبق دیا نہ تو زندگی کی جیت پر اور نہ ہی کتاب کے کسی صفحے پر تحریر تھا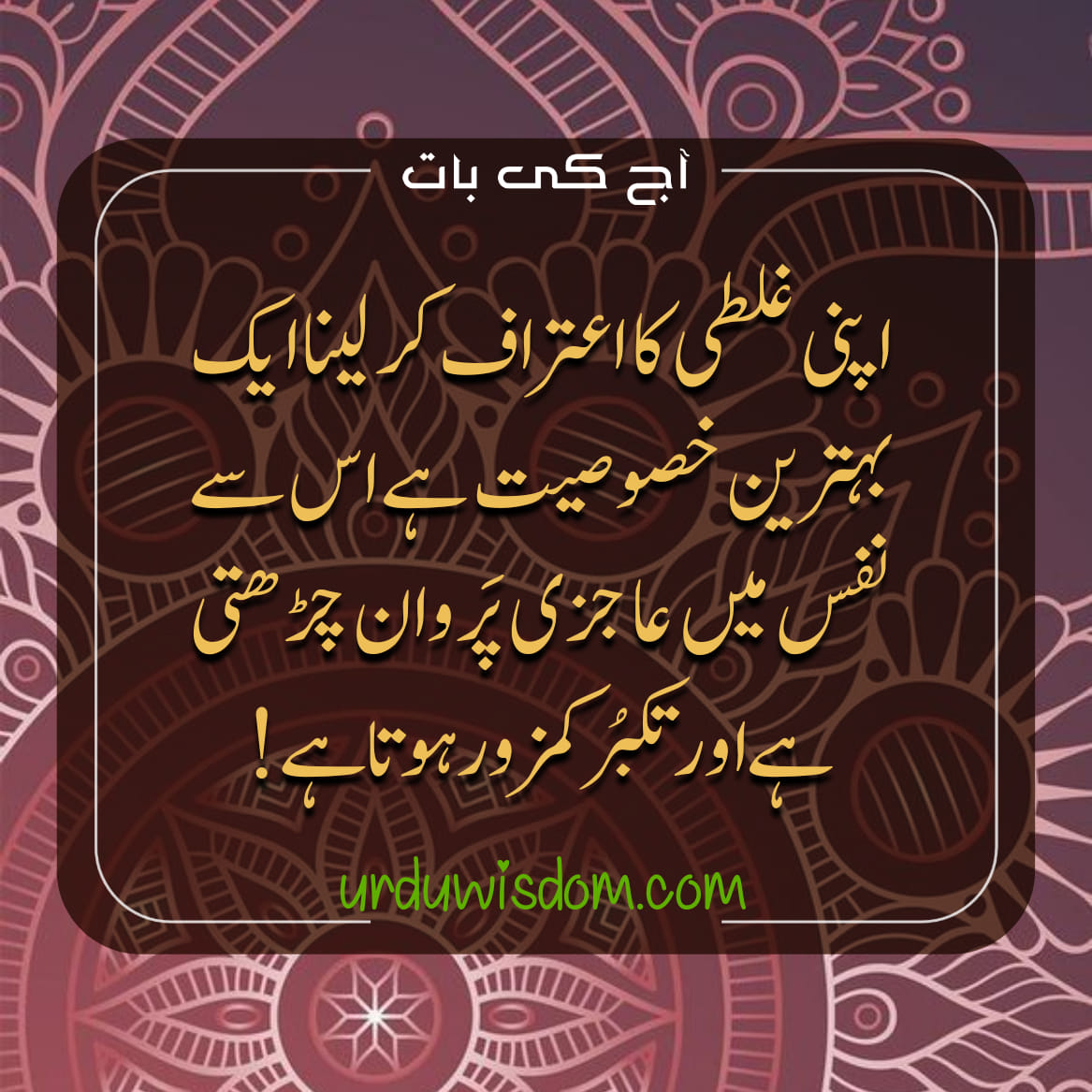 اپنی غلطی کا اعتراف کرلینا ایک بہترین خصوصیات ہے اس سے نفس میں عاجزی پروان چڑھتی ہے اور تکبر کمزور ہوتا ہے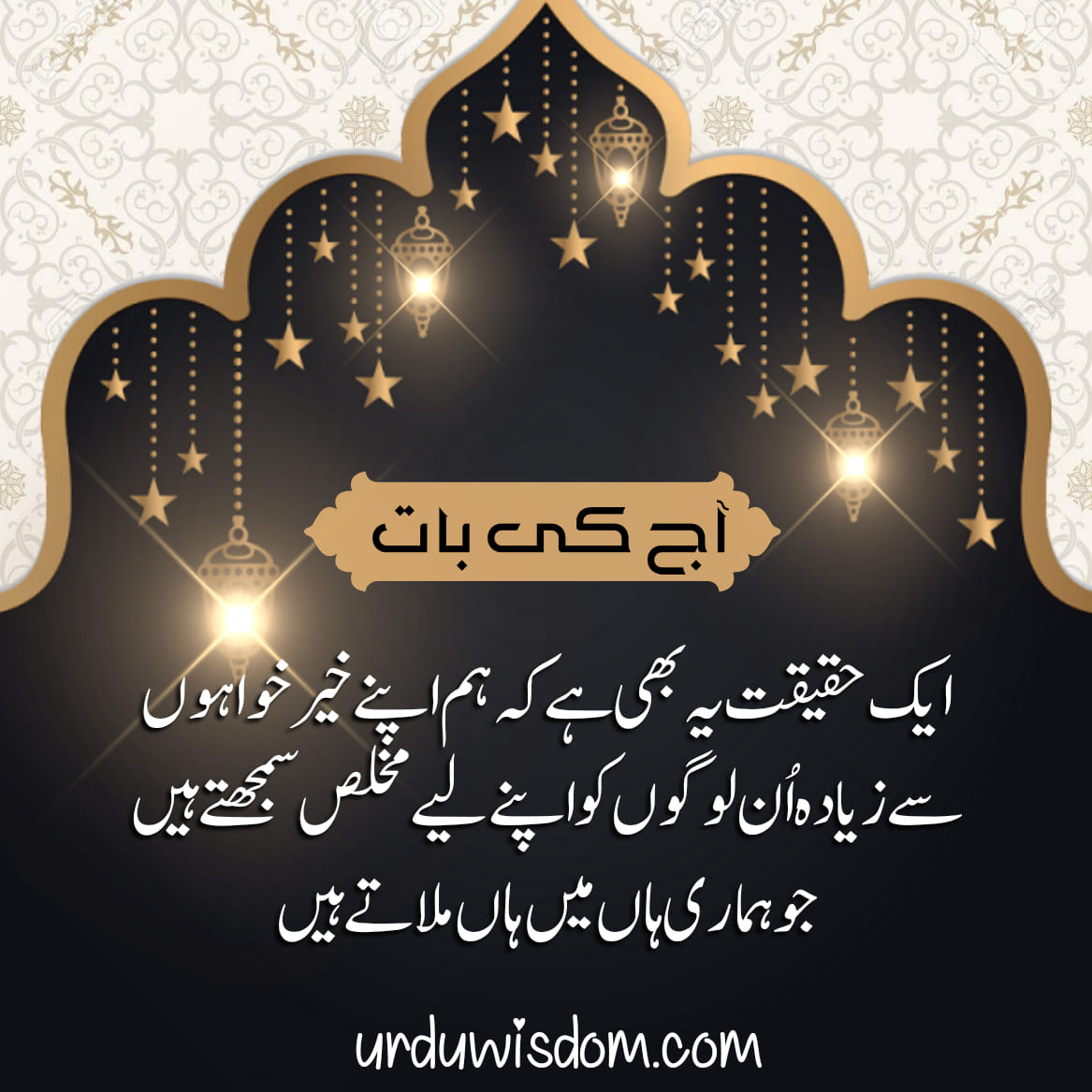 ایک حقیقت یہ بھی ہے کہ ہم اپنے خیر خواہوں سے زیادہ ان لوگوں کو اپنے لیے مخلص سمجھتے ہیں جو ہماری ہاں میں ہاں ملاتے ہیں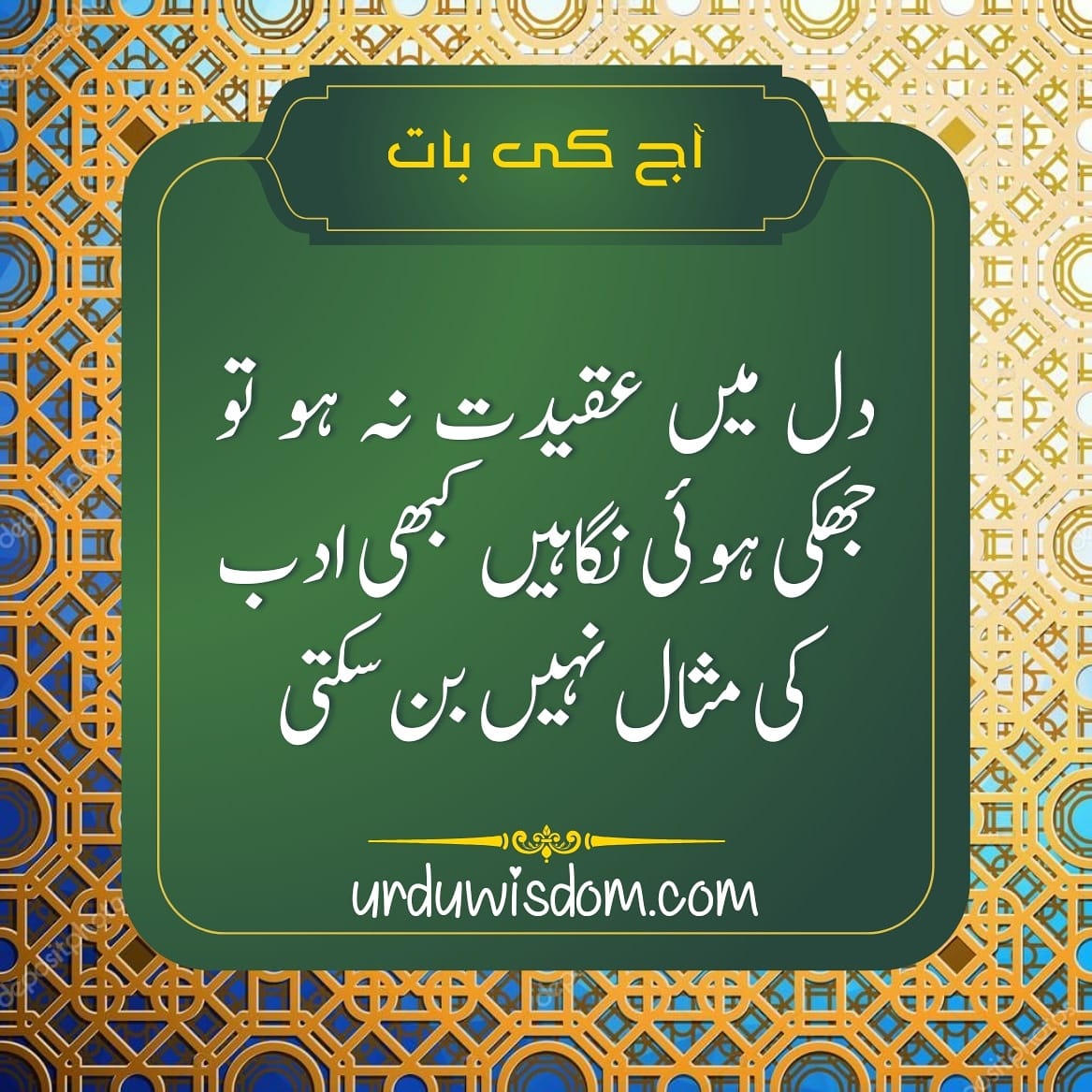 دل میں عقیدت نہ ہو تو اس کی ہوئی نگاہیں کبھی ادب کی مثال نہیں بن سکتی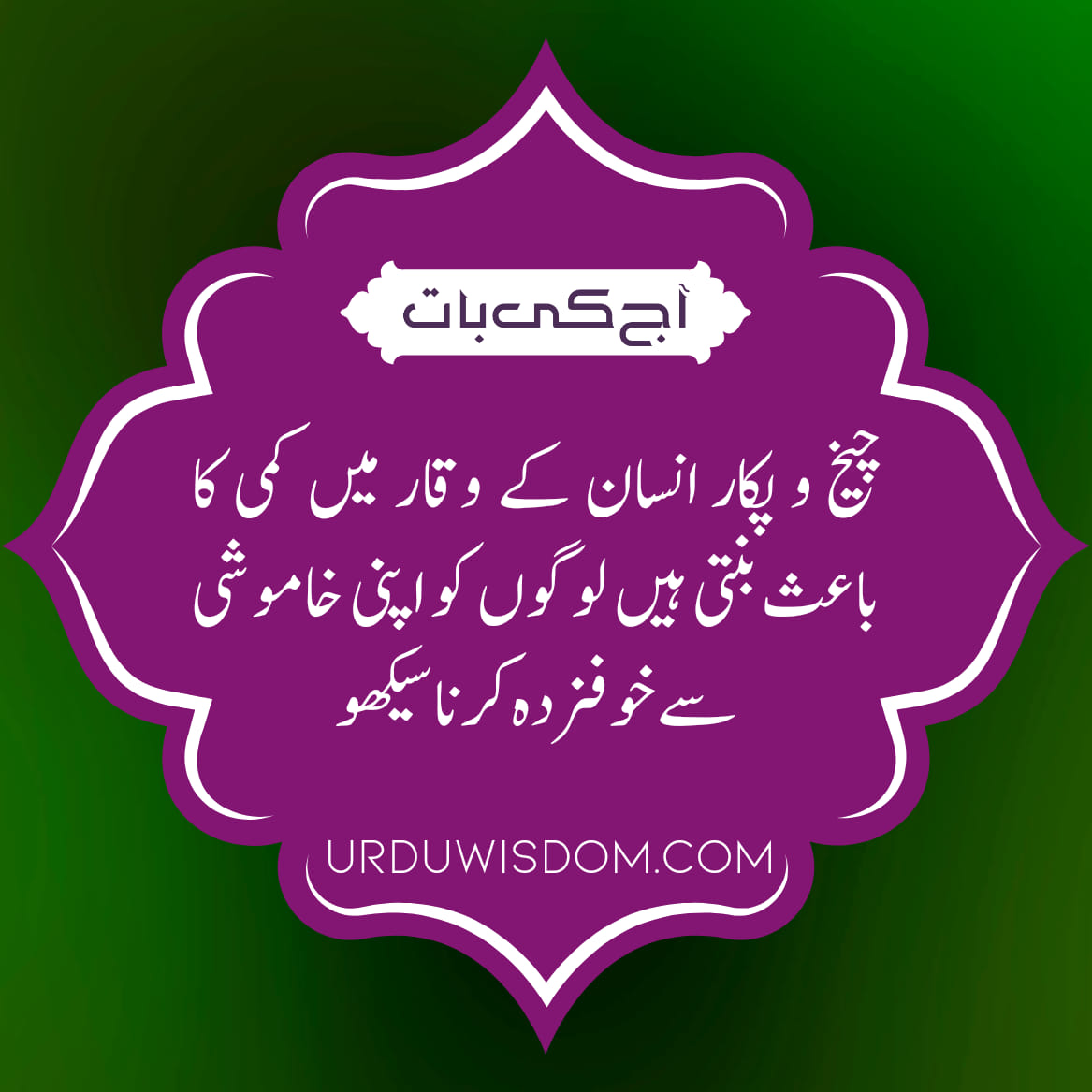 چیخ و پکار انسان کے وقار میں کمی کا باعث بنتی ہیں لوگوں کو اپنی خاموشی سے خوفزدہ کرنا سیکھو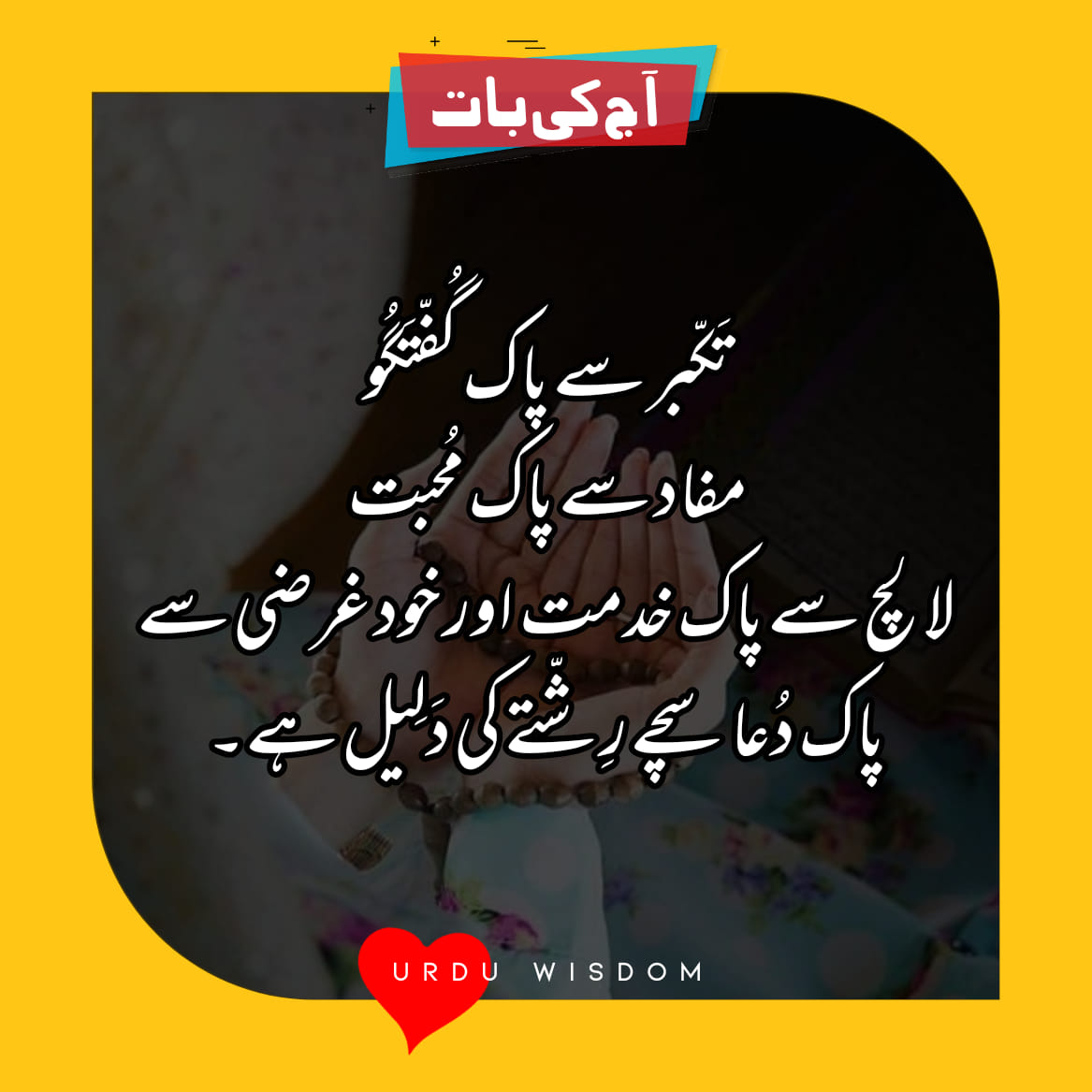 تکبر سے پاک فتگ و نفاس سے پاک محبت لالچ سے پاک خدمت اور خود غرضی سے پاک دعا سچے رشتے کی دلیل ہے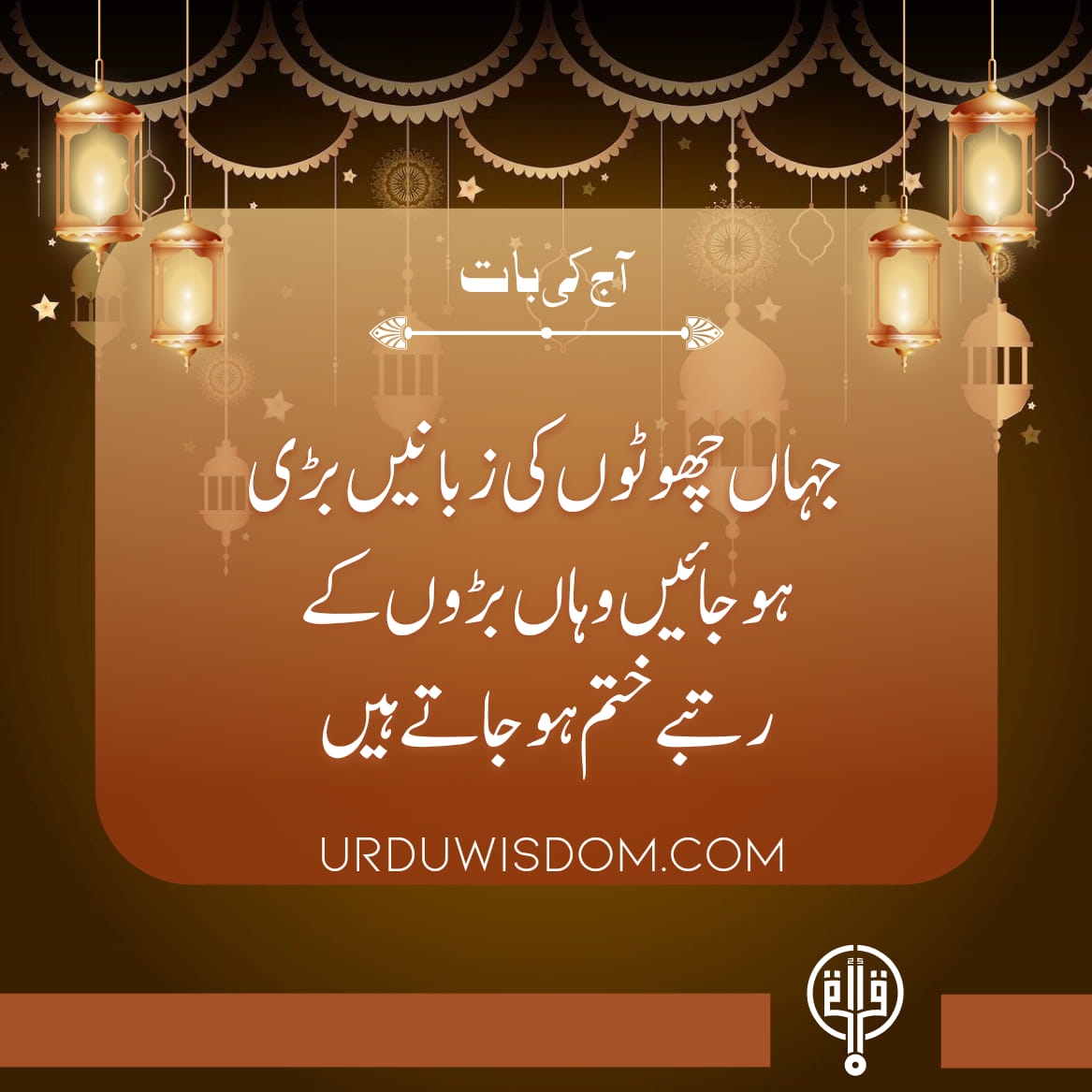 جہاں چھوٹو کی زبانی بڑی ہوجائیں وہاں بڑوں کے رتبے ختم ہو جاتے ہیں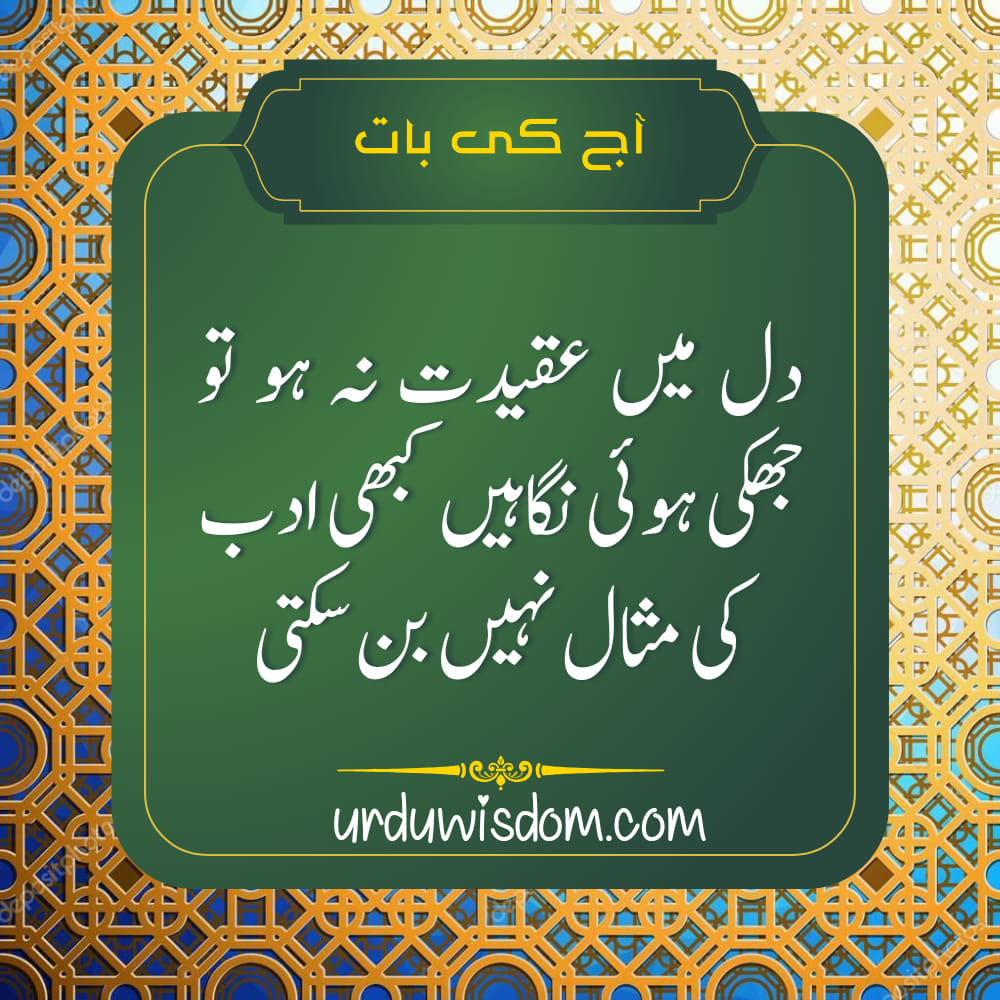 دل میں عقیدت نہ ہو تو اس کی ہوئی نگاہیں کبھی ادب کی مثال نہیں بن سکتی
In this post we share the Aaj ki achi baat in urdu for our readers. This term is derrived from the English term Quote of the day in urdu. These thoughts and sayings are collecting from different sourses. You can share these images on any social media platforms like facebook, whatsapp and twitter etc.