Jumma Mubarak Quotes in Urdu are very famous on all social media. People who use social media have a very keen interest in Jumma Mubarak wishes and pics.
Jummah/ Friday occupies an extraordinary place in the hearts of the Muslims to revive their faith. It is the most sacred day for the entire Muslim Ummah.
Friday of every week is regarded as a blessed day for all Muslims across the globe. The Muslim population spends this day accomplishing special prayers, making significant donations, reciting the Quran, and learning Hadiths and other religious teachings.
This promising day carries great significance for the religious people, so it is a good gesture to welcome other Muslims with salutations, wishes and messages, along with heartfelt duas and prayers!
Social media is a good tool to express such feelings. So if you want some suggestions to wish your loved ones, read the following Jumma Mubarak quotes, wishes, and messages!
Jumma Mubarak Quotes in Urdu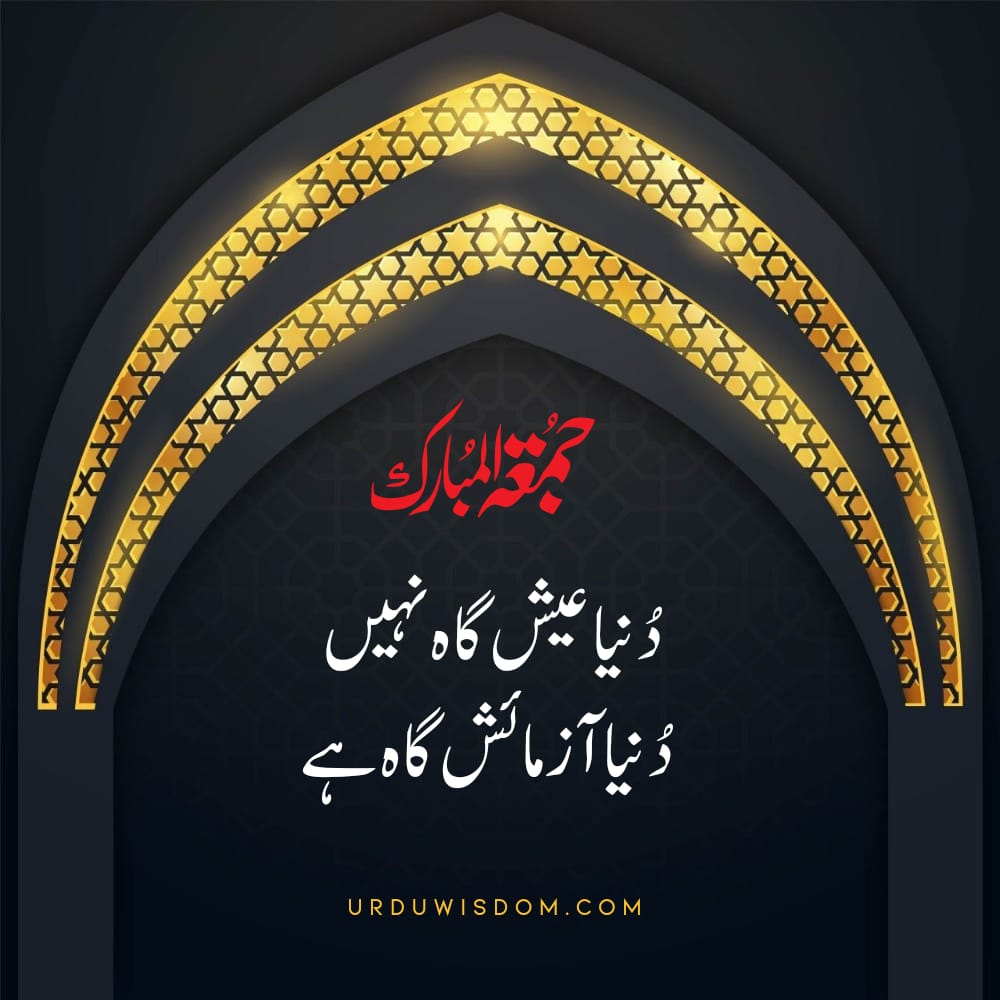 Dunya Ayshgah nahe
Dunya Azmaish Gah hay
Significance of Jummah is expressed in a hadith of our beloved Prophet Muhammad .صلى الله علیہ و آلہ وسلم:
"There is an hour on Friday and if a Muslim gets it while offering Salat and asks something from Allah Almighty, then Allah will definitely fulfil his demands and Prophet Muhammad (SAW) pointed out the shortness of that particular time with his hands."
( Sahi Bukhari)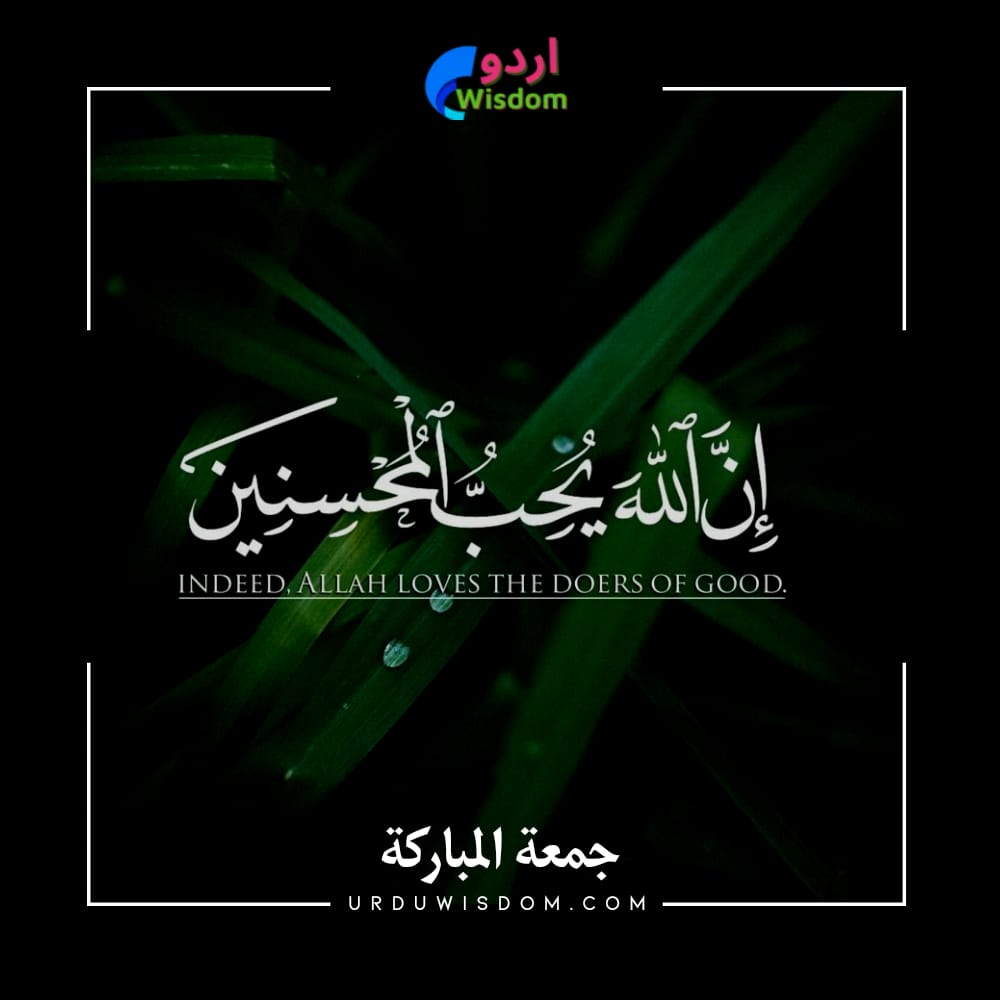 Indeed Allah Loves the doers of good.
"On this Friday, Let's pray to Allah for the world. Ya Allah, Forgive all our sins and save us from the hellfire. Ameen"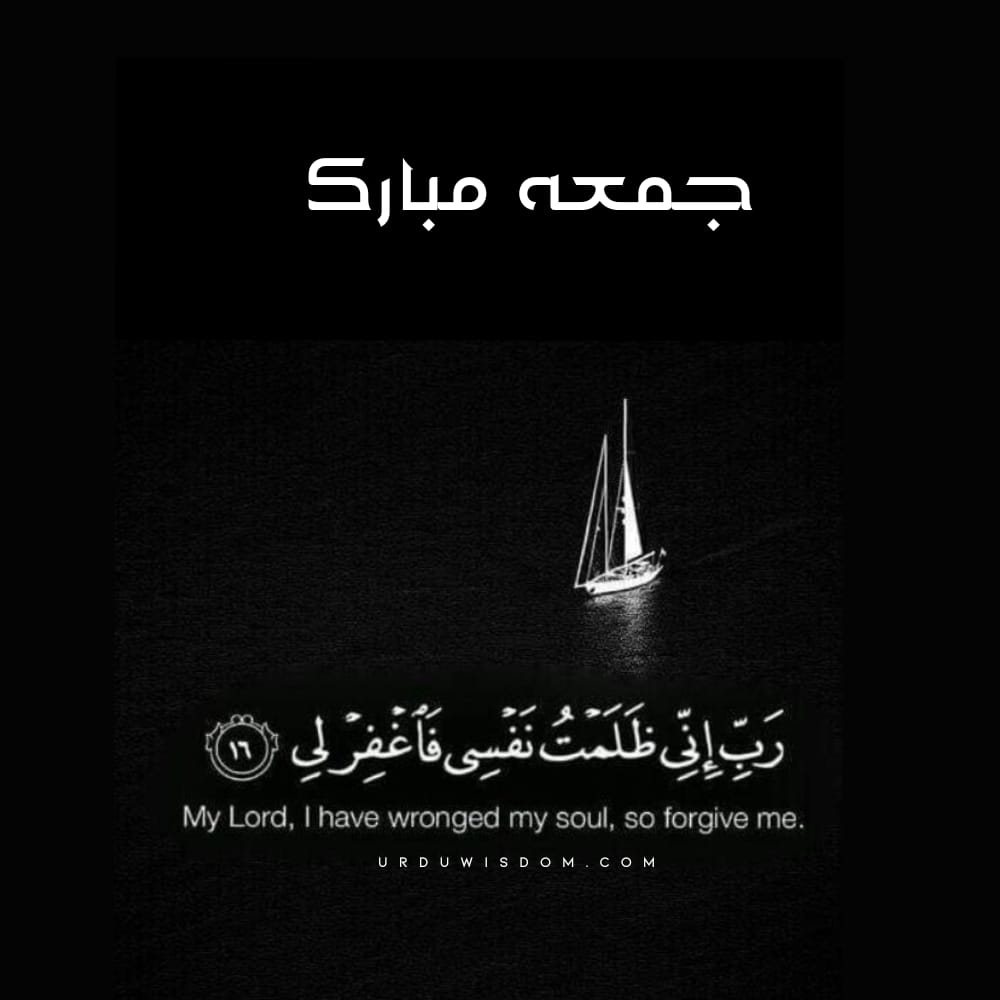 May Allah Almighty give peace to your mind and heart. May He calm the storm in your mind.
"O Allah, forgive me all my sins great and small, the first and the last those that are apparent and those that are hidden."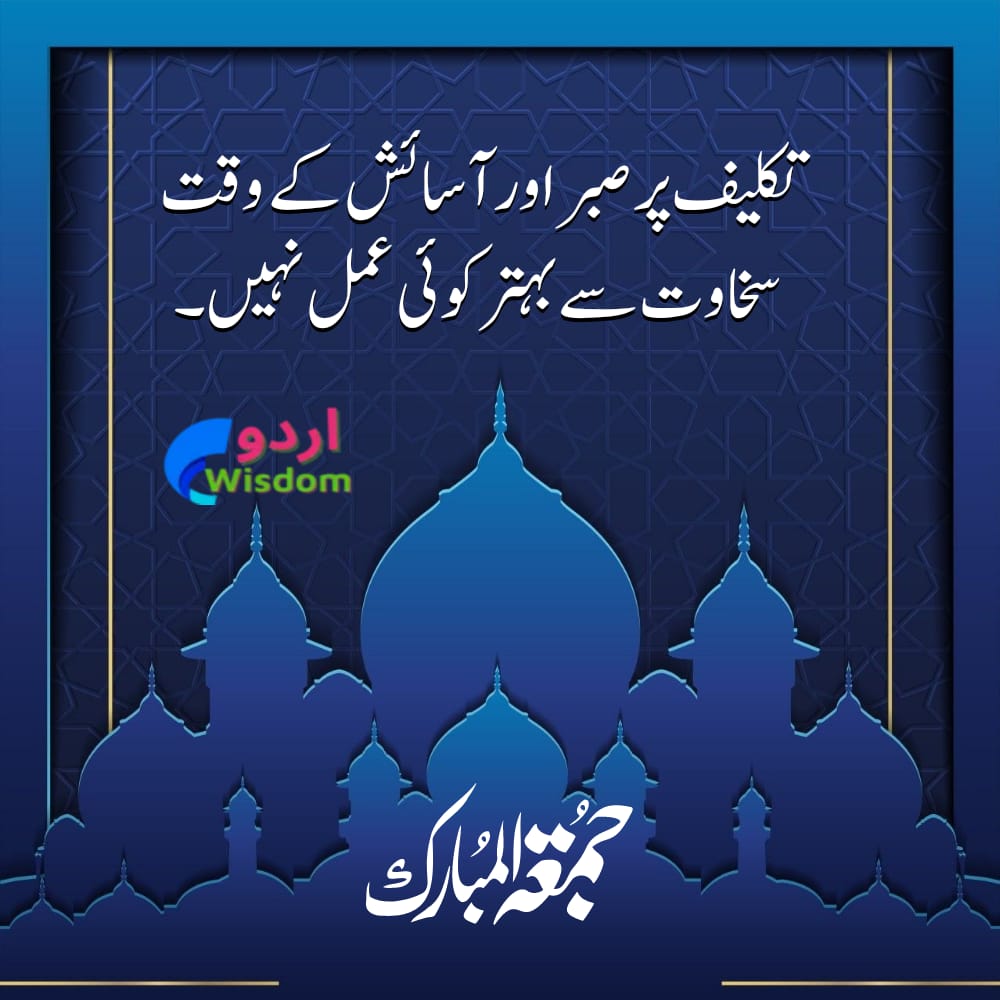 Takleef kay waqat sabbar aur aamaish kay waqat sakhawat
say behtar koi ammal Nahe.
Important Reminders
Wear neat & clean clothes
Send blessings to our Prophet
صلی اللہ علیہ و آلہ وسلم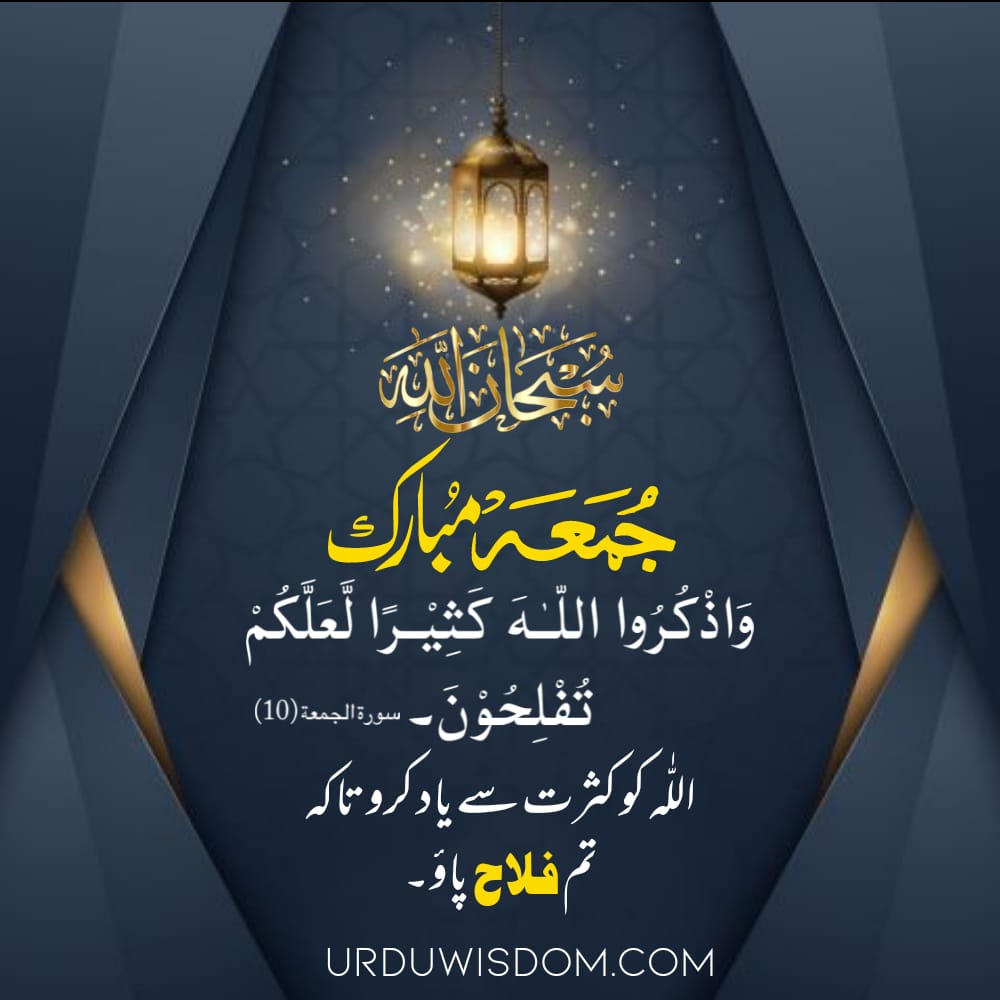 Allah ko kassarat say yaad karo ta keh tum Falah pao.
Jumma Mubarak Prayers.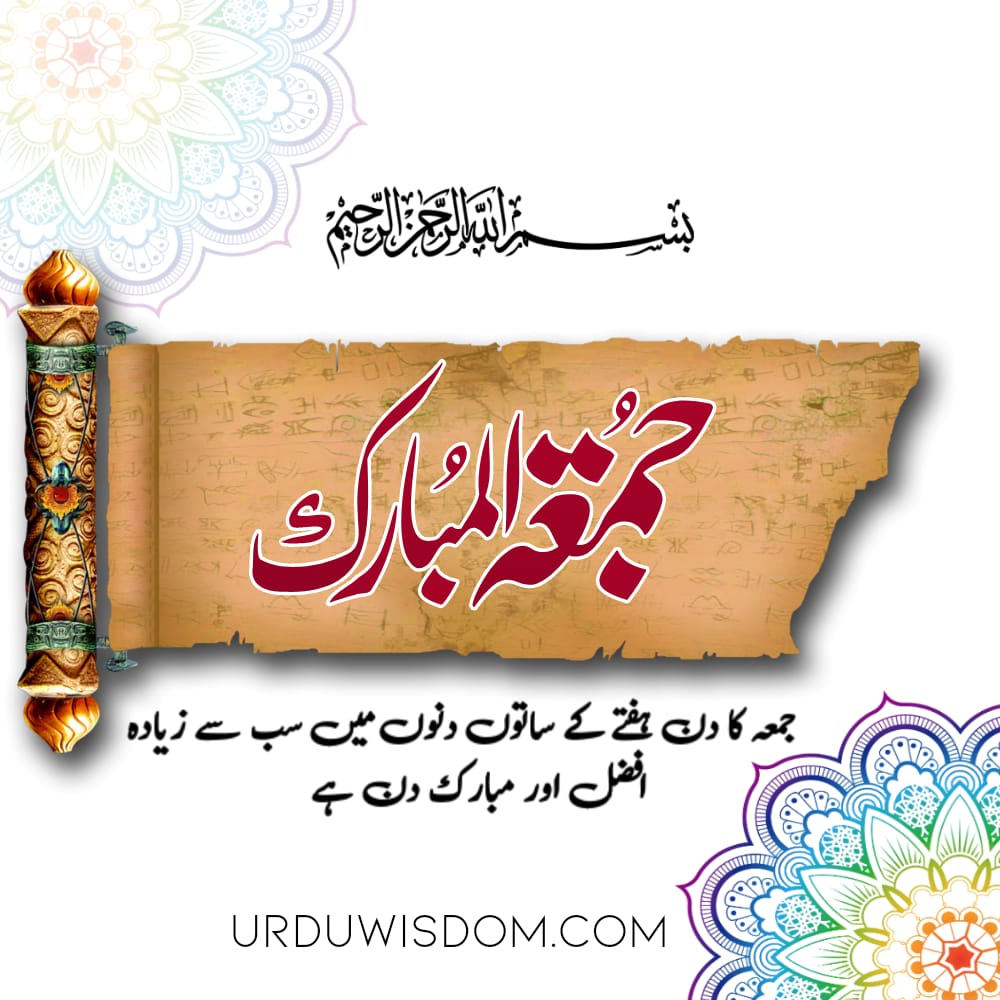 Jumma ka din haftay kay satton Dino me sab say zyada afzal aur Mubarak hay.
"Wishing you a blessed Jumma. May all your prayers be heard today!"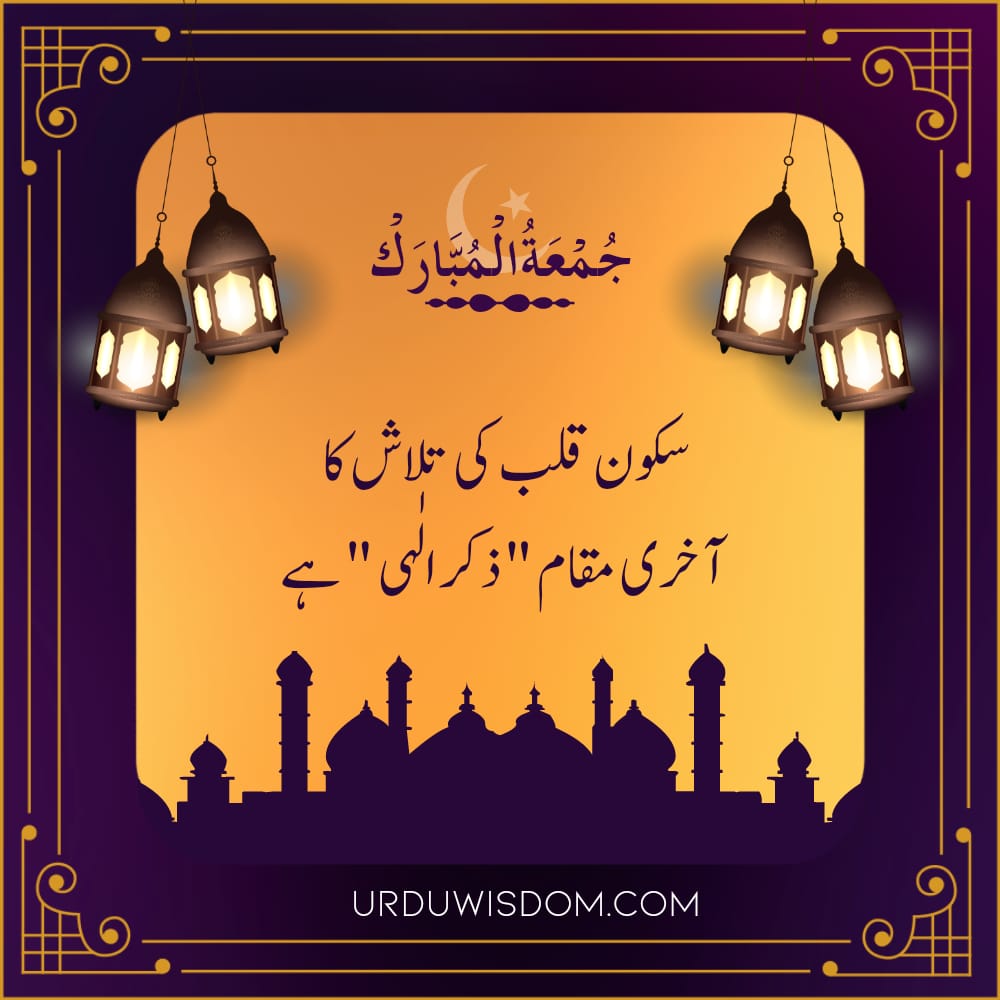 Sakoon Qalab ki Talaash ka akhri Maqaam Zikar e Alahe hy.
May Allah Almighty shower every Muslim with his unconditional blessings.
Wishing you a day that is blessed and full of peace. May this special day bring satisfaction to your heart and fill your life with the blessings of Allah!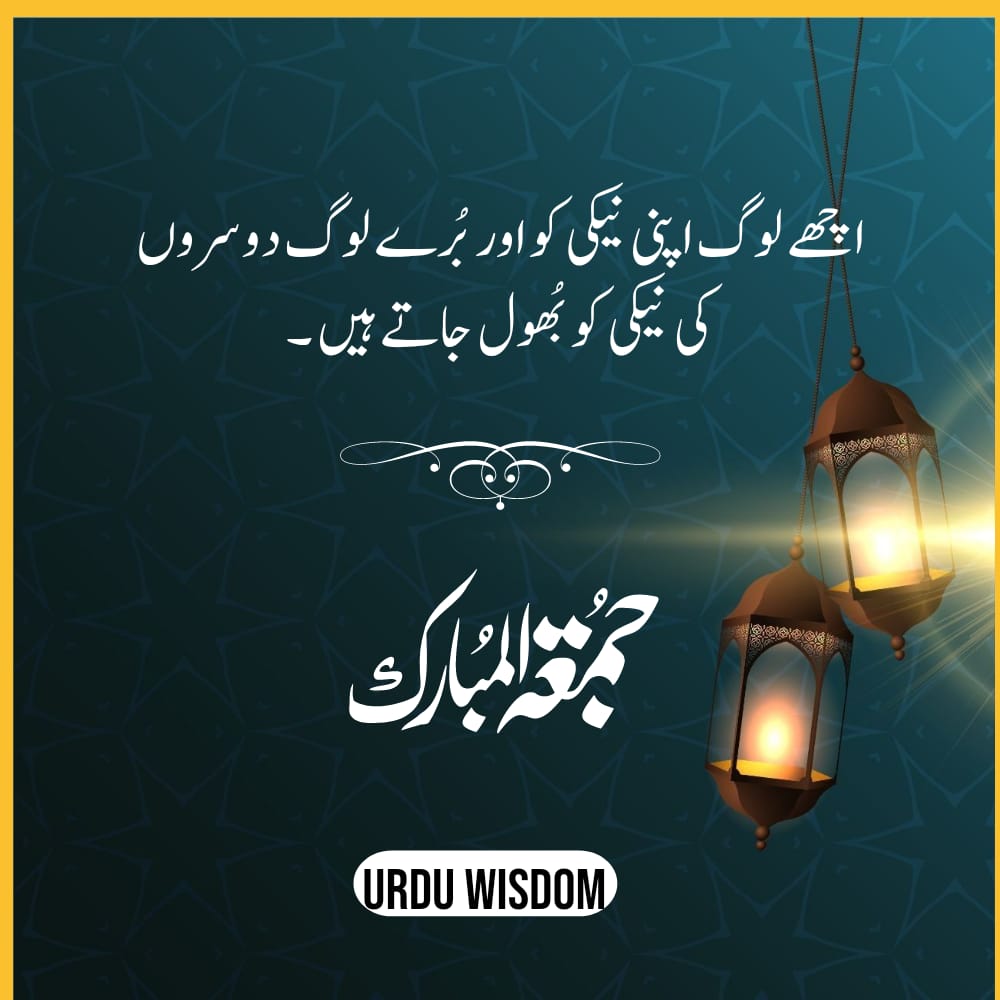 Achay log apni Neiki ko aur Boray log Doosro ki nieki ko bhool jatay hain.
You can share these Jumma Mubarak Quotes in Urdu with your family and friends on social media. Jumma Mubarak pics and Jumma Mubarak wishes are free to use.