Islamic Quotes in Urdu are very famous and useful among the Muslim community all over the world. Because these quotes give us a direction about life. In this section, I will share with you the best collection of beautiful Islamic Quotes in Urdu. These quotes have been taken from the Quran sayings, Hadiths, Islamic scholars and great Ulamas.
These Urdu quotes will inspire and motivate you about your life and the beautiful religion of Islam which is the complete code of life. Islam is the religion of peace, love and humanity. These Islamic quotes in Urdu images will help you to build a powerful relationship with almighty Allah and great love for Holy Prophet Hazrat Muhammad PBUH. You can use them on many Islamic festivals like Eid, holy days, and Jumma Mubarak wishes.
[wpcode id="8463″]
Best Islamic Quotes in Urdu: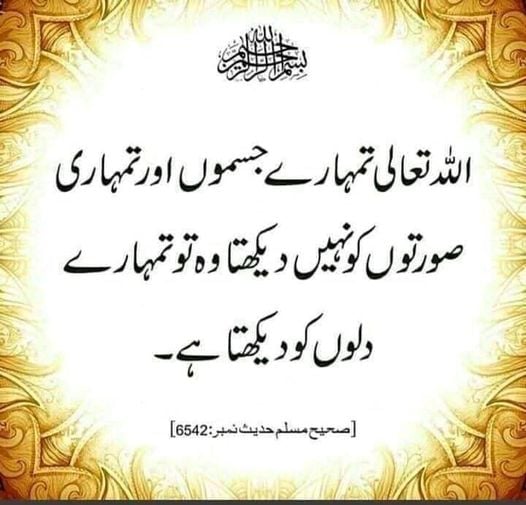 Allah Taala Tumharay Jismo aur Tumhari Sorton Ko nahe Daikhta
Woh to Tumharayt Dillon Ko Daikhta hay….
اللہ تعالٰی آپ کے جسموں اور آپ کی صورتوں نہیں دیکھتا ہے
وہ تو آپ کی دلون کی طرف دیکھتا ہے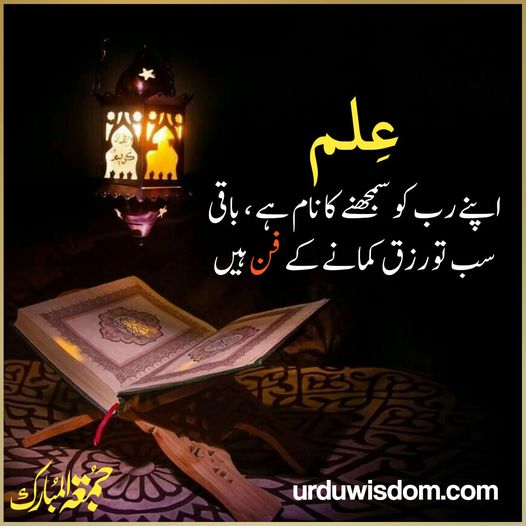 Ilm apnay Rab Ko samjhnay ka naam hay, Baki sab To
Rizk kamanay kay Fun hain…………
علم اپنے رب کو سمجھنے کا نام ہے
باقی سب تو رزق کمانے کا فن ہے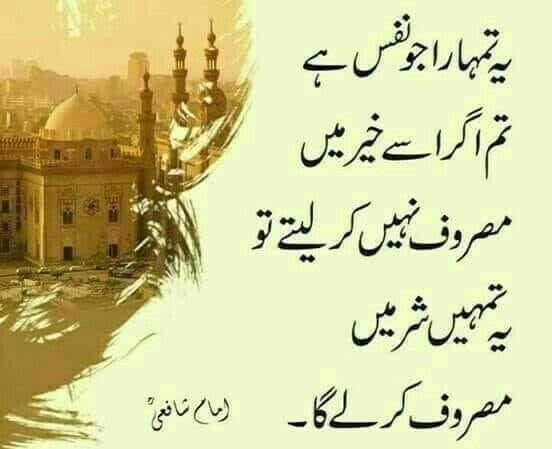 Yeh Jo tumhara nafas hay tum agar is ko khair Mein Masroof nahe
kar laitay to, Yeh tumain Sharr main Masroof kar la ga….
یہ جو تمھارا نفس ہے تم آگر اس کو خیر میں مصروف نہیں
کر لیتے تو ، یہ تمہیں شر میں مصروف کر لے گا۔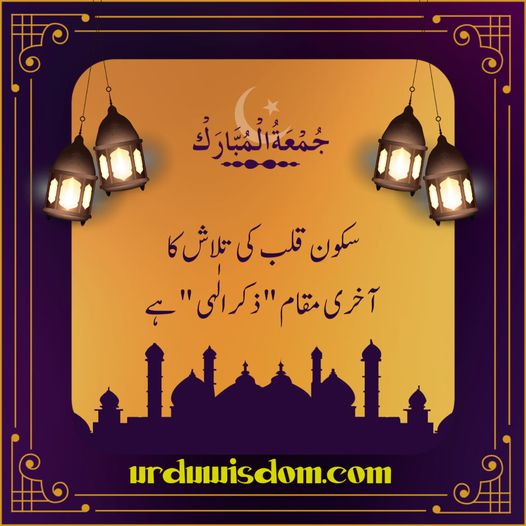 " Sakoon e Qalb Ki Talash ka akhri makaam,
Zikar e Ilahe hay…."
سکون قلب کی تلاش کا اخری مقام ،
ذکر الٰہی ہے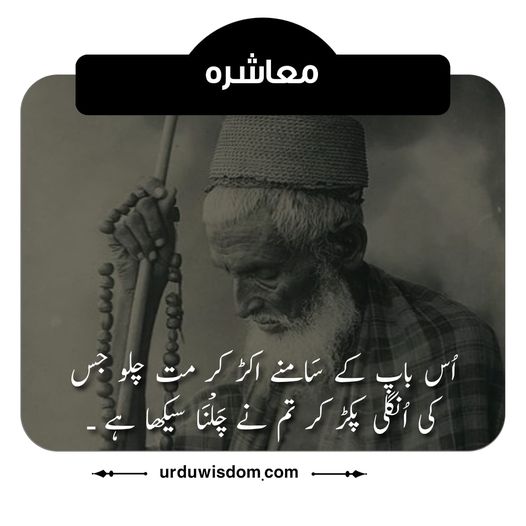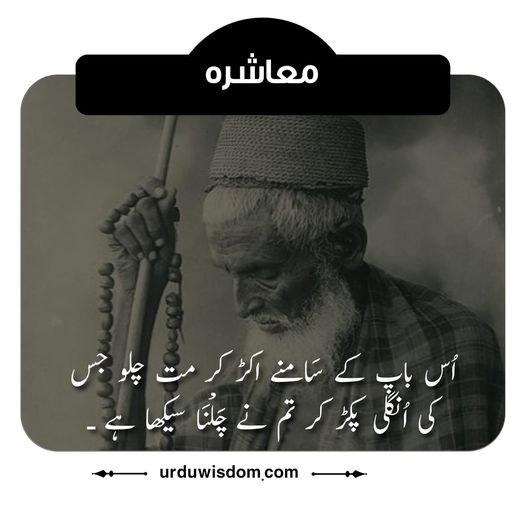 " Us Baap kay samnay akkar kay mat chalo,
Jis ki ungli Pakar kar tum nay Chalna Seekha."
اس باپ کا سامنے اکڑ کے مت چلو ،
جس کی انگلی پکڑ کر تم نے چلنا سیکھا۔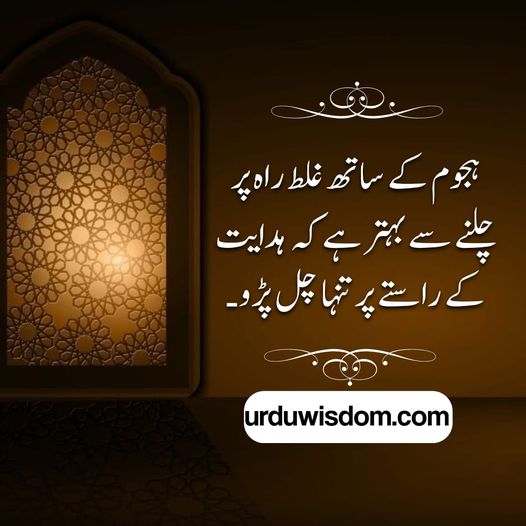 Hajoom kay sath galt rah par chalnay say behtar hay,
Keh hedait kay rastay pa Akelay chal Parro…………
Woh Tum say Itni Muhabbat karta hay keh
Din Mein Paanch Baar Apni Tarf BOlata hay.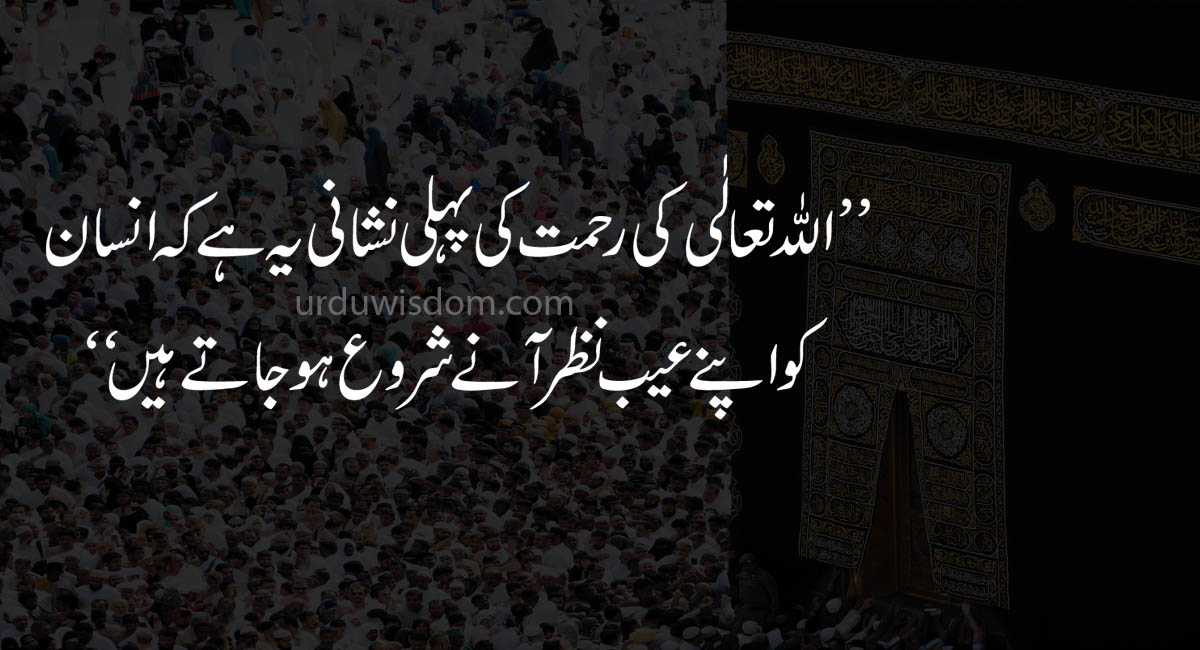 اللہ تعالیٰ کی رحمت کی پہلی نیشانی یہ ہے کہ
انسان کو اپنے عیب نظر آنے شروع ہو جاتے ہیں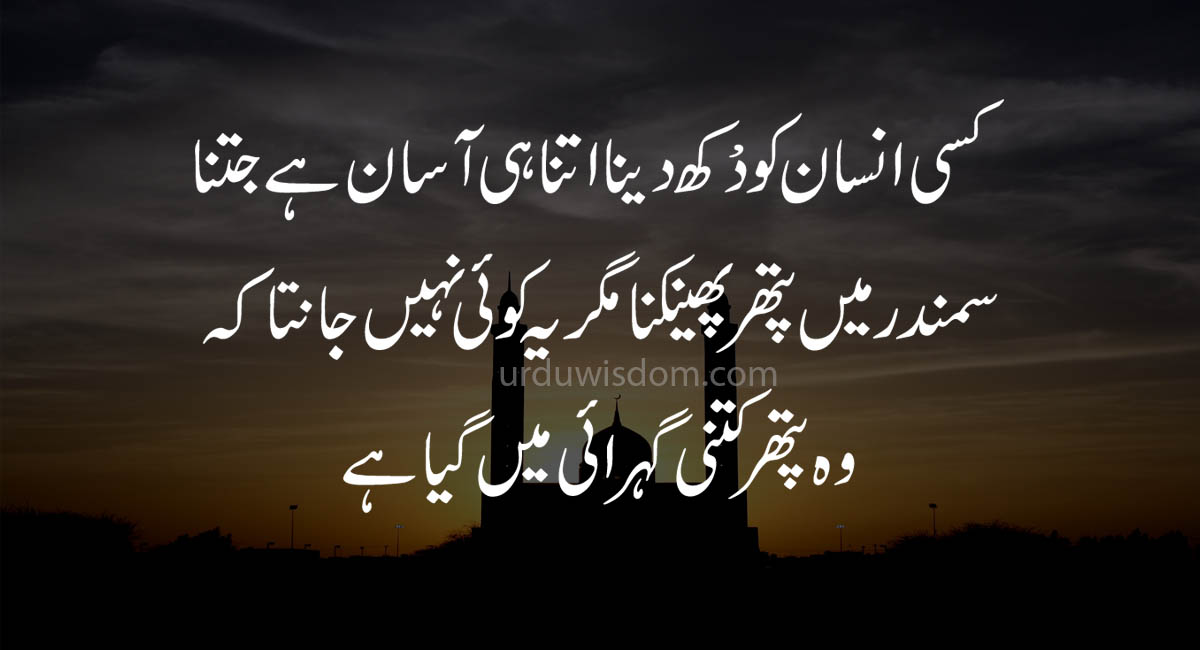 kisi Insan ko dukh daina itna he asaan hay jitna samandar mein
pathar phainkna maghar yeh koi nahe janta keh,
Wo Pathar kitni gehrai mein gyea hay
کسی انسان کو دکھ دینا اتنا ہے آسان ہے جتنا سمندر میں
پتھر پھینکنا مگر یہ کوئی نہی جانتا کہ
وہ پتھر کتنی گہرائی میں گیا ہے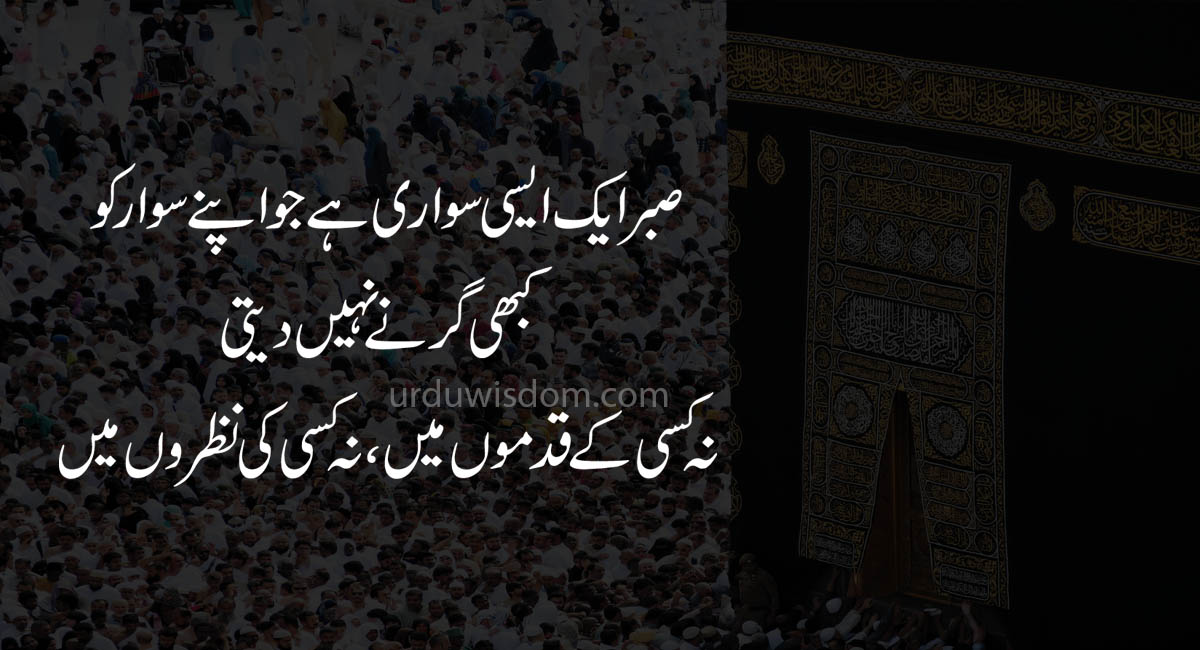 Sabar eak aise sawari hayjo apnay sawar ko,
Kabhi girnay nahe daiti,
nah kisi kay kadmon mein , nah kisi ke nazron mein
صابر ایک ایسی سواری ہےجو اپنے سوار کو
کبھی گرنے نہی دیتی,
نہ کسی کے قدموں میں , نہ کسی کے نظروں میں
Islamic Quotes in Urdu images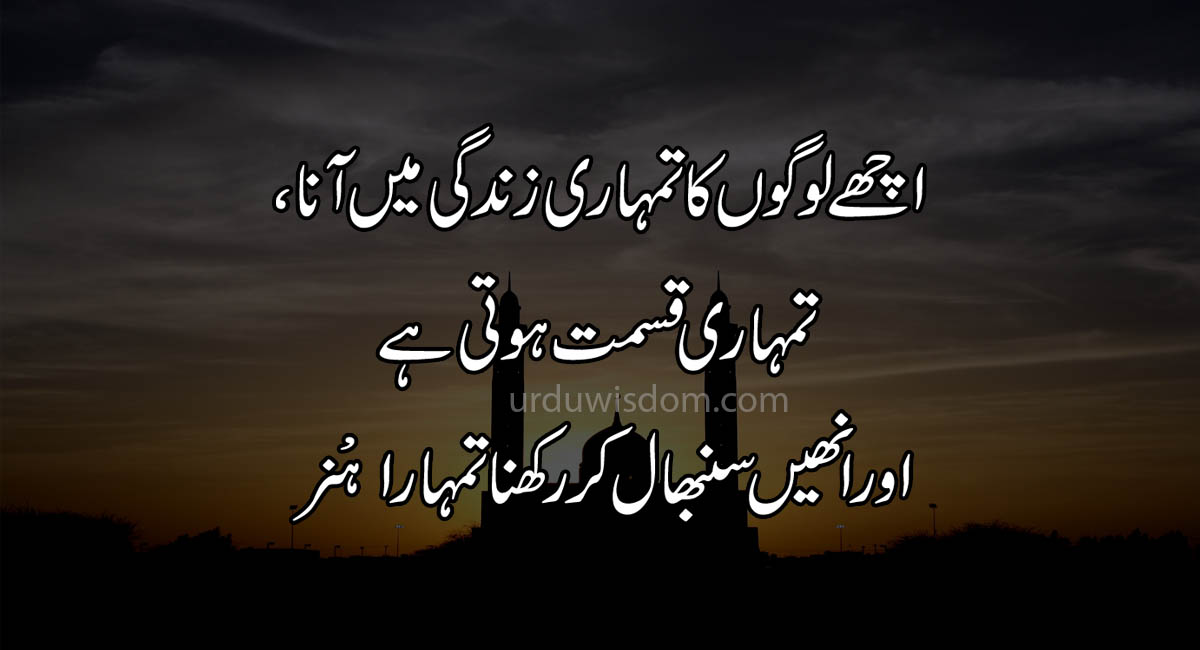 Achay logo ka tumhari Zindagi mein ana,
tumhari Qismat hoti hay
aur inhain sambhaal ke rakhna Tumhara hunaar
اچھے لوگو کا تمہاری زندگی میں آنا,
تمہاری قسمت ہوتی ہے
اور انہیں سمبھال کے رکھنا تمہارا ہنر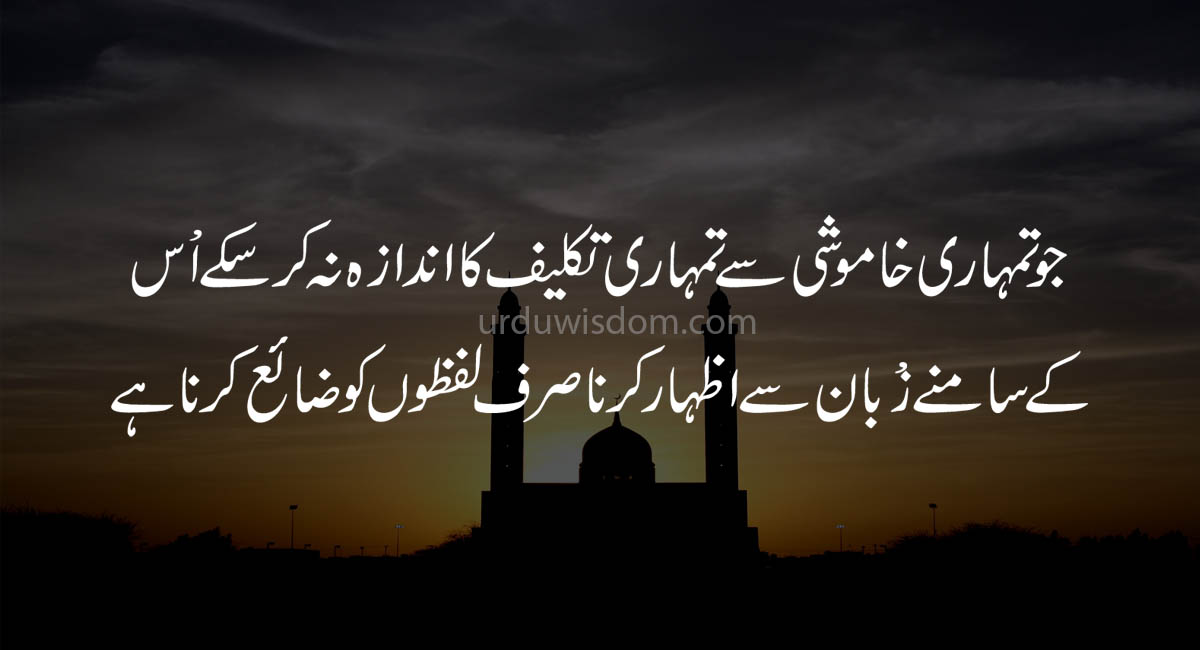 Jo tumhari khamoshi say tumhari Takleef ka andaza nah kar sakay Usss
Kay samnay zubaan say izhar karna Sirf lafzo ko zaya karna hay
جو تمہاری خاموشی سے تمہاری تکلیف کا اندازہ نہ کر سکے اس
کے سامنے زبان سے اظہار کرنا صرف لفظوں کو ضائع کرنا ہے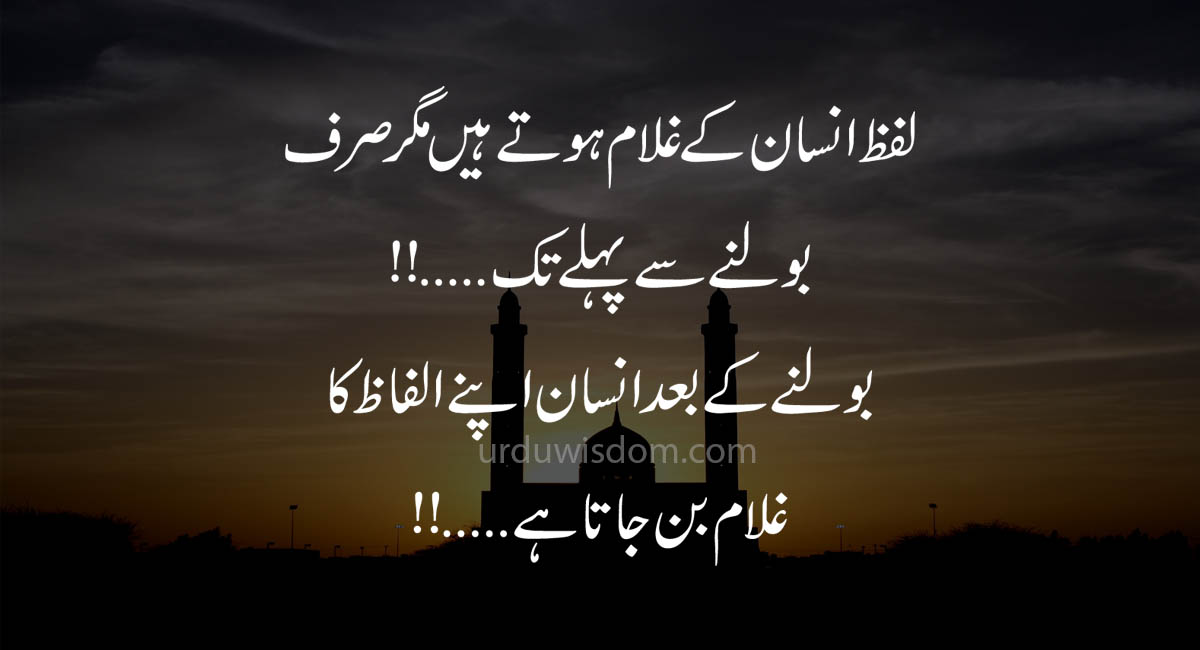 Lafz insaan kay ghulam hotay hain magar sirf bolnay say pehlay tak,
Bolnay kay bahd insaan Apnay Alfaz ka Ghulam ban Jata hay
لفظ انسان کے غلام ہوتے ہیں مگر صرف بولنے سے پہلے تک,
بولنے کے بعد انسان اپنے الفاظ کا غلام بن جاتا ہے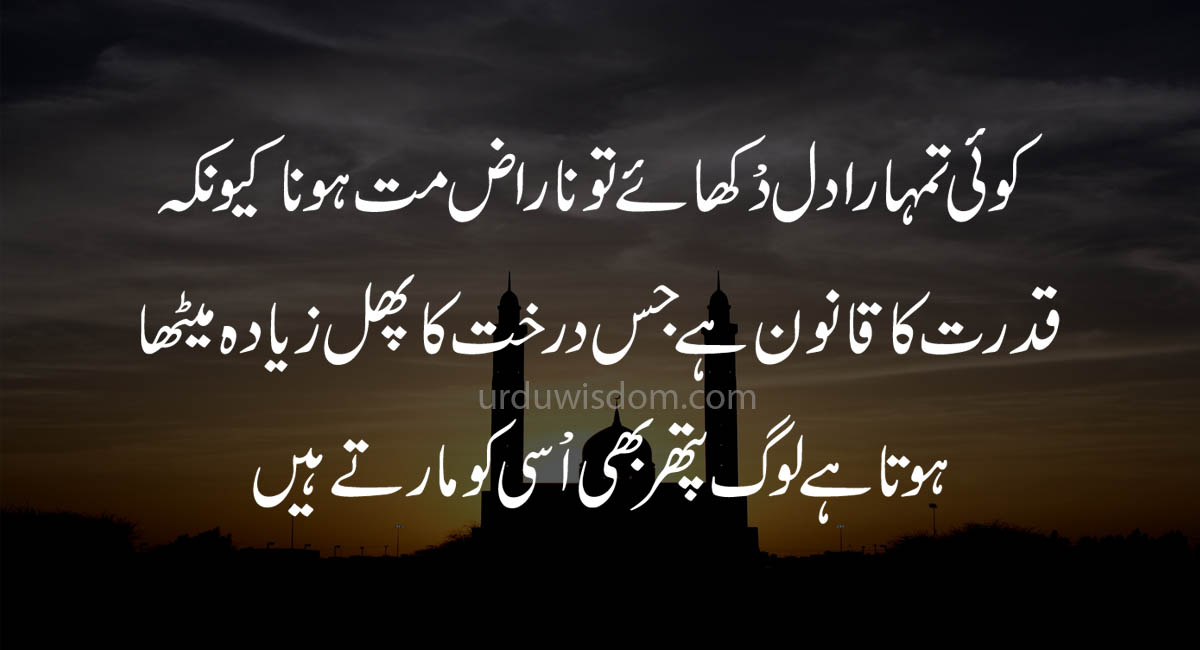 Koi tumhara dil Dukhaye to Naraz mat hona Kion keh,
Qudrat ka kanoon hay jis darakht ka phal zyada zetha
Hota hay log pathar bhe usi ko martay hain
کوئی تمہارا دل دکھائے تو ناراض مت ہونا کیوں کہ,
قدرت کا قانوں ہے جس درخت کا پھل زیادہ میٹھا
ہوتا ہے لوگ پتھر بھی اسی کو مارتے ہیں
Islamic Quotes about love in Urdu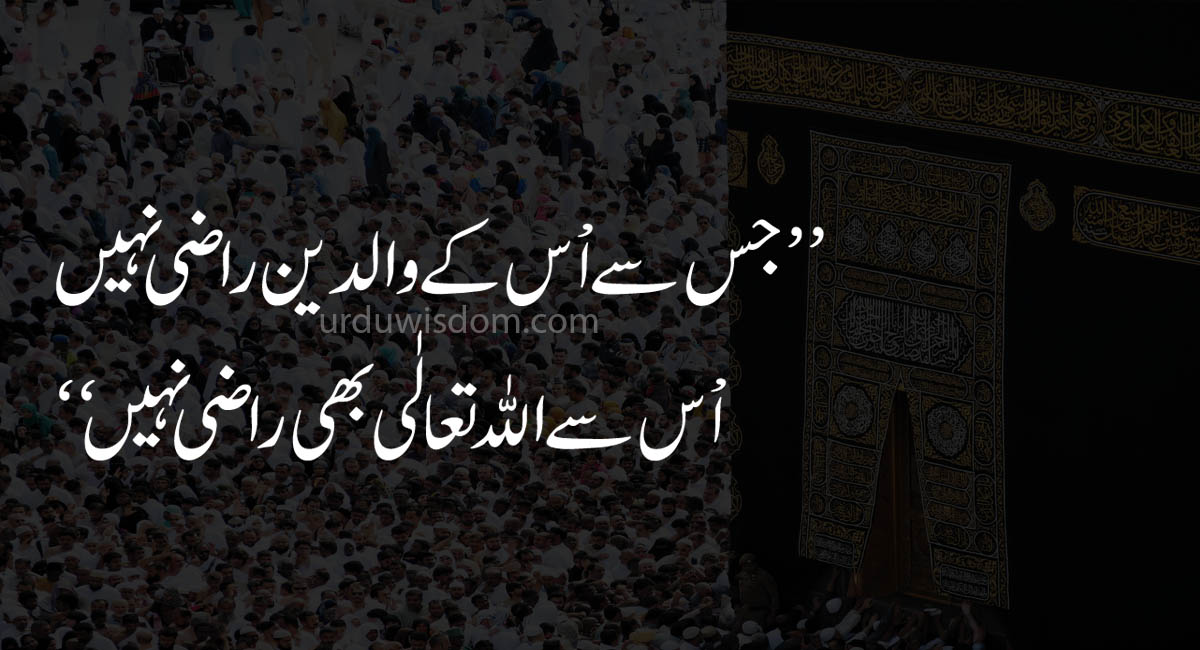 Jis say us kay waldain razi nahe
Us say Allah Taala bhe razi nahe
جس سے اس کے والدین راضی نہیں
اس سے الله تعالیٰ بھی راضی نہیں۔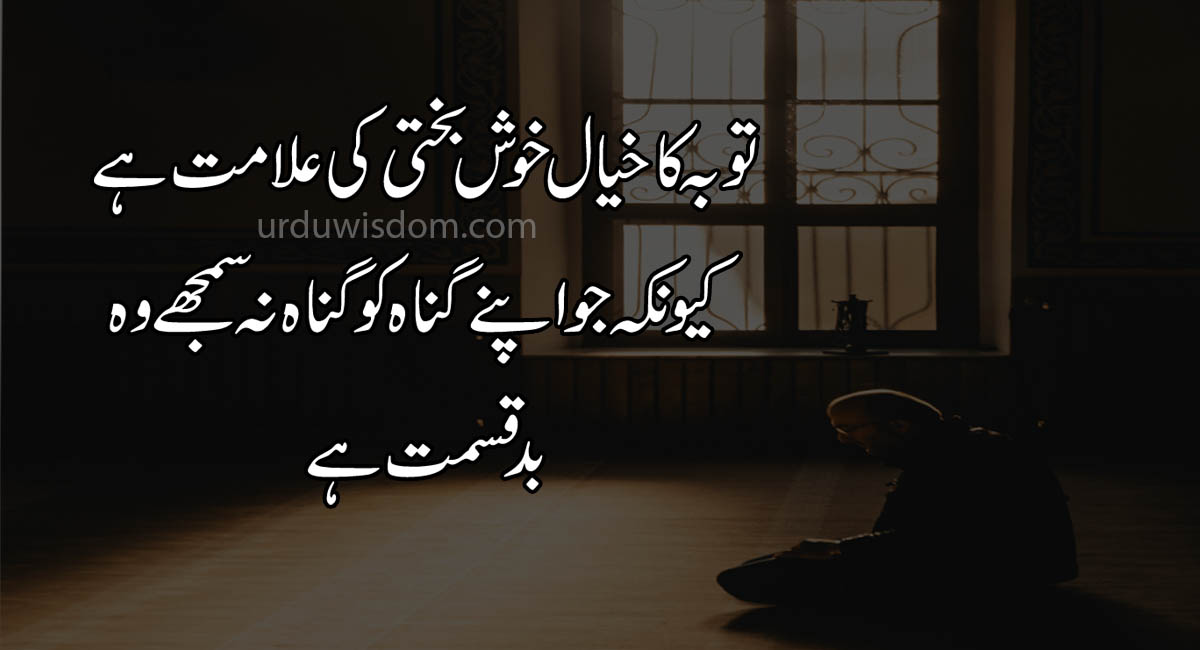 Toba ka khyal khush bakhti ke alamat hay,
kion keh jo apnay gonah ko gonah nah samjhay
Woh badkismat hay
توبہ کا خیال خوش بختی کے علامت ہے,
کیوں کہ جو اپنے گناہ کو گناہ نہ سمجھے
وہ بدقسمت ہے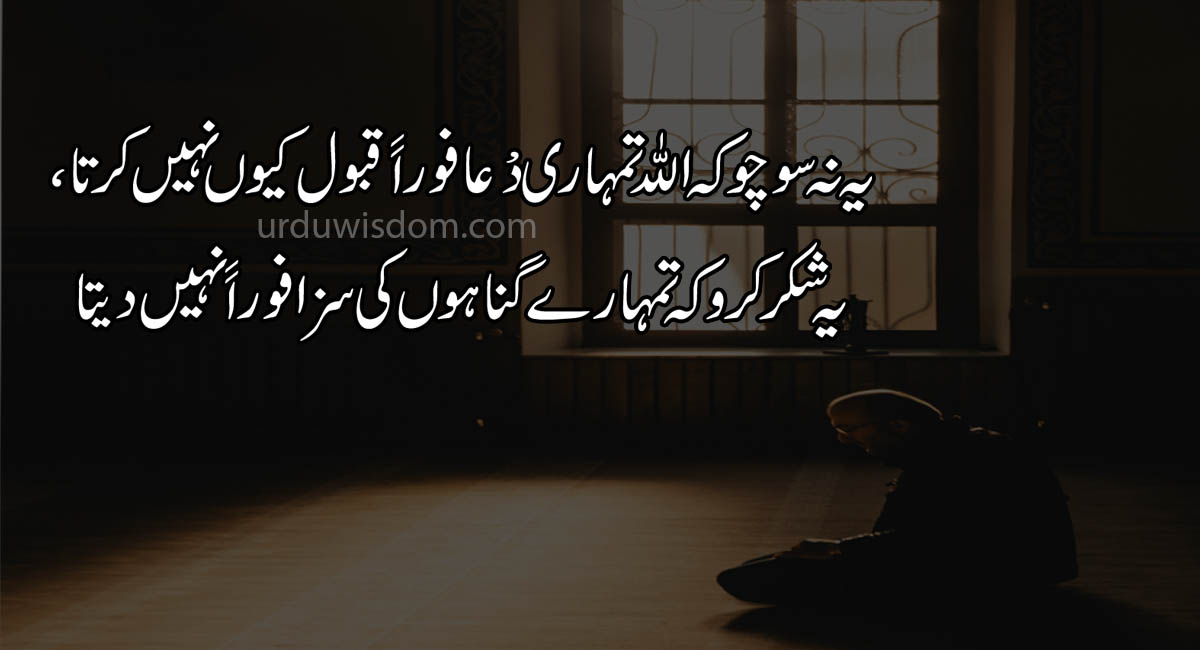 Yeh nah socho keh Allah taala tumhari Dua Qabool nahe karta
Yeh shukar karo keh Tumharay Gonahon Ke saza Foran nahe daita
ہ نہ سوچو کہ الله تعالیٰ تمہاری دعا قبول نہیں کرتا
یہ شکر کرو کہ تمھارے گناہوں کے سزا فورا" نہی دیتا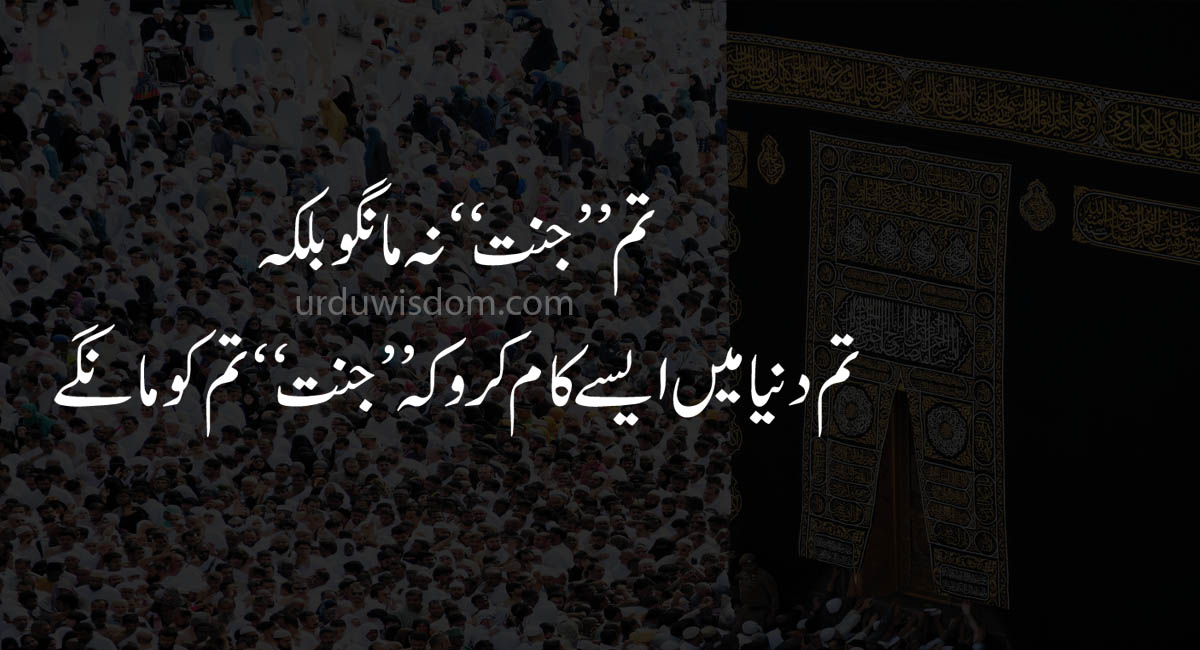 Tum jannat nah mango balkah,
Tum dunya mein aisay kaam karo keh ' Jannat ' tum ko mangay
تم جنّت نہ مانگو بلکہ,
تم دنیا میں ایسے کام کرو کہ ' جنّت ' تم کو مانگے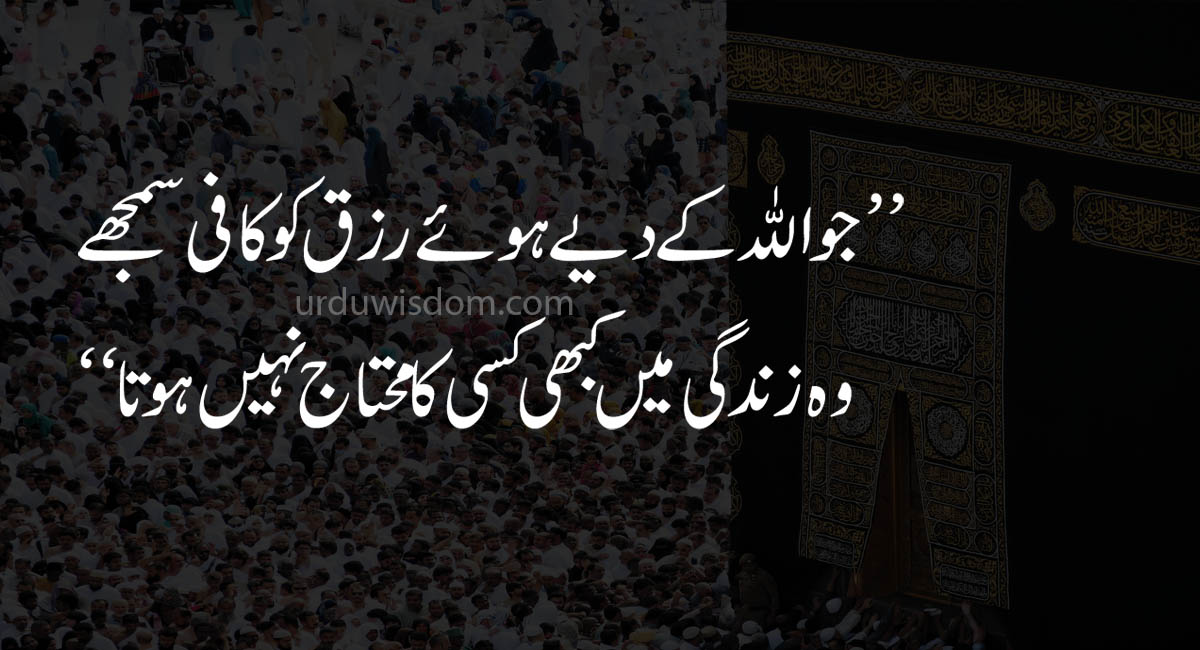 Jo Allah kay dya gay rizq ko kafi samjhay
Wo Zindagi mein kabhi kisi ka mohtaaj nahe hota
جو الله کے دیے گئے رزق کو کافی سمجھے
وو زندگی میں کبھی کسی کا محتاج نہی ہوتا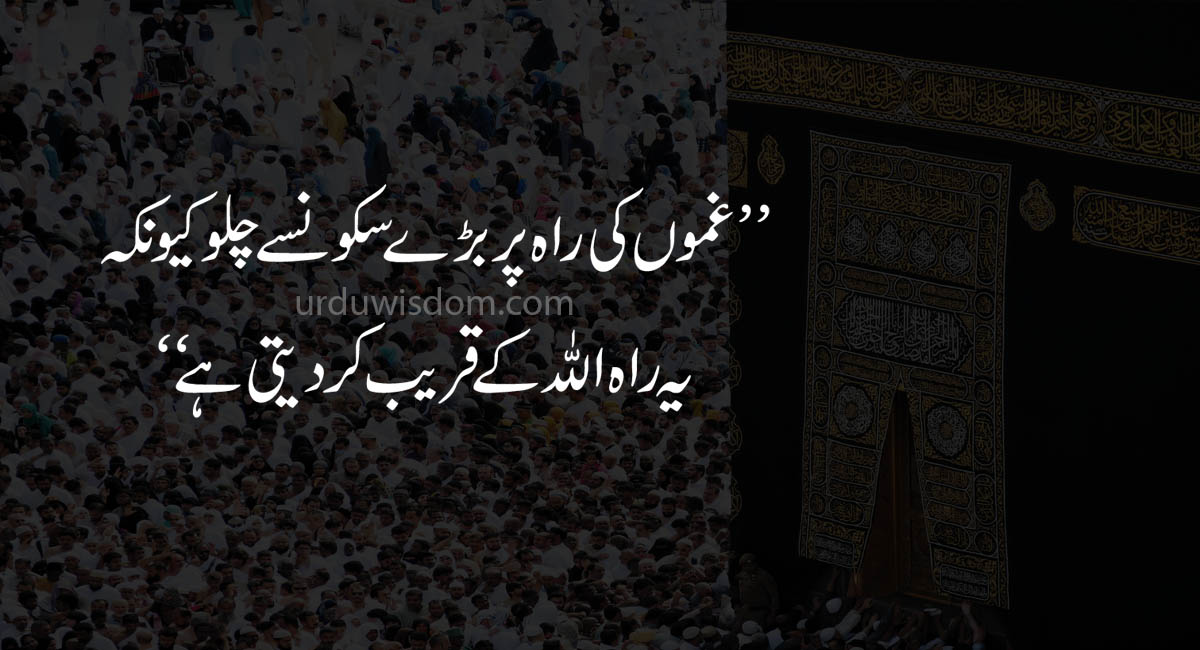 Ghamon kay Rah pa barray sakoon say chalo kion kah
yeh Allah kay kareeb kar daiti hay
غموں کی رہ پر بڑے سکون سے چلو کیوں کہ
یہ الله کے قریب کر دیتی ہے
Islamic Quotes in English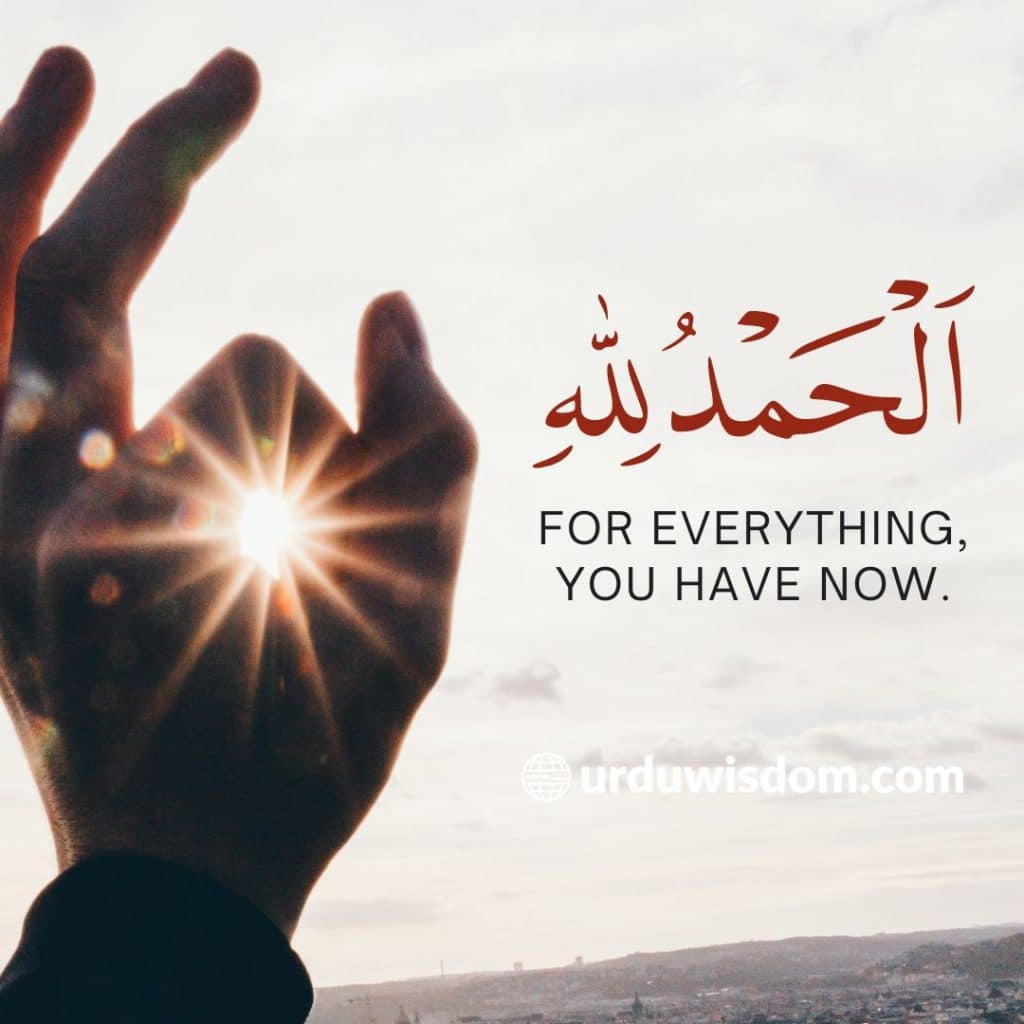 "Alhamdulillah For Every thing you have Now"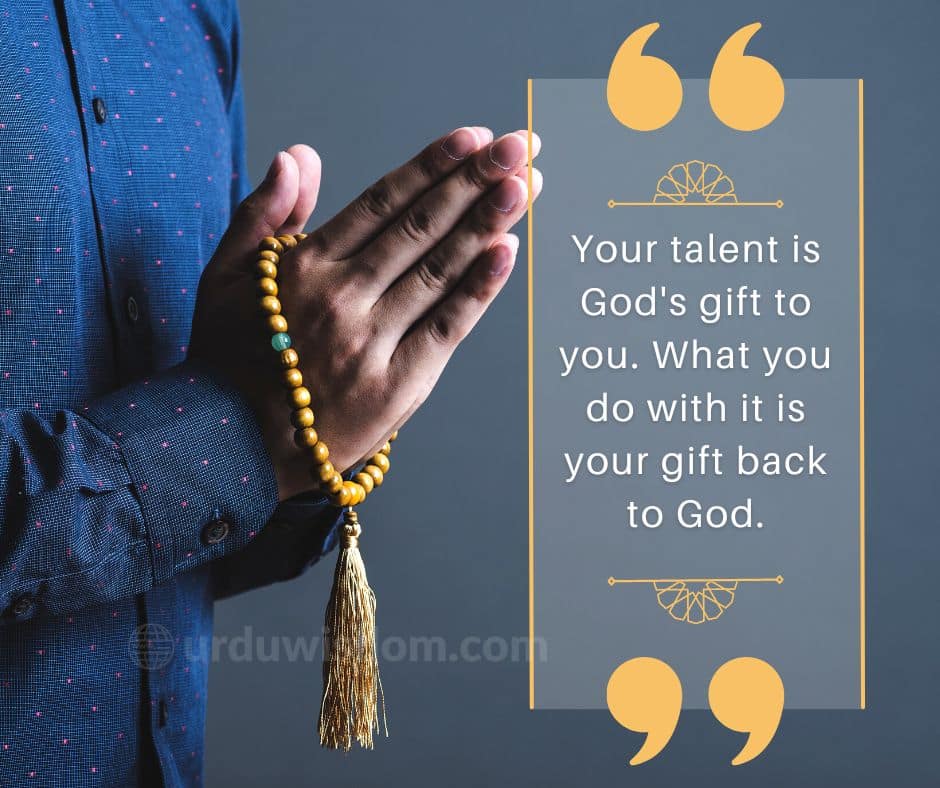 " Your talent is God's gift to you. What you do with it is your gift back to God"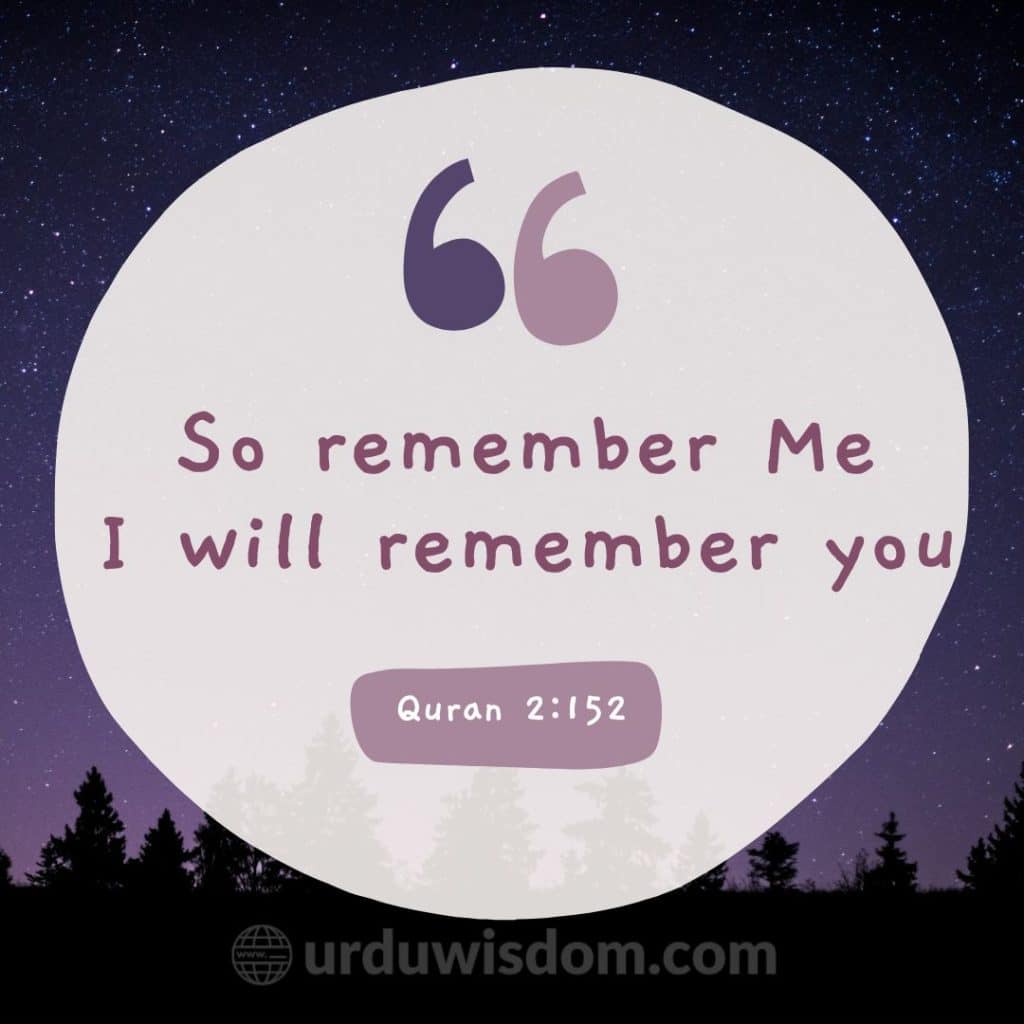 " So remember me, I will remember you "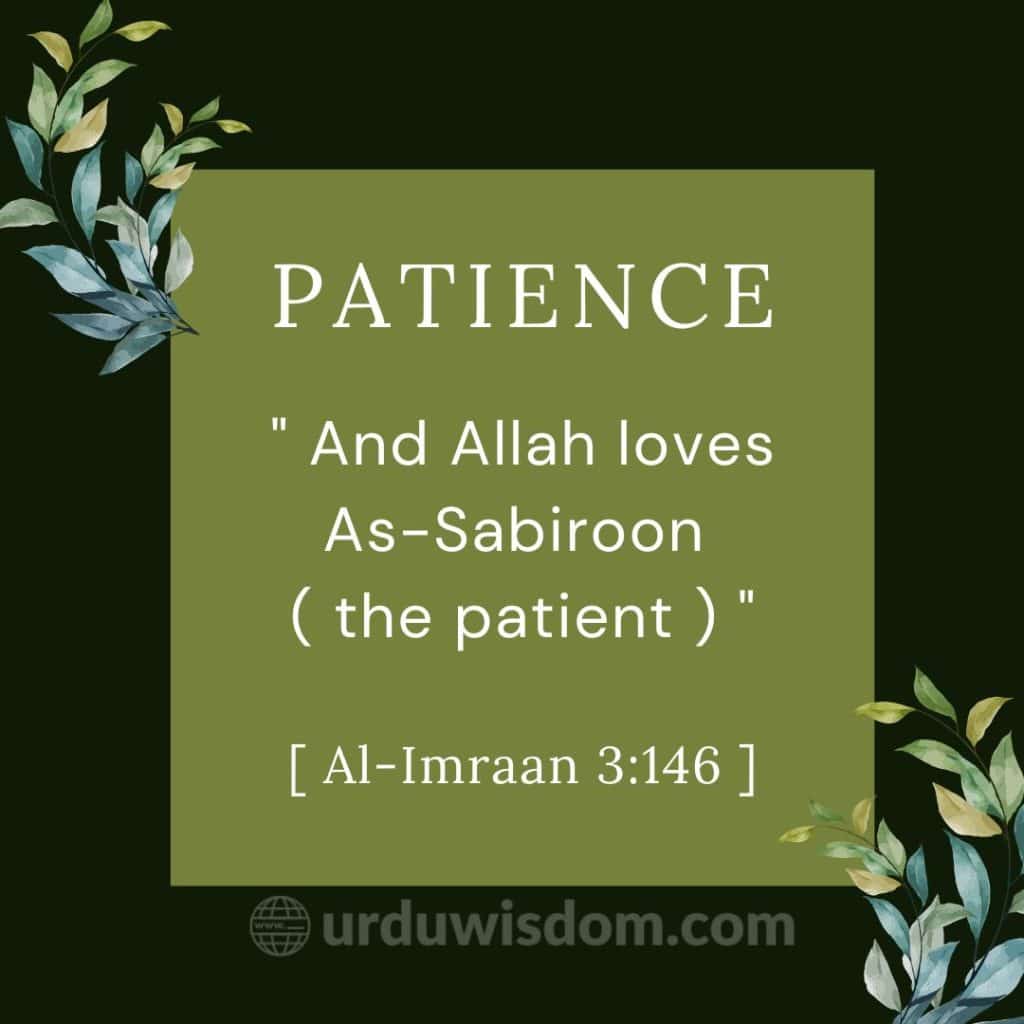 " And Allah loves as Sabreen. ( the patient ) "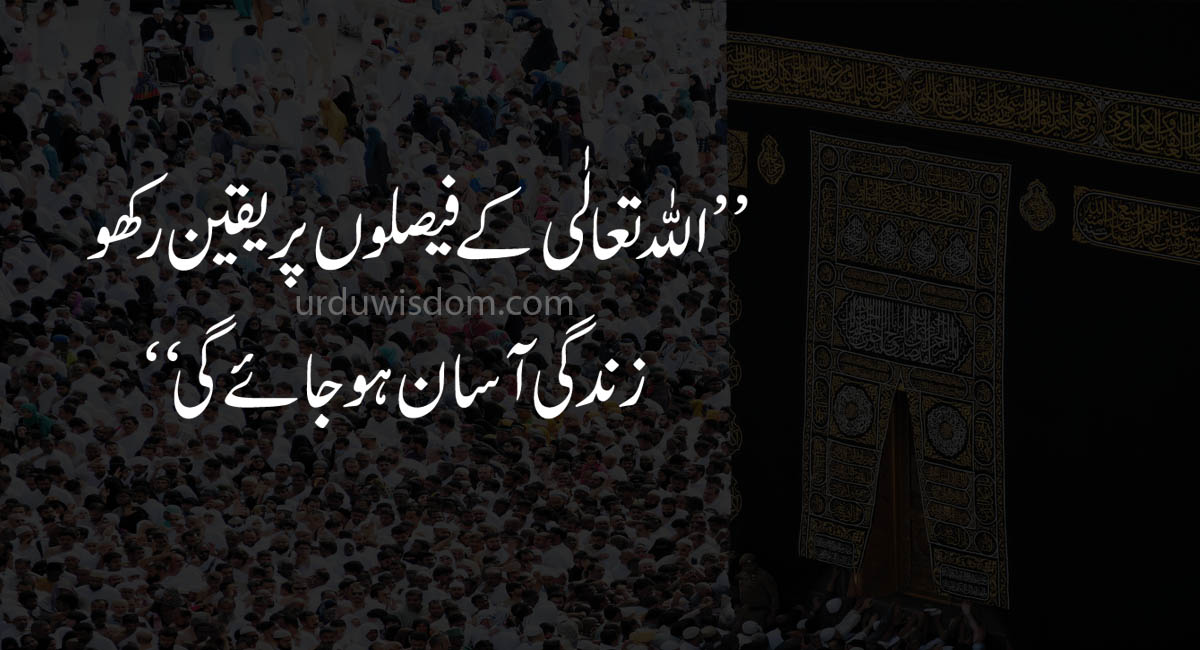 Allah taala kay faislon pa yakeen rakho
Zindagi asaan ho jay ge
الله تعالیٰ کے فیصلوں پہ یقین رکھو
زندگی آسان ہو جائے گی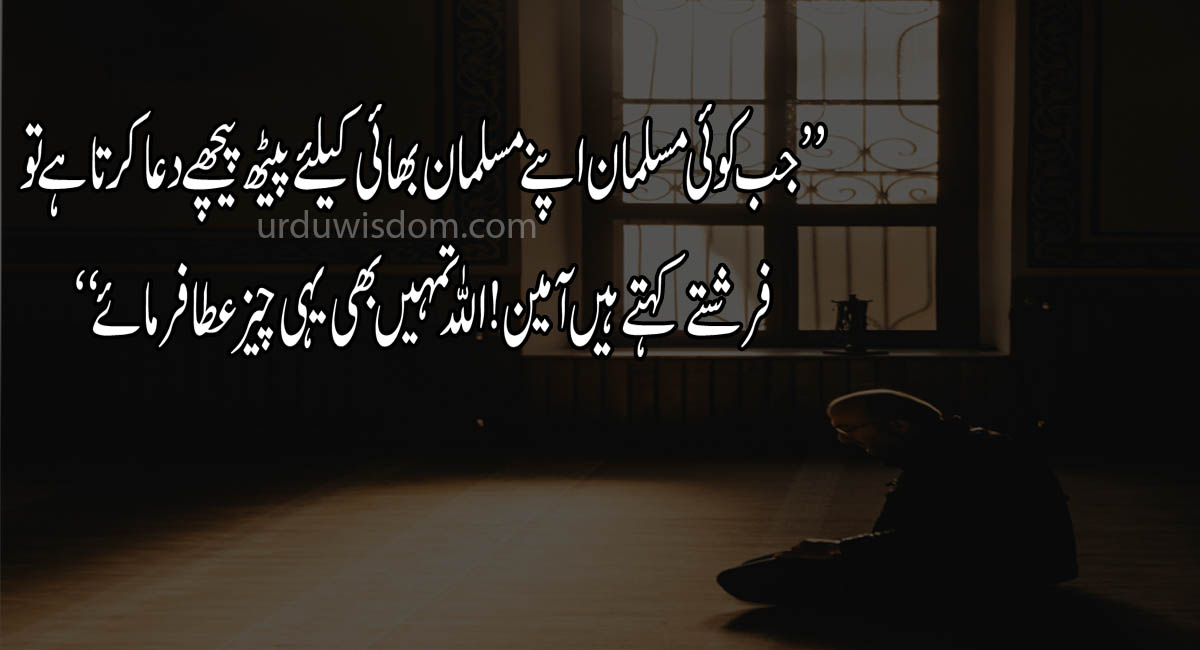 Jab koi Musalman dosray mosalman bhai kay lya Dua Karta hay
to farishtay kehtay hain ameen, Allah Tumhain bhe yehe chez atta karay
جب کوئی مسلمان دوسرے مسلمان بھائی کے لئے دعا کرتا ہے
تو فرشتے کہتے ہیں امین, الله تمہیں بھی یہی چیز عطا کرے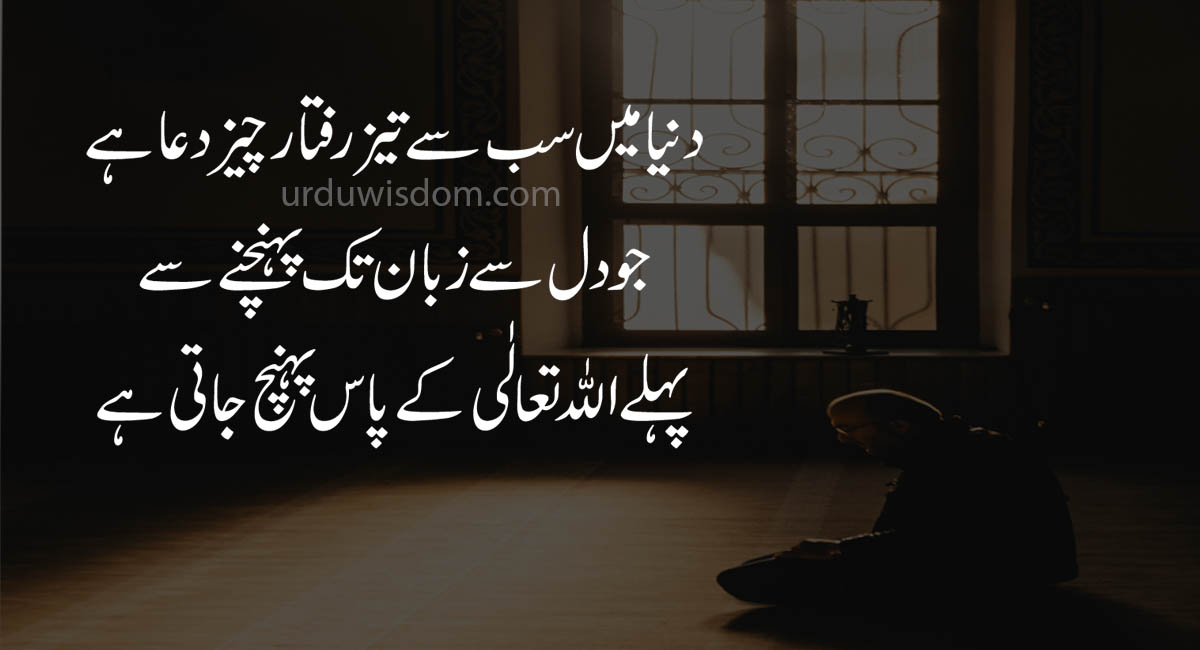 Dunya mein sab say taiz raftaar chez dua hay
Jo dil say zobaan tak pohnchnay say pehlay
Allah Almighty kay pass pohnch jati hay؎
دنیا میں سب سے تیز رفتار چیز دعا ہے
جو دل سے زبان تک پہنچنے سے پہلے
الله تعالیٰ کے پاس پہنچ جاتی ہے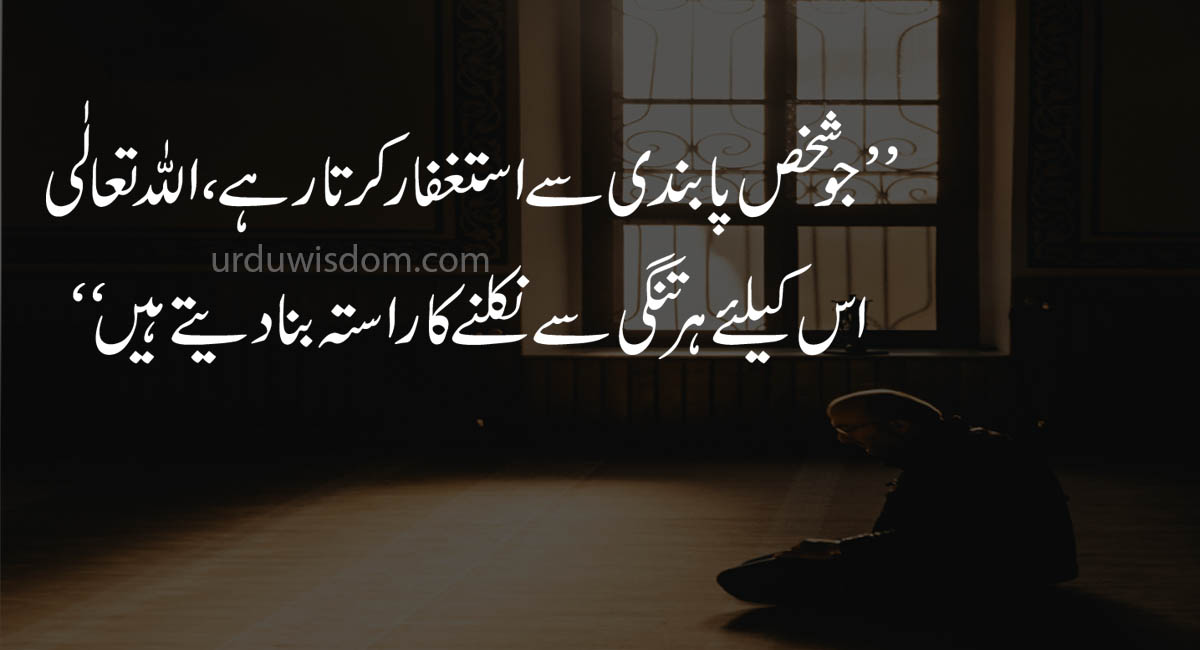 Jo shakhs pabandi say Astaghfaar karta hay Allah Almighty us kay lya
har tangi say nikalnay ka rasta bna datai hain
جو شخص پابندی سے استغفار کرتا ہے الله تعالیٰ اس کے لئے
ہر تنگی سے نکلنے کا راستہ بنا دیتے ہیں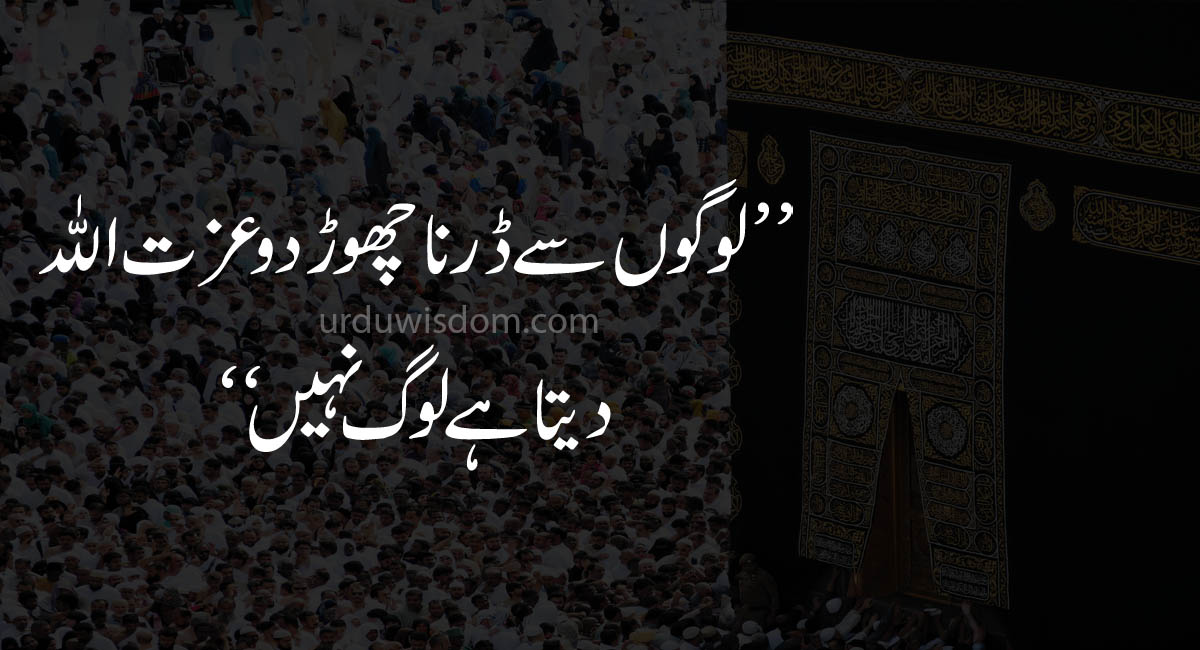 Logo sa darna chor do Izzat Allah Daita hay
log nahe
لوگوں سے ڈرنا چھوڑ دو عزت الله دیتا ہے
لوگ نہیں۔۔۔۔۔۔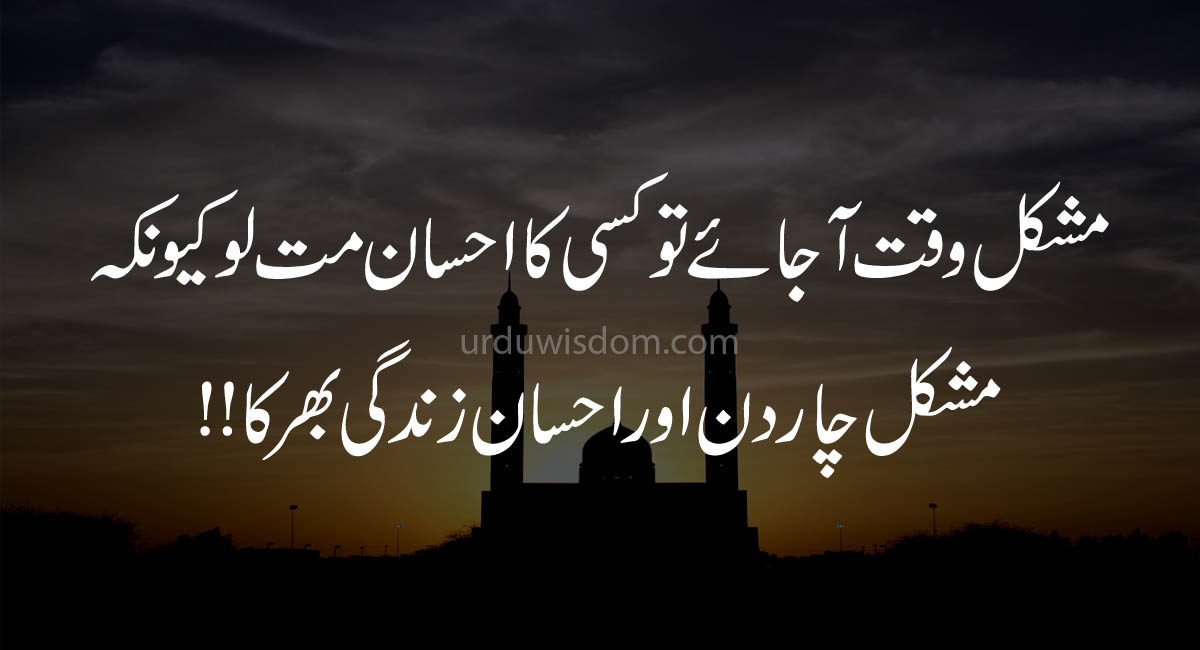 Mushkal waqt a jay to Kisi ka Ehsaan Mat Lo
kion kehMushkal chaar din aur ehsaan zindagi bhar ka
مشکل وقت آ جائے تو کسی کا احسان مت لو
کیوں کہ مشکل چار دن اور احسان زندگی بھر کا
One thing that must be remembered is that, if a religious or inspirational verse is quoted, the only concern is whether the person is quoting it in Urdu or not. A person who quotes it in Urdu is not allowed to remove a single letter of Urdu from the original meaning. So, a person should always try to obtain authentic Urdu translations as much as possible. These Islamic quotes in Urdu will definitely help you on the right path.
I hope you will enjoy these beautiful Islamic Quotes. Share and comment on it.
Thanks