I will share the best and most famous Hazrat Ali Quotes in Urdu. Hazrat Ali Ibn Abi Talib was born in Kaaba's. The Holy Prophet took him to his house. After Hazrat Khadija, he was the first who embraced Islam. He grew up in the house of Muhammad ( PBUH ). You can idealise the mind level of Imam Ali RA.
Hazrat Ali's Quotes and sayings inspire and motivate all Muslims and Non-Muslims all over the world. Hazrat Ali was the cousin and son-in-law of the Prophet Muhammad, and he is highly respected in Islam as a companion and one of the four rightly guided caliphs. He was known for his wisdom and eloquence, and his quotes are still widely quoted and revered today. Some popular Hazrat Ali quotes include:
"The strongest among you is the one who controls his anger."
"Wisdom is the lost property of the believer. Wherever he finds it, he has a better right to it."
"The tongue is like a sword, use it with care."
"To have complete faith in Allah is to be like a child who knows deeply that even if he does not call for the mother, the mother is fully aware of his condition and is looking after him."
"The one who is patient in adversity will be given the reward of a patient person without measure."
Hazrat Ali's quotes often emphasize the importance of self-control, faith, and wisdom in leading a good life.
You can explore the best quotes for life by Hazrat Ali and share them with your friends and family.
Hazrat Ali Quotes in Urdu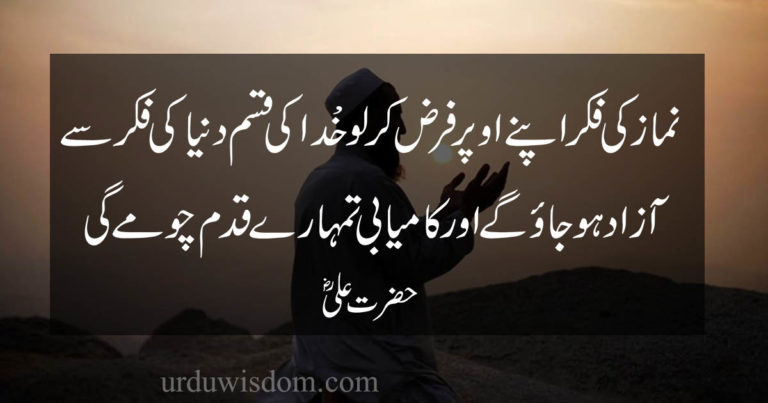 Namaz ke fiqar apnay oper farz kar lo, Khuda ke Qasam dunya ke fiqar say azaad ho jao gay aur kamyabi tumharay qadam choomain ge.
Hazrat Ali Quotes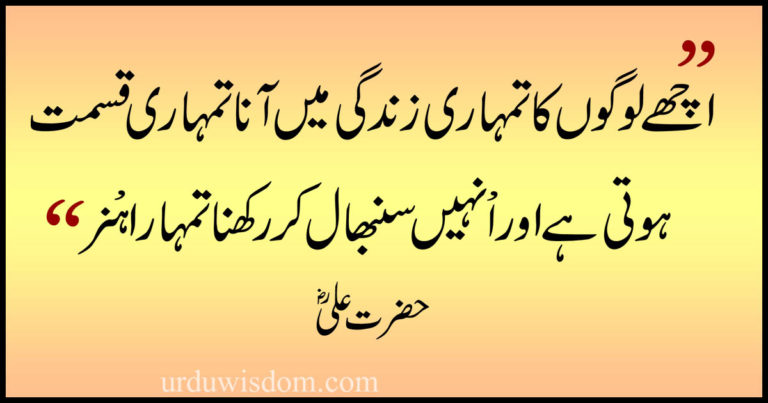 Achay logo ka tumhari zindagi main ana Tumhari Qismat hoti hay aur unhain sambhaal kar rakhna tumhara hunar.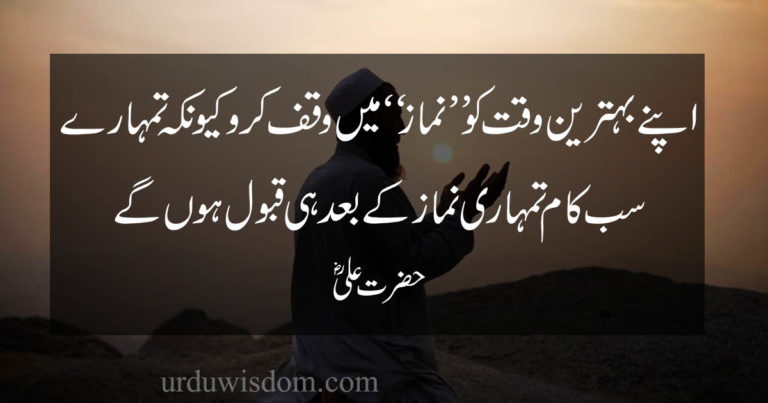 Apnay Behtareen waqt ko Namaz mein waqf karo kion keh tumharay sab kaam Tumhari namaz k bahd he qabool hon gay.
Bano Qudsia Quotes about life in Urdu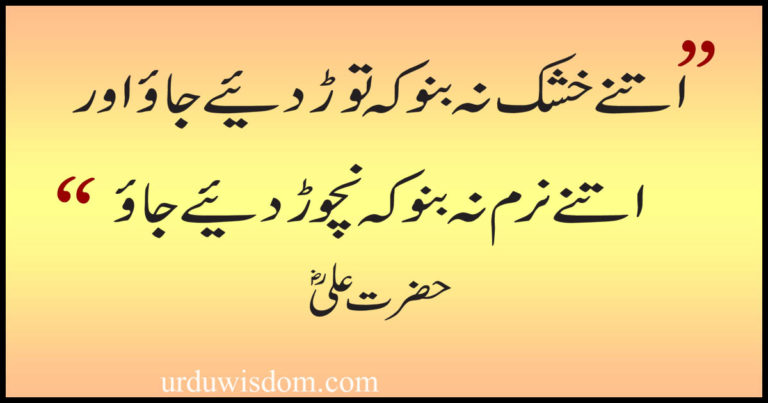 Itnay khusk nah bano keh tor dya jao aur itnay narm nah bano keh nechore dya jao.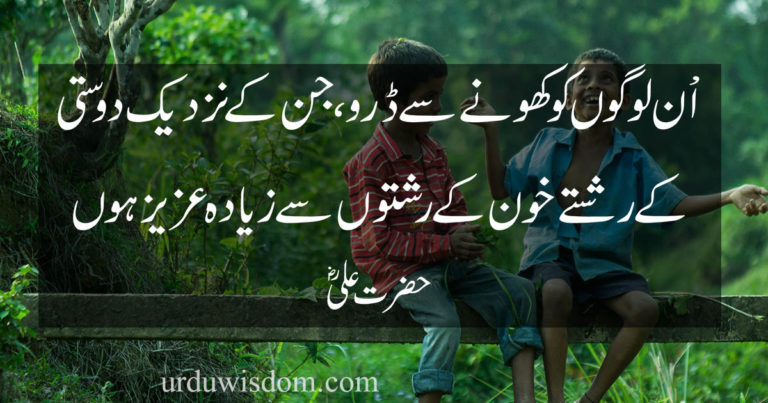 Un logo ko khonay say darro, jin kay nazdeek dosti kay rishtay khoon kay rishto say zyada aziz hotay hain.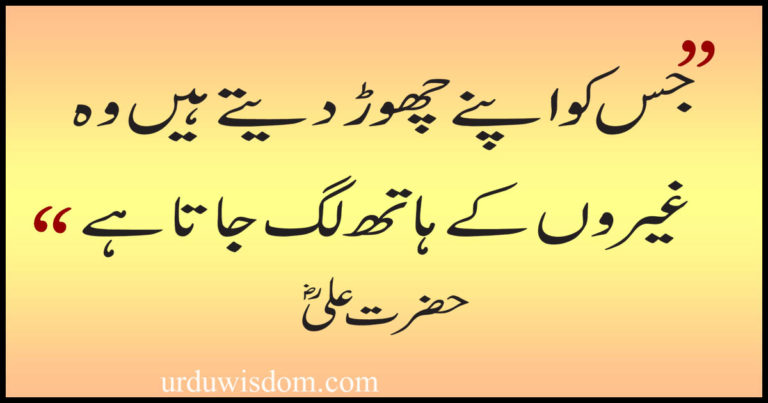 Jis ko apnay chore datay hain woh gharon kay hath lag jata hay.
Hazrat Ali Quotes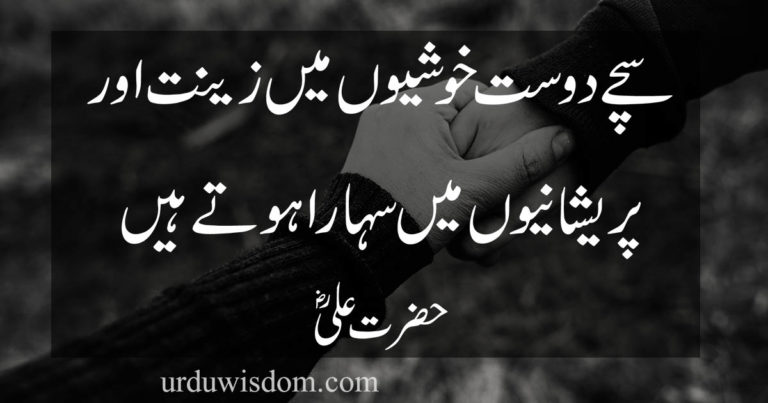 Suchay dost khushion mein zeenat aur parshanion mein sahara hotay hain.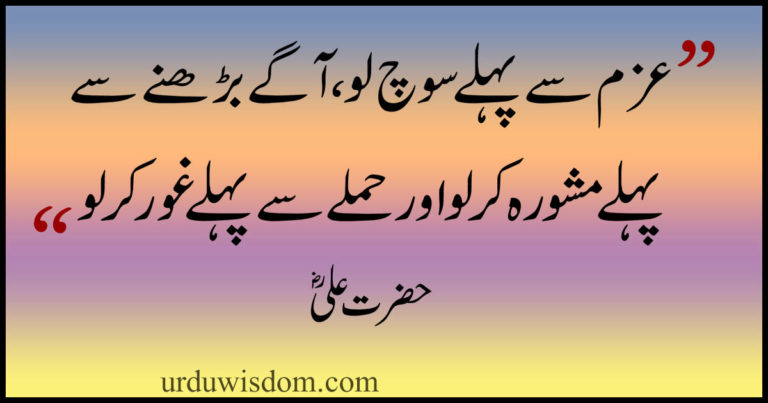 Azam say pehlay soch lo, agay barhnay sa pehlay mashwara kar lo aur hamlay sa pehlay ghaor kar lo.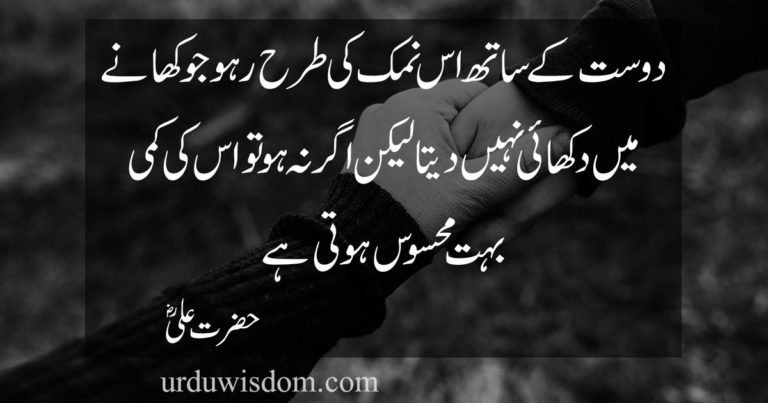 Dost kay sath us namak ke tarha raho jo khnay mein dekhai nahe daita lekan agar nah ho to is ke kammi bahot mehsos hoti hay.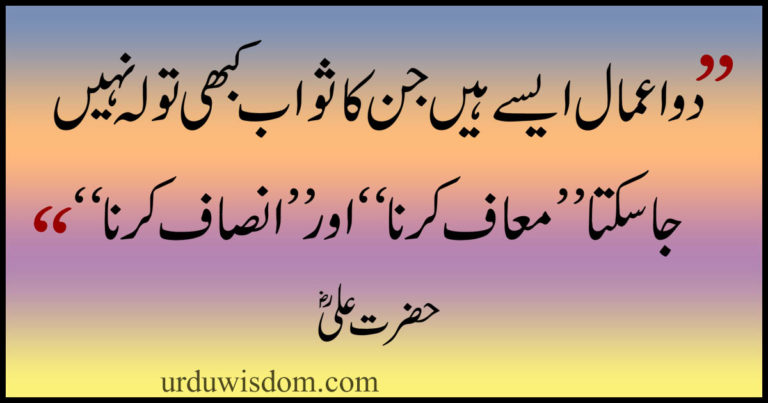 Do ahmaal aisay hain jin ka sawab kabi tola nahe ja sakta" Moaf karna" aur" Insaaf karna".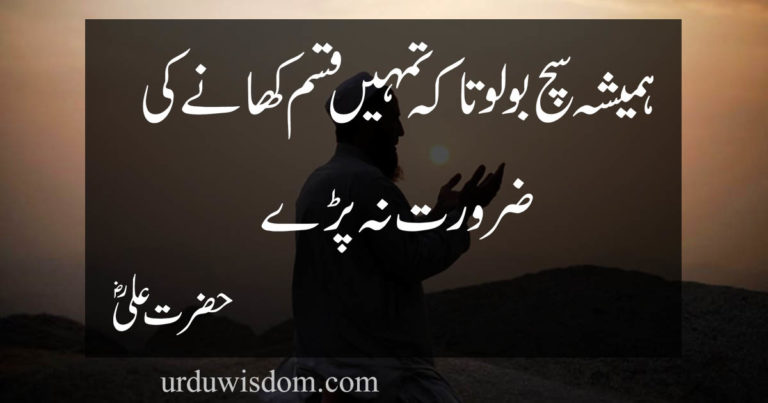 Hamesha such bolo ta keh tumain qasam khanay ke zarorat nah parray.
Mola Ali Quotes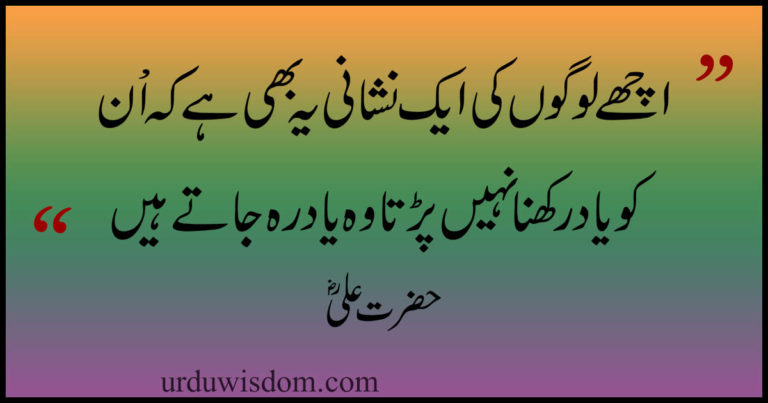 Achay logo ke aek nishani yeh bhe hy keh un ko yad nahe rakhna parta wo yad reh jatay hain.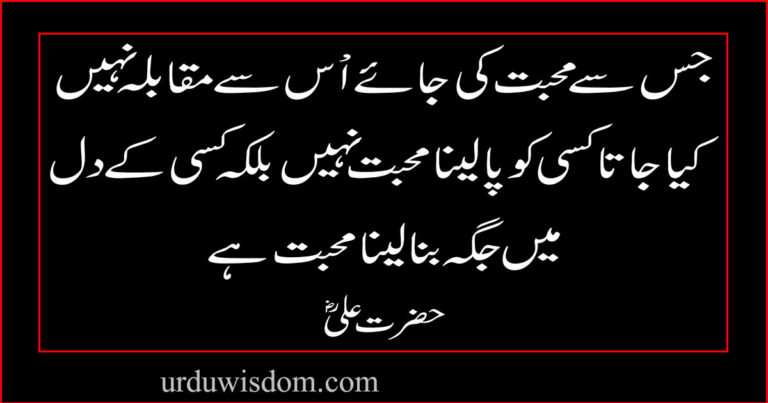 Jis say mohabbat ke jay us say moqabla nahe kia jata, kisi ko pa laina mohabbat nahe balkay kisi kay dil mein jagga bna laina mohabbat hay.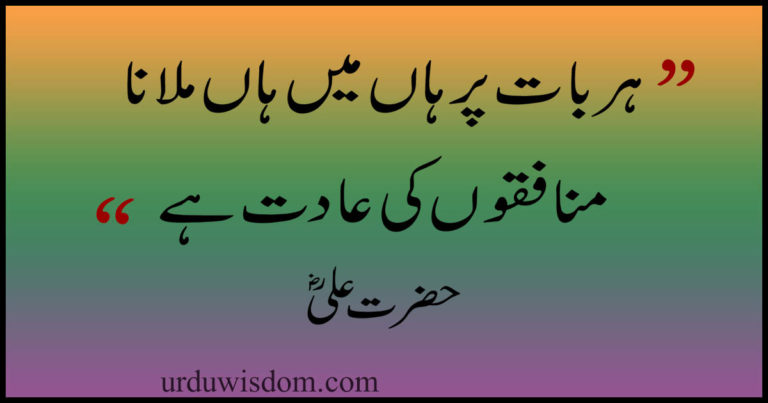 Har baat par han me han milana monafqo kei aadat hay.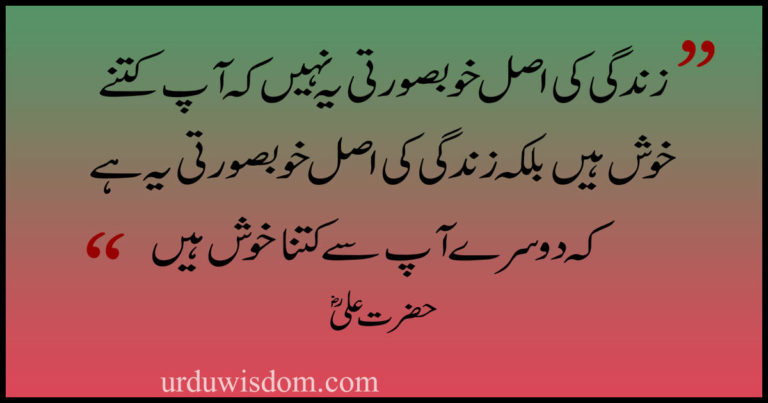 Zindagi ke asal khobsorti yeh nahe kah aap kitnay khush hain balkay zindagi ke asal khobsorti yeh hay keh dosray aap say kitnay khush hain.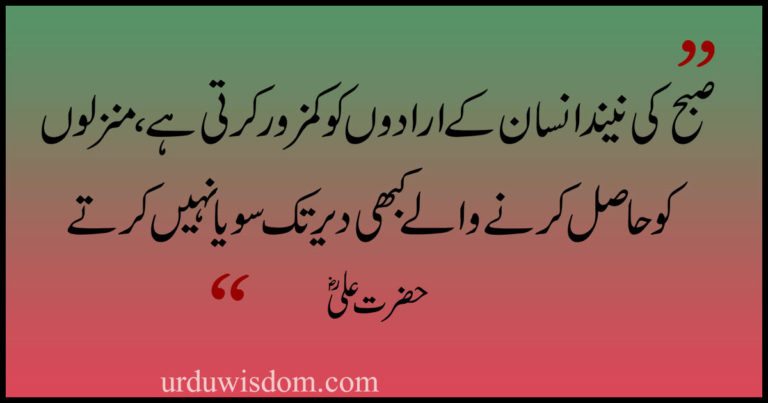 Sobo ke nend insaan kay iradon ko kamzor banati hay, Manzolon ko hasal karnay walay kabi dair tak soya nahe kartay.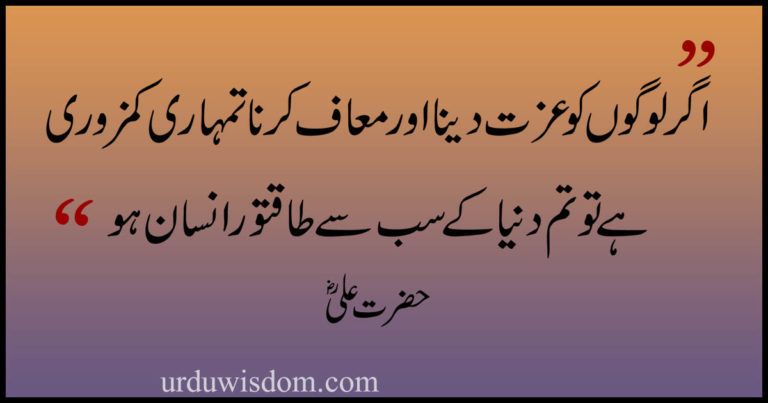 Agar logo koizzat daina aur moaaf karna tumhari kamzori hay totum dunya kay sab say taqatwar insaan ho.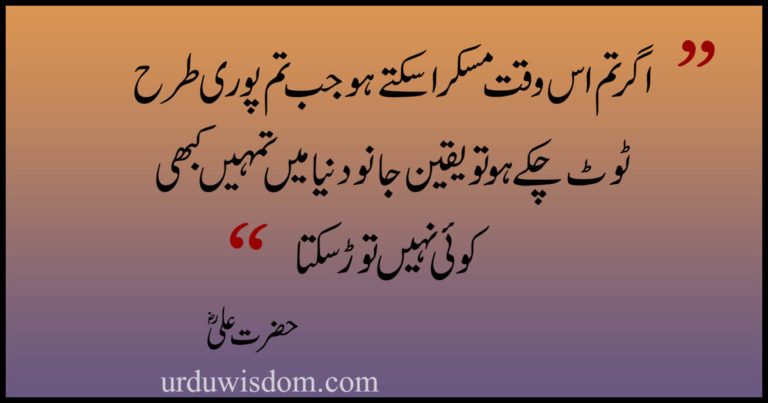 Agar tum us waqt muskara saktay hojab tum pori tarha toot chukkay ho to Yakeen jano dunya mein tumhain kabi koi nahe tor sakta.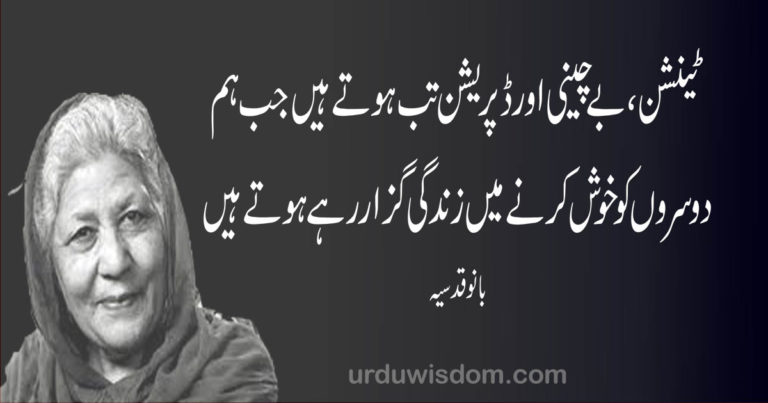 Tension depression aur be,chaini tab hotay hain jab hum dosro ko khush karany me zindagi guzaar rahe hotay hain.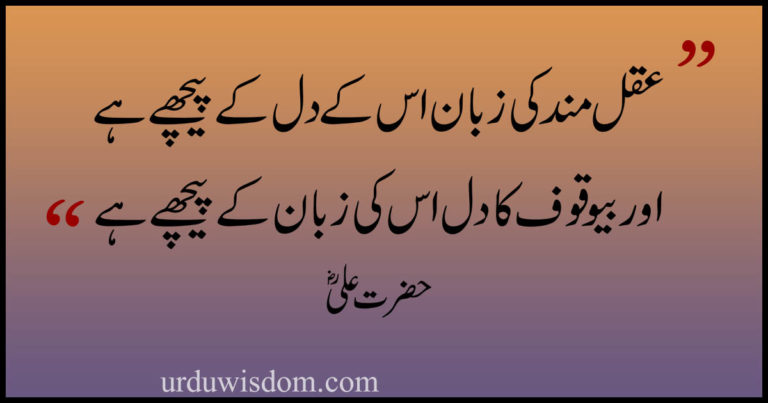 Aqal mand ke zoban us kay dil kay pechay hayaur be waqoof ka dilus ke zoban kay pechay.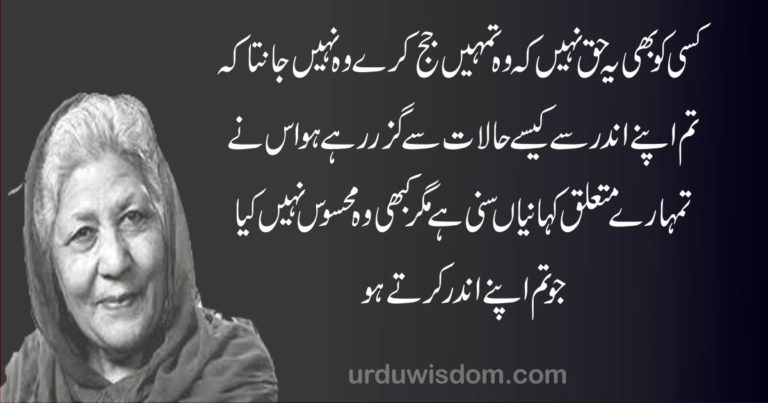 Kisi ko b ye haq nahe k wo tumhain judje karay wo nahe janta k tum apnay andar sa kaisay Halaat sa guzr rahe ho us na tmahay mutalik kahanian suni hain magar kabi wo mehsoos nahe kia jo tm apnay andar kartay ho.
I hope you will impress after reading these Hazrat Ali Quotes in Urdu. These quotes are taken from different sources.