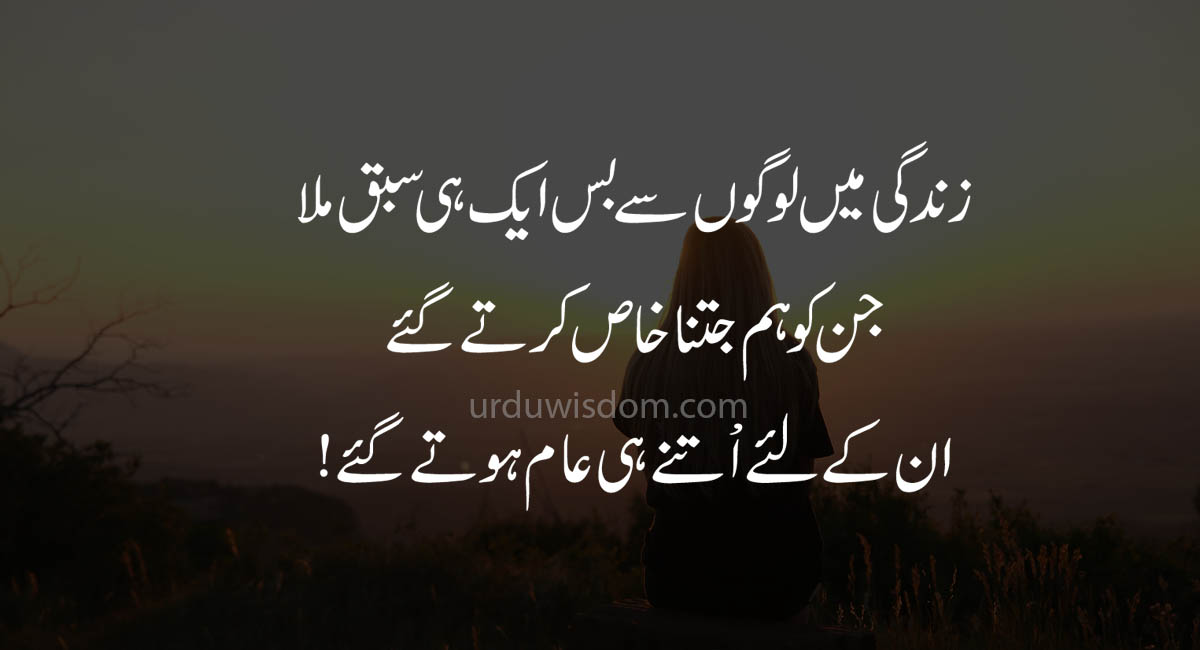 Sad Quotes in Urdu can be about the painful experience of loss of happiness when it comes to friendship. Sometimes it is difficult to understand the meaning of the lines in Urdu. Thus, we usually need help from translation agencies and newspapers. The translation agencies are professional people. Another way to find a quote in Urdu is to visit any Urdu newspaper and find the relevant section for quotes. These websites can provide you with relevant quotes.
"I was never happy until I was with my dear ones". – Muhammad Ali quote When we have a loved one, we always hope to see him/her happy in life. But if he/she has got some problem, we can also feel like crying without knowing the exact reason. Such situations happen many times and we can feel sad, sometimes.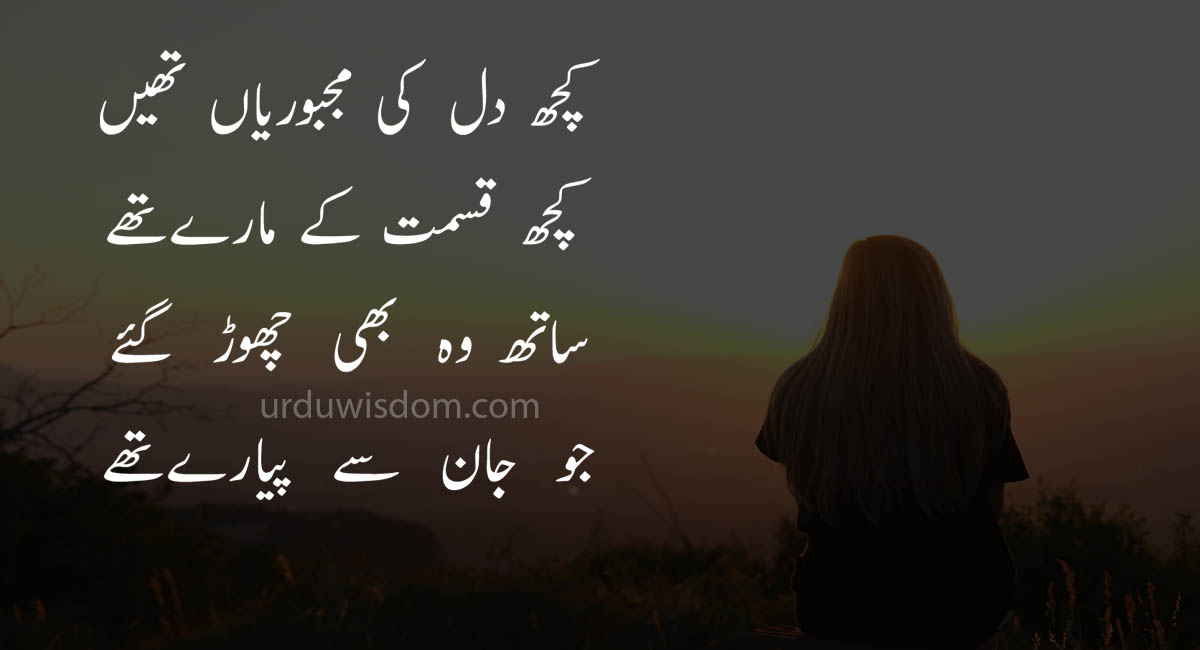 Kuch Dil ki majborian the
Kuch Qismat kay maray thy
sath woh bhe chore gay
Jo jaan say pyaray thy
کچھ دل کی مجبوریاں تھیں
کچھ قسمت کے مارے تھے
ساتھ وہ بھی چھوڑے گئے
جو جان سے پیارے تھے
Sad Quotes in Urdu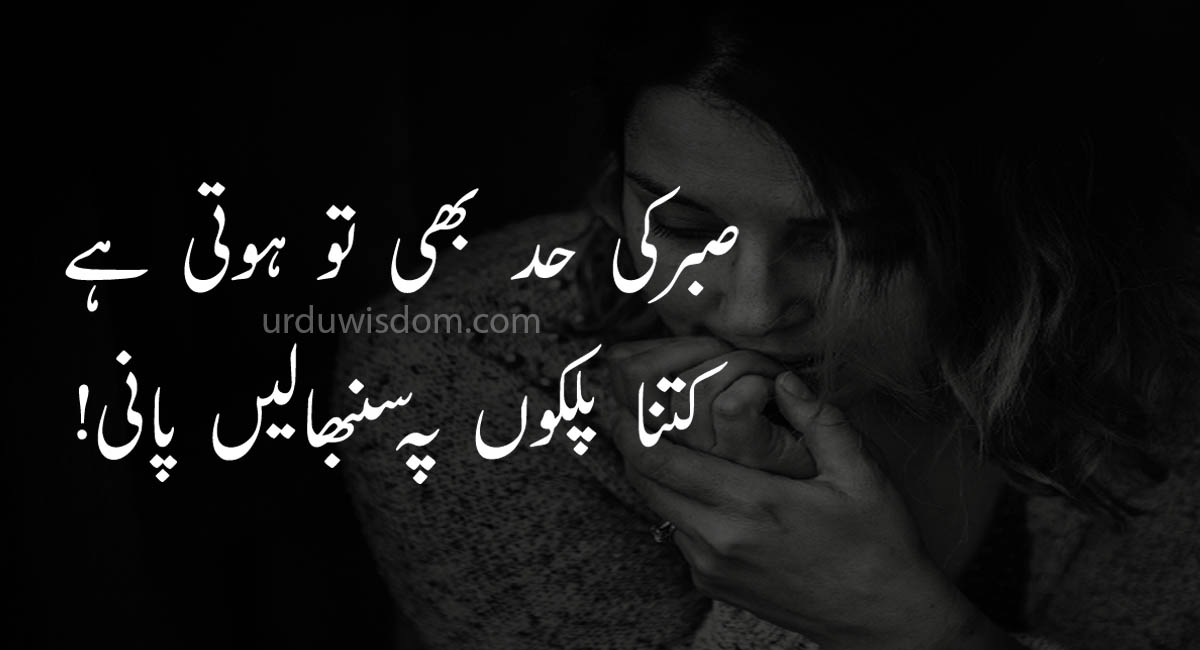 Sabar ki hadd bhe to hoti hay
Kitna palkon pa sambhalain pani
صبر کی حد بھی تو ہوتی ہے
کتنا پلکوں پہ سمبھالیں پانی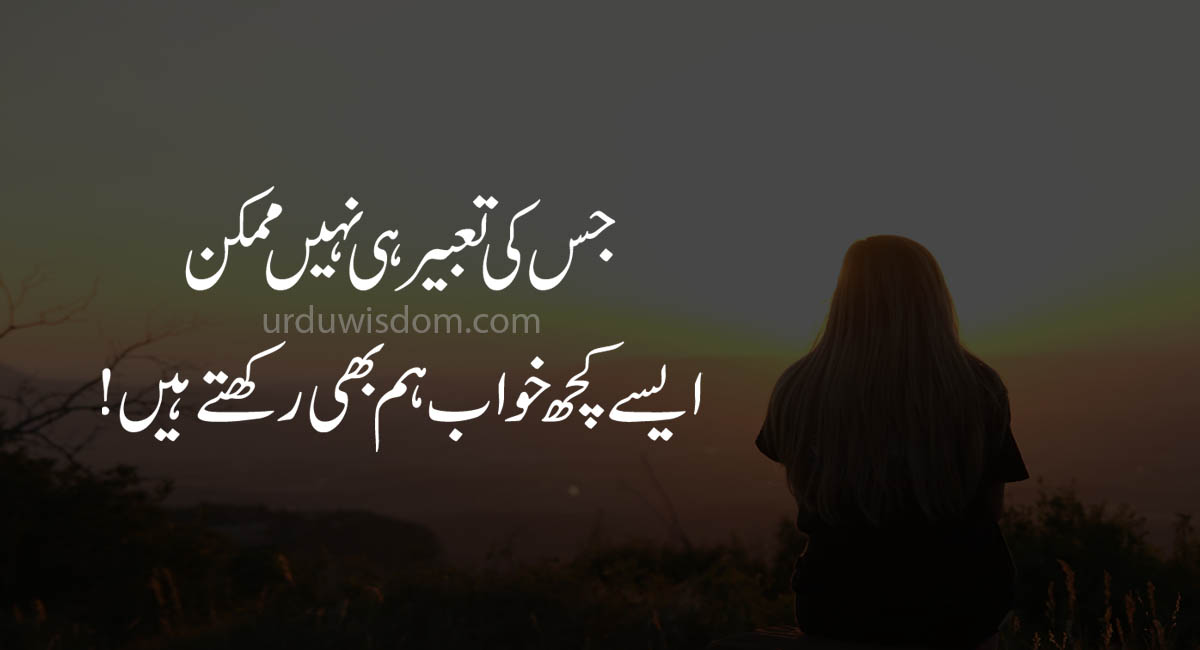 Jis ki tahbeer he nahe mumkin
Aisay kuch khawab hum bhe rakhtay hain
جس کی تعبیر ہے نہیں ممکن
ایسے کچھ خواب ہم بھی رکھتے ہیں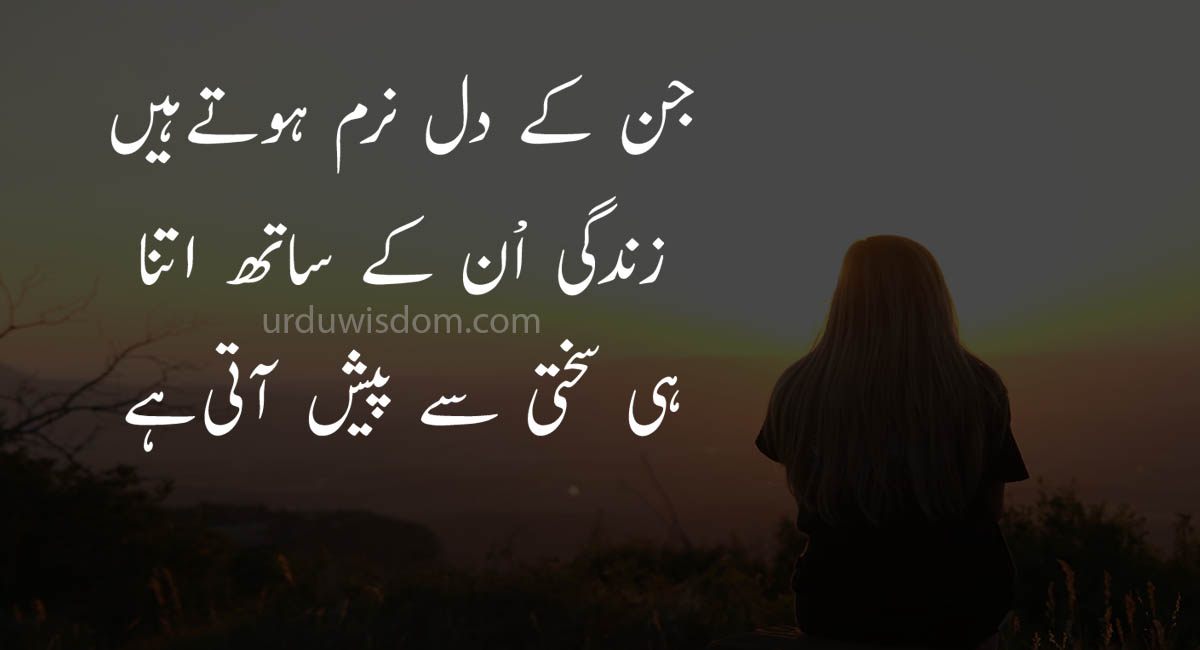 Jin kay narm dil hotay hain,
Zindagi un kay sath itna he sakhti say paish ati hay..؎
جن کے نرم دل ہوتے ہیں,
زندگی ان کے ساتھ اتنا ہے سختی سے پیش آتی ہے..
Sad Quotes about life in Urdu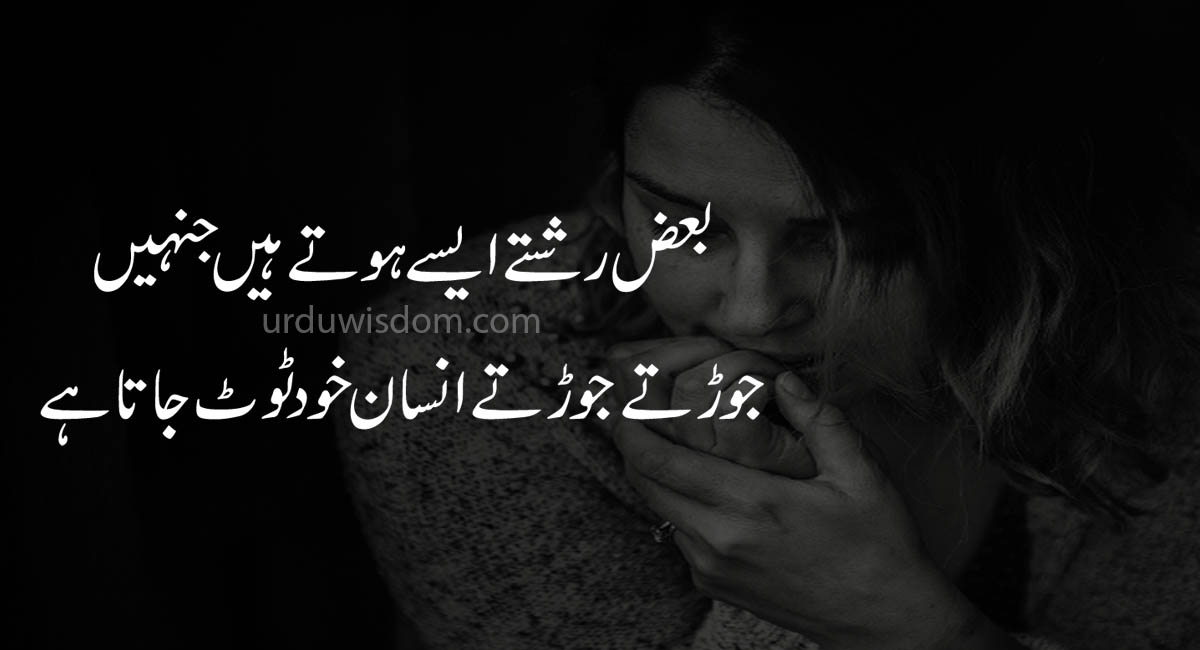 Bayaz rishtay aisay hotay hain jinain
Jortay Jortay insaan khud toot jata hay
بعض رشتے ایسے ہوتے ہیں جنہیں
جوڑتے جوڑتے انسان خود ٹوٹ جاتا ہے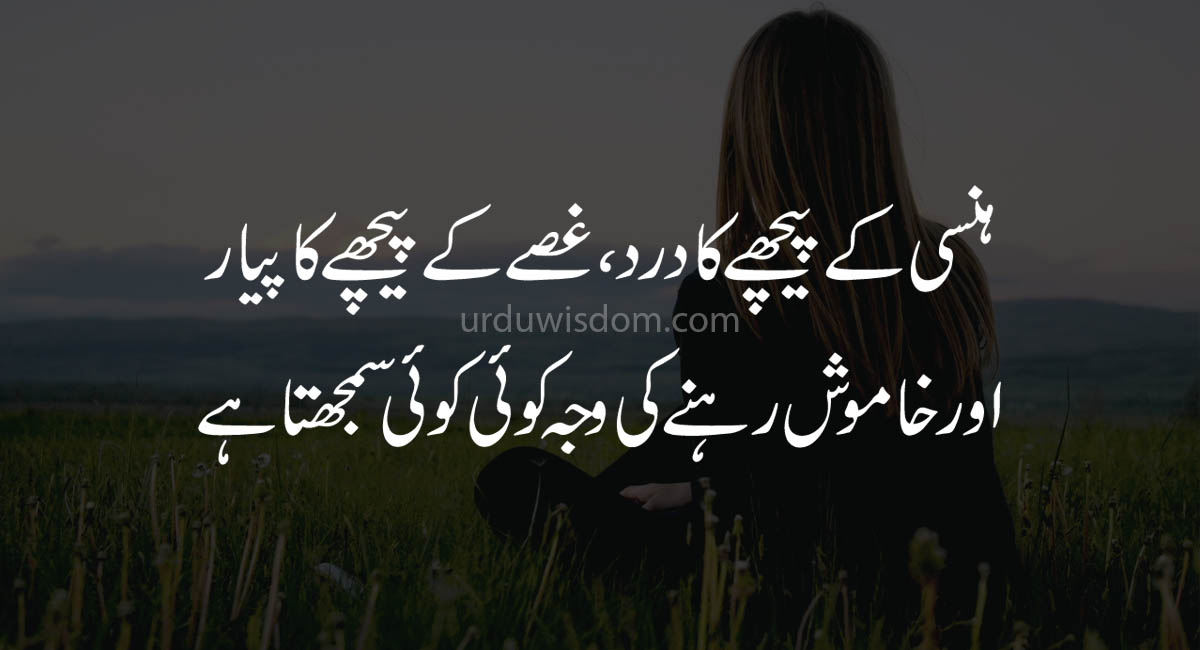 Hansi kay pechay ka dard, Gussay kay pechay ka pyar
Aur khamosh rehnay ke waja koi koi samajhta hay
ہنسی کے پیچھے کا درد, غصے کے پیچھے کا پیار
اور خاموش رہنے کے وجہ کوئی کوئی سمجھتا ہے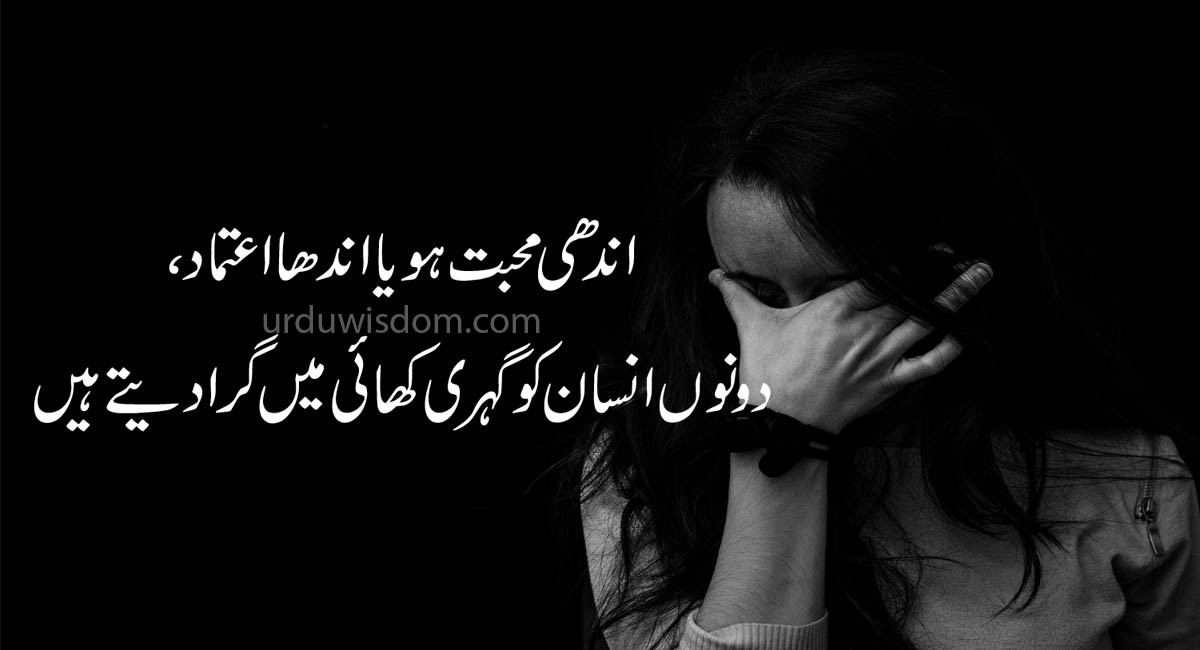 Andhi mohabbat ho ya andha ehtimaad
Dono insan ko Gehri khai me gera daitay hain
اندھی محبّت ہو یا اندھا اعتماد
دونوں انسان کو گہری کھائی مے گرا دیتے ہیں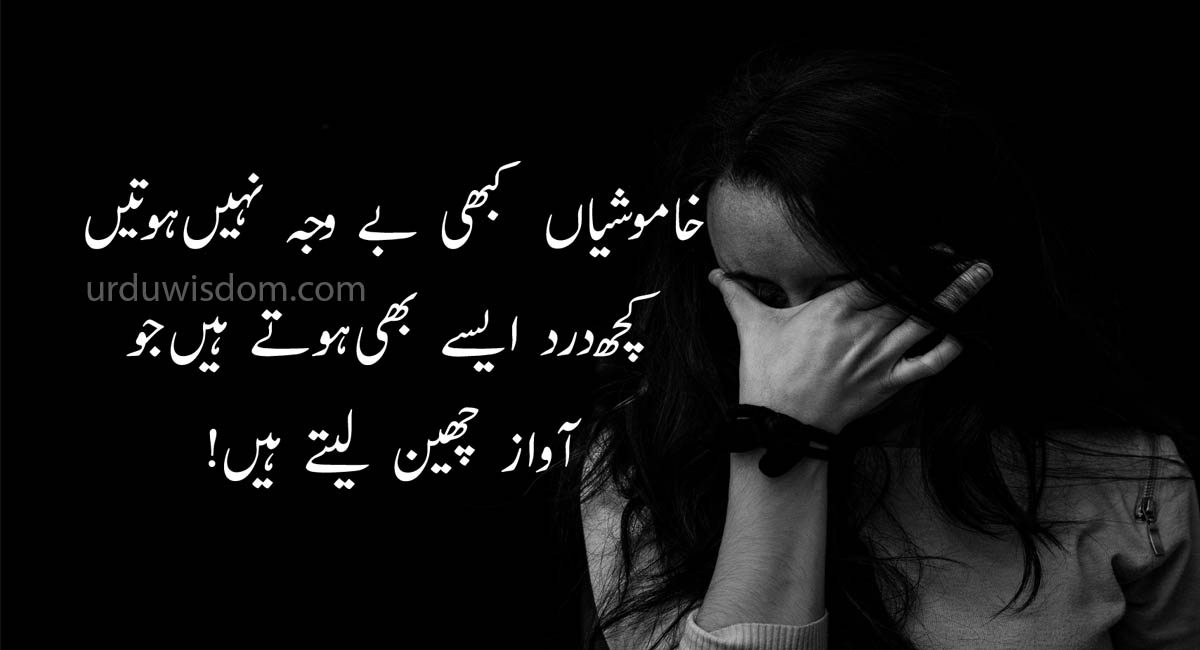 Khamoshian kabhi be wajja nahe hoti, Kuch dard aisay bhe,
hotay hain jo Awaz chein latay hain
خاموشیاں کبھی بے وجہ نہی ہوتی, کچھ درد ایسے بھی,
ہوتے ہیں جو آواز چھین لیتے ہیں
Sad Love Quotes in Urdu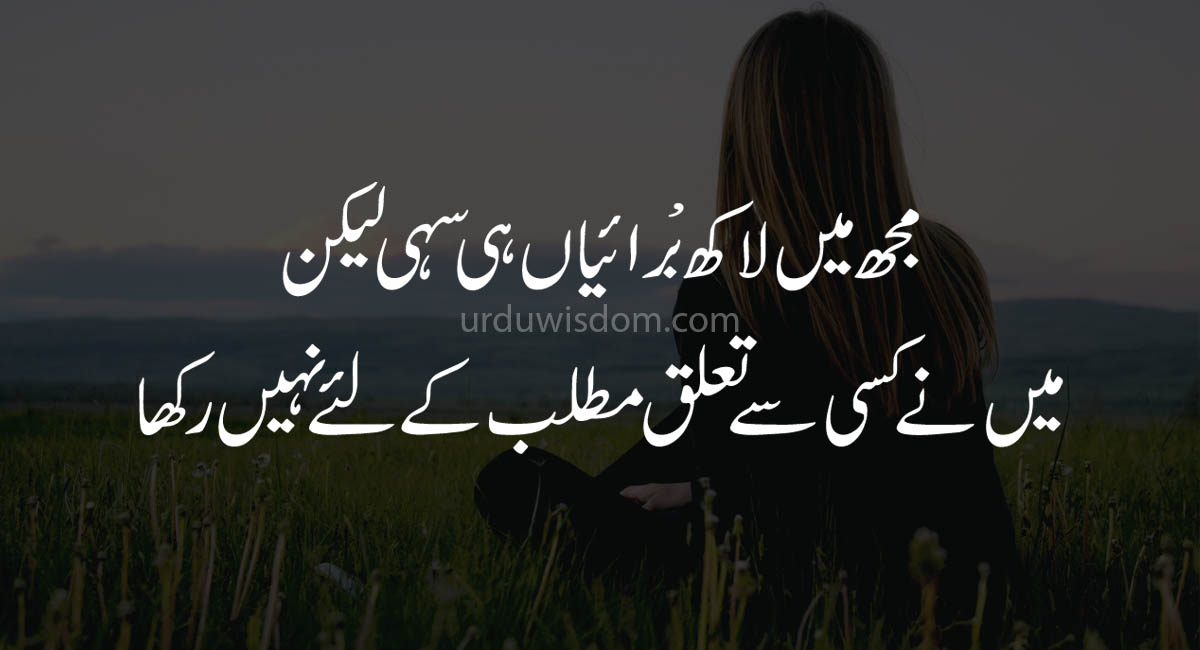 Mujh mein lakh Borayean he sahe lekan, mein nay kisi
say taaluk matlab kay lya nahe rakha
مجھ میں لاکھ برائیاں ہی سہی لیکن, میں نے کسی
سے تعلق مطلب کے لئے نہیں رکھا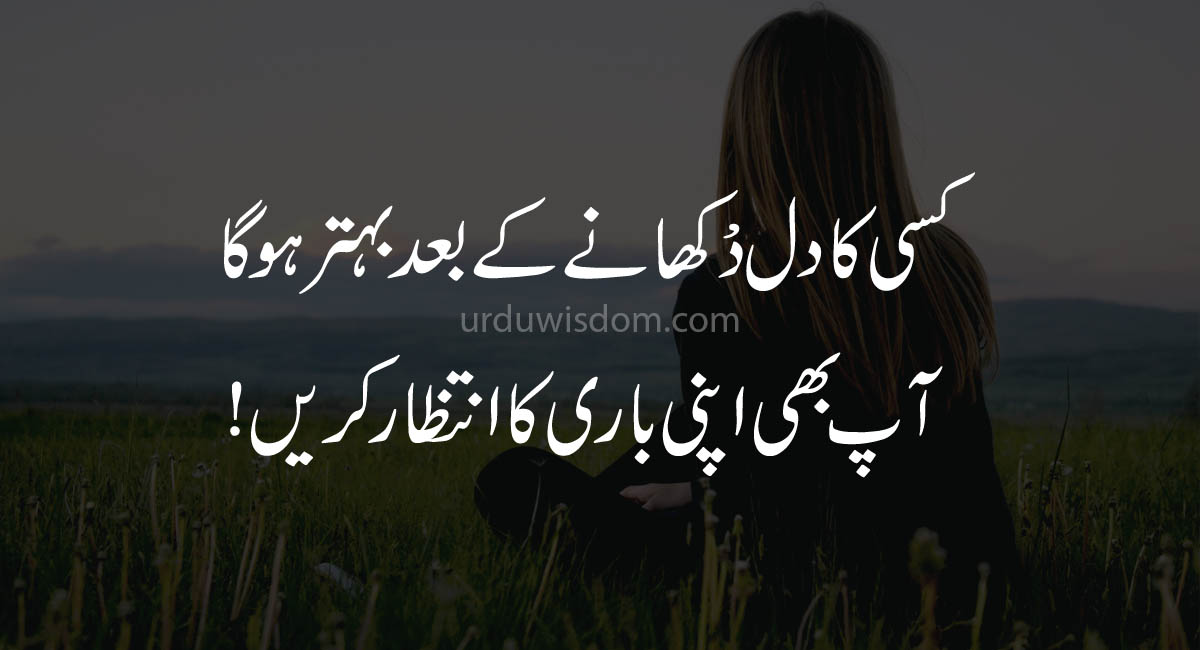 Kisi ka Dil dokhanay kay bahd behtar ho ga
aap bhe apni bari ka intizar karain
کسی کا دل دکھانے کے بعد بہتر ہو گا
آپ بھی اپنی باری کا انتظار کریں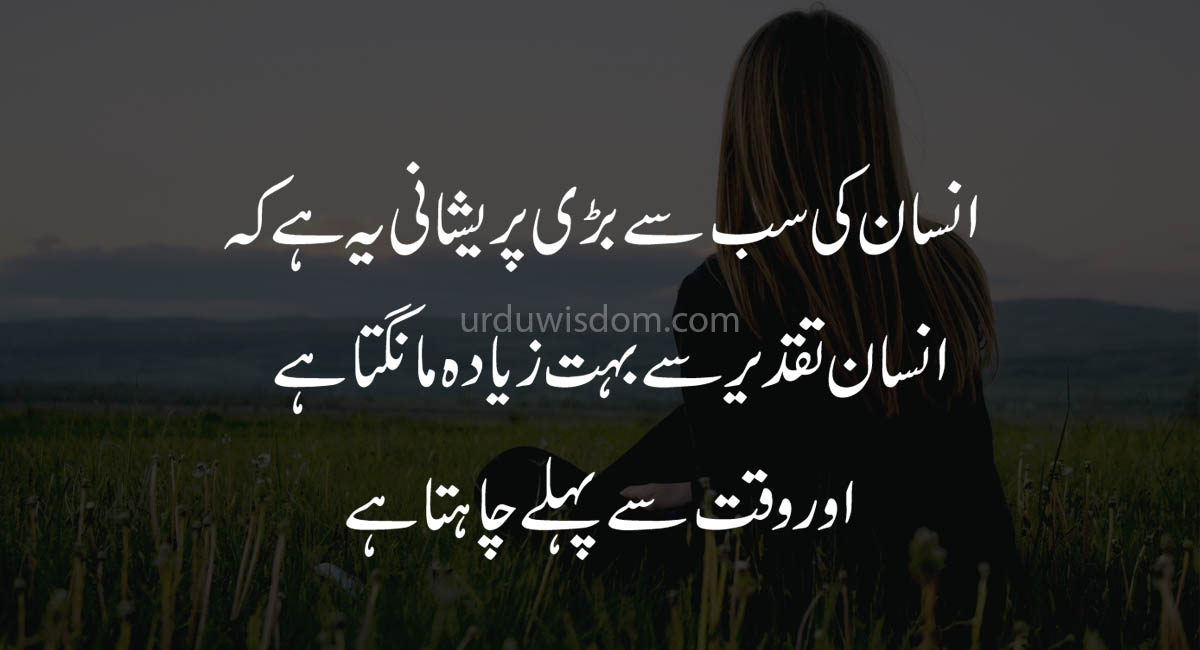 Insaaan ke sab say barri Perishani yeh ahy keh
Insaan taqdeer say bahot zyada mangta hay
aur waqt say pehlay chahta hay
انسان کی سب سے بری پریشانی یہ ہے کہ
انسان تقدیر سے بہت زیادہ مانگتا ہے
اور وقت سے پہلے چاہتا ہے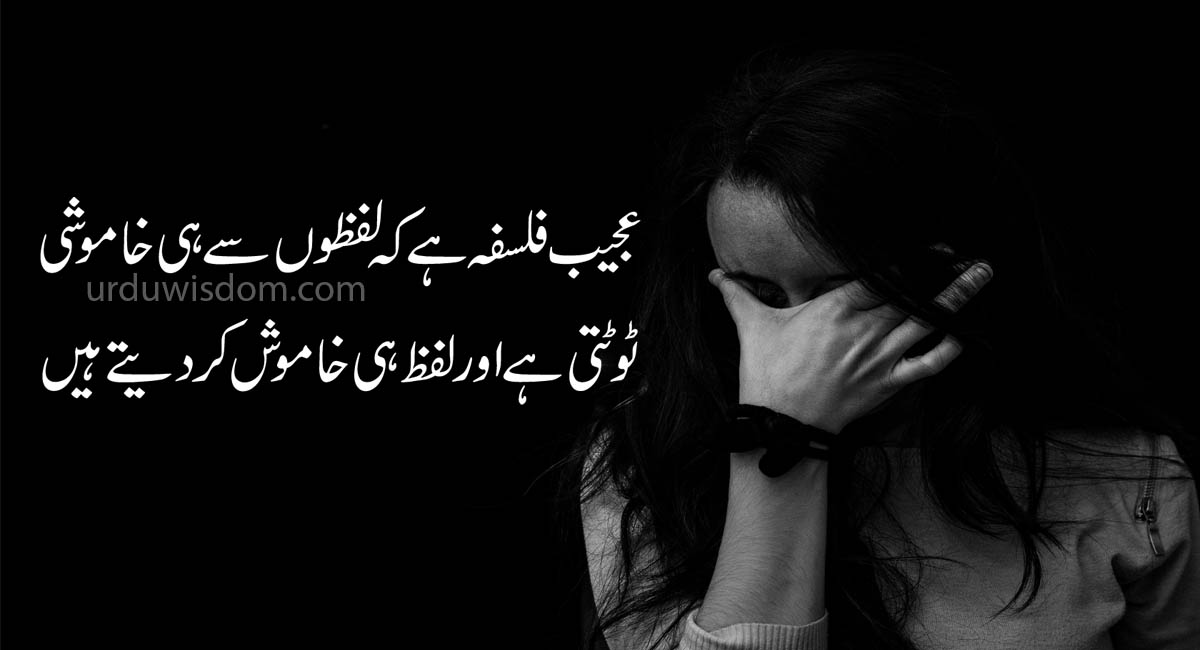 Ajeeb falsafa hay keh lafzo say he khamoshi totti hay
Aur lafz he khamosh kar daitay hain
عجیب فلسفہ ہے کہ لفظوں سے ہی خاموشی ٹوٹتی ہے
اور لفظ ہی خاموش کرا دیتے ہیں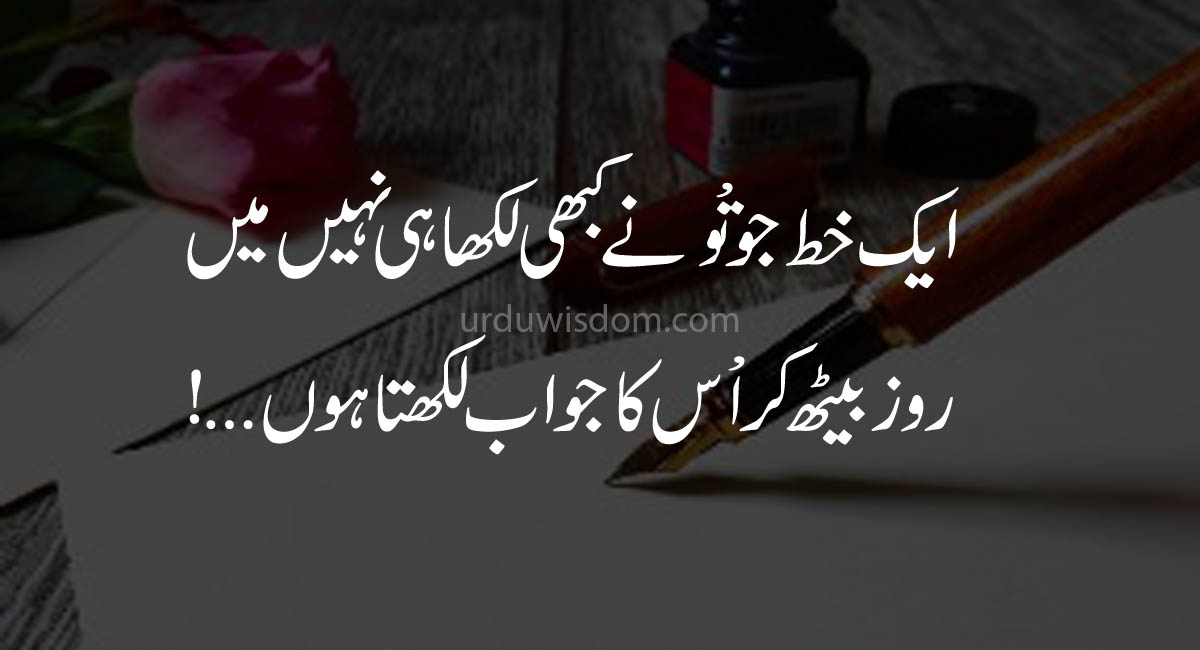 Eak khatt jo nay kabi likha he nahe
mein roz beth kar us ka jawab likhta hon
ایک خط جوتو نے کبھی لکھا ہے نہیں
میں روز بیٹھ کر اس کا جواب لکھتا ہوں
Very sad quotes in Urdu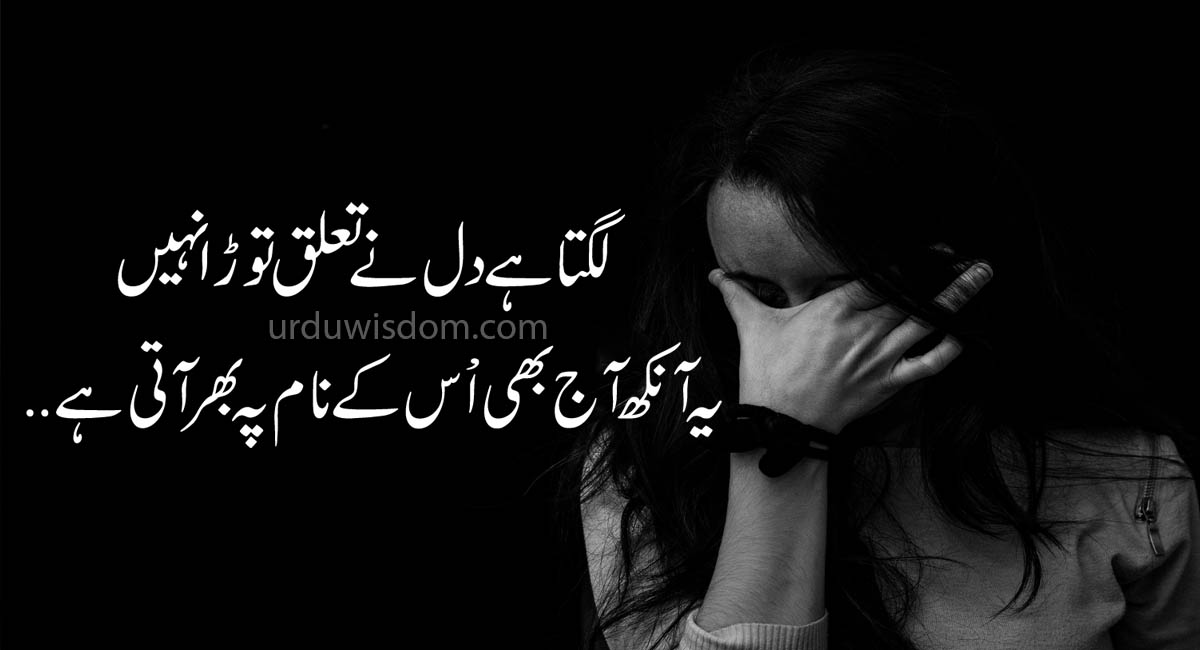 Lagta hay dil nay taaluk tora nahe
ye aankh ajj bhe us kay naam say bhar aati hay
لگتا ہے دل نے تعلق توڑا ہی نہیں
یہ آنکھ اج بھی اس کے نام سے بھر آتی ہے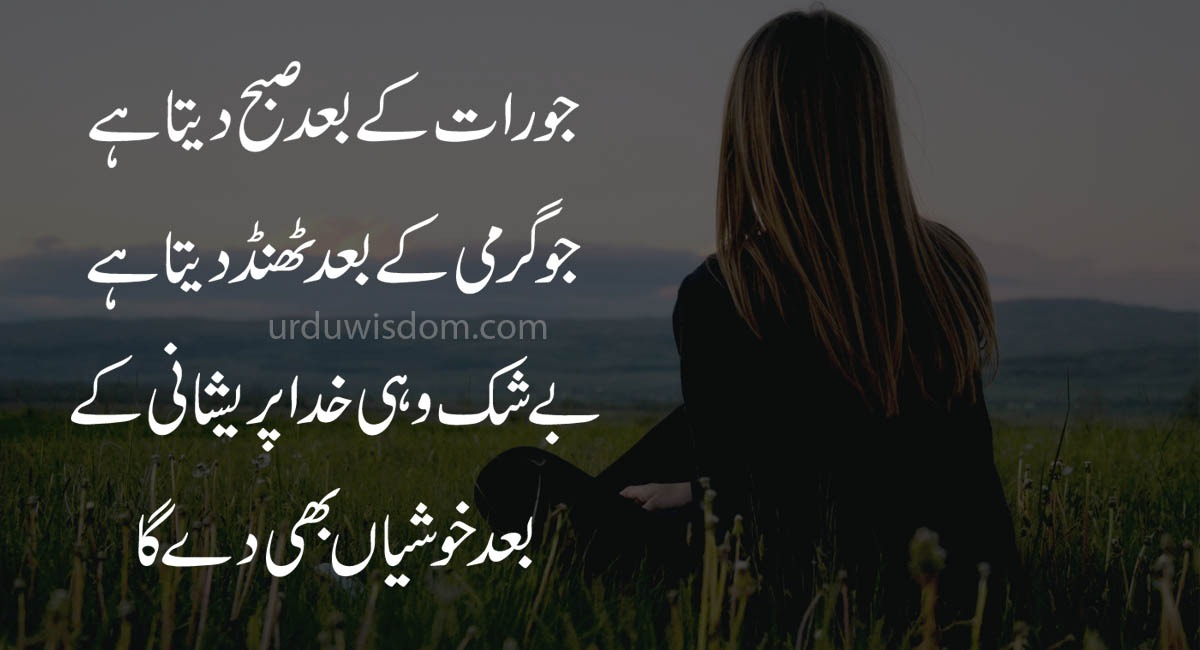 Jo raaat kay bahd sobo daita hay
Jo gharmi kay bahd thandak daita hay
Beshak wohe khuda Pershani kay bahd
Khusshian bhe daita hay
جو رات کے بعد صبع دیتا ہے
جو گرمی کے بعد ٹھنڈک دیتا ہے
بیشک وہی خدا پریشانی کے بعد
خوشیاں بھی دیتا ہے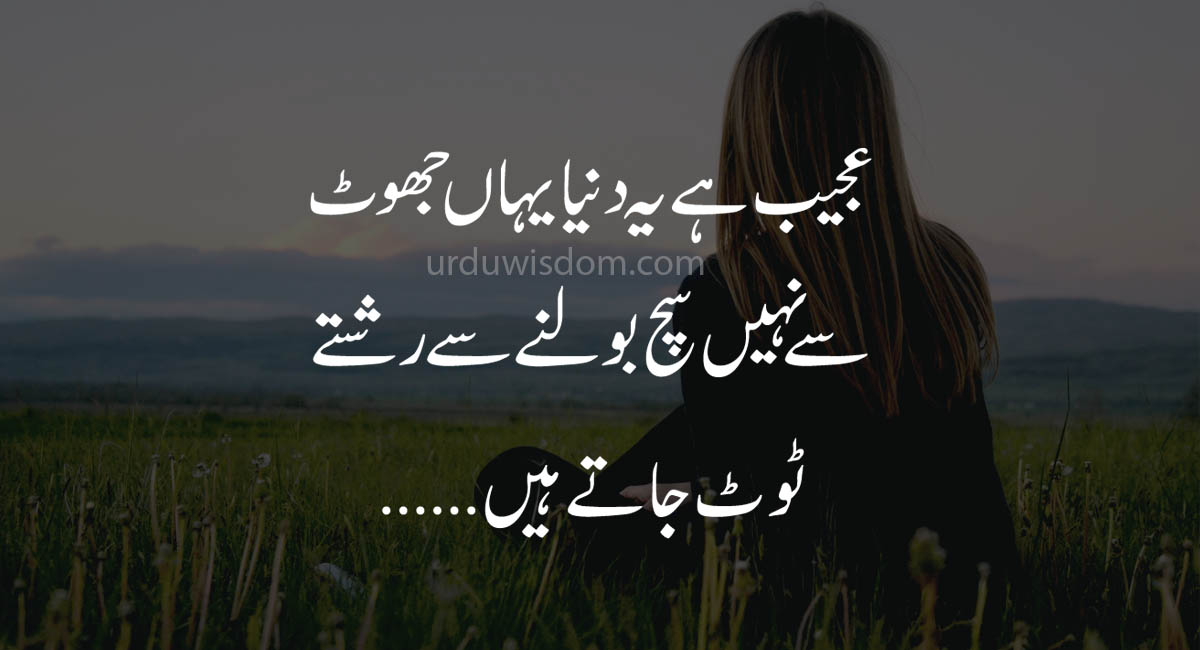 Ajeeb hay yeh dunya jhoot say nahe
sach bolnay say rishtay toot jatay hain
عجیب ہے یہ دنیا جھوٹ سے نہیں
سچ بولنے سے رشتے ٹوٹ جاتے ہیں
Sad quotes about love in Urdu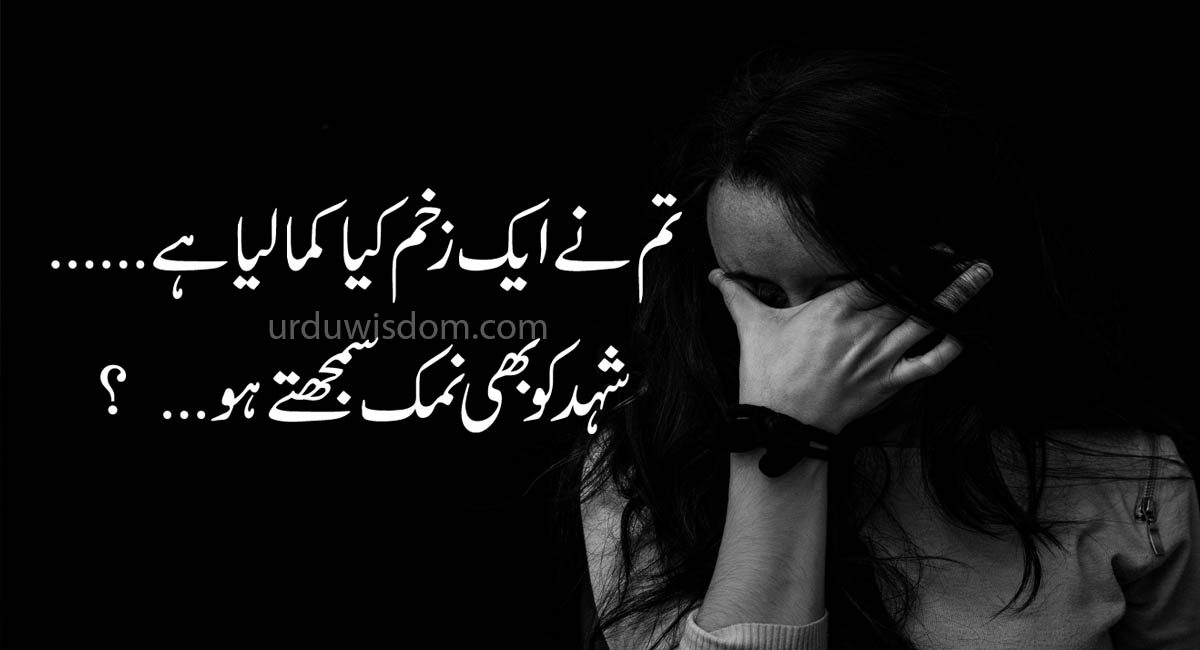 Tum nay eak zakhm kya kama lya hay shahid ko bhe
namak samajhtay ho
تم نے ایک زخم کیا کما لیا ہے شاہد کو بھی
نمک سمجھتے ہو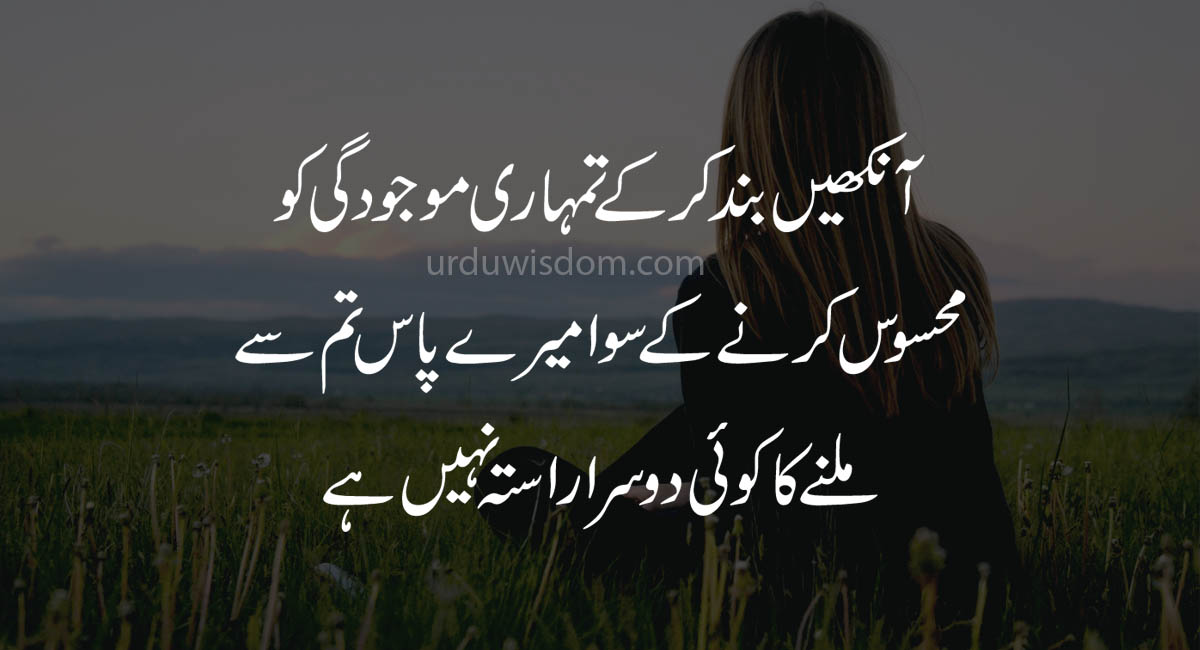 Ankhain band kar kay tumhari majodgi ko
Mehsos karnay kay sewa maray pass tum say
Milna ka koi dosra rasta nahe hay
آنکھیں بند کر کے تمہاری مجودگی کو
محسوس کرنے کے سوا مارے پاس تم سے
ملنا کا کوئی دوسرا راستہ نہی ہے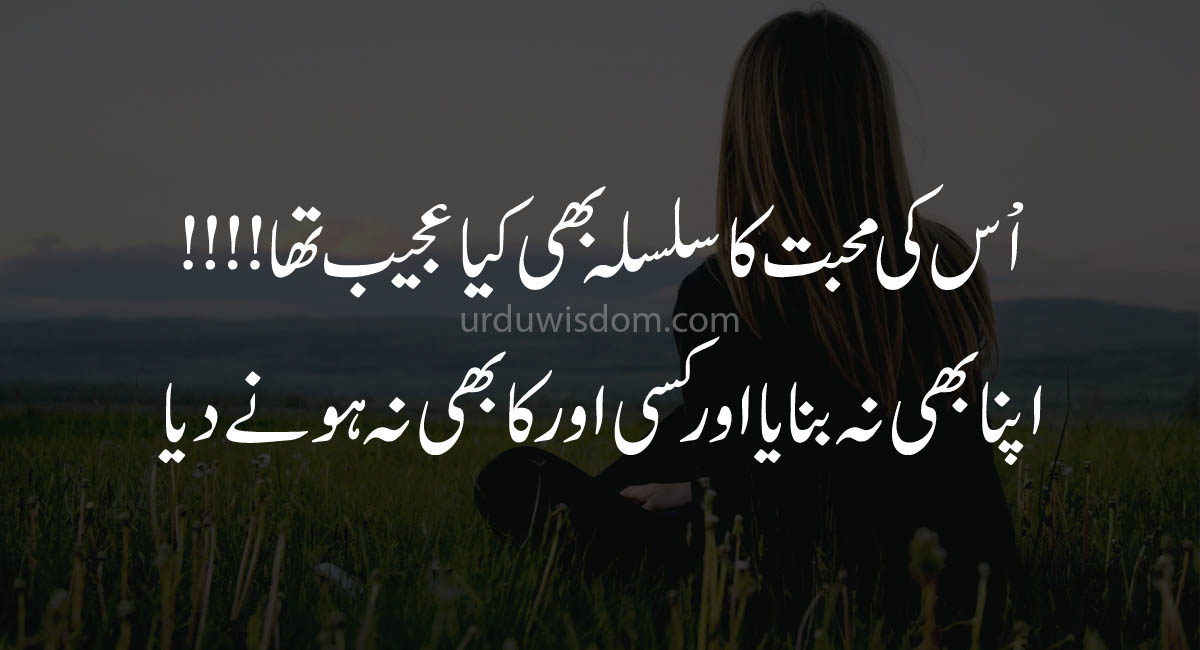 Us ke Mohabbat ka silsala bhe kya ajeeab tha…
apna bhe nah banayaaur kisi aur ka bhe nah honay dya
اس کے محبّت کا سلسلہ بھی کیا عجیب تھا…
اپنا بھی نہ بنایااور کسی اور کا بھی نہ ہونے دیا
However, we can get inspiration from the sad quotes in Urdu in order to cheer up and hope to achieve happiness in life. For getting inspiration from quotes in Urdu, it is better to go through the news in Urdu in order to know more about the quotes.