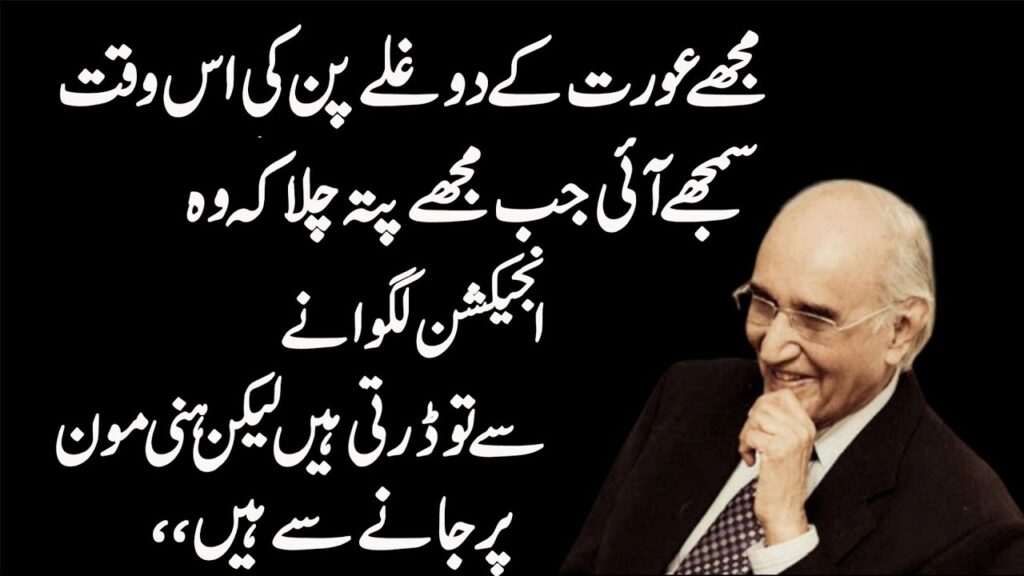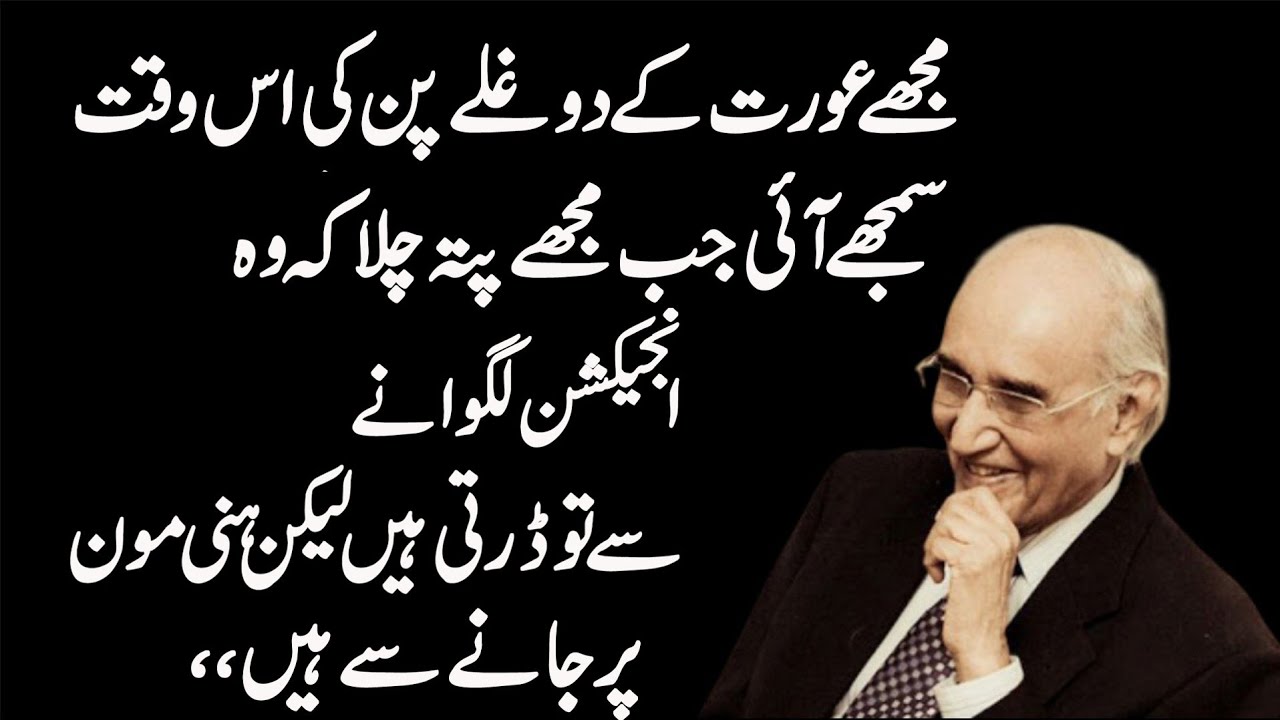 Many people love to have funny jokes in Urdu. These jokes can be used as introductory, during the process of debate or can even be used during dinner. Some people even make funny poems from these jokes. Funny poetry is mostly used by men. However, there are many women who also love to write funny poems from these jokes. It is an art to write such poetry and sometimes one has to work hard for it. To write humorous jokes in Urdu, it is not that easy.
Here I will share you the best collection of jokes in Urdu funny that make you a happy and you will be laughing after reading them. These funny quotes change your mood and you will enjoy them.
Funny jokes in Urdu: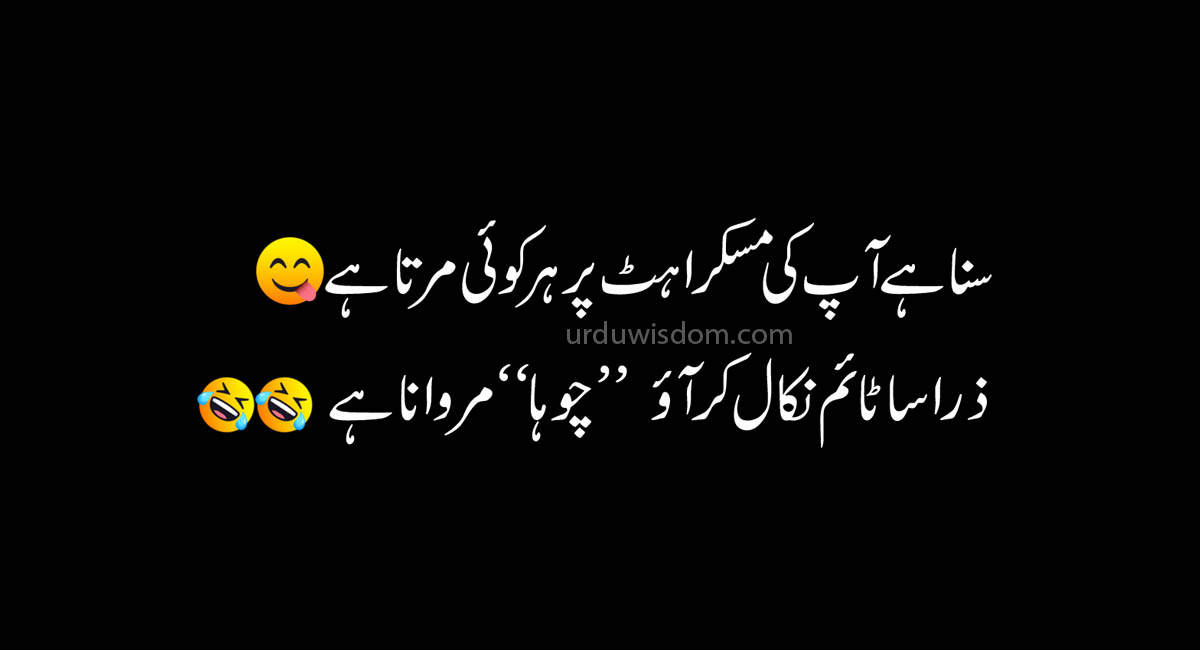 Sunna hay aap ke Muskarahat pa har koi marta hay
Zara sa time nikaal kar ao " Choha : Marwana hay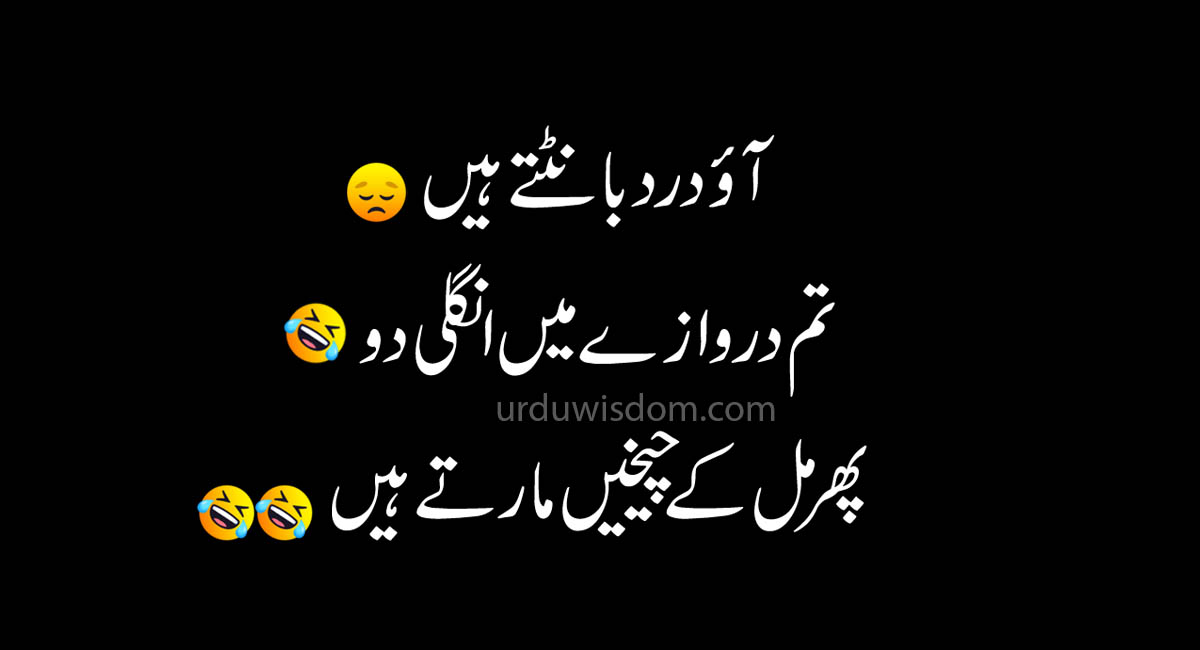 Ao Dard Banttay hain, Tum darwazay mein ungli do,
phir mil k cheekhain martay hain.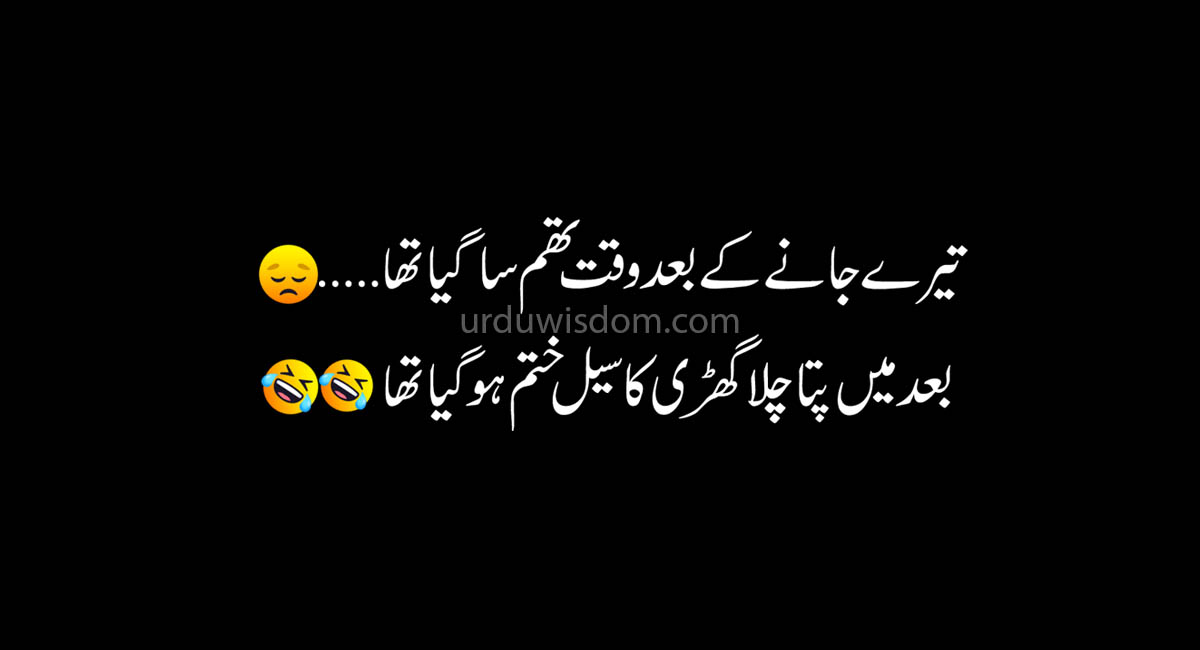 Tairay janay keh bahd waqt tham sa gya
bahad mein pata chala garri ka cell khatam ho gya tha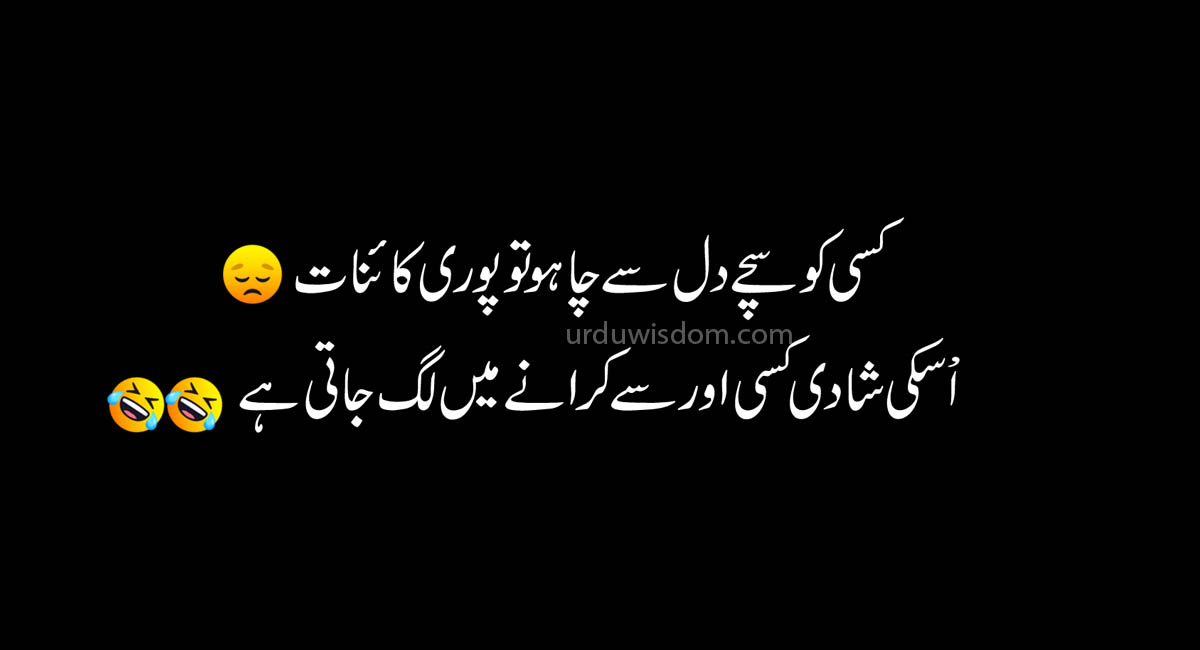 Kisi ko sachay Dil say chaho to , pori qainaat,
Us ki shadi kisi aur say karanay mein lag jati hay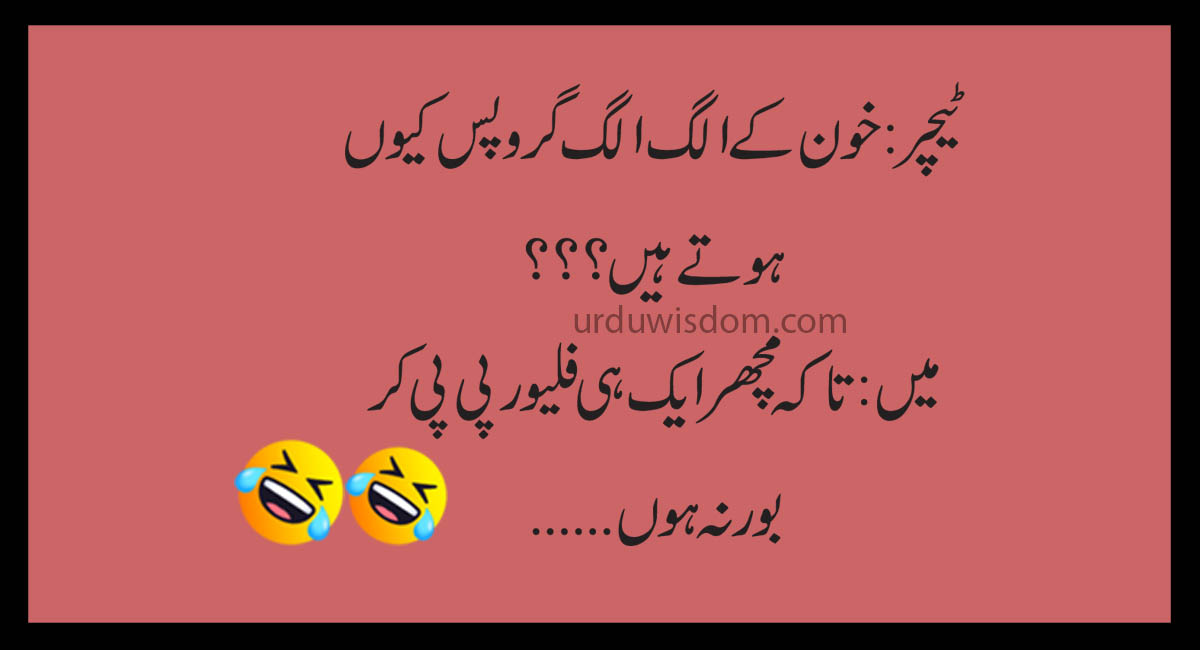 Teacher: khoon kay alag alag groups kion hotay hain
Mam: Ta k machar eak he flavour pi pi kar bore nah ho jay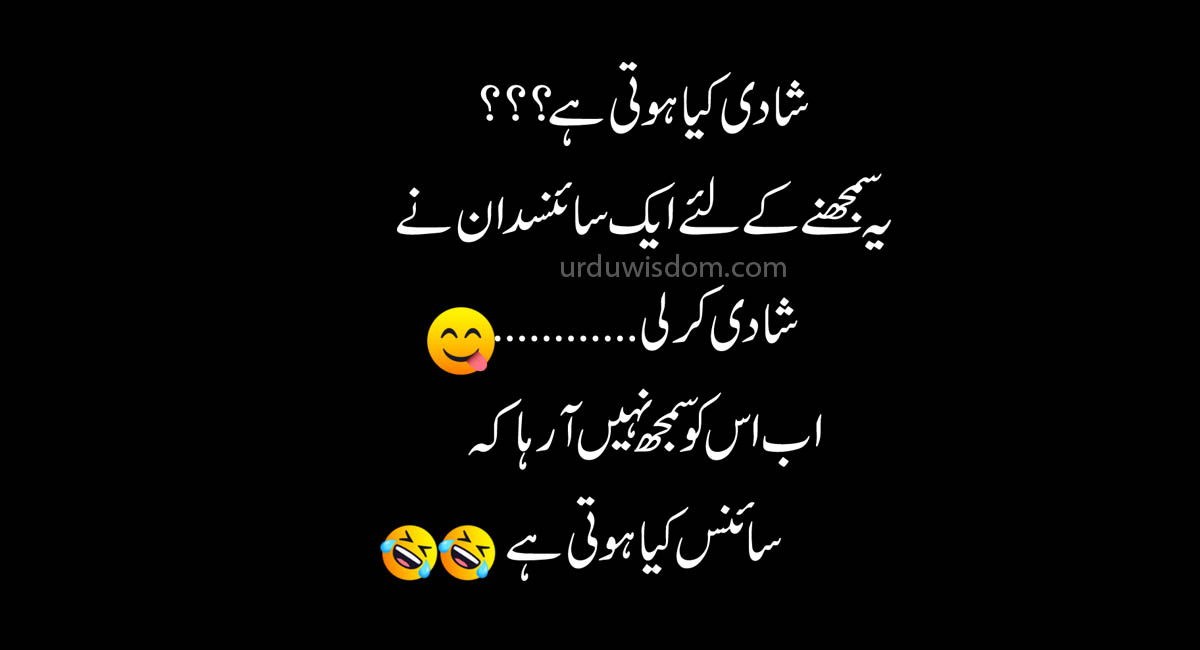 Shadi kia hoti hay yeh samajhnay ke lya
science daan nay shadi kar li.
Ab us ko samajh nahe a raha keh Science kya hoti ahy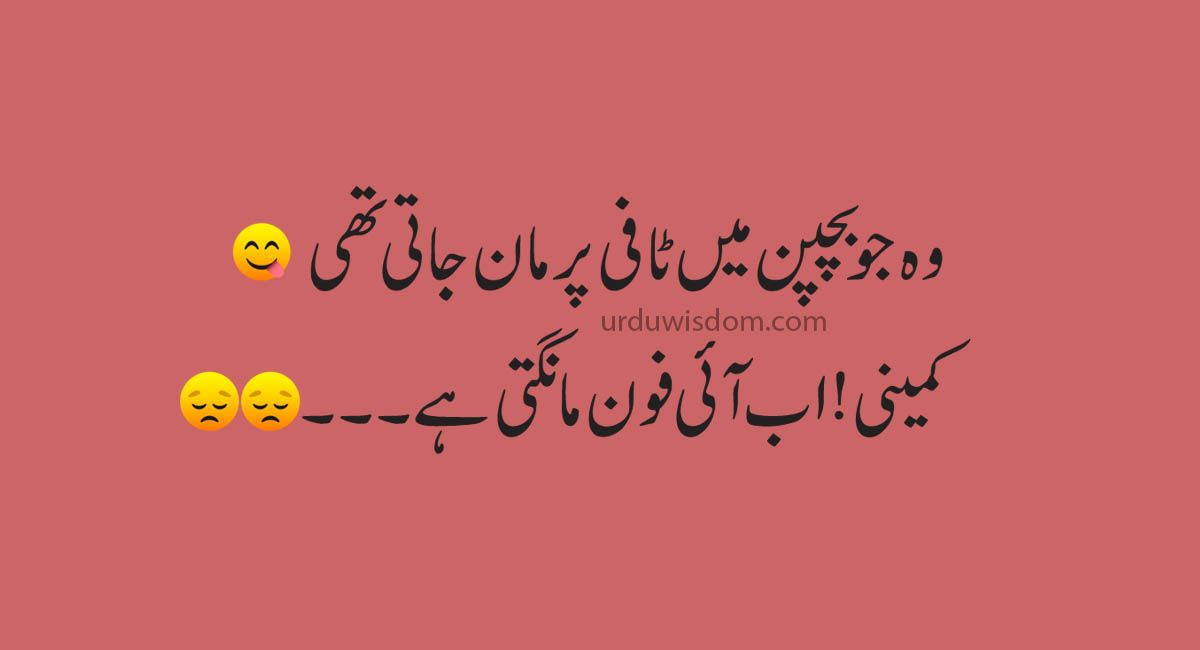 Woh jo bachpan mein tafi par maan jati thy
Kameeni ab Iphone mangti hay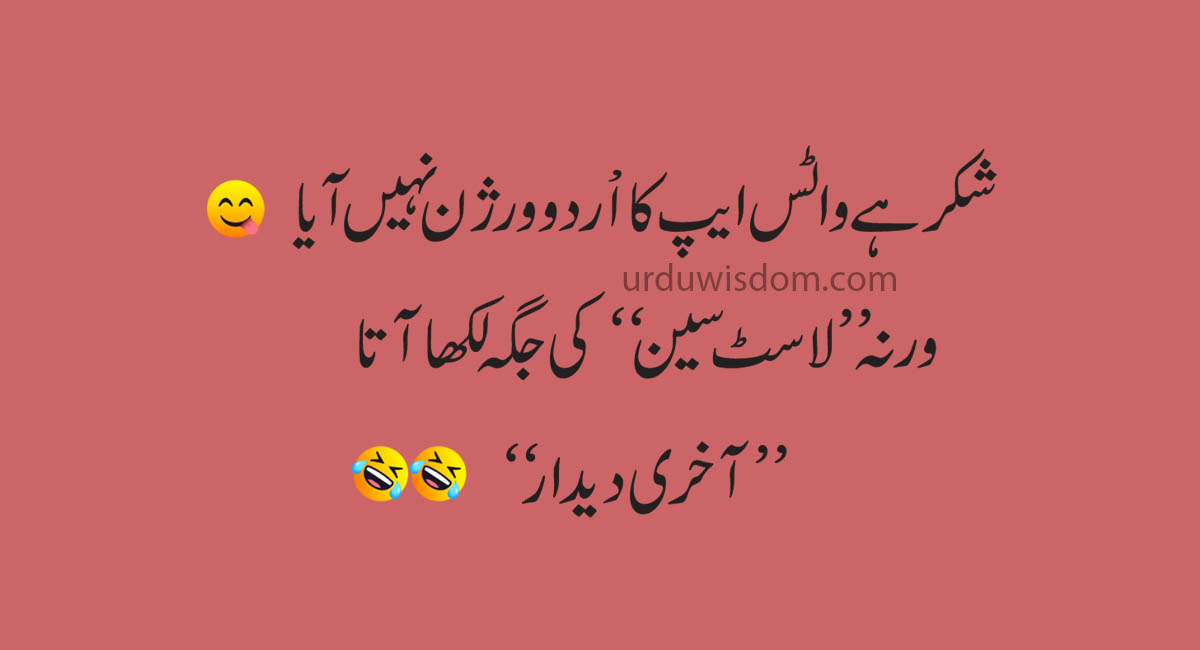 Shukkar hay whatsapp ka urdu version nahe aya
warna last scene kijaga likha ata
AAkhri Dedaar"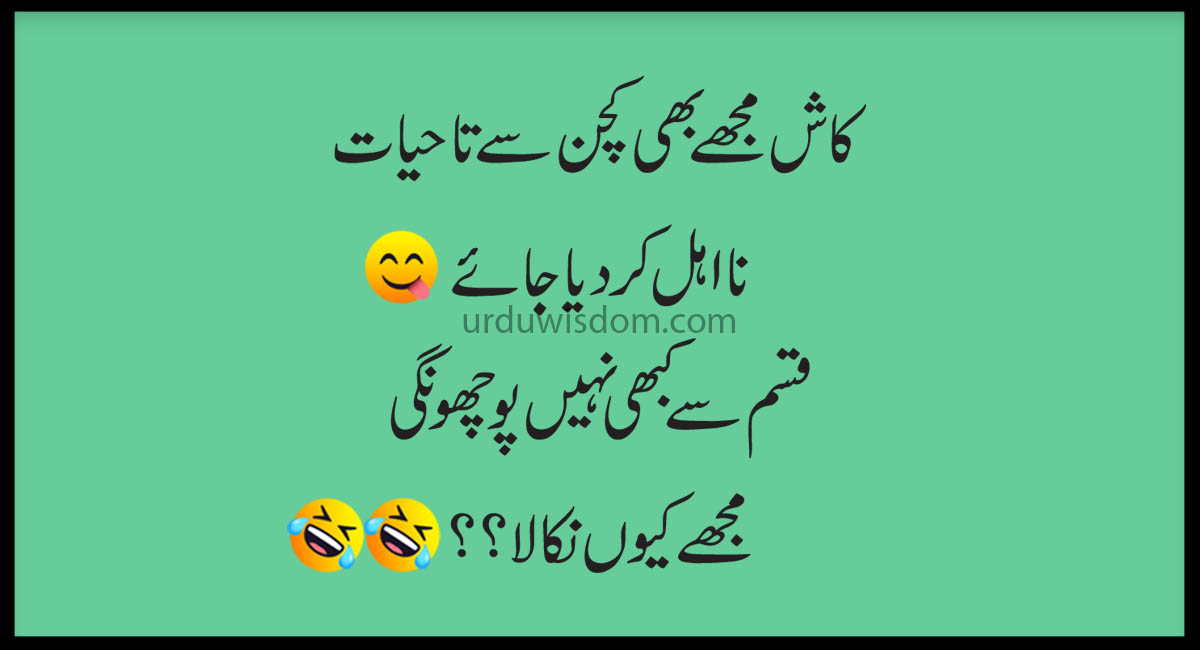 Kash mujhy bhe kitchen sa Ta Hayaat na ehl kar dya jay
Qasam say kabhi nahe pochon gi " Mujhy kion nikala "
Jokes in Urdu :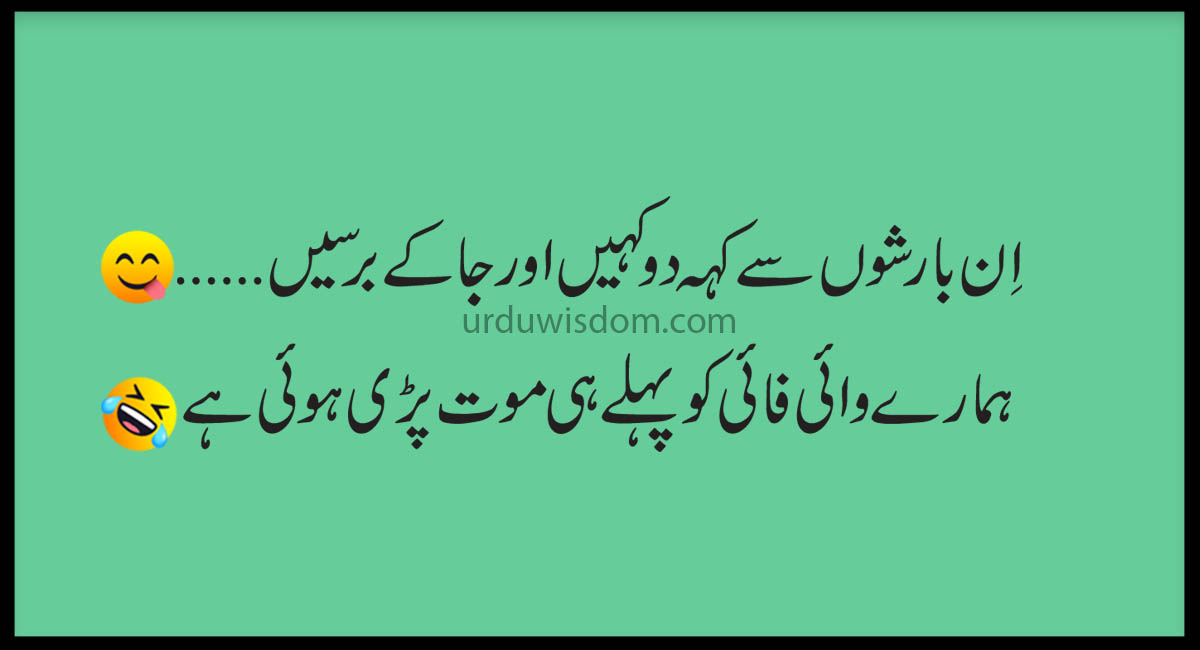 In Barshon say keh do kahen aur ja keh barsain
Hamaray wifi ko pehlay he Maot pari hoi hay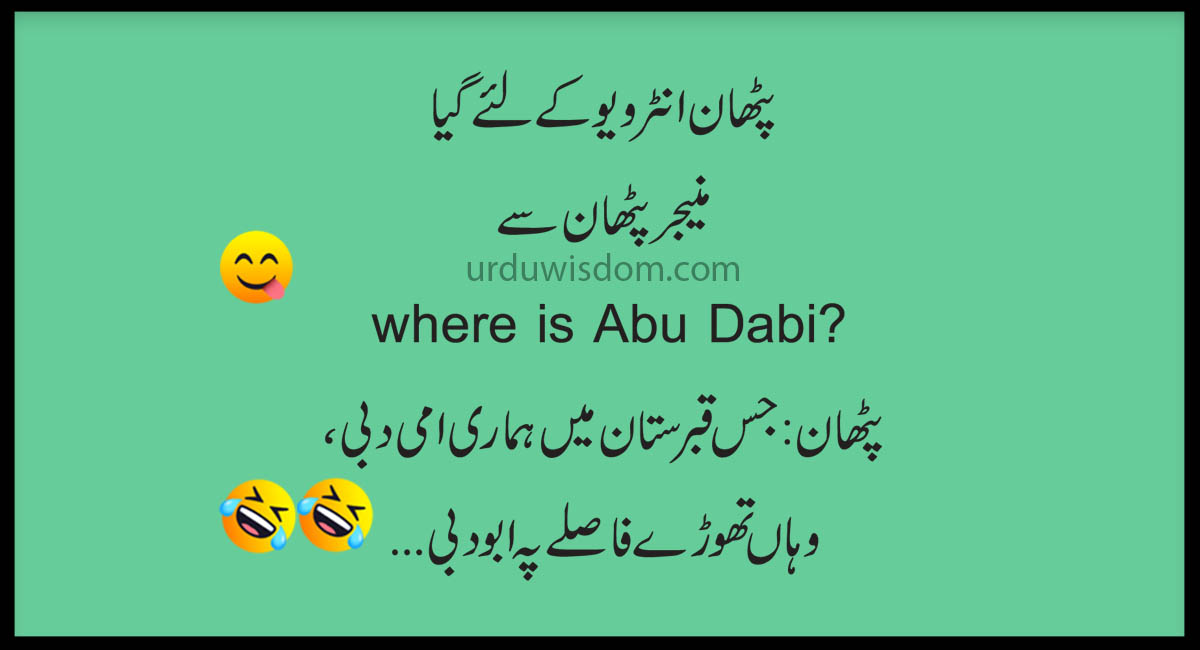 Pathan Interview k lya gya , Manager Pathan say
Where is Abu Dabi?
Pathan: Jis kabristan mein hamari Ammi dabbi
Wahan thoray faslay pa Abu Dabi.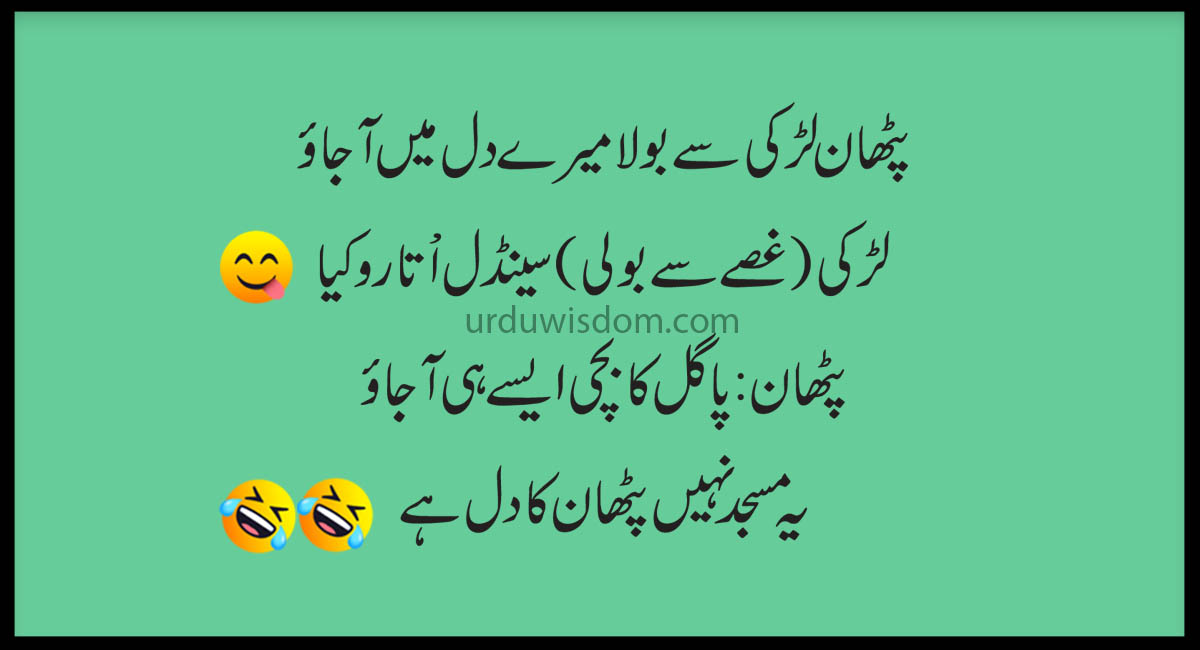 Pathan larki say bola maray dil mein a jao
larki gussay say , Sandal otaron kya
Pathan: Paghal ka bachi aisay he a jao, Ye masjid nahe pathan ka Dil hay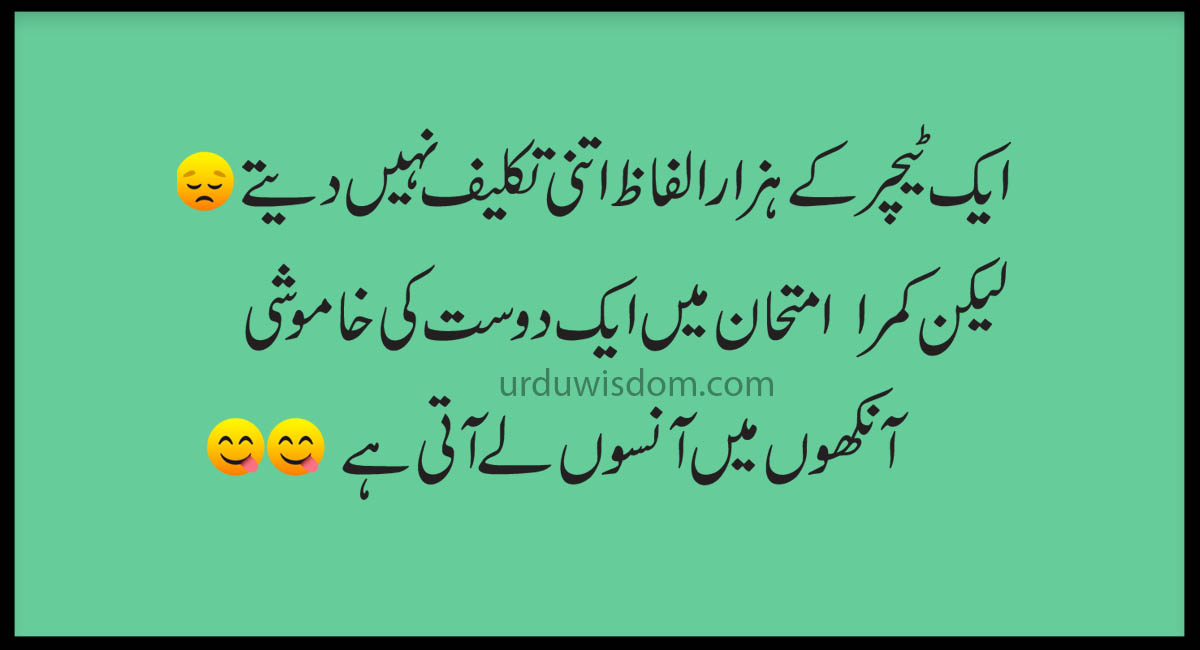 Eak teacher kay hazar Alfaz itni takleef nahe daitay,
lekan kamra imtehan me eak dost ki khamoshi
ankho mein anso la ati hay.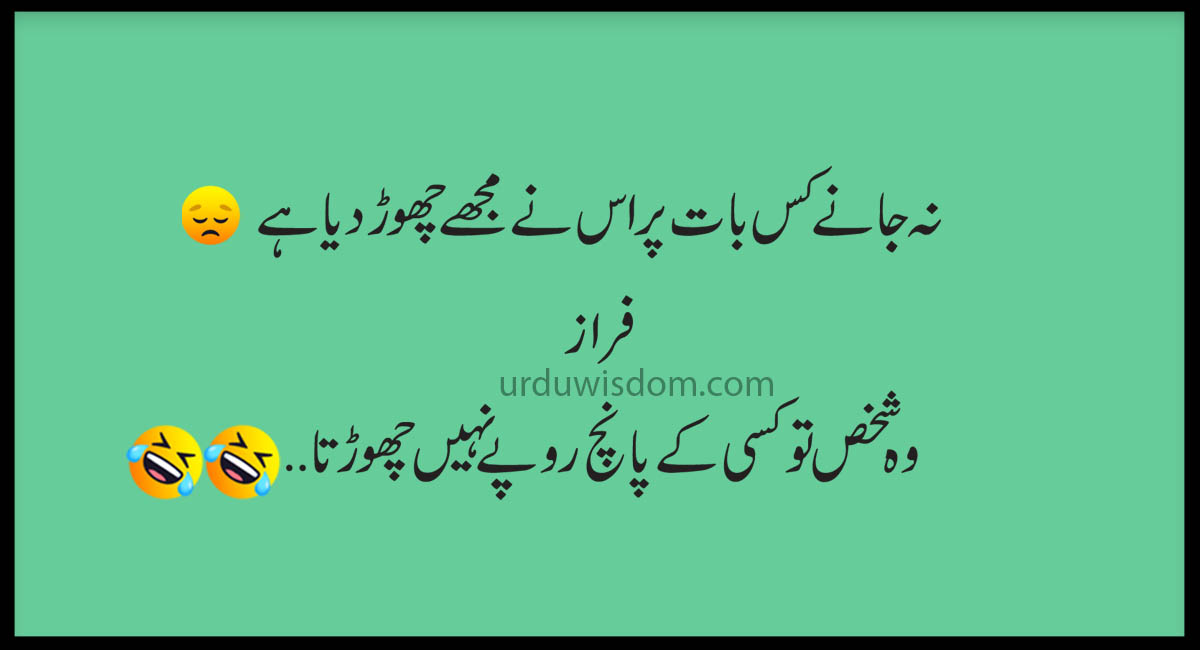 Nah janay kis baat par us nay mujhy chor dya hay Faraz
Wo shakhs to kisi kay paanch rupay nahe chorta
Funny jokes for SMS: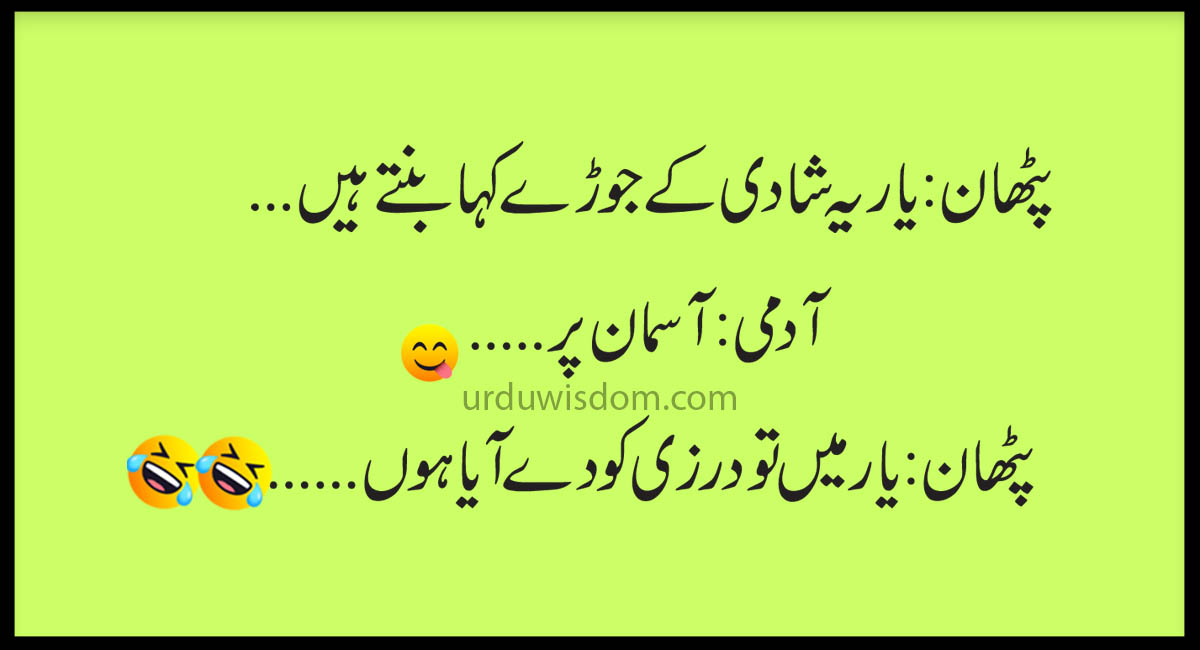 Pathan: Yar ye shadoi kay joray kahan bantay hain
Admi: Aasman par
Pathan: Yar mein to darzi ko day aya hon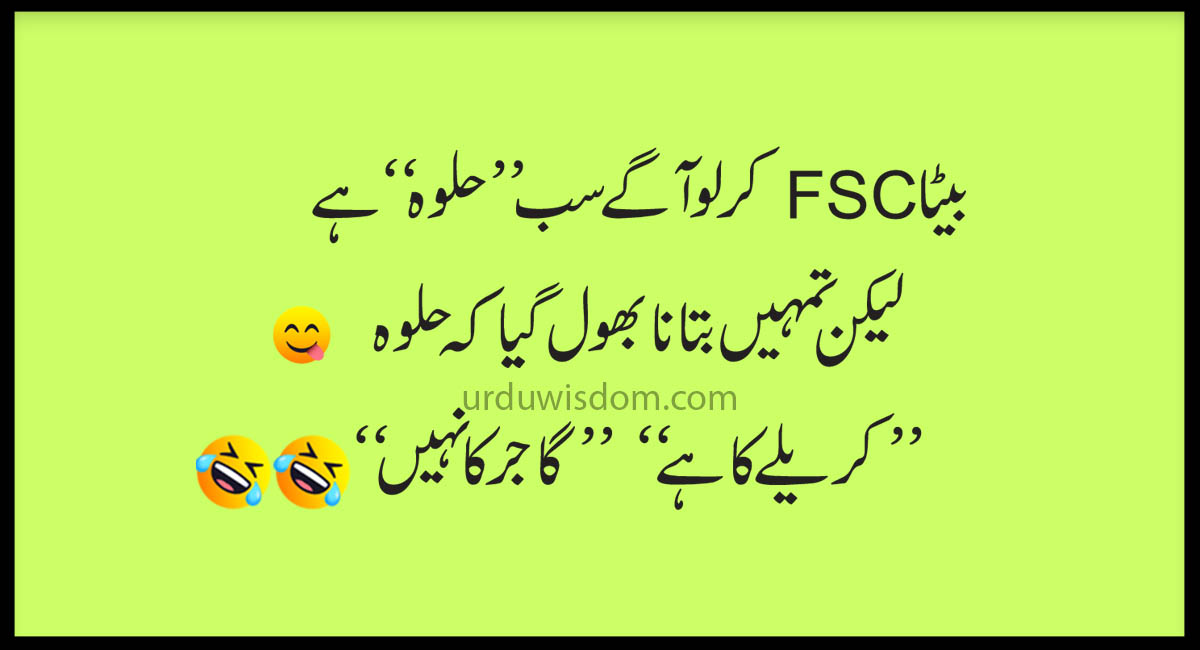 Beta Fsc kar lo agay sab halwa hay
Lekan tumain batana bhool gay kah halwa
Karelay ka hay: "Gajar ka nahe"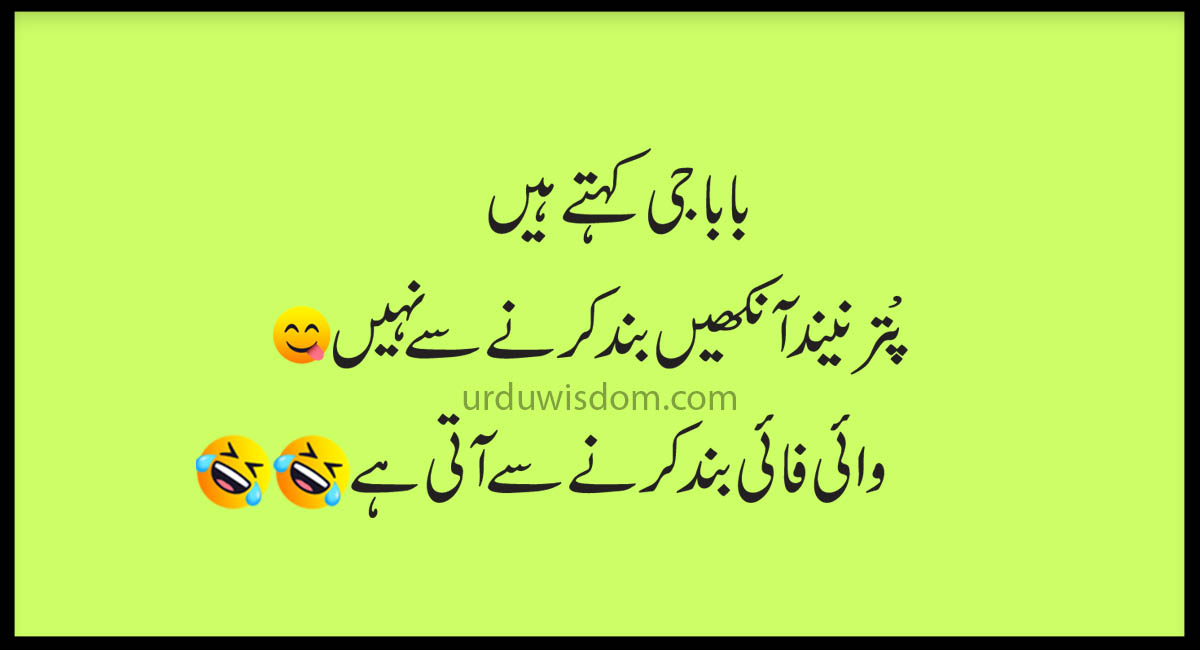 Baba g kehtay hain,, Puttar Nend ankhain band karnay sa nahe
Wifi band karnay sa ati hay…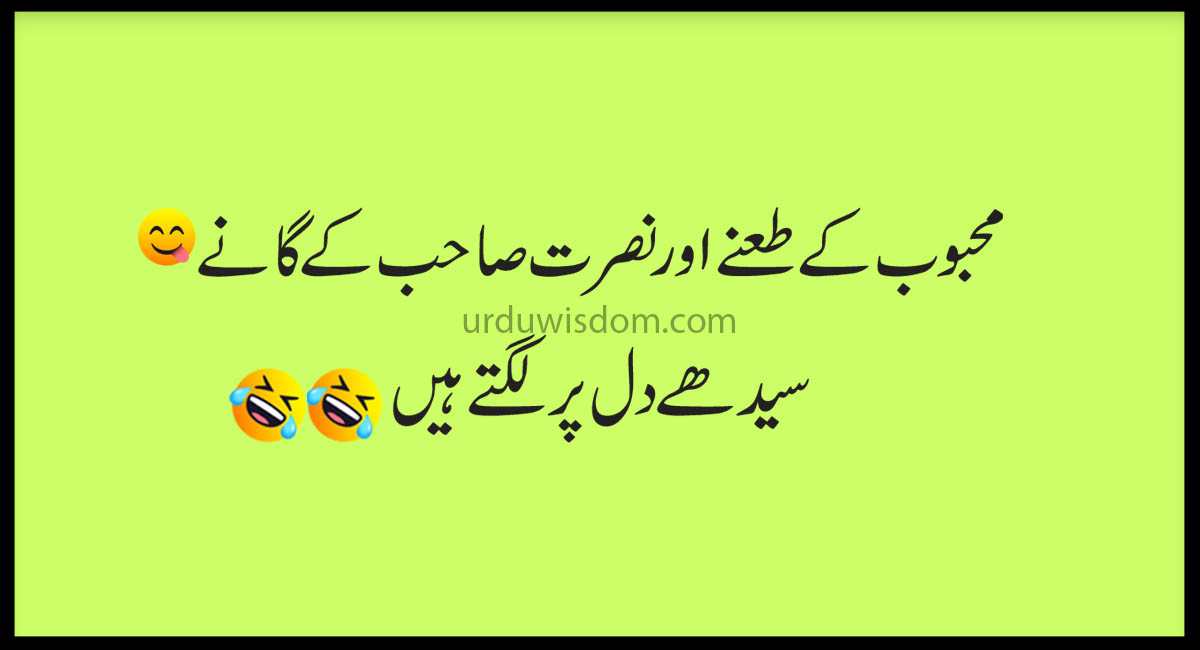 Mehboob kay tahbay aur nusrat sahab jay ganay
Seedhay Dil par lagtay hain.
The best way to write funny jokes in Urdu is to sit down and start writing a very good joke. Use all the resources of your mind and start coming up with a very well worded joke. Start with a story about you, use humour and exaggeration to make it better. Always make it catchy. Try to come up with as many jokes as possible to come up with the funniest ones. You may have to look up funny quotes and poems to make the jokes funnier
This is my little bit effort to bring a smile on your faces. I hope you have been enjoyed to see and read these awesome funny jokes in Urdu. If you enjoyed then please share it with your friends and family and a do comment below.
Thanks