AIOU Matric Solved Assignments are available here. You can download and copy-paste anywhere. AIOU solved assignment spring 2022 is available here you can download it for free.
AIOU Matric Spring 2022 Solved Assignments are mostly searched. Allama Iqbal open university accepts the assignments in docs files. First, you need to know about your tutor which can be traced from aiou official website. For logging in to the official website, you add your user name and password and then you access your portal. Here is an option to reset your id by using the adit option.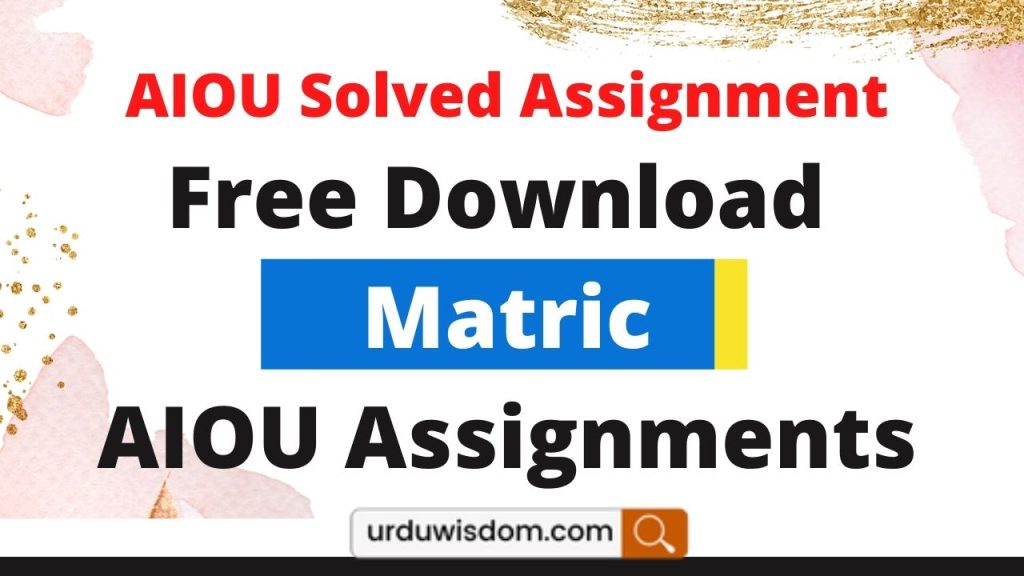 AIOU Matric Solved Assignments Autumn 2021.
We are providing AIOU Matric Class Solved Assignments in Spring 2022. You can download all pdf files of your relevant AIOU Matric subject code which is given below.
(6 Credit Hours) Book Assignment Submission Date Spring 2022
| | |
| --- | --- |
| Assignment No 1 / Due Date | 01-07-2022 (Extended) |
| Assignment No 2 / Due Date | 01-07-2022 |
| Assignment No 3 / Due Date | 01-08-2022 |
| Assignment No 4 / Due Date | 30-08-2022 |
| Exam Month | September 2022 |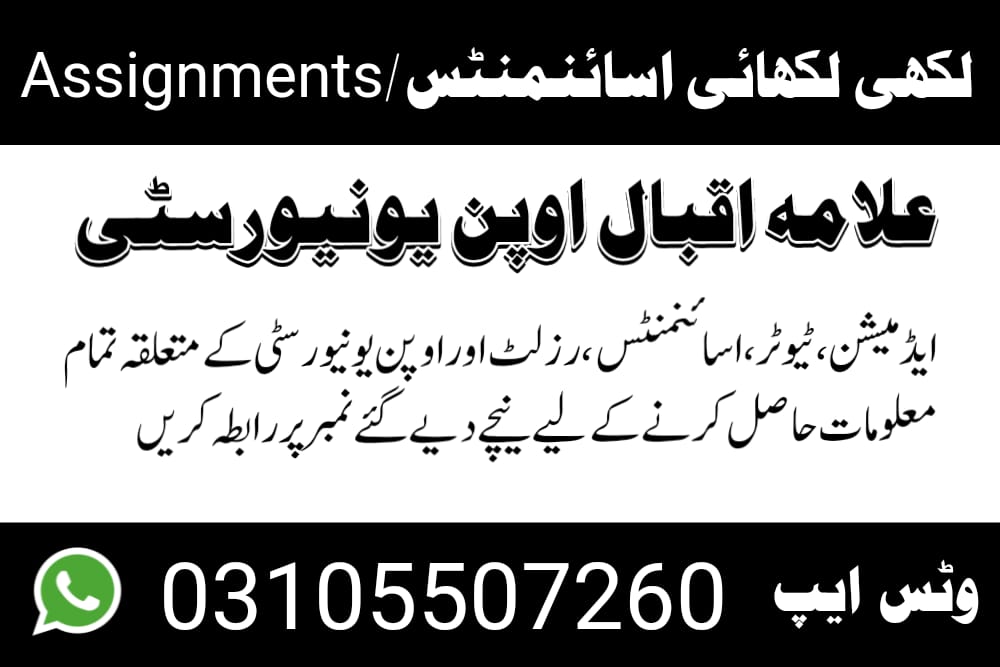 | | | | |
| --- | --- | --- | --- |
| Code | Book Name | No 1 | No 2 |
| 206 | Family Health and Care | PDF | PDF |
| 207 | Compulsory English – I | PDF | PDF |
| 208 | Garment Making – I | PDF | PDF |
| 210 | Garment Making – II | PDF | PDF |
| 211 | Poultry Farming | PDF | PDF |
| 217 | Food And Nutrition | PDF | PDF |
| 218 | First Aid – I | PDF | PDF |
| 220 | First Aid – II | PDF | PDF |
| 221 | Compulsory English – II | PDF | PDF |
| 222 | Applied Food & Nutrition | PDF | PDF |
| 242 | Seerat-e-Tayyaba | PDF | PDF |
| 246 | Arabic | – | – |
| 247 | Mathematics – I (Urdu) | PDF | PDF |
| 248 | Mathematics – II (Urdu) | PDF | PDF |
| 252 | Lab Techniques in Physics | PDF | – |
| 254 | Animal Production | PDF | PDF |
| 256 | Vegetable Growing | PDF | PDF |
| 258 | Lab Techniques in Chemistry | PDF | PDF |
| 259 | Lab Techniques in Biology | PDF | PDF |
| 260 | Information Technology Basics (Urdu) | PDF | PDF |
(3 Credit Hours) Book Assignment Submission Date Spring 2022
| | |
| --- | --- |
| Assignment No 1 / Due Date | 01-07-2022 |
| Assignment No 2 / Due Date | 30-08-2022 |
| Exam Month | September 2022 |