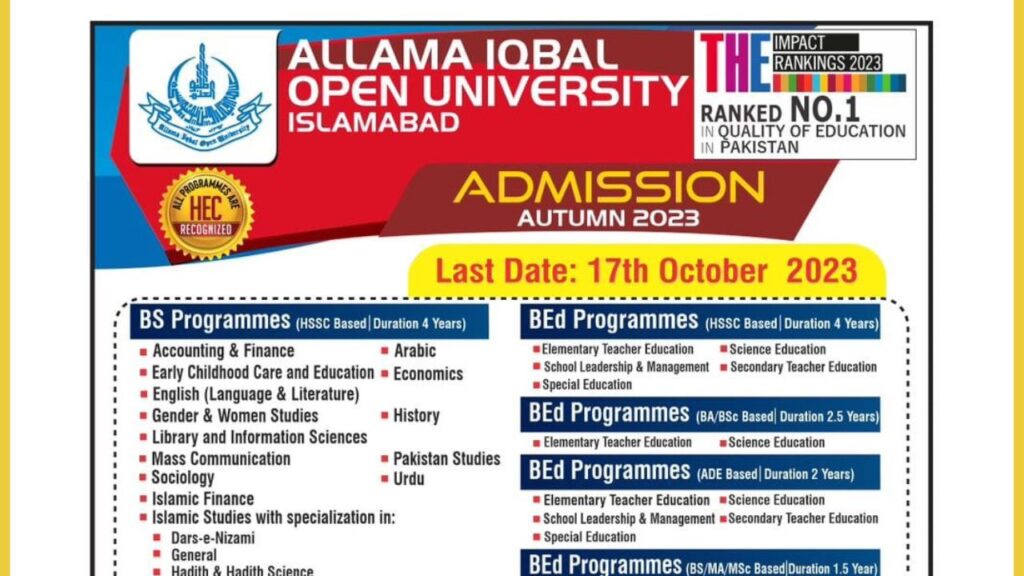 Discover the seamless process of AIOU admission for the upcoming Semester of Autumn 2023. Explore the benefits of enrolling in Allama Iqbal Open University and kickstart your educational journey with us.
علامہ اقبال اوپن یونیورسٹی اسلام آباد فاصلاتی طریقے سے گھروں میں رہ کر تعلیم حاصل کرنے کا موقع فراہم کرتی ہے۔ طلباء گھروں سے مشقیں تیار کرکے ٹیوٹر کو بھیجتے ہیں۔ ہر سمسٹر کے آخر میں چند پیپرز کیلئے اپنی تحصیل جانا پڑتا ہے۔
ایف اے/ ایف ایس سی کے بعد 4 سالہ بی ایس، بی اے/ بی ایس سی کے بعد 2.5 سالہ بی ایس اور اے ڈی پی کے بعد 2 سالہ بی ایس کے مختلف مضامین/ پروگراموں میں داخلے جاری ہیں۔ علاوہ ازیں ایف اے/ ایف ایس سی کے بعد 4 سالہ، بی اے/ اے ڈی پی کے بعد 2 سالہ اور ایم اے/ بی ایس کے بعد 1.5 سالہ بی ایڈ پروگرام میں بھی داخلے جاری ہیں۔ داخلہ جمع کرانے کی آخری تاریخ 17 اکتوبر ہے۔
طلباء وطالبات اس سہولت سے فائدہ اٹھائیں
AIOU Admission for Semester Autumn 2023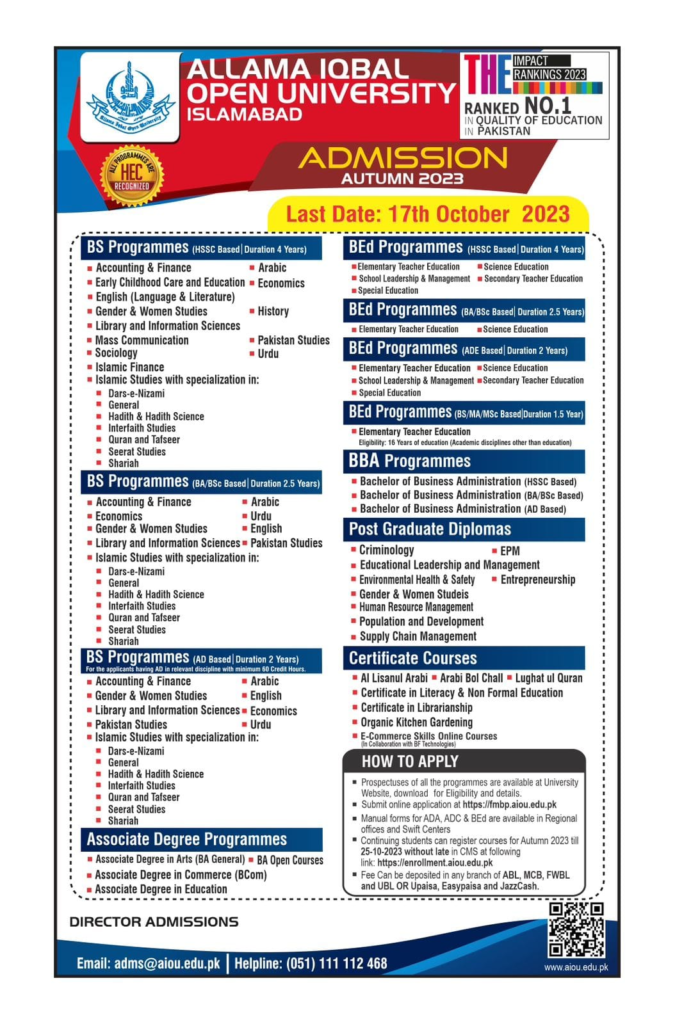 Are you ready to embark on a journey of knowledge and self-improvement? Allama Iqbal Open University (AIOU) is here to open the doors of education for you in the upcoming Semester Autumn. In this blog post, we'll guide you through the AIOU admission process for the Semester of Autumn, highlighting the benefits of choosing this esteemed institution for your academic pursuits.
New AIOU Fee Structure for Admission 2023
AIOU Fee Structure
ADP (BA) 4840
ADP Commerce 4840
Associate Degree Program in Open Courses 4840
Associate Degree in Education 2 Years
1st Semester 23980
B.Ed Programs
B.Ed 1.5 Year 23980
B.Ed 2.5 Year 23980
B.Ed 4 Year 23980
BS ODL 4 Years
1st Semester Fee
BS Islamic Studies 14600
BS Pakistan Studies 14600
BS Accounting & Finance 14600
BBA 1st Semester 14500
BS Economics 1st Semester 14500
BS History 1st Semester 14500
BS Sociology 1st Semester 14500
BS ODL 2.5 Years
BBA 15000
BS Economics 15000
BS Library & Information Science 15000
BS Gender & Women Studies 15000
BS English 15000
BS Mass Communication 15000
Why Choose AIOU?
AIOU, Pakistan's largest and most prestigious open university, has been a beacon of educational excellence for decades. Here's why you should consider AIOU for your higher education:
Accessibility: AIOU offers accessible education to people from all walks of life. Whether you're a working professional, a stay-at-home parent, or someone with mobility challenges, AIOU's flexible learning options cater to your needs.
Diverse Programs: AIOU offers a wide range of programs, from undergraduate to postgraduate levels, spanning various disciplines. You can choose the field of study that aligns with your interests and career goals.
Affordability: AIOU is known for its cost-effective education. You won't have to break the bank to pursue higher studies at this esteemed institution.
Quality Education: AIOU's dedicated faculty and comprehensive study materials ensure that you receive a high-quality education that matches traditional on-campus programs.
AIOU Admission Process for Semester Autumn
Now, let's dive into the step-by-step process of securing your admission for Semester Autumn at AIOU:
1. Visit the AIOU Official Website
To begin your journey with AIOU, visit the official website at website. Here, you'll find all the information you need regarding the admission process and available programs.
2. Choose Your Program
Explore the diverse range of programs offered by AIOU. Whether you're interested in a bachelor's degree, a master's degree, or a diploma, AIOU has something for everyone. Select the program that best suits your academic and career aspirations.
3. Check Eligibility Criteria
Make sure you meet the eligibility criteria for your chosen program. Eligibility requirements can vary depending on the program and degree level.
4. Fill Out the Admission Form
Download the admission form from the website and fill it out carefully. Be sure to provide accurate information and attach all required documents, including educational certificates and CNIC (Computerized National Identity Card) copies.
5. Pay the Admission Fee
Calculate the admission fee for your selected program and deposit it in the designated bank. AIOU provides various payment options for your convenience.
6. Submit Your Form
After completing the form and payment, submit your application to the nearest AIOU regional office or the main campus. Keep the receipt of your payment as proof of submission.
7. Receive Your Study Materials
Once your admission is confirmed, AIOU will send you the necessary study materials and course books. These resources are designed to support your learning journey.
8. Attend Classes and Examinations
Engage in your studies by attending classes and preparing for examinations. AIOU offers both distance learning and in-person classes to accommodate your preferences.
Conclusion
Choosing AIOU for your academic endeavours during Semester Autumn is a decision that can shape your future positively. With its accessibility, affordability, and commitment to quality education, AIOU stands as a reliable institution for learners of all backgrounds.
Don't miss the opportunity to join the AIOU family and unlock a world of knowledge and opportunities. Start your AIOU admission process for Semester Autumn today and take the first step toward a brighter future.