What is PMC MDCAT?
PMC is a health care corporation that gives a wide range of assistance for the prevention and medication of chronic conditions. It also conducts tests for those who want to join the medical profession.
PMC provides accessible healthcare to all categories of people and families. It also has an extensive network of providers It makes it manageable for people to plan appointments with their selected provider.
National Medical & Dental College Admission Test NMDCAT also known as MDCAT is a systematic computer-based examination. It is administered in Pakistan and internationally each year. It is essential for entries in MBBS and BDS degree programs. It is a necessary requirement for entry in all medical and dental colleges (both public and private) in Pakistan۔
NMDCAT is conducted regularly by the Pakistan Medical Commission. Last year, the test replaced the local medical entrance exams executed in the past۔
Is there a difference between MCAT and MDCAT?
Medical College Admission Test MCAT has been renamed MDCAT (Medical and Dental College Admission Test) . The achievements in this test cover a major proportion of the cumulative score requirements for them to join a medical or dental college.
What is the PMC entry test?
PMC MDCAT that is the Medical and Dental College Admission Test is of great importance for the students who wished to get access to the MBBS program or admission to BDS program. MDCAT implies an entrance exam that assures admission to medical studies
Candidates need to Pass MDCAT with at least 60% marks.
What is the fee of MDCAT 2021?
The planned MDCAT test date and the camp of the candidate were provided after 20th July 2021. Students submitted the MDCAT registration fee 2021 PKR 6000/. This fee is Non-Refundable. The fee can be paid through Debit or Credit Card or through Bank Challan Form before MDCAT last date to apply.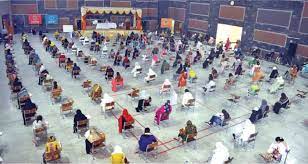 The total marks of MDCAT 2021
Applicants are notified that each question holds one mark with no negative marking. MDCAT total marks 2021 will be now 210.
Which subjects are included in MDCAT 2021?
According to the PMC syllabus 2021, the students have to undertake the fraction of these subjects:
Biology, Chemistry, English, Physics and Logical Reasoning to pass the test
A record number of 194,133 learners took the MDCAT from August 30, 2021, to October 2, 2021. Out of these students, 68,680 passed the exam arising in a national pass percentage of 35.4pc
PMC MDCAT Syllabus 2021
On 04 June 2021, the Pakistan Medical Commission declared the MDCAT syllabus for the year 2021. This year, PMC made some modifications to the syllabus. In the latest syllabus, PMC added a category of Logical Reasoning in the MDCAT test 2021. Apart from that, the MCQS of chemistry and Biology has lessened while the MCQs of Physics has expanded.
In 2021, PMC has introduced Computer-Based Testing nationally & internationally. This system is also recognized as TEPS Computer-Based Testing (CBT)۔
The seats are restricted as there are some 3405 seats for entries entirely based on past academic records. This is locally called open merit format.3405 seats are in public medical colleges. There are about 216 open merit seats in public dental colleges of Punjab only.
In addition, some seats are stocked for distant and dual nationality owners. Moreover, there are also 76 seats for overseas Pakistanis.
Overseas Pakistanis are not charged increased education fees as opposed to foreign nationals who pay around $10,000 per year.
This is often far limited described in relation to many universities in other parts of the world۔
Test structure and scoring
NMDCAT consists of multiple-choice questions.
Here is the distribution of marks and other rules for marking the questions.
Each question carries 1 mark.
No negative marking for wrong answers.
Total score is 210.
68 questions are from Biology,
56 from Chemistry,
56 from Physics,
20 from English language,
10 from Logical reasoning
Syllabus
The syllabus for the test is accessible on the website of the Pakistan Medical Commission. The organization claims to follow a common curriculum of HSSC. It consists of the following subjects:
Biology,
Chemistry,
Physics,
English language
Logical reasoning.
The syllabus for 2021 was curtailed as a smart syllabus was inducted for HSSC exams in the country by the provincial and the federal government, due to COVID-19 lockdowns.
For the registration and further details about MDCAT 2021 visit the site at www.pmc.gov.pk MDCAT registration 2021.