Ab To Dard Sehnay Kei Itni Aadat Ho Gai Hay Faraz
Jab Dard Nahe Milta To Dard Hota Hay
اب تو درد سہنے کی اتنی عادت ہو گئی ہے فراز
       جب  درد   نہیں  ملتا   تو  درد   ہوتا   ہے
Love Poetry in Urdu
If you are looking for something really special and unique poetry, poetry love in Urdu is certainly a great idea. Poetry in Urdu is very creative people. There are thousands of poets in Pakistan and India.
They have a lot of different methods to express themselves or in a general way poetry itself. Some poems are really beautiful, and others look like ordinary people writing a simple poem, but the truth is, it's all a bit different. Sad poetry in Urdu and poetry love in Urdu can both be simple. People sometimes think that poetry has a simple meaning, but they might be completely wrong about that because poetry is a very complicated art.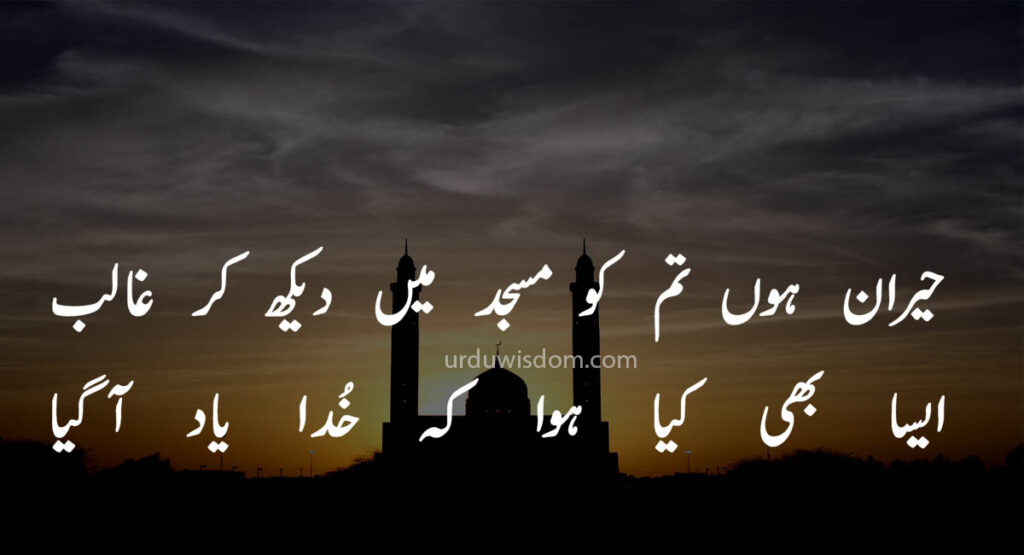 Heiraan Hoon Tum Ko Masjad Main Daikh ky Ghalib
Aisa Bhe Kya Hoa Keh Khudaa Yaad Aa Gya
حیران ہوں تم کو مسجد میں دیکھ کے غالب
ایسا بھی کیا ہویا کہ خدا یاد آ گیا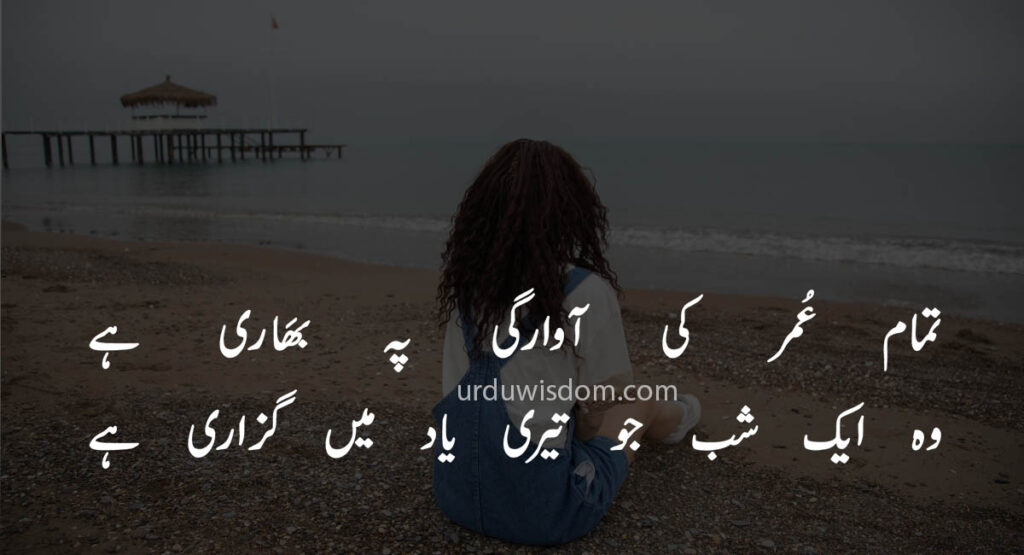 Tamaam Umar Kei Awargi Pa Bhaari Hay
Wo Eak Shab Jo Tairi Yad Mein Guzari Hay
تمام عمر کی آوارگی پہ بھاری ہے
وہ ایک شب جہ تیری یاد میں گزاری ہے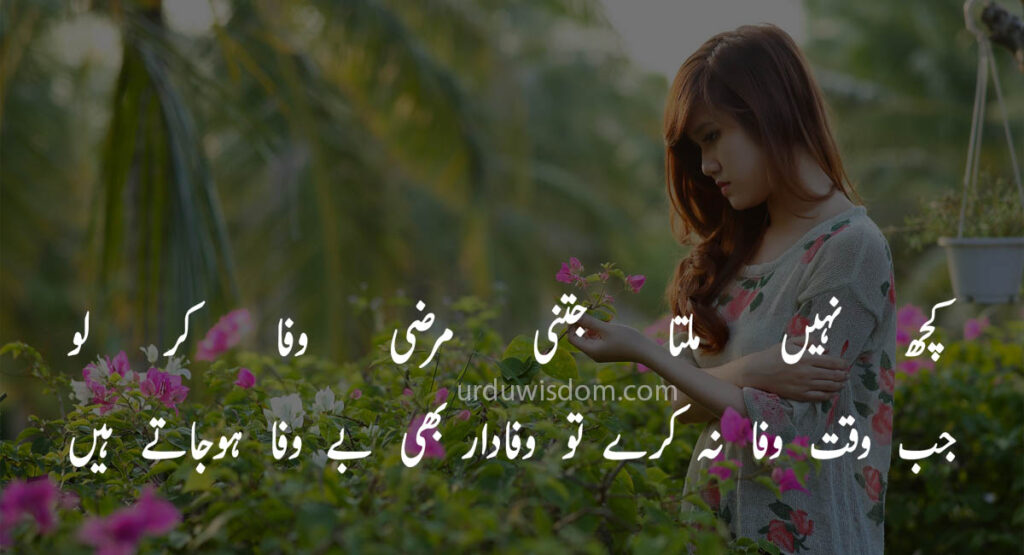 Kuch Nahe Milta Jitni Marzi Wafa kar lo
Jab Waqt Wafa Nah Karay To Wafadar bhe Be Wafa Ho jatay hain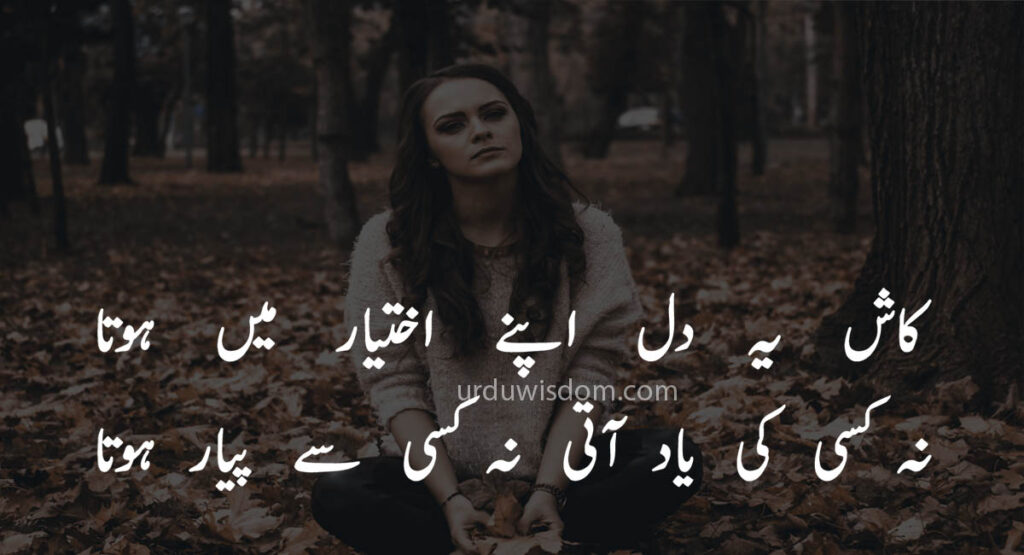 Kaash Yeh Dil Apnay Ikhtyar Mein Hota
Na Kisi Ke Yad Ati Nah Kisi Say Pyar Hota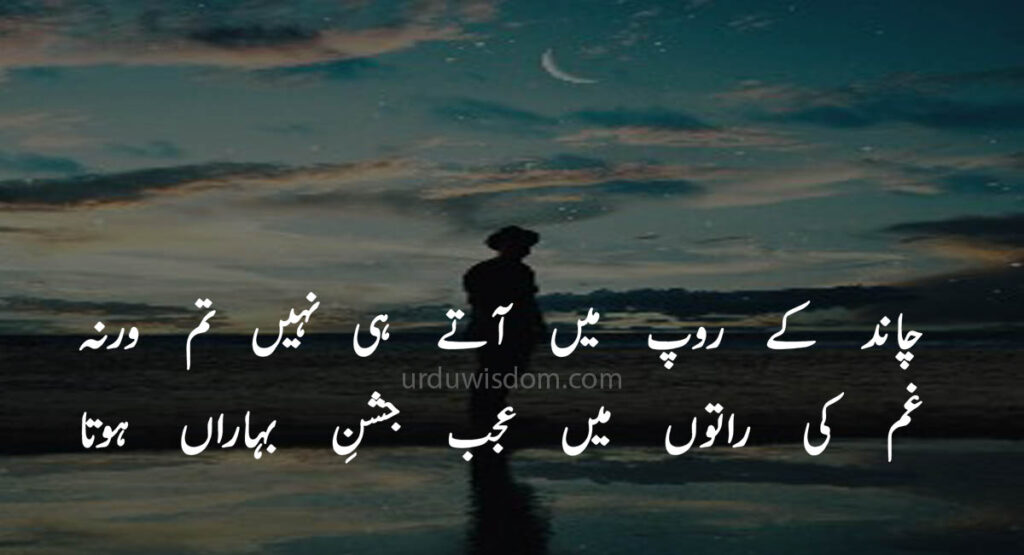 Chand Kay Roop Mein Tum Atay He Nahe Warna
Gham ke Raton Mein Ajab Jashan e Baharan Hota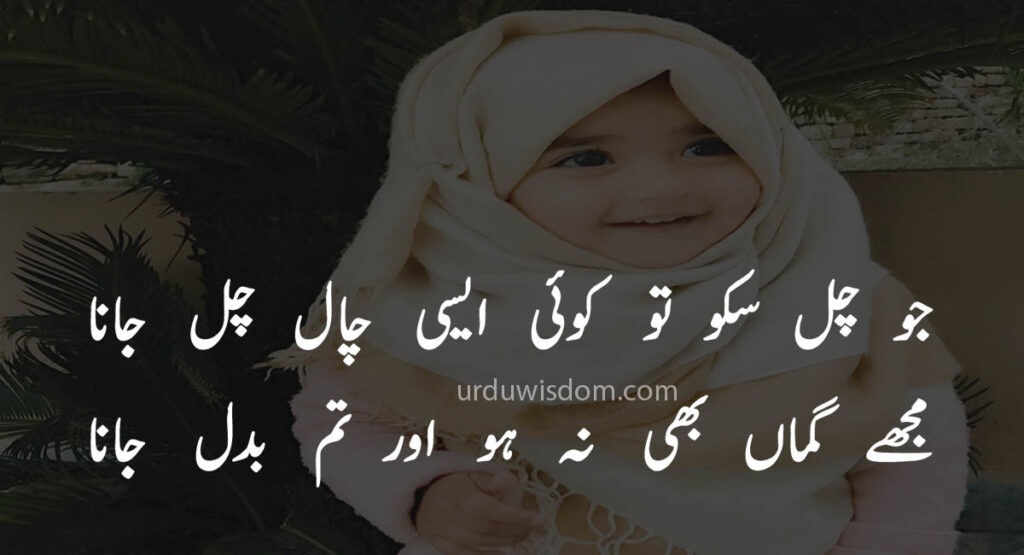 Jo Chal Sako to Koi Aise Chaal Chal Jana
Mujhy Gomaan Bhee Nah Ho Aur Tum badal Jana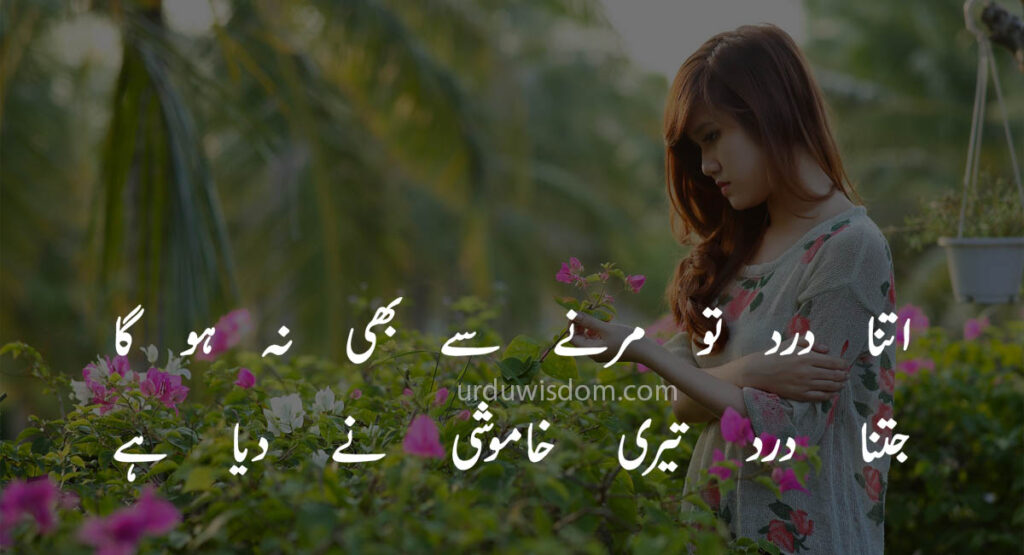 Itna dard To Marnay Say Bhe Nah Ho Ga
Jitna Dard Tere Khamoshi Nay Dya hay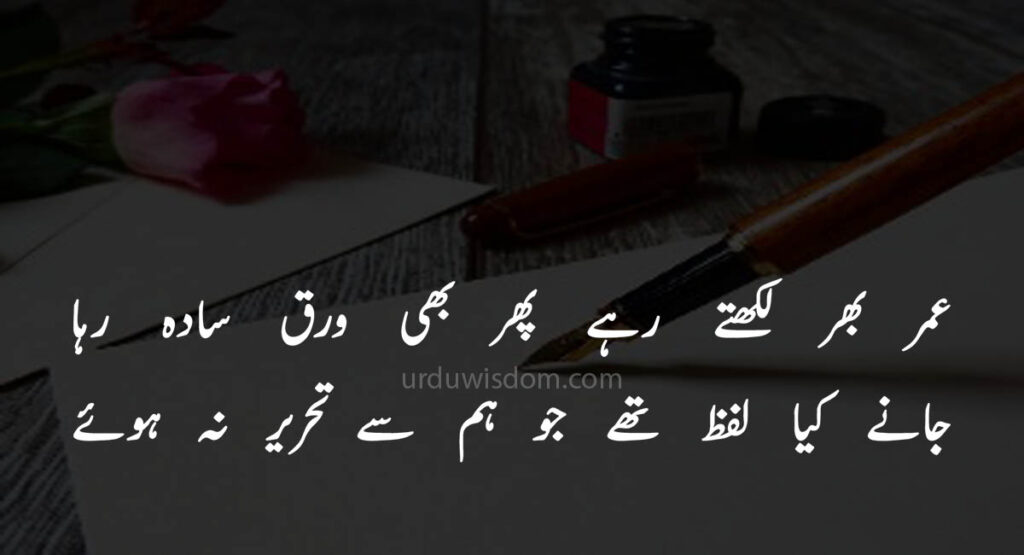 Umar Bhar Likhtay Rahe Phir Bhe Warq Sada Raha
Jany kya Lafz Thay Jo Hum Say Tehreer Nah Hoa
Poetry in Urdu
"Discover the beauty and depth of Poetry in Urdu. From the lyrical love poems of Mirza Ghalib to the powerful political verse of Faiz Ahmed Faiz, Urdu poetry has something for every reader. Explore the rich tradition of this ancient language and find new ways to connect with the world through the power of poetry."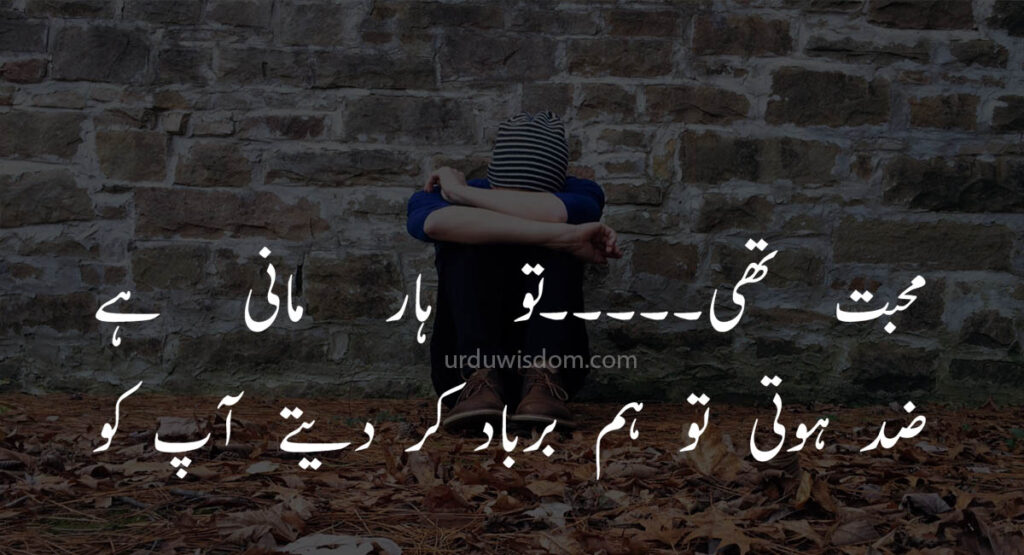 Mohabbat Theh……..To haar Mani hay
Zid hotay To Hum Barbad kar datay ap ko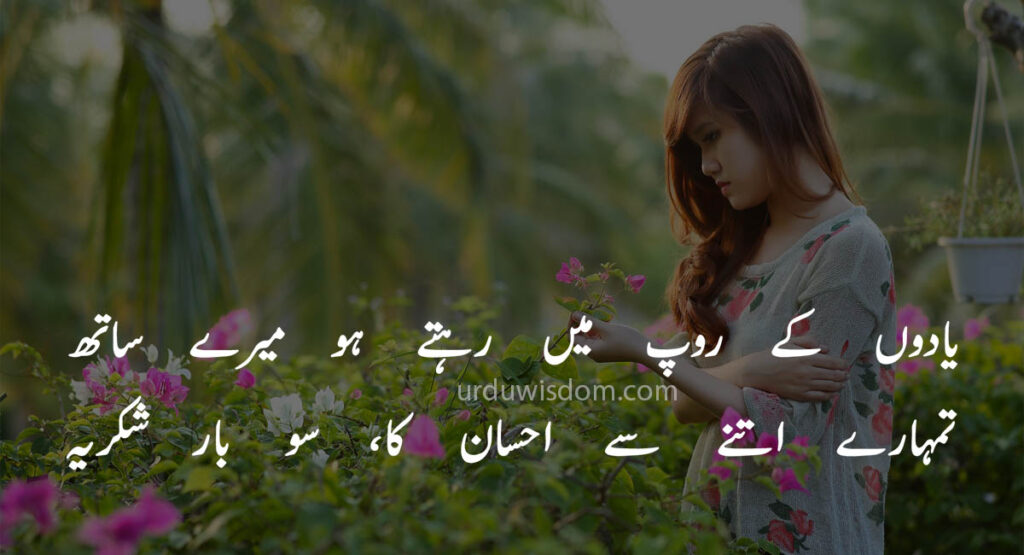 Yadon Kay Roop mein Rehtay Ho Maray Sath
Tumharay Itnay Say Ehsan ka So Bar Shukrya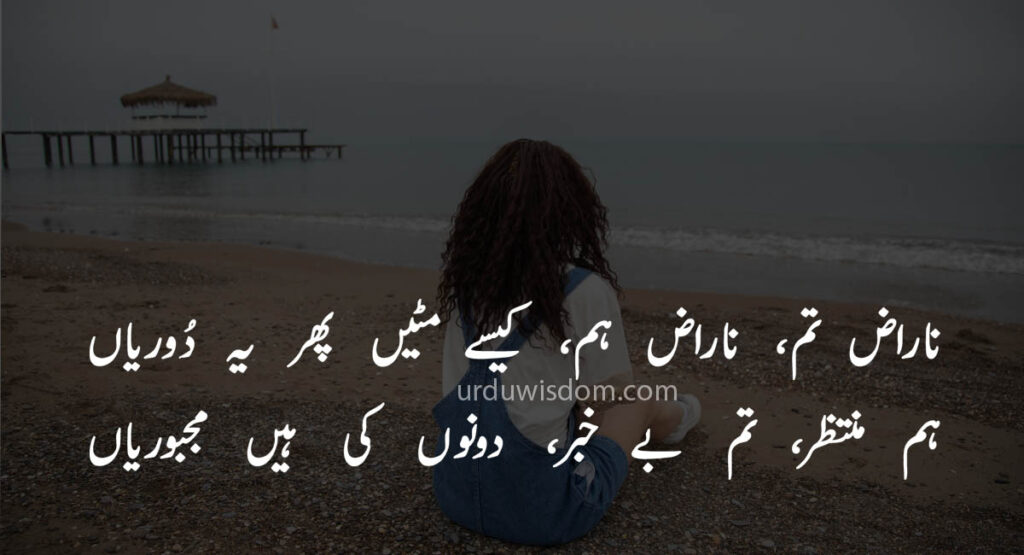 Naraz tum, Naraz Hum Kaise Mitain Phir Yeh Doorian
Hum Muntazir, Tum Ba Khabar Dono Ke hain Majboorian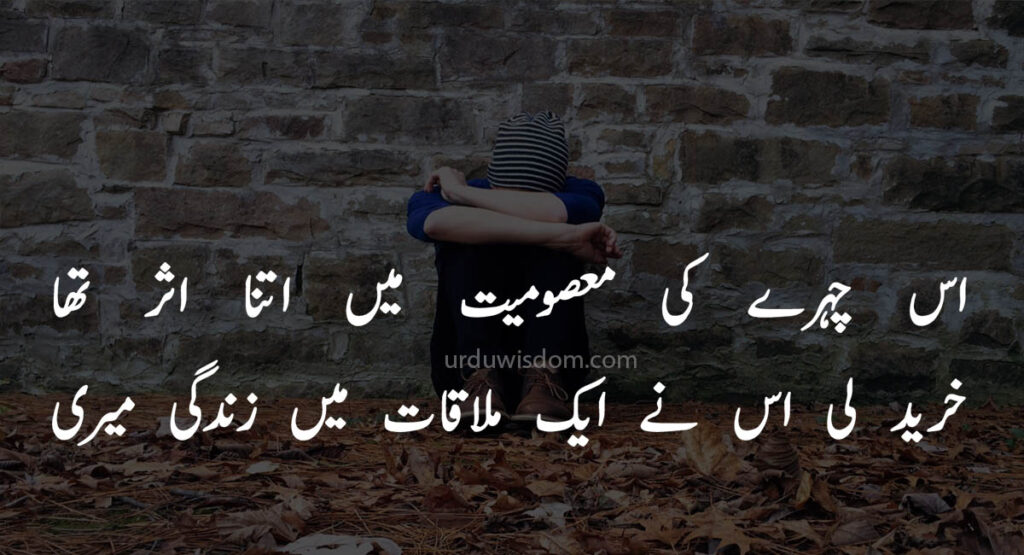 Is Chehray Ke mahsoomiat Mein Itna Assar Tha
Khareed Le Us nay Eak Molakaat Mein Zindagi mere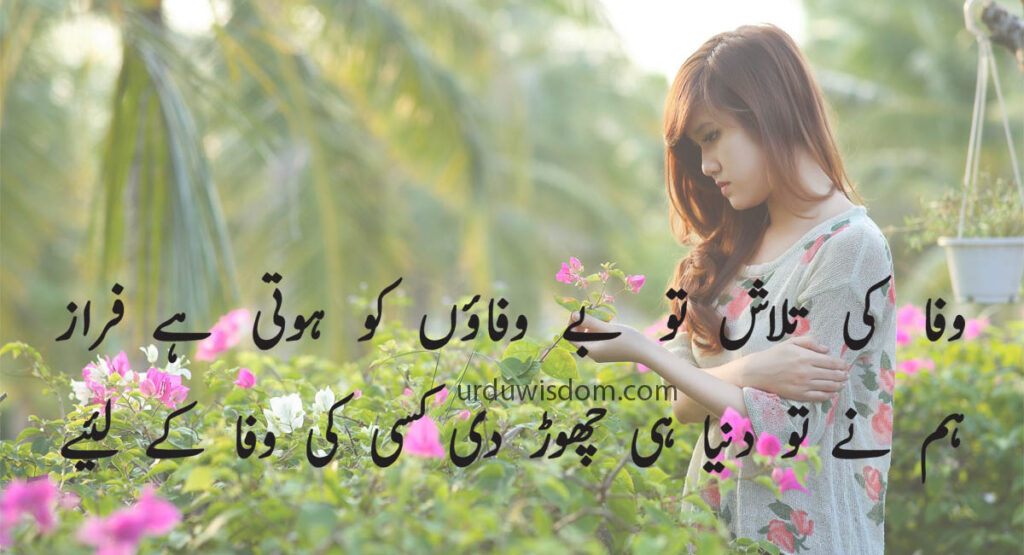 Wafa Ke Talash To Be Wafaon Ko Hoti Hay Faraz
Hum Nay to Dunya he Chor de Kisi Ke wfa kay Lya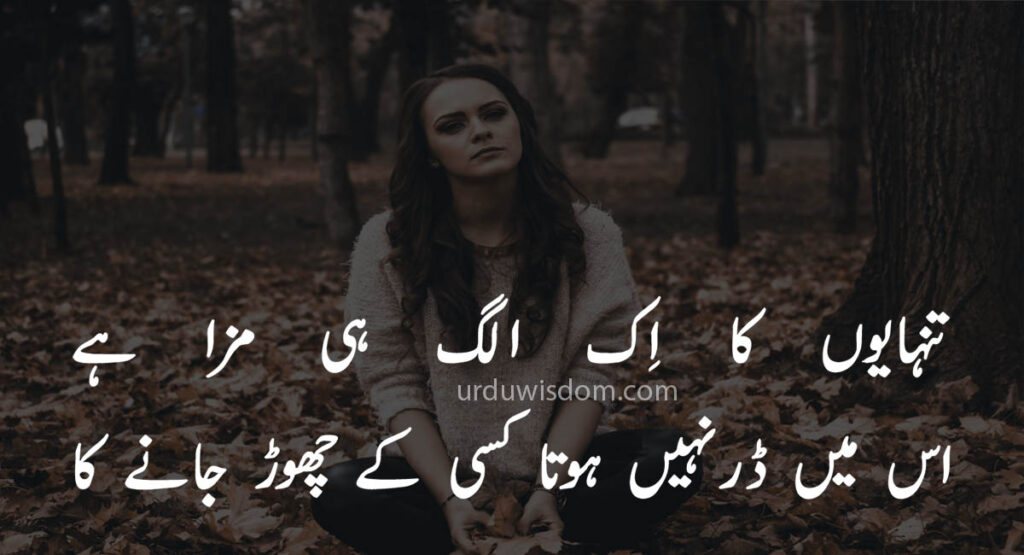 Tanhaion Ka Ik Alag He Maza hay
Is mein Darr Nahe Hota Kisi k chor Janay Ka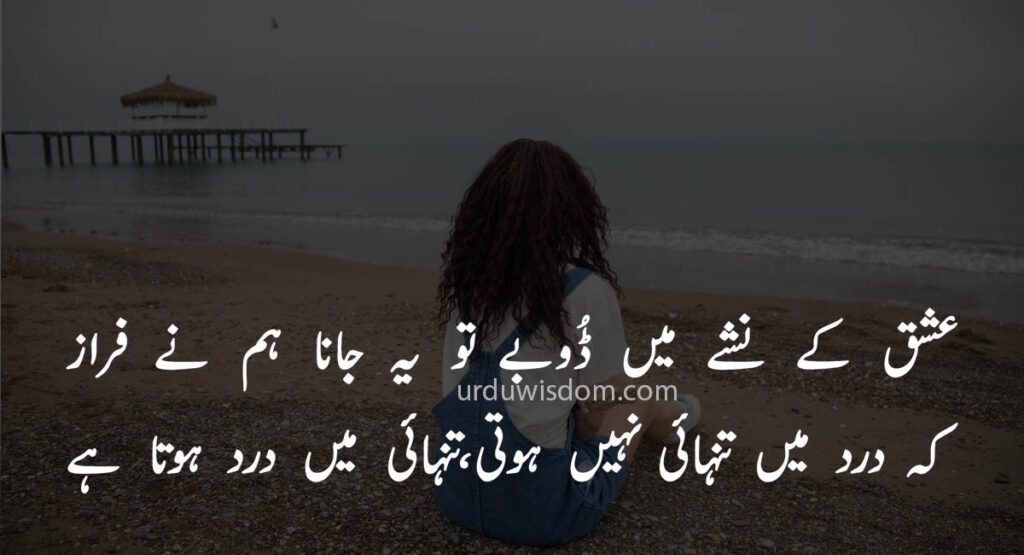 Ishq kay nashay Mein Dobay To Yeh hum Nay Jana Faraz
Keh Dard Mein Tanhai Nahe Hoti, Tanhai mein Dard Hota Hay
Romantic Poetry in Urdu
"Experience the beauty of love and romance through the poetic language of Urdu. Our collection of romantic poetry in Urdu offers a wide range of emotions and sentiments, from the joy and passion of new love to the pain and longing of heartbreak. Let these poems transport you to a world of love and emotion. "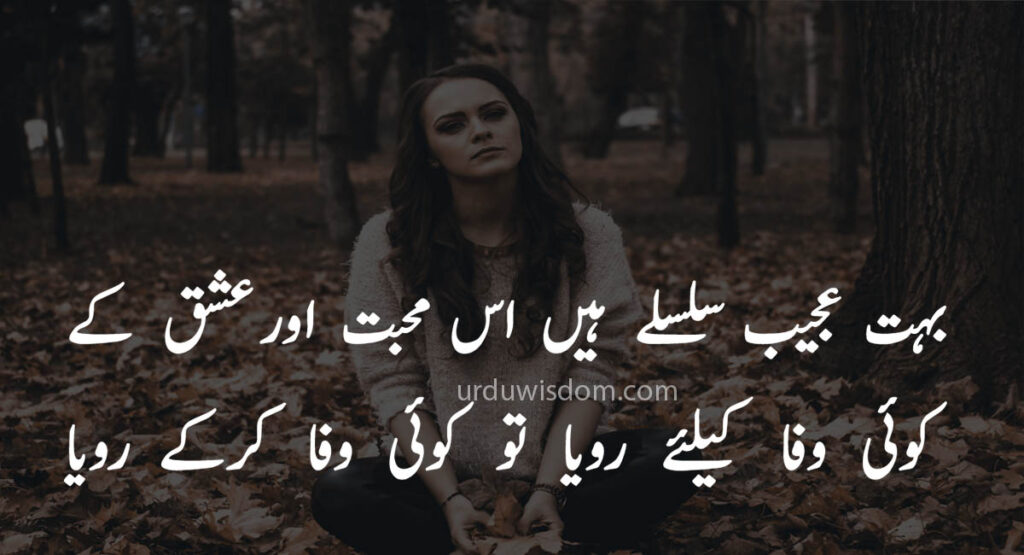 Bahot ajeeb sisalay hain is mohabat aur Ishq kay
Koi Wafa kay Lya Roya To koi Wafa Kar Kay Roya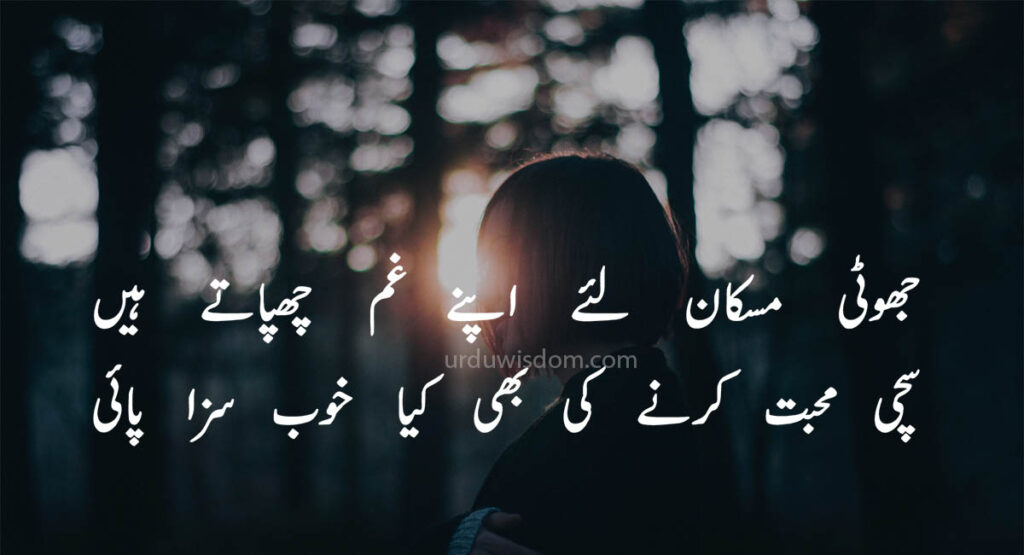 Jhooti Muskan Lya Apnay Gham Chopatay Hain
Sachi Mohabat Karnay Ke Bhe Kya Khoob saza pai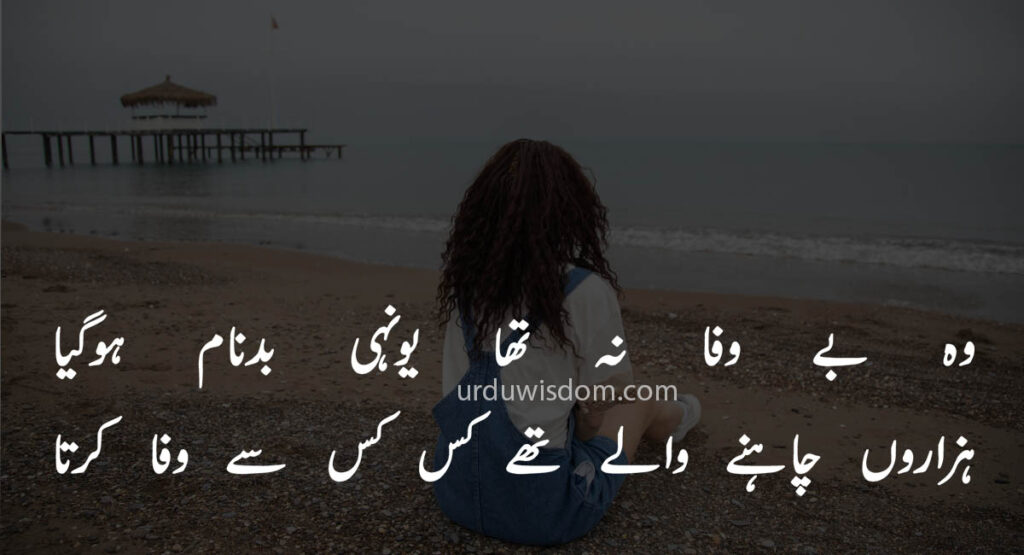 Wo Bewafa nah Tha Yoon He Badnaam Ho Gya
Hazaron Chahnay Walay Thay kis kis say wafa karta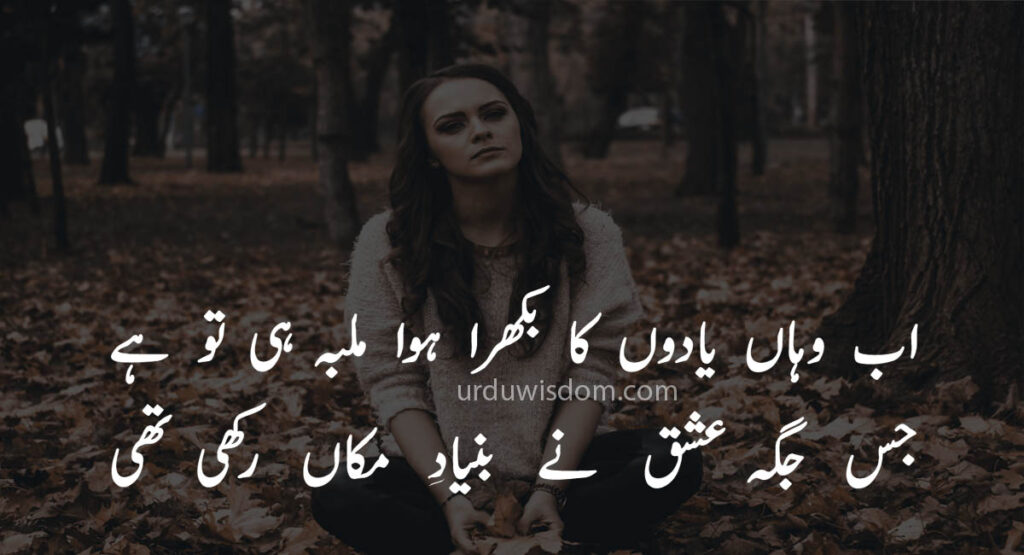 Ab wahan yadon ka Bikhra Hoa Malba He to hay
JIs Jaga Ishq Nay Bunyad e Maqan Rakhi The
Love poetry is a great way to express what you feel for your partner. The traditional love poem in this country has usually been from a man's point of view. We want to write a love poem that speaks to her. We want to be a man but in this day and age, we are more a friend than anything else.
We want to be sweet and gentle and romantic and I have written a few love poems that are meant to be written in the past tense and have them dedicated to my wife in a way that she will not see them. I often hope that she will be happy that someone was thinking about her and writing something that was truly heartfelt.
I remember when I was first learning about poetry, it was mostly all men that wrote poetry. Women did not go to college for it. We wanted to be like them and they wanted to be like us. Now poetry is not all women by any means but there is something to be said for love poetry that celebrates what you feel for your lover and expresses it in a beautiful way.
When I was younger I really wanted to write poetry for love but I did not realize that I would have to wait a long time before people were ready to hear the love poems that I wrote. In the end, we had to wait until we could afford to buy or hire an art teacher. I learned that love poetry can be done, but not until you are ready to be known as a poet.