The year 2022: Himalayan Chef Grocery Shopping in Pakistan, a brand with its existence in 100+ countries around the globe, is nowhere in Pakistan with a goal to provide maximum awareness about Pure and Natural Food. One-Stop Solution for Grocery, the most convenient method of shopping in the world, was lacking in Pakistan. To our best of knowledge, it is for the very first time in Pakistan Market that the brand "Himalayan Chef" is bringing All 100% Naturally Pure Foods under one Umbrella.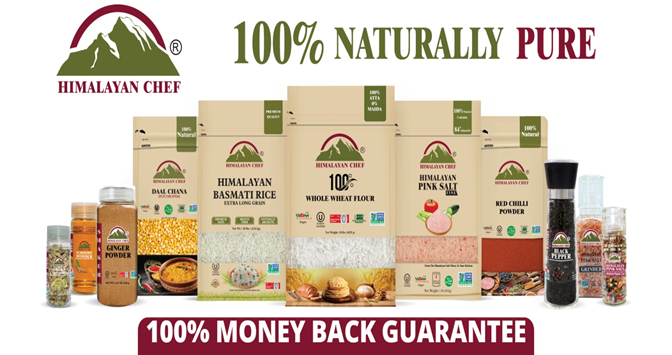 "We are here with a bigger aim to provide All Natural and Pure Food with the maximum ease and comfort to our consumers. Our primary concern is with the facilitation of consumers only, so we are always in the thinking process about how to facilitate them. The most lacking thing in Pakistan Market that we felt was the concept of all Under One Umbrella. Need of this hour is to provide all food items at one brand so that they have not to search for several other brands to get their grocery done." says CEO, Himalayan Chef.
"It is a well-known fact, that one bad experience of the consumer can definitely affect the perception of the whole brand, but we are fully prepared to present our wide range of grocery items to our consumers. This is because we are here to produce and sell quality products only. I know many people face difficulty while doing grocery as they have to choose different products from different brands for their grocery that makes them tired and consumes more time.  So, here we are, to save your Sundays by presenting you the concept of All under One Umbrella." he further explains
Himalayan Chef comes with a goal to rescue tired and exhausted consumers. This brand has taken a great initiative to provide a one-stop solution for all grocery items. Although, many brands are reluctant to present their all products under the name of one brand, as they have to work more for the quality. If the consumer, find any problem with the product, they might be disappointed and lose trust in the whole brand. This step taken by "Himalayan Chef", which represents the level of quality they are going to sell to their consumers, is assumed to be appreciated by the masses.
"Personally speaking, only, if a brand is 100% sure about the quality of products that it is producing and selling to its consumers, can have enough courage to market its all products under one umbrella," says Director, Himalayan Chef Grocery Store in Pakistan.
People of Pakistan are in sheer need of such a brand that they could rely on for their all-grocery items. Adulterated and Impure Products are so commonly available on all platforms that it seems impossible for consumers to find a Natural and Pure product. There exist a very few numbers of the conscious and well-aware population that are keen to check and study all the food labels and Food safety certifications before doing their grocery, but here comes another dilemma, they have to undergo and check several different brands for their food safety claims. Himalayan Chef comes with almost "20+ INTERNATIONAL FOOD CERTIFICATIONS" and these certifications are for "ALL FOOD CATEGORIES".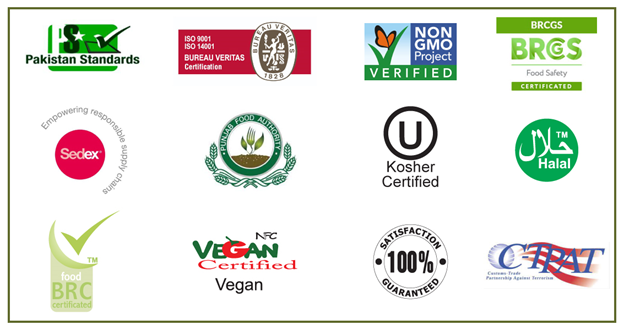 In this year 2022, Himalayan Chef has decided to launch a wide range of food items that are further divided into 8 categories. "You name it and they have it!!!" Different products are divided into specific categories that may help consumers to choose easily. This feature makes them stand out from other brands in the Pakistan Market. Separate sections for 84+ Minerals Pink Salt, Organic Seasonings & Spices, Pulses and Legumes, Dry Fruits and Nuts, Honey, Beans, Legumes, Pure Oils and Desi Ghee, Traditional Spices and Blends, Extra-Long Grains Basmati Rice, Natural Rock Salt Cooking Plates, and all other essential Kitchen Staples are made.
A Brief Introduction of Top-Selling Categories
Himalayan Pink Salt: 100% Purest Salt that is ranked as Number 1 Salt in the World. Carefully hand-mined from the Himalayan Region and naturally infused with the 84+ essential Minerals – Comes in an Unprocessed and Unrefined form with a distinctively delicious flavour and an incredible healing power.
Extra Long Grain Basmati Rice: Sourced from the Highest Quality Rice producing fields of Himalayas, Extra Long Grain Basmati Rice comes with Non-Sticky Nature that is Premium Aged for 3 Years to enhance its overall Taste, Nutritional Value and Overall Quality- Boosted with essential Minerals and Fiber, Basmati Rice is super easy to cook and give a very distinctive Natural Aroma to every dish.
100% Whole Flour: A broad range of 100% Natural, Pure, and Nutritionally Enriched Whole Flours—Prepared with a special blend of Whole grains that add richness and distinctive flavour in every bite. No Mixing, no broken grains, no additives. Just Pure Whole Flour.
Seasoning and Spices— Obtained from the Highest Quality Crops, Himalayan Chef Spices and Seasonings are 100% Naturally Pure, perfectly Ground, and free from Preservatives, Contaminants and Artificial Additives – sourced from the foothills of Himalayas and comes in a Zip-Lock Craft Packaging to preserve the Purity and Freshness meeting all International Food Safety Standards.
Pulses_ Himalayan Chef provides premium Quality, Pure and 100% Natural Pulses, free from any harmful chemicals and preservatives to ensure maximum Freshness, unique Taste and great Palatability in every meal. Conveniently Clean, Ready-to-Use and comes in Eco-Friendly Packaging that protects from environmental damage and maintains the overall quality of the product.
Dry Fruits – 100% Natural and Pure Premium Quality dry fruits are brought to your plate from the direct farms considering All International Food Safety Controls and Measures – Nutritionally and Caloric-Rich
Pink Salt Cooking Plates: Natural Rock Salt Cooking Plate is made with 100% Pure and Natural Pink Salt. Metallic plates and utensils may add toxic compounds to your meals, but by cooking on Himalayan Chef Cooking Salt Plate, all of the essential nutrients are transferred to your food that definitely will make it healthier and more delicious.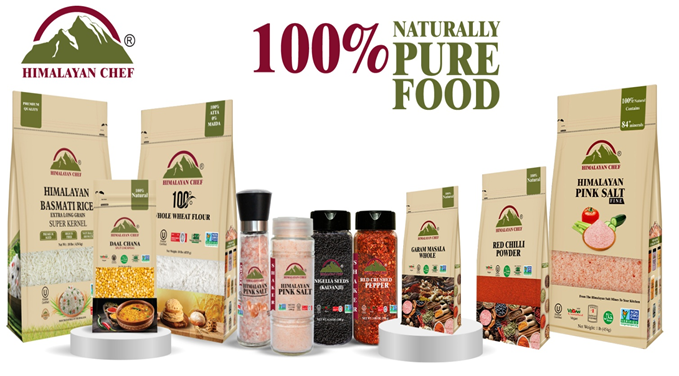 Internationally Certified Products
CTPAT, BUREAU VERITAS Certification, HACCP, Vegan, USDA Certified Organic, BRC Certification, Halal, Non-GMO, Gluten-Free, FDA Certified, Recyclable, Green, USDA Organic, EPA, PSQCA, ISO 17025, ISO 9001:2015, ISO 4001:2015, PFA, cGMP, GSO 2055-1/2015, Sedex, BRC, BRCGS, Pakistan Standards, and Kosher Certified.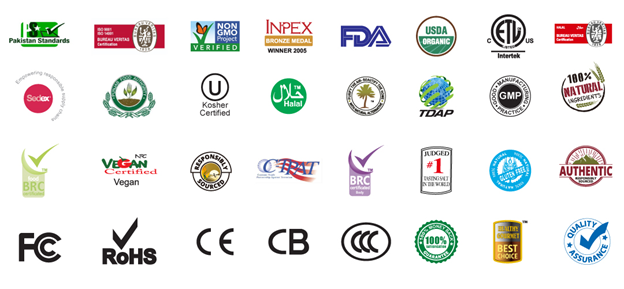 For your hustle free Sundays, get your grocery done by choosing the brand "Himalayan Chef" that claims to provide All 100% Natural and Pure Foods under One Umbrella. All these food items are easily available at all A-Class stores and online stores. I think we should listen to Albert Schweitzer that says "Do not let Sunday be taken from you. If your soul has no Sunday, it becomes an orphan".