Bano Qudsia Quotes. Bano Qudsia Quotes in Urdu about love and life with images for inspiration and motivation.
In this post, we will share with you the Bano Qudsia Quotes in Urdu. Bano qudsia was born on 28 November 1928 in Firozpur Punjab and she died on February 4, 2017, at the age of 88 in Lahore Punjab. She was a writer playwright intellectual and spiritualist.
She wrote many novels but her novel Raja Gidh cause the popularity of bano qudsia. He wrote many quotes, and short stories and share her thoughts and sayings which become popular among the young people who love Urdu literature.
Bano Qudsia Quotes about love in Urdu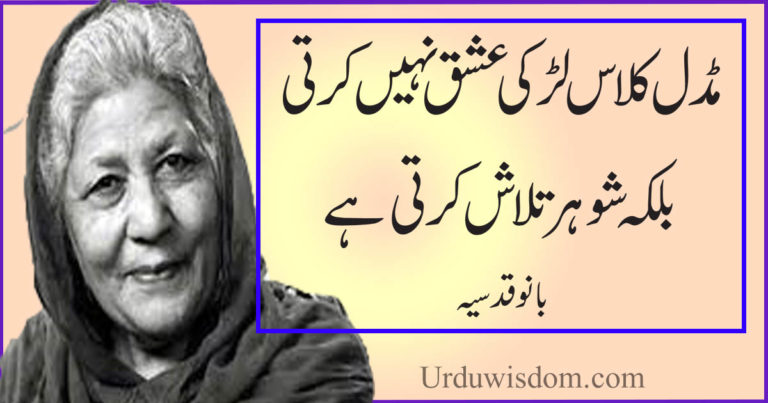 Midle class larki ishq nahe karti
balka Shohar talash karti hay.
Tweet

Bano Qudsia Quotes about Husband and wife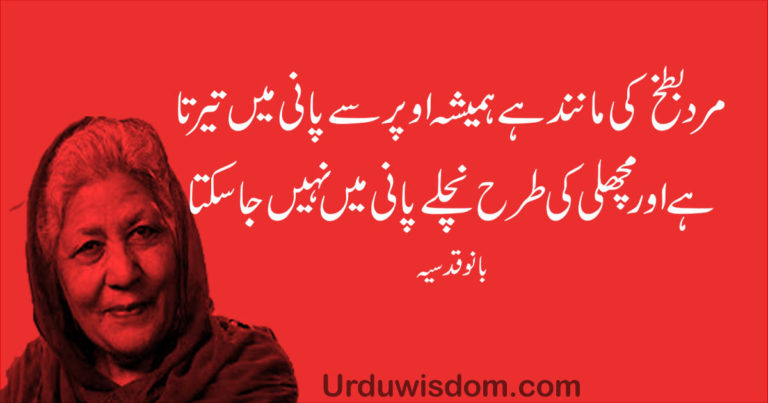 Mard batakh ke manad hay oper sa pani main tairta hay aur machli ke tarha nichlay pani me nahe ja sakta.

Bano Qudsia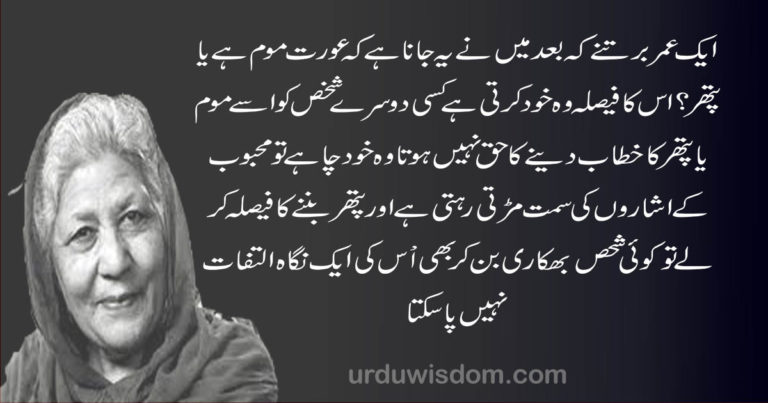 Bano Qudsia Quotes about life in Urdu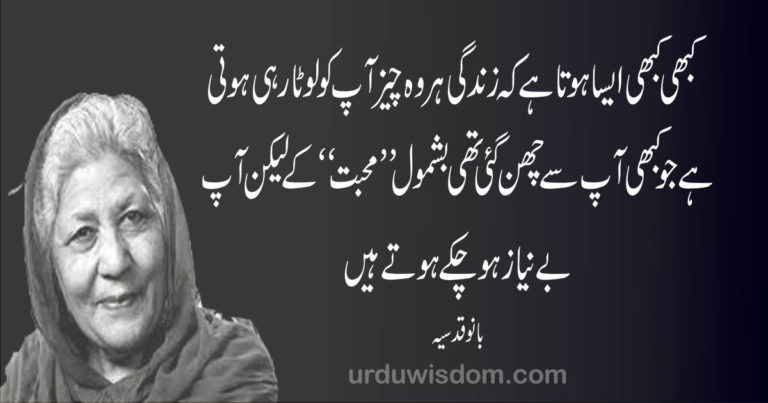 Kabi kabi aisa hota hy k zindagi her wo chez ap ko lota rahe hoti hy jo kabi ap sa chin gai the bashamool Mahabbat k, lekan ap be niaz ho chukay hotay hain.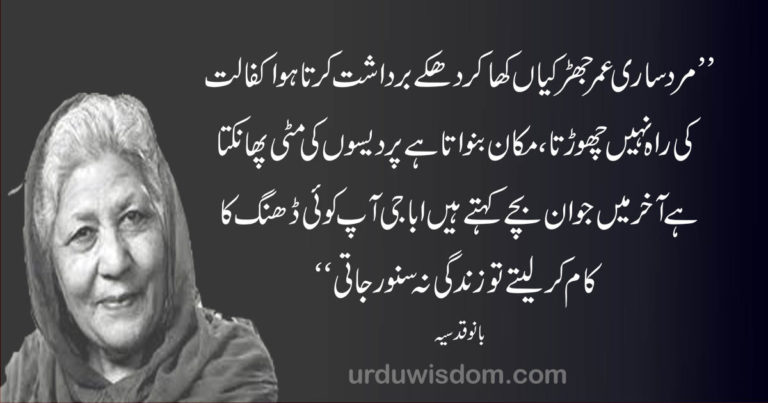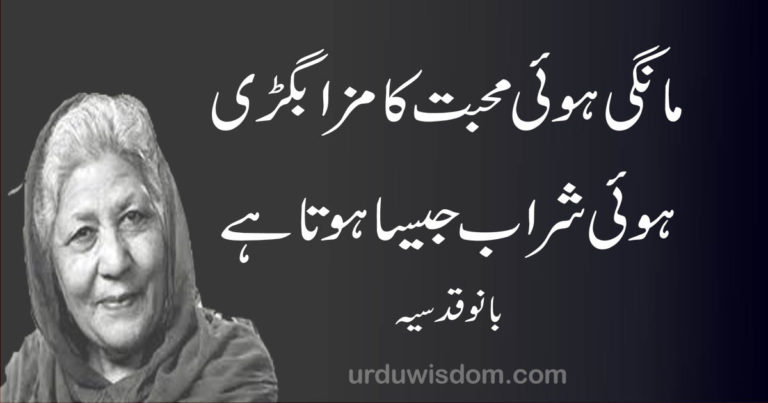 Mangi hoi Muhabbat ka maza bigri hoi sharaab jaisa hota hay
Bano Qudsia Quotes about aurat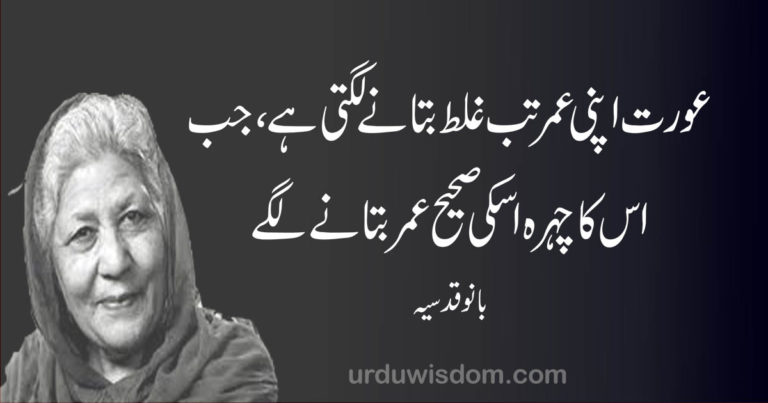 Aorat apni umer tab galat batanay lagti hay jab us ka chehra us ke sahe umer batanay lagay.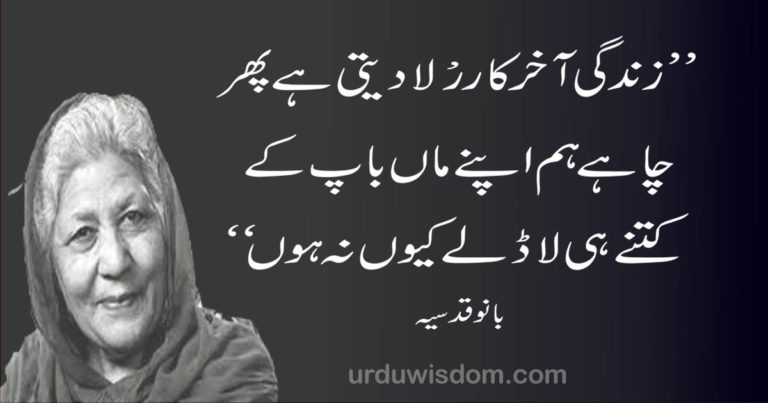 Zindagi aakhar kar rula dati hy phir chahain hum apnay maan baap k kitnay ladlay kion na hon.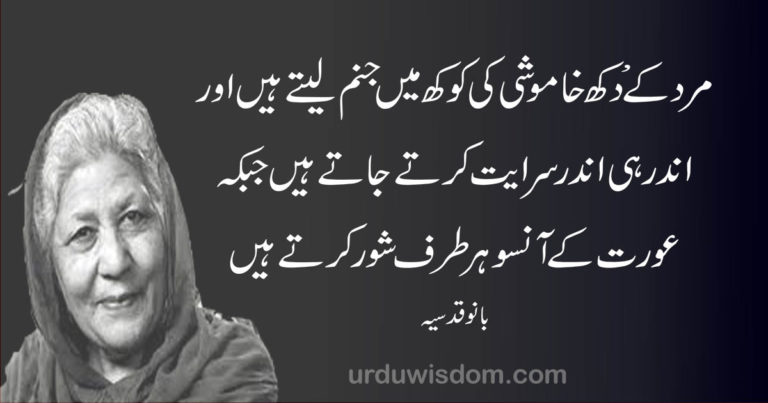 Mard k dukh khamoshi ke kokh mein janam laitay hain aur andar he andar sarait kartay jatay hain jab k aorat k anso her tarf shoor kartay hain.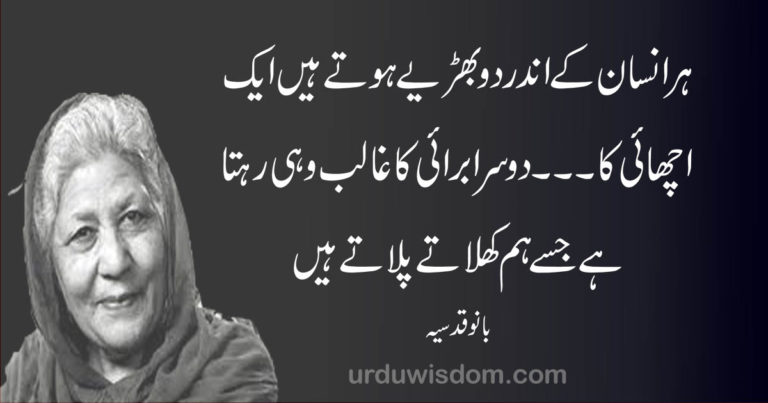 Her insaan k andar do bhairaye hotay hain, Eak achai ka…dosra borai ka , ghalib wohe rehta hy jisay hium khilatay pilatay hain.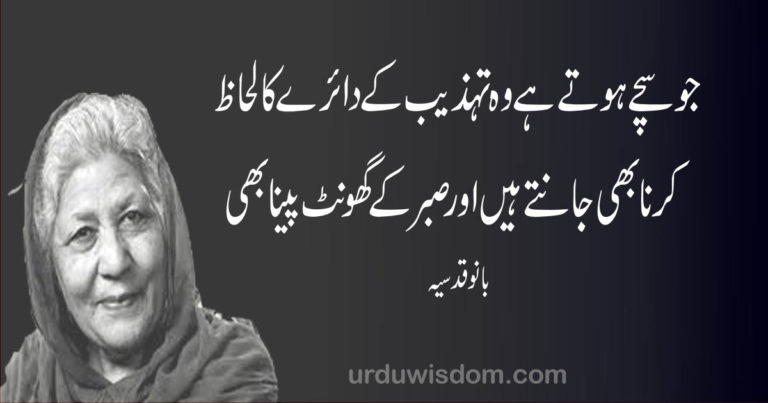 Jo sachy hotay hain wo tehzeeb k dairay ka lihaaz karna bhe jantay hain aur sabar ka ghoont peena bhe…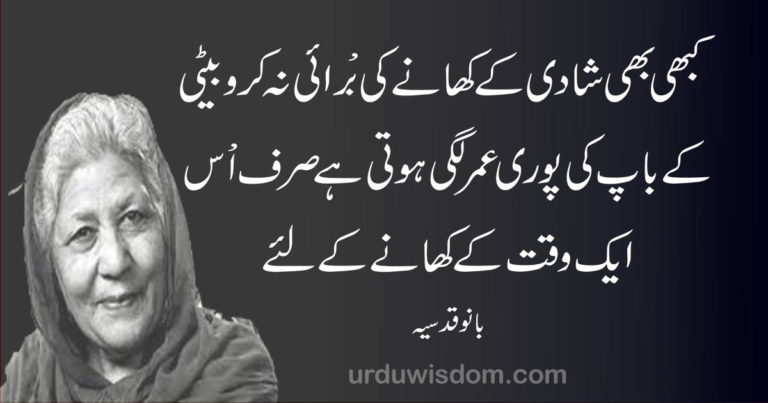 Kabi bhe shadi k khanay ke Borai mat karo ,Beti k baap ke pori umer lagi hoti hay sirf us eak wakt k khanay k lya.
Bano Qudsia Quotes about Husband and wife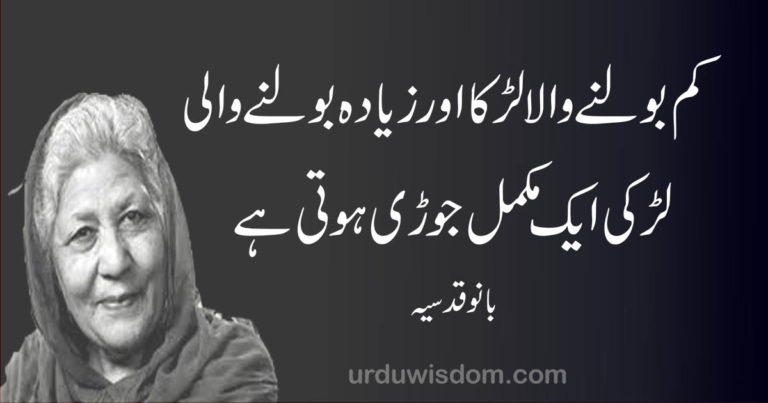 Kam bolnay wala larka aur zyada bolnay wali larki eak mukamal jori hoti hay.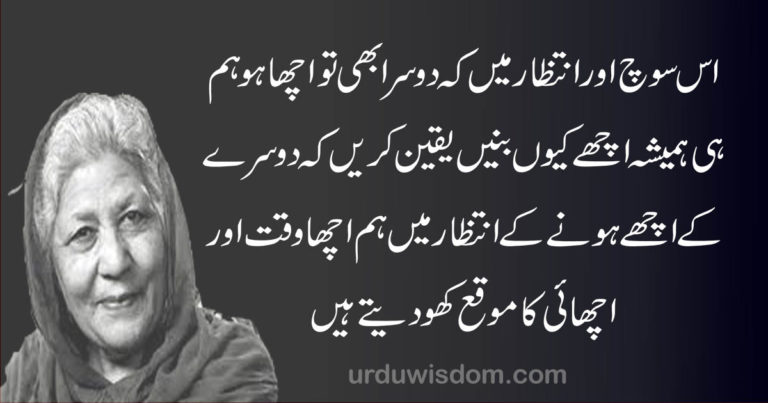 Is soch aur intezar me k dosra bhe to acha ho hum he hamaisha acha kion banian, yaqeen karain k dosron k achay honay k intezar mi hum acha waqt aur achai ka moqa kho datay hain.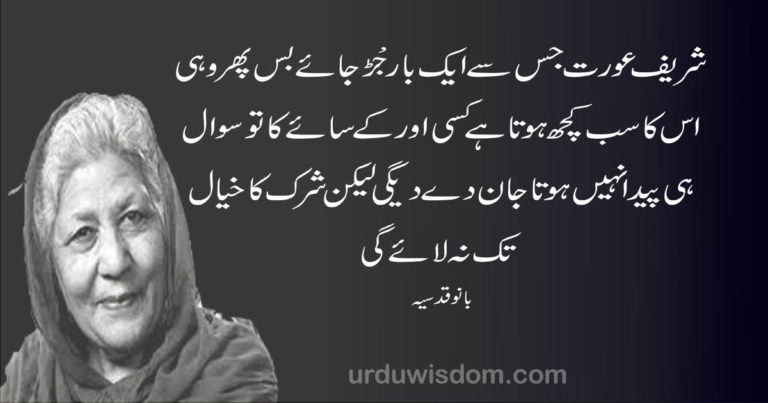 Shareef aorat jis sa eak bar jur jay, bus phir wohe us ka sub kuch hota hay. kisi aur k saye ka to sawal he paida ni hota, jaan da day ge lekan shirk ka khyal tak na lay ge.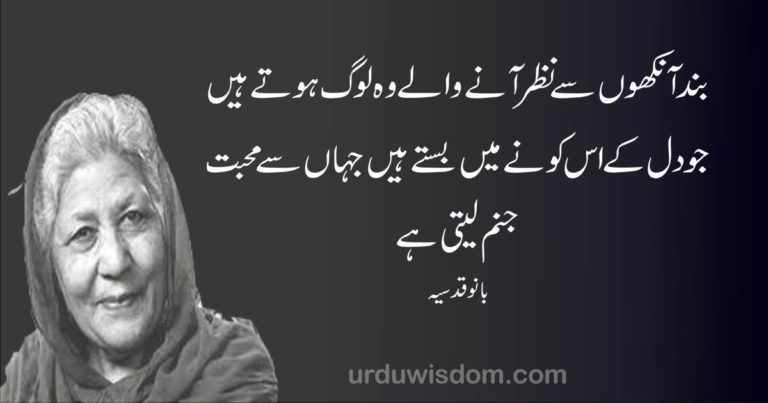 Band ankhon sa nazar anay walay wo log hotay hain jo dil k is konay me bastay hain jahan sa muhabat janam laiti hy.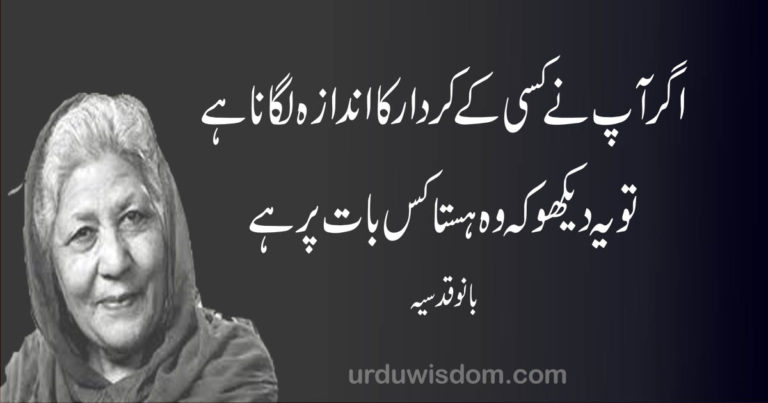 Agar ap na kisi k kirdaar ka andaza lagana hay to ye dakho wo k wo hansta kis baat par hay.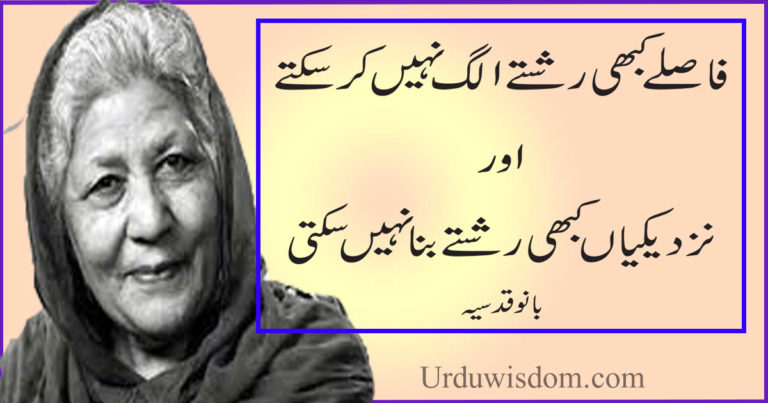 Faslay kabi rishtay alag nahe kar saktay aur nazdekian kabi rishtay bna nahe sakti.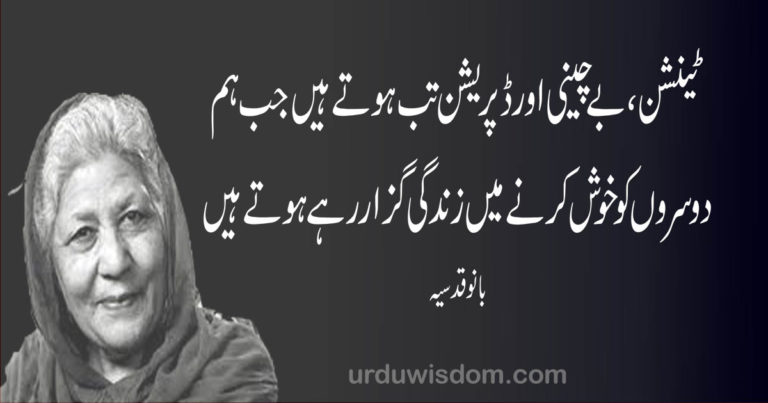 Tension depression aur be,chaini tab hotay hain jab hum dosro ko khush karany me zindagi guzaar rahe hotay hain.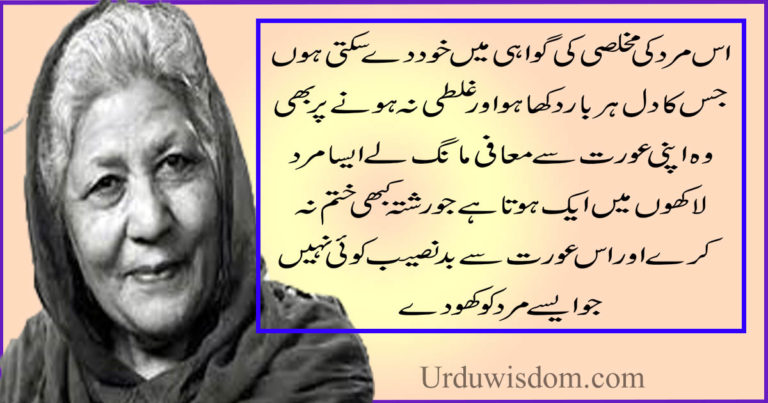 Aorat apni umer tab galat batanay lagti hay jab us ka chehra us ke sahe umer batanay lagay.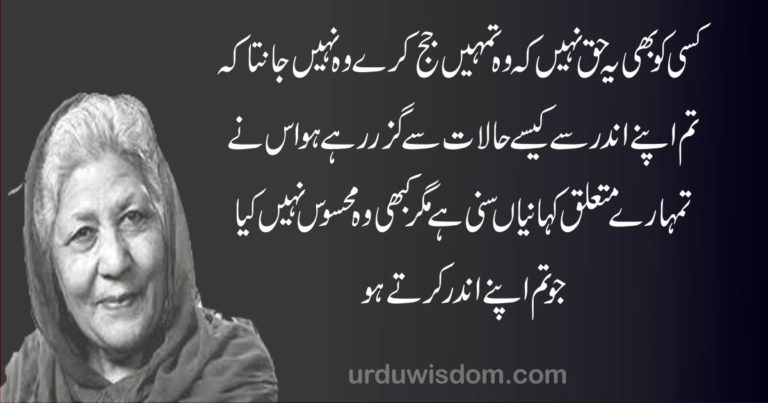 Kisi ko b ye haq nahe k wo tumhain judje karay wo nahe janta k tum apnay andar sa kaisay Halaat sa guzr rahe ho us na tmahay mutalik kahanian suni hain magar kabi wo mehsoos nahe kia jo tm apnay andar kartay ho.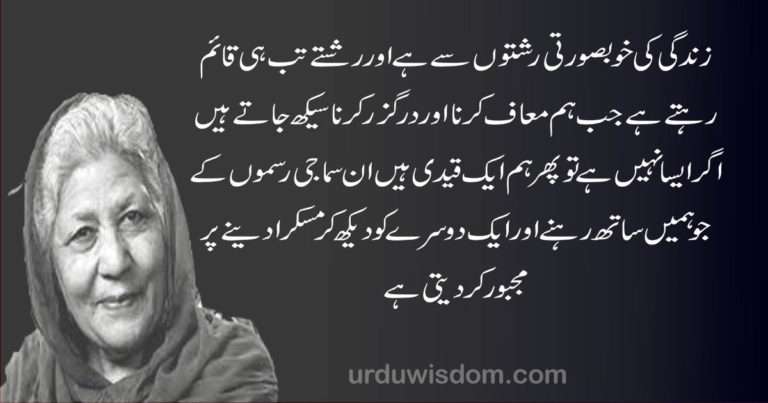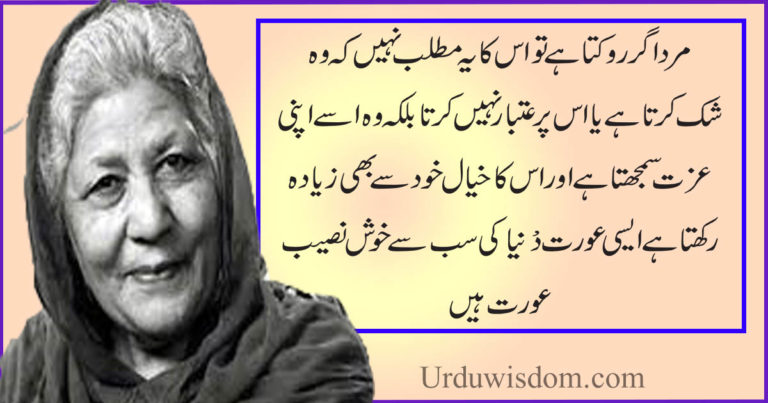 Mard agar rokta hay tokta hy, to is ka ye matlab nahe k wo shak karta hy balkay wo isay apni izat samjhta hy aur is ka khyal khud sa b zyada rakhta hy, aisi aorat khush naseeb aorat hy.
Bano Qudsia Quotes about aurat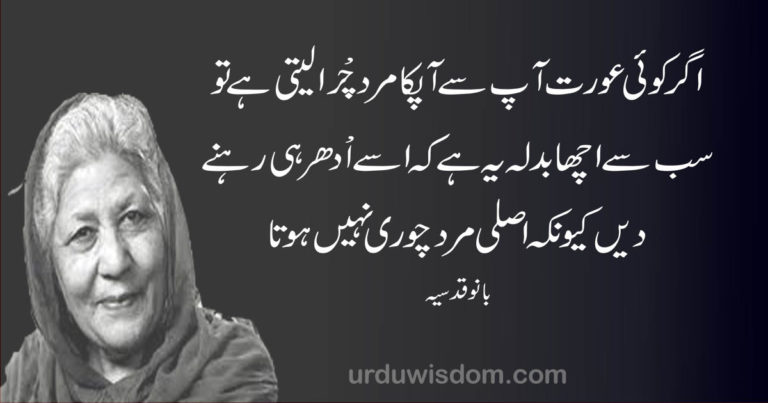 Agar koi aorat ap sa ap ka mard chora laiti hy to sab sa acha badla ye hyk k usay udar he rehnay dain kion k asli mard chori nahe karta.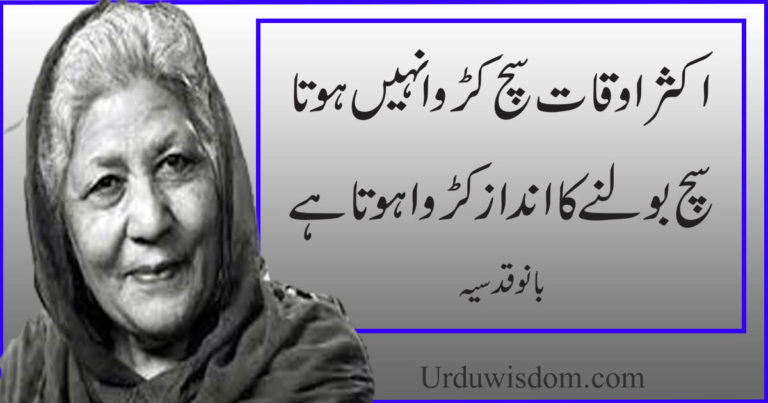 Aksar aokaat sach karwa nahe hota sach bolnay ka andaaz karwa hota hy.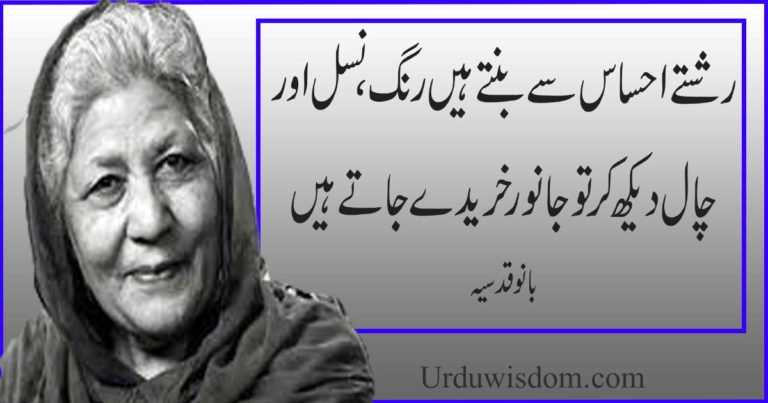 Rishtay ehsaas sa bantay hain , Rang, Nasal aur chaal daikh kar to janwar khareday jatay hain.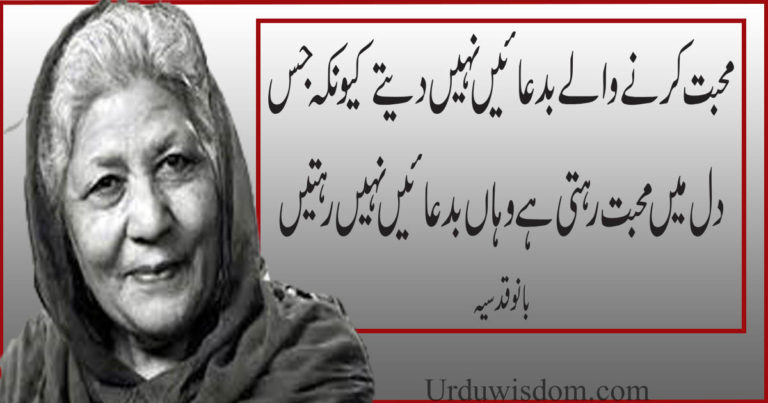 Mohabat karnay walay bad duain nahe datay kion k jis Dil me mohabat rehti hay wahan bad duin nahe rehti.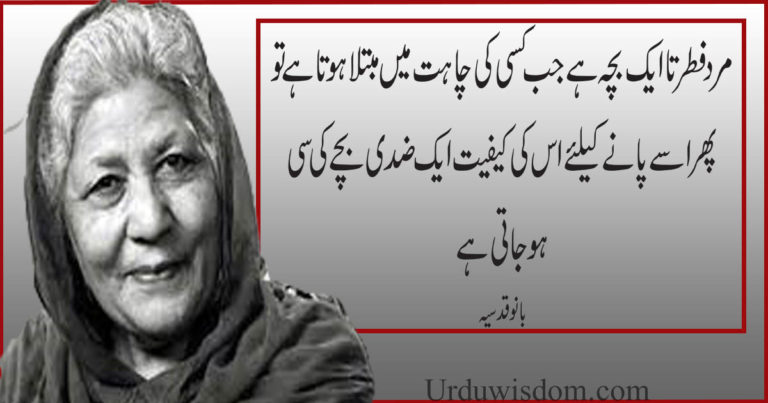 Mard fitratan eak bacha hy kisi ke chahat me mobtala hota hy to phir isay panay k lya is ki kefiat eak ziddi bachay ki c ho jati hy.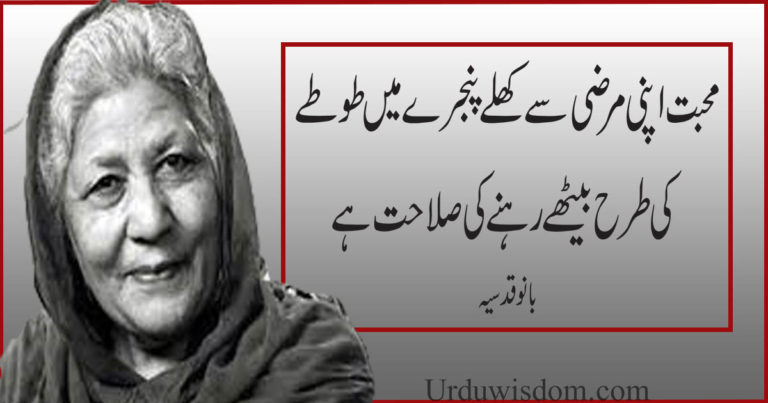 Muhabatv apni marzi sa khulay pinjray main totay ke tarha bathay rehnay ke salahiat hay.
Bano Qudsia Quotes about love in Urdu