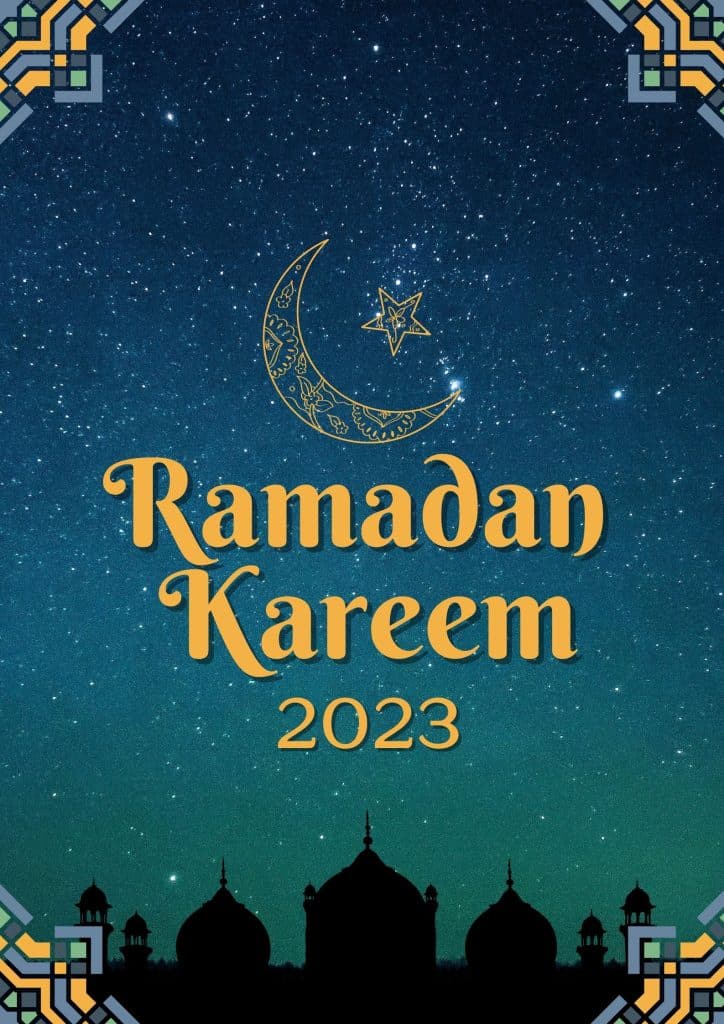 In 2023, Ramadan is expected to begin on March 23. The blessed month of Ramadan 2023 is almost here. It is regarded as the holiest and most exalted month of the Islamic Hijri /lunar calendar. Muslims strongly acknowledge that the archangel Gabriel came down from the heavens during this sacred month with the message of the Almighty and disclosed the Message to the Prophet Muhammad peace be upon him.
When is Ramadan 2023?
In 2023, Ramadan in Pakistan will likely fall on Wednesday, March 22, 2023, or Thursday, March 23, 2023. This year the month of Ramadan is expected to last for 30 days.
Ramadan 2023 dates
During the month of Ramadan, Muslims are directed to boost their level of spiritual and physical subordination to God by observing fasts. The fast requires one to avoid sinning along with abstaining oneself from some halal things for a specific time. That is to say, Muslims should abstain from dining, drinking, smoking, and husband-wife intimacy from the time of dawn until the setting of the sun.
According to the lunar calendar, Ramadan 2023 will probably fall on Thursday, March 23, 2023, in Pakistan. The dates will be verified as we shift nearer to Ramadan.
However, the convention proclamations show that the specific date of the sacred month's outset must be defined by a moon-sighting council consisting of religious intellectuals, astronomers, and other administrations under the cover of night.
Ramadan Calendar 2023 Worldwide
You can download the Ramadan Calendar 2023 and can also print the timetable of Ramadan 2023 / 1444 Hijri. You can share the Ramadan calendar 2023 or Ramadan Timing of Sehri and iftar Time with your loved ones.
Ramadan calendar helps to find Sehr and Iftar time in all major cities of the world.
| City | Sehri | Iftar |
| --- | --- | --- |
| MAKKAH | 05:18 AM | 6:29 PM |
| AL MADINA | 05:18 AM | 6:29 PM |
| JAKARTA | 04:48 AM | 6:10 PM |
| DHAKA | 04:58 AM | 6:06 PM |
| KARACHI | 05:31 AM | 6:39 PM |
| CAIRO | 04:45 AM | 6:00 PM |
| NEW YORK | 05:02 AM | 5:57 PM |
| LAGOS | 05:40 AM | 6:59 PM |
| ISTANBUL | 04:54 AM | 6:05 PM |
| LAHORE | 04:59 AM | 6:07 PM |
| TEHRAN | 04:59 AM | 6:07 PM |
| BAGHDAD | 04:58 AM | 6:06 PM |
| KUALA LUMPUR | 06:12 AM | 7:27 PM |
| ANKARA | 04:40 AM | 5:50 PM |
| ISLAMABAD | 05:03 AM | 6:11 PM |
| CHITTAGONG | 04:52 AM | 6:01 PM |
| KABUL | 04:46 AM | 5:57 PM |
| ALEXANDRIA | 04:50 AM | 6:05 PM |
| DEHLI | 05:19 AM | 6:27 PM |
| LONDON | 04:37 AM | 5:55 PM |
| MUMBAI | 05:39 AM | 6:48 PM |
| CAPE TOWN | 05:15 AM | 7:14 PM |
Ramadan Mubarak 2023
In Pakistan, Muslims observe the exercises of self-restraint and self-discipline, especially in the month of Ramadan 2023. It is typical to go on with the day-to-day pattern during the daytime. However, during this month, schools, colleges and offices start earlier and shut down in the early afternoon to leave adequate time for invocations and iftar.
Ramadan Mubarak!
Ramadan Kareem!
May Allah bless you this Ramadan.
Wishing you a peaceful and blessed Ramadan.
May your fasting and prayers be accepted this Ramadan.
May the spirit of Ramadan bring you peace, joy, and prosperity.
May this Ramadan bring you closer to Allah and his blessings.
May Allah's blessings shine upon you and your loved ones this Ramadan.
May the holy month of Ramadan bring happiness, health, and wealth to you and your family.
May Allah's mercy and blessings be with you during this holy month.
May the spirit of Ramadan fill your home with love and joy.
Ramadan Mubarak to you and your family!
May this Ramadan be a month of forgiveness and repentance for all of us.
May Allah grant all your wishes and fulfil all your desires this Ramadan.
Ramadan Mubarak! May Allah guide you on the right path and keep you safe and healthy.
May this Ramadan bring you the utmost peace and prosperity?
May your days be filled with happiness, peace, and blessings this Ramadan.
May Allah's blessings be with you throughout this holy month and beyond.
Ramadan Mubarak! May this month bring you closer to Allah and his divine mercy?
May Allah shower his countless blessings upon you and your family this Ramadan.
Furthermore, in the mosques, the Taraweeh is arranged as a congregational prayer. In it, the recitations of the Holy Quran are done by the imam so that the public can engage themselves in faith. In Pakistan, men go to mosques for their prayers, whereas women mostly pray at residence.
During this holy month of Ramadan, people in all parts of the country turn into municipalities that hardly sleep. The people go out and about after the Maghrib prayers. Everything in the land rearranges itself in the month of Ramadan, enclosing the cafeterias, most of which merely open at the outset and the end of each fast for sehri and iftar.
Moon Sighting in Pakistan
The moon sighting committee in Pakistan is officially known as the Ruet-e-Hilal Committee and is responsible for announcing the sighting of the new moon. The committee usually meets at least two days before the start of a new month to decide whether the moon has been sighted or not.
If the moon is sighted, the committee makes an announcement and the new month begins. If the moon is not sighted, then the current month is extended by one day and the committee meets again the next day to look for the new moon.
Ist day of Ramadan 2023
In 2023, Ramadan is expected to begin on March 23. However, official announcements will be made once the moon is sighted.
LAYL-TUL-QADAR in Ramzan 2023
Allah Almighty has blessed us with plenty of things that we need. We can not count or even remember HIS blessings. Whatever HE has given us, makes our lives worth living and full of peace. Among other blessings of Allah is a "Night Of Blessings" named ليلة القدر. We need to look for it in the last 10 odd-number nights of Ramadan.
The importance of this night LAYL-TUL-QADAR in Ramadan
Allah has sent prophet Muhammad صلى الله عليه وسلم to counsel humankind towards the right direction. All the declarations of Allah are present in our Holy Book" Al-Quran" This book was disclosed to the prophet on the night of Qader as mentioned in surah Al-Qader:(sura number 97)
"Undoubtedly, We sent it down in the blessed and valuable night.
And what do you know, what the blessed night is?
The blessed and valuable Night is better than a thousand months."
No one knows when he is going to breathe his last. So, to attain the maximum quantity of blessings in the minimum time, we should avail this chance.
Last day of Ramadan 2023
In 2023, the last roza, or fast, of Ramadan is expected to fall on Friday, April 21. As the holy month draws to a close, Muslims around the world will come together to celebrate the end of their spiritual journey with prayers, feasting, and sharing of gifts and sweets with family and friends. The date of the last roza may vary depending on the sighting of the moon, but the significance of this month remains the same for all Muslims – a time for self-reflection, spiritual growth, and gratitude for Allah's blessings.
FAQs
When will Ramadan start this year?
Ramadan 2023 is expected to begin on Wednesday, March 22, 2023, once the moon is seen.
When will Ramadan 2023 end?
This Ramadan the last roza is expected on Friday, April 21, 2023, and the Eid al-Fitr celebrations will be on Saturday, April 22, 2023, or Sunday, April 23, 2023. Subject to the appearance of the moon.