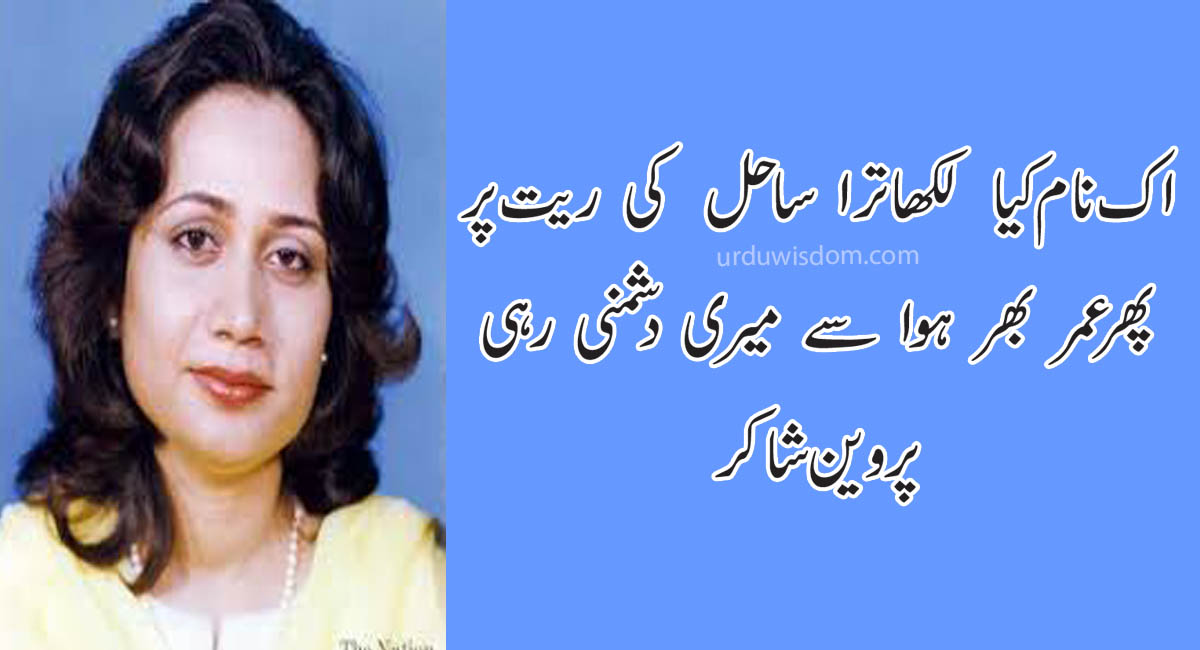 Parveen Shakir poetry is very famous among the youth. She was born in Karachi in 1952. She was well educated, professionally she was a teacher and civil servant. She got a master's degree in English from the University of Karachi.
Parveen Shakir also got a degree in Public Administration from Harvard University. She was married to a Pakistani doctor named Syed Naseer Ali.
Shakir wrote many books on poetry like Khushbu, Sad-Barg, Khud Kalami, and Inkaar. On 26 Dec 1994, Parveen Shakir died in a road accident.
Here you will explore the best collection of Parveen Shakir poetry in Urdu with images you can share these images on any social media platform. You can also the best collection of Urdu quotes which can be motivating and inspire you.
اک نام کیا لکھا ترا ساحل کی ریت پر
پھر عمر بھر ہوا سے میری دشمنی رہی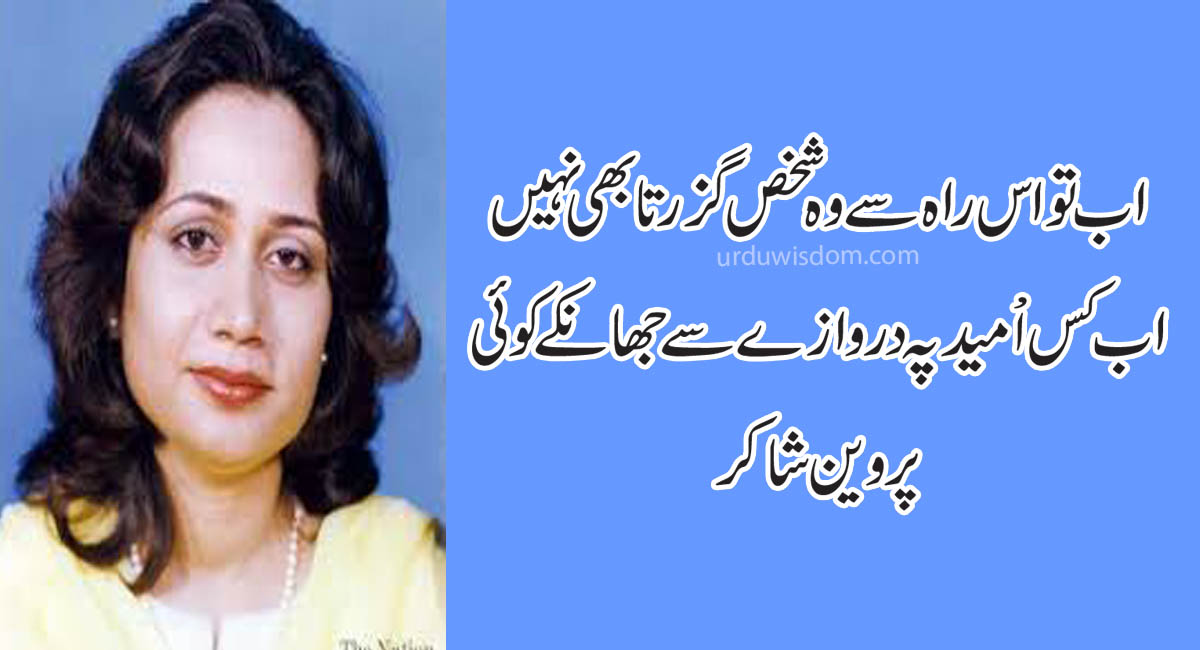 اب تو اس راہ سے وہ شخص گزرتا بھی نہیں
اب کس امید پہ دروازے سے جھانکے کوئی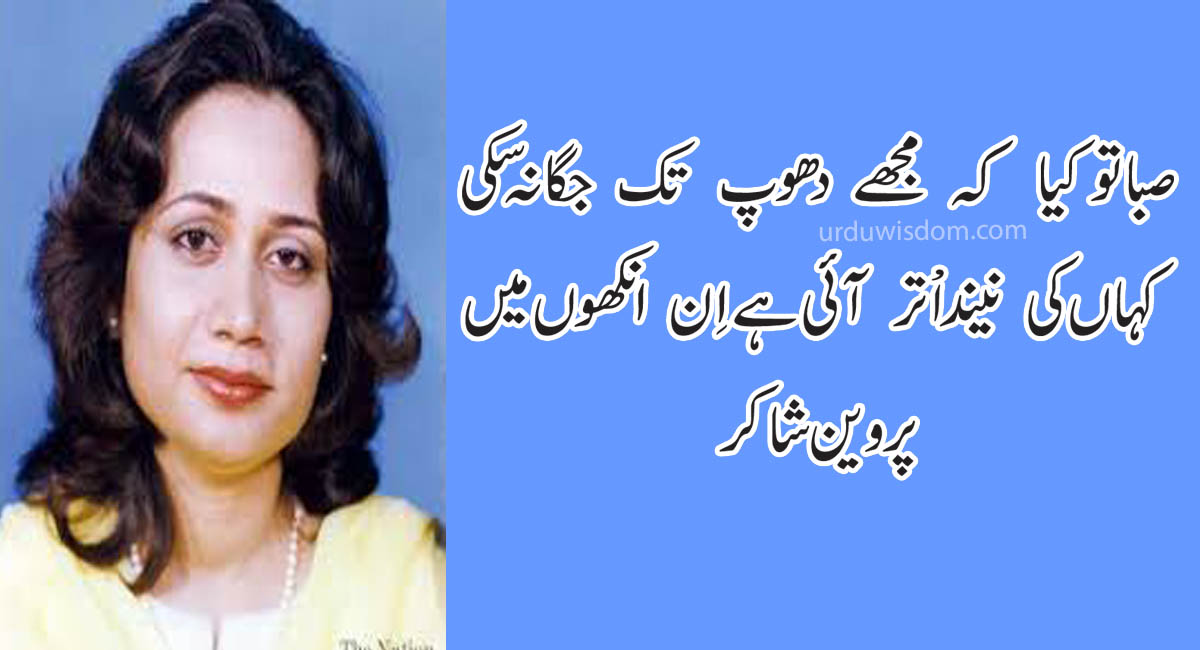 صبا تو کیا کہ مجھے دھوپ تک جگانہ سکی
(Parveen Shakir poetry) کہاں کی نیند اتر اآئی ہے اِن آنکھوں میں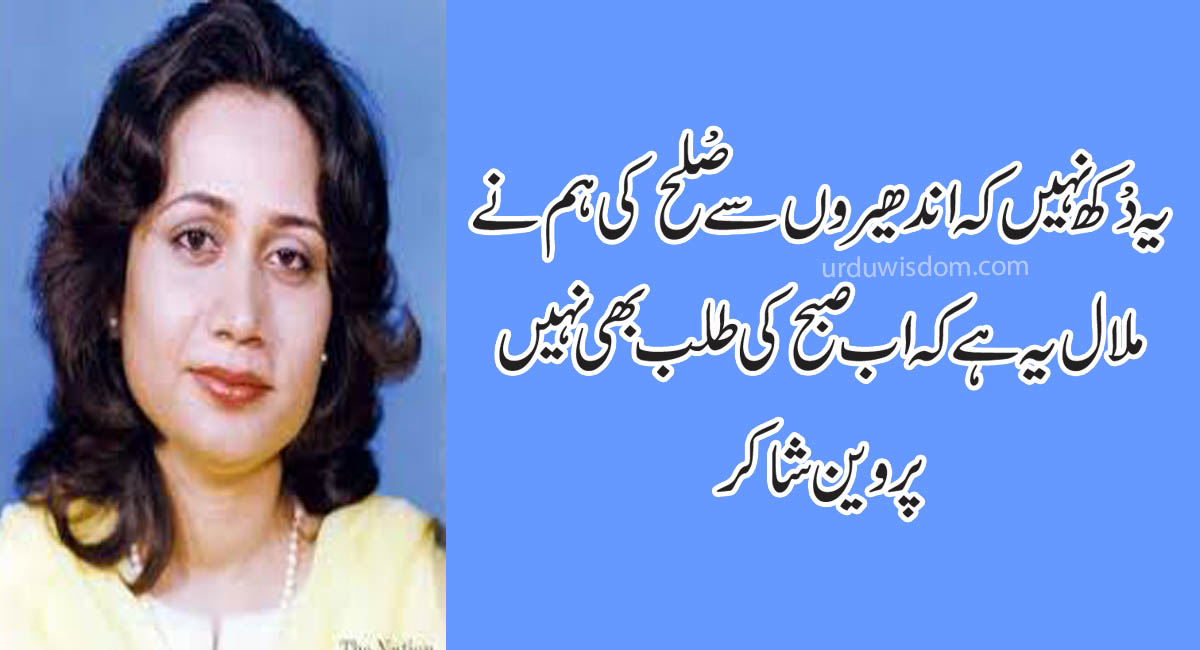 یہ دکھ نہیں کہ اندھیروں سے صلح کی ہم نے
ملال یہ ہے کہ اب صبح کی طلب بھی نہیں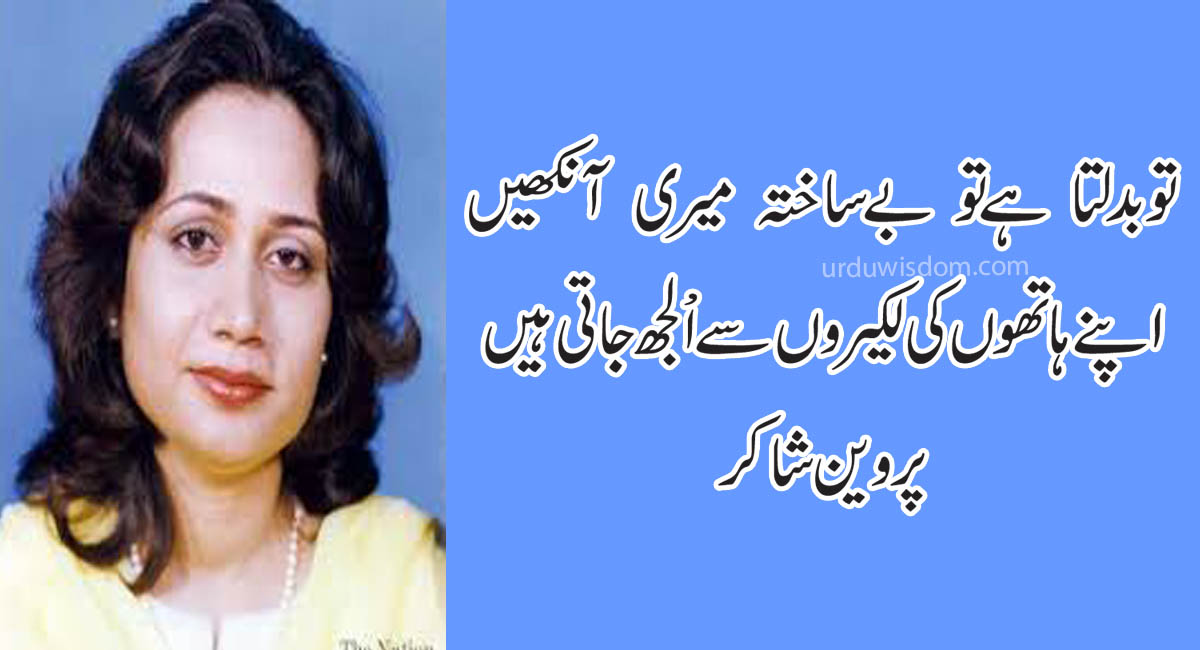 تو بدلتا ہے تو بے ساختہ میری اآنکھیں
اپنے ہاتھوں کی لکیروں سے الجھ جاتی ہیں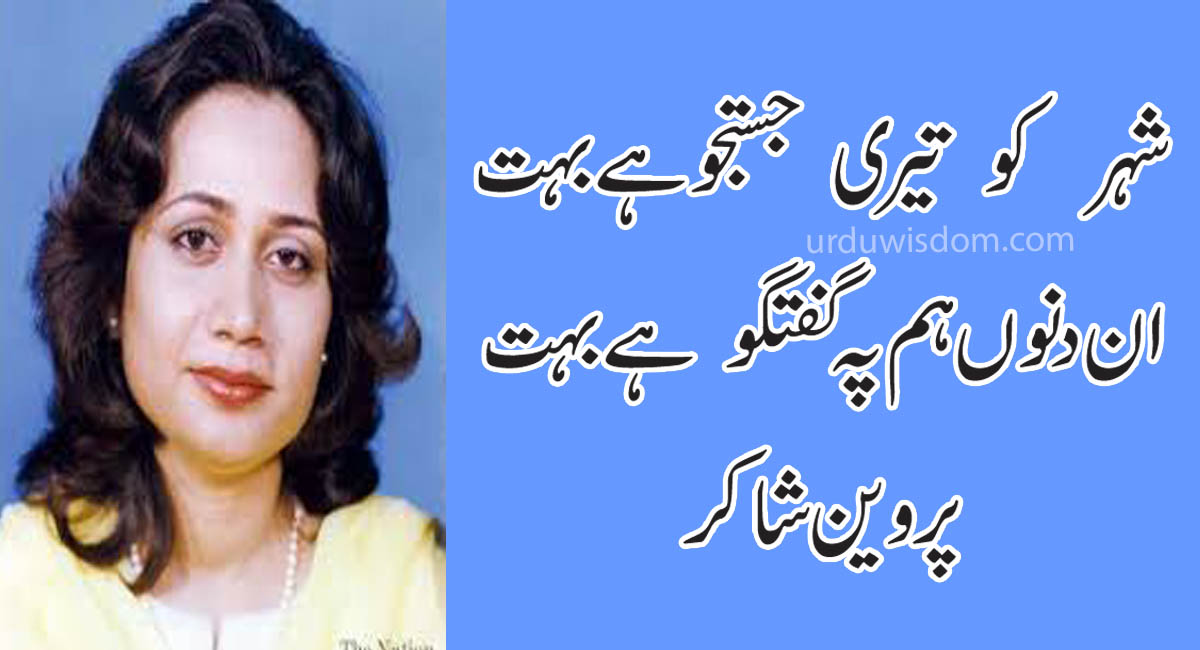 شہر کو تیری جستجو ہے بہت
ان دنوں ہم پہ گفتگو ہے بہت
Parveen Shakir poetry in Urdu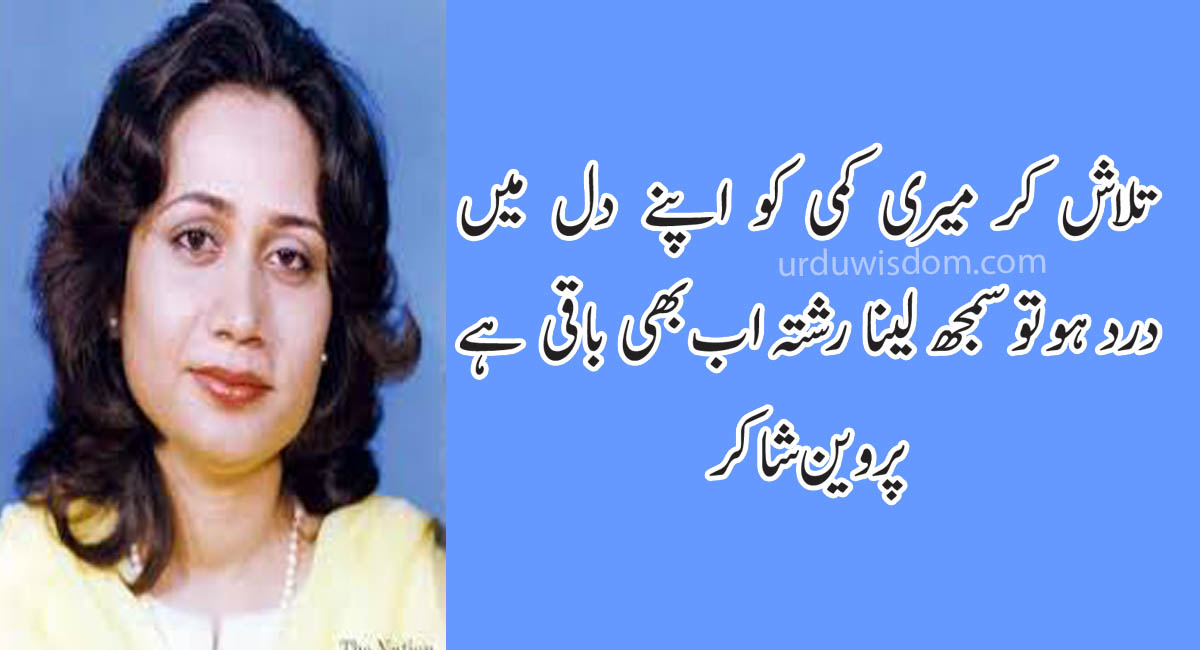 تلاش کر میری کمی کو اپنے دل میں
درد ہو تو سمجھ لینا رشتہ اب بھی باقی ہے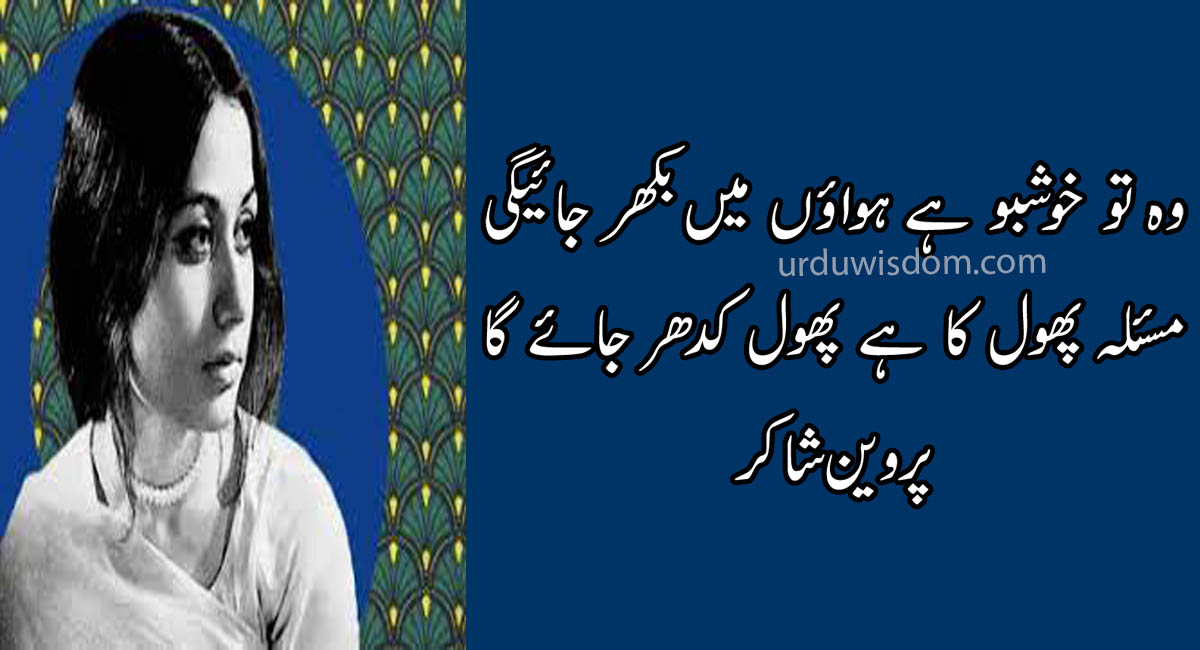 وہ تو خوشبو ہے ہوائوں میں بکھر جائیگی
مسئلہ پھول کا ہے پھول کدھر جائے گا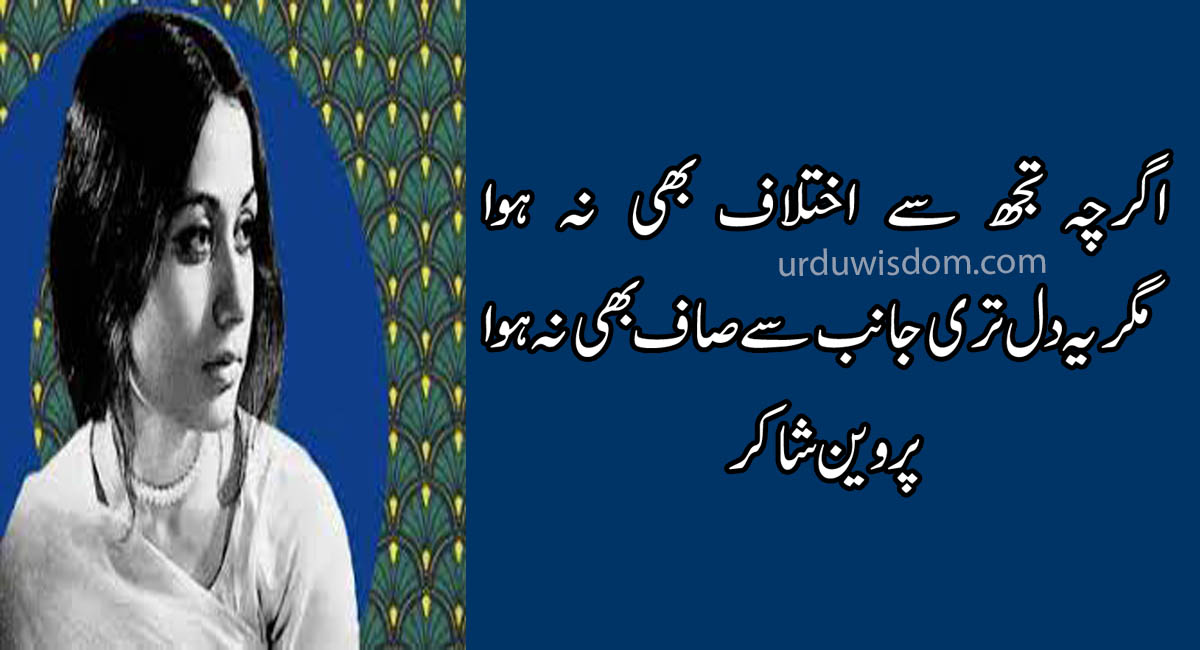 اگرچہ تجھ سے اختلاف بھی نہ ہوا
مگر یہ دل تری جانب سے صاف بھی نہ ہوا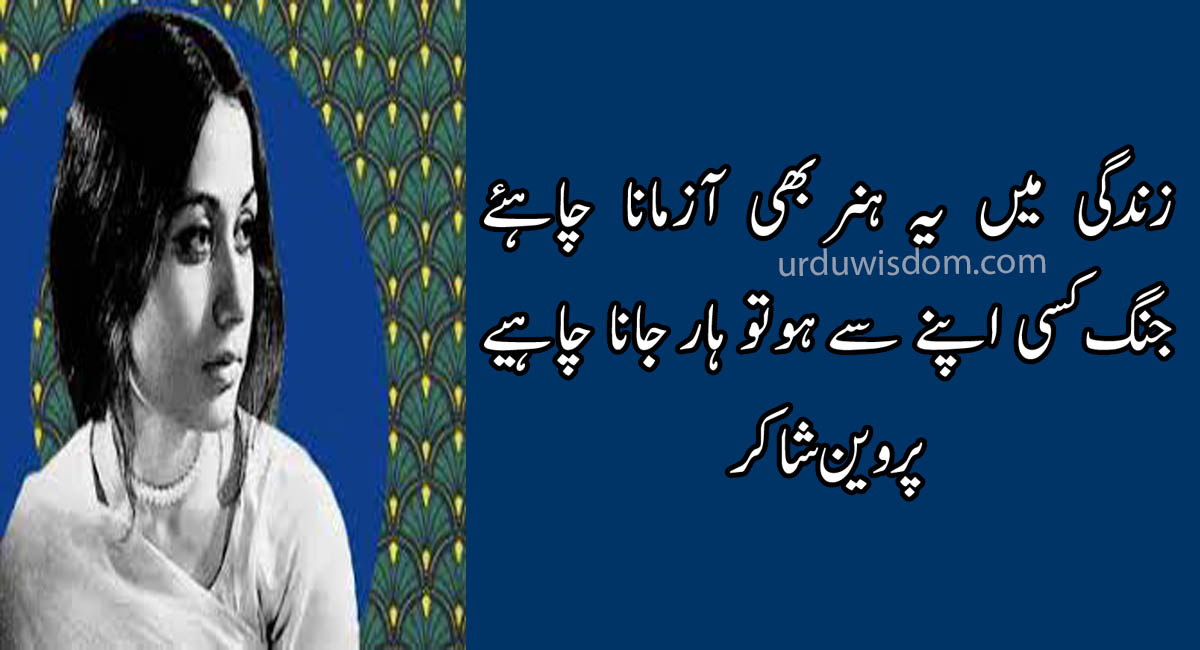 زندگی میں یہ ہنر بھی آزمانا چاہیے
جنگ کسی اپنے سے ہو تو ہار جانا چاہیے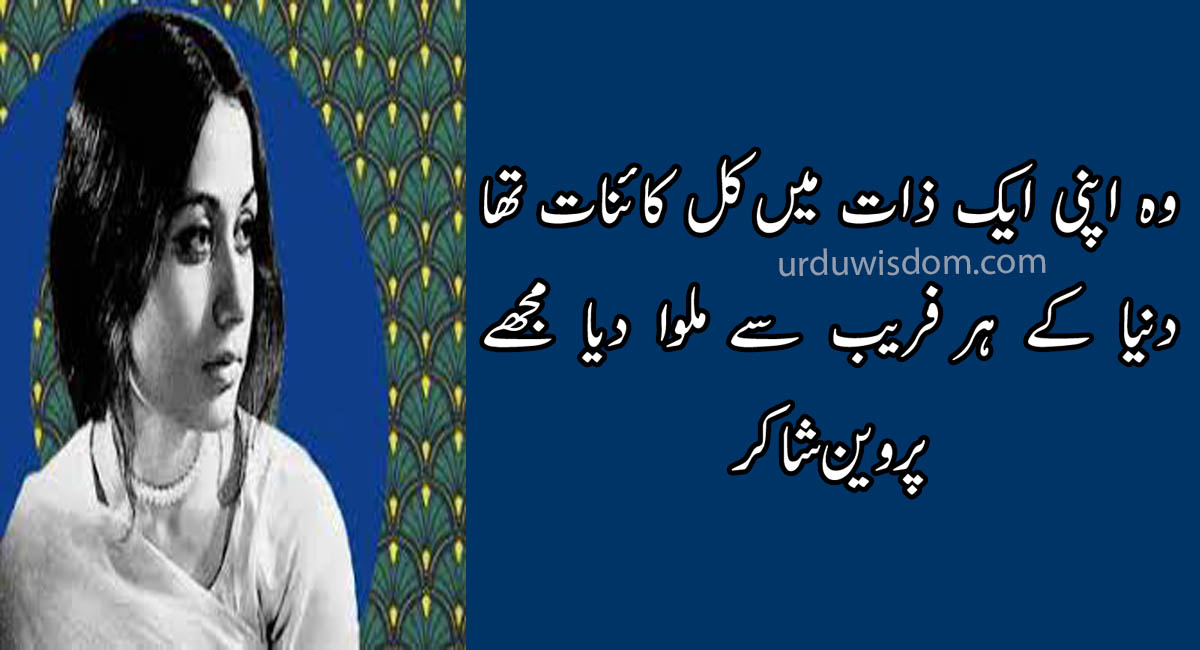 وہ اپنی ایک ذات میں کل کائنات تھا
دنیا کے ہر فریب سے ملوا دیا مجھے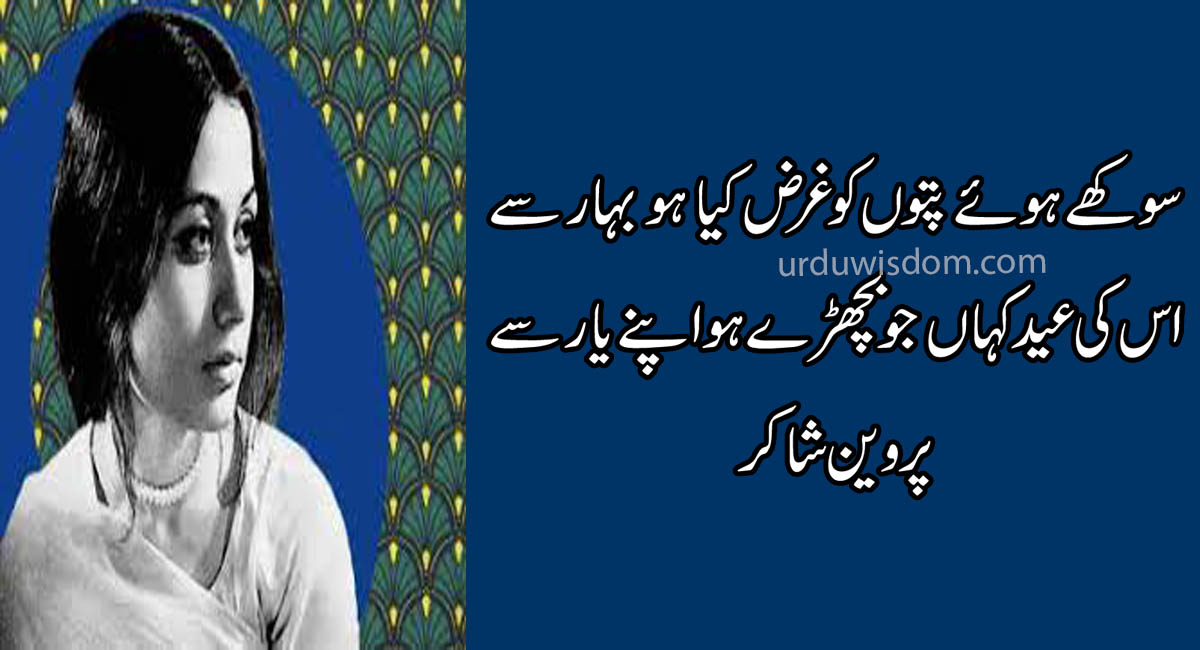 سوکھے ہوئے پتوں کو غرض کیا ہو بہار سے
اس کی عید کہاں جو بچھڑے ہو اپنے یار سے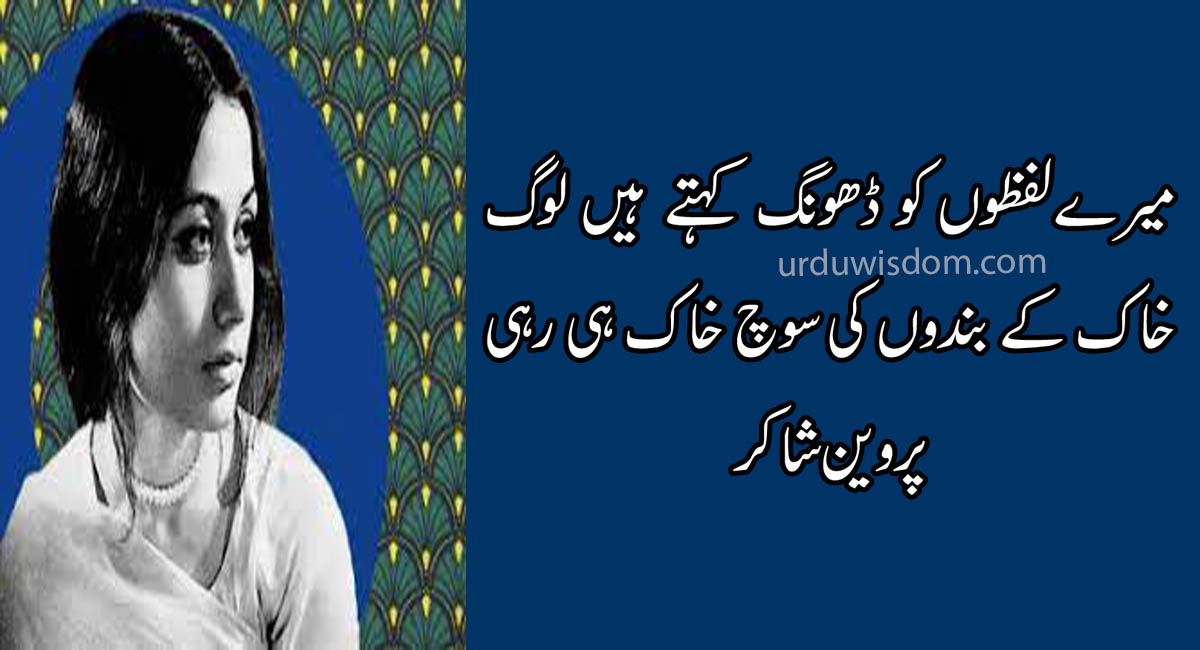 میرے لفظوں کو ڈھونگ کہتے ہیں لوگ
خاک کے بندوں کی سوچ خاک ہی رہی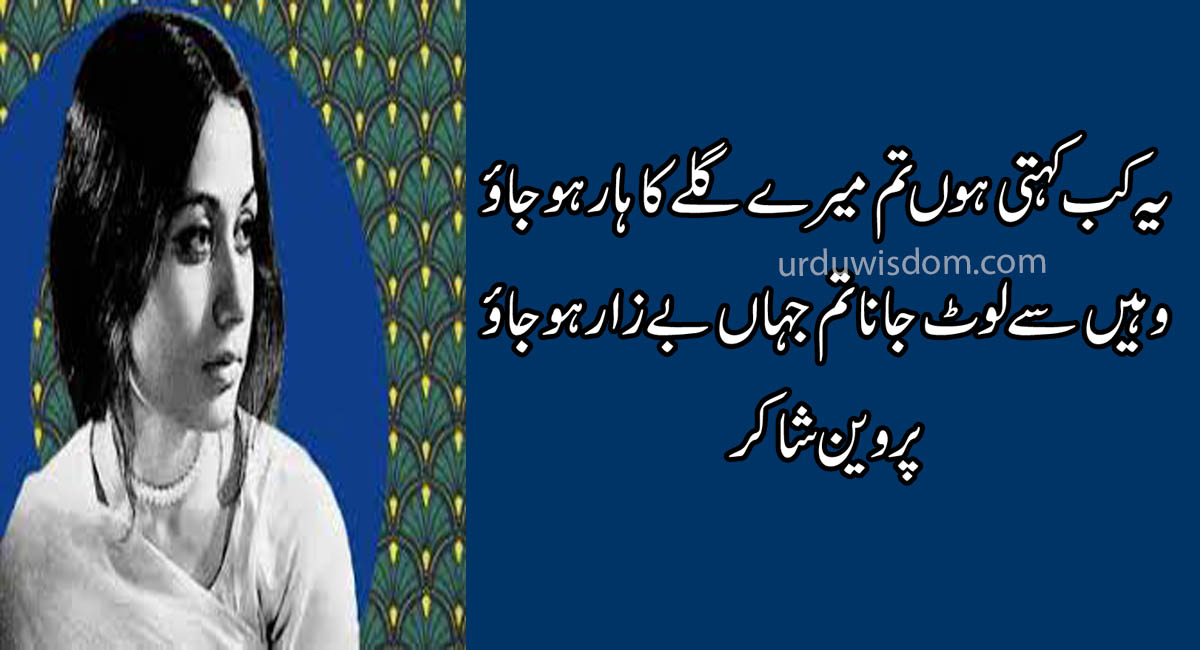 یہ کب کہتی ہوں تم میرے گلے کا ہار ہو جائو
وہیں سے لوٹ جانا تم جہاں سے بے زار ہو جائو

Parveen Shakir best poetry;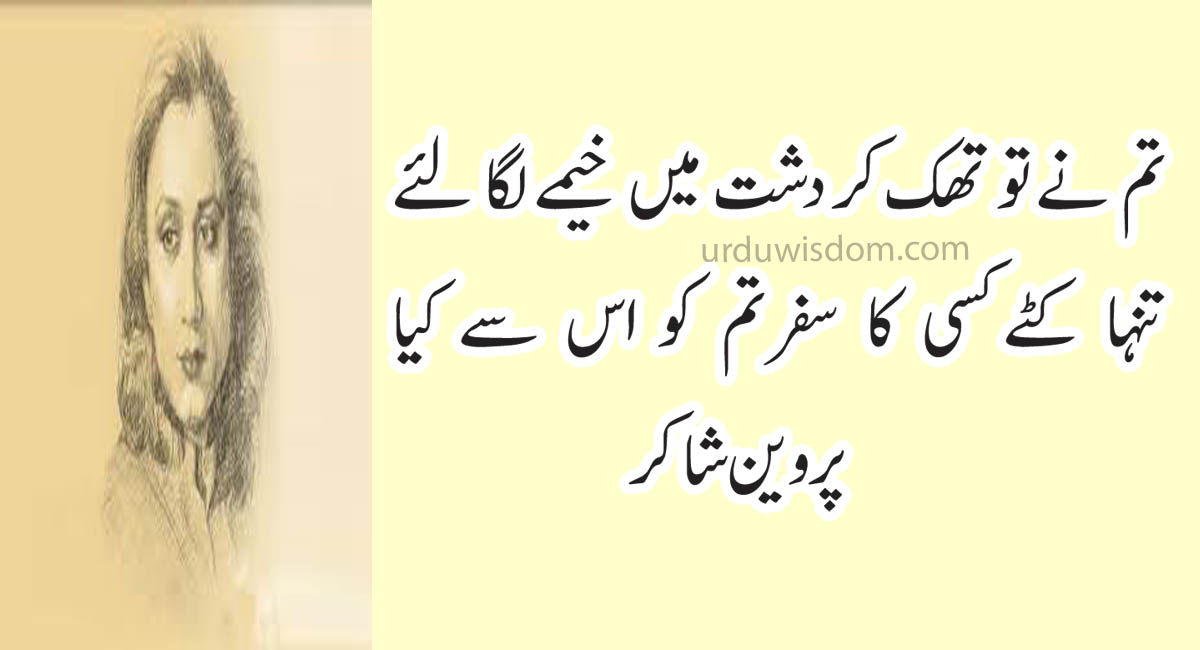 تم نے تو تھک کر دشت میں خیمے لگالئے
تنہا کٹے کسی کا سفر تم کو اس سے کیا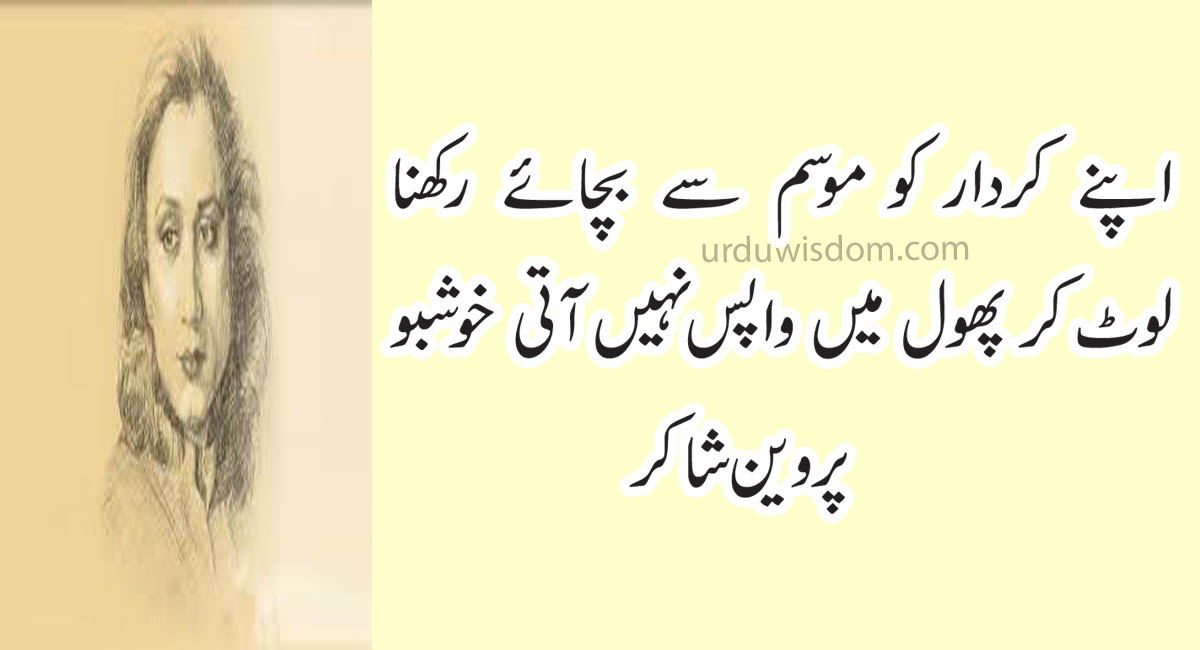 اپنے کردار کو موسم سے بچائے رکھنا
لوٹ کر پھول میں واپس نہیں آتی خوشبو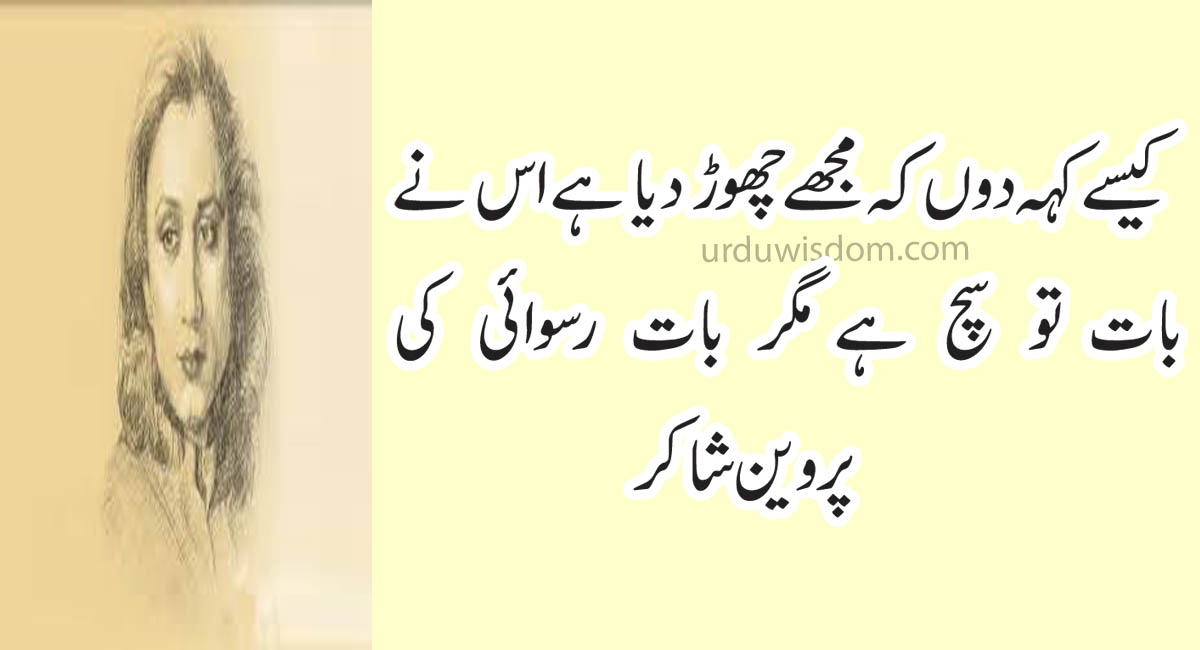 کیسے کہہ دوں کہ مجھے چھوڑ دیا ہے اس نے
بات تو سچ ہے مگر بات رسوائی کی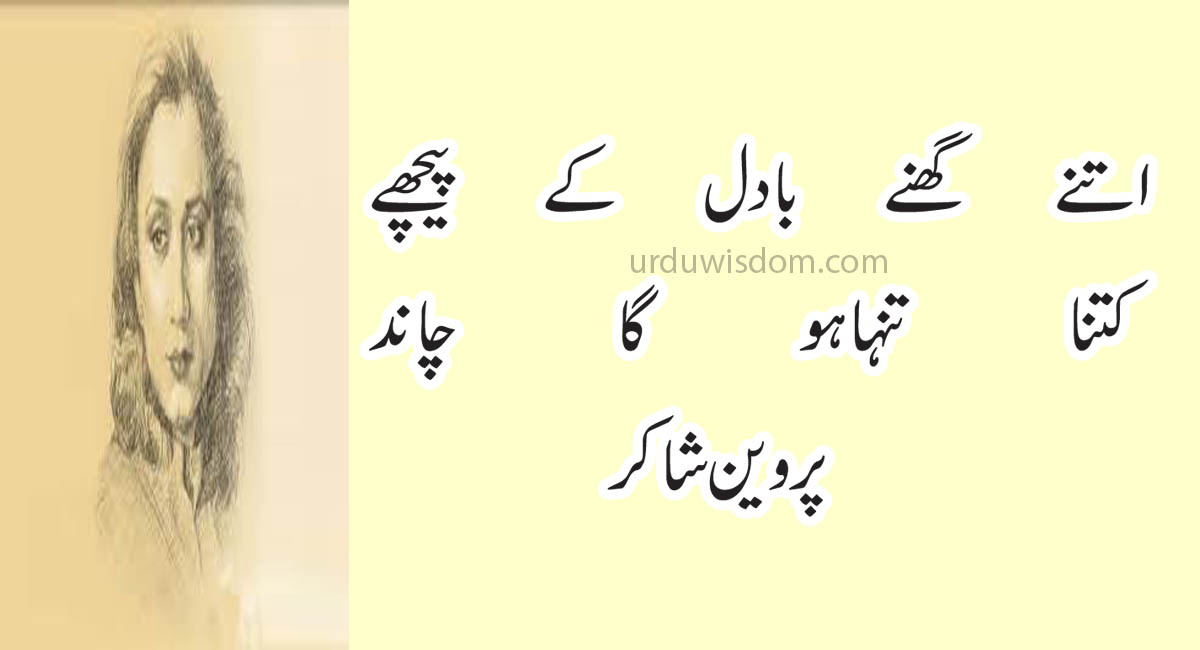 اتنے گھنے بادل کے پیچھے
کتنا تنہا ہو گا چاند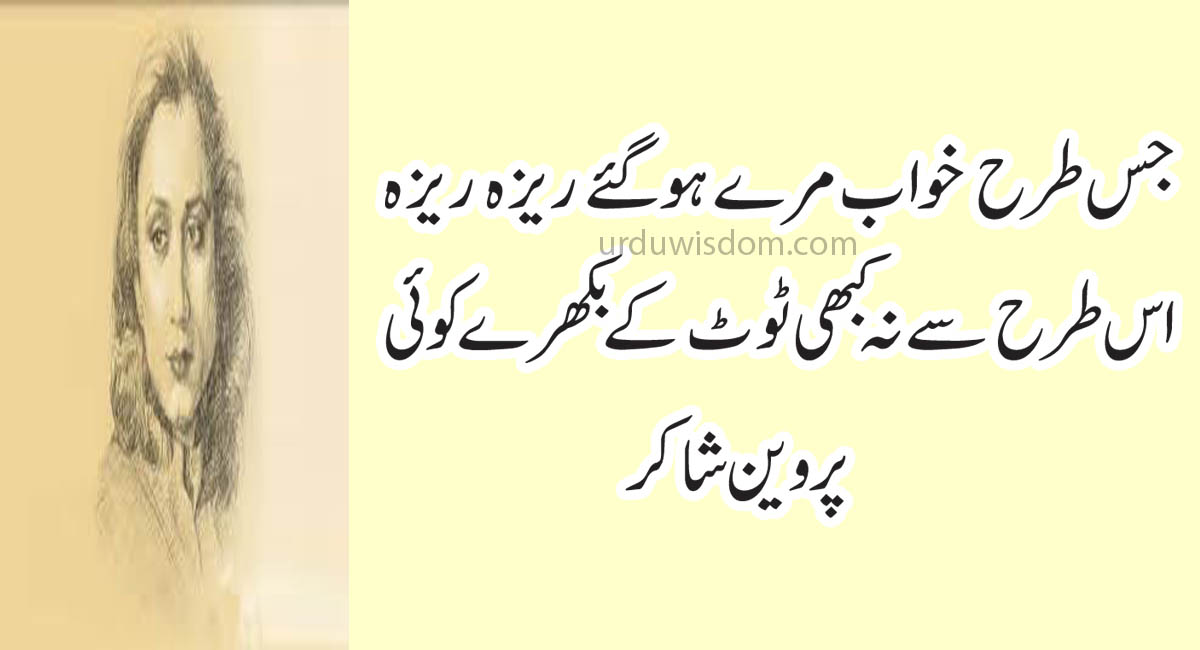 جس طرح خواب مرے ہو گئے ریزہ ریزہ
اس طرح سے نہ کبھی ٹوٹ کے بکھرے کوئی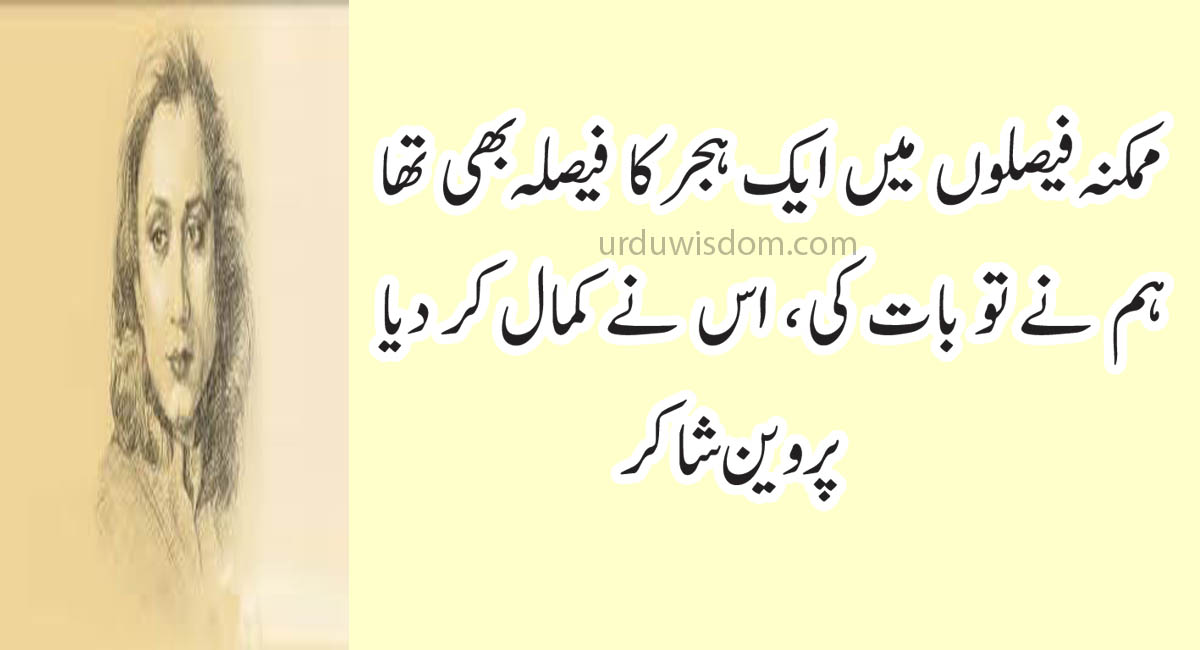 ممکنہ فیصلوں میں ایک ہجر کا فیصلہ بھی تھا
ہم نے تو بات کی،اس نے کمال کر دیا
I hope you have enjoyed the best Parveen Shakir poetry in Urdu. This is a collection by a great Urdu poet. She was the poet of love and nature.
If you like it please share it.