Ehsaas undergraduate scholarship program 2021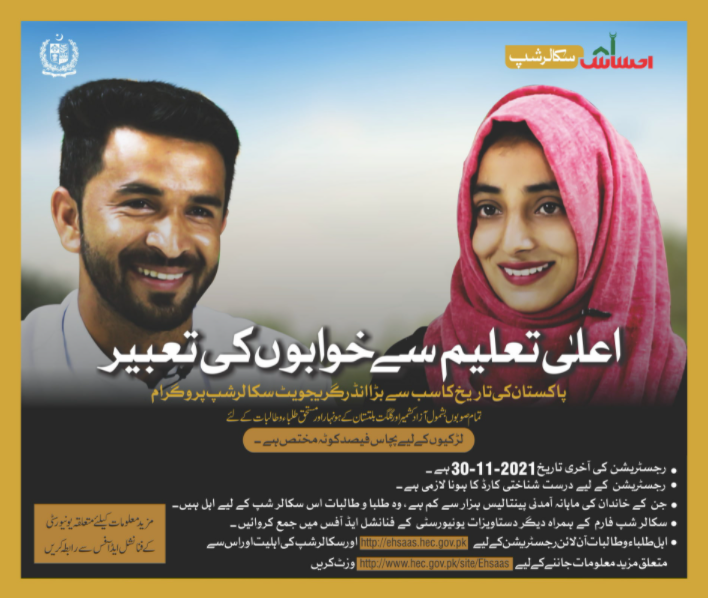 Ehsaas undergraduate scholarship program 2021, as the name indicates, is a social security and relief programme. The Ehsaas Program 2021 Registration was originally established by the Government of Pakistan, three years back in March 2019.
The program covers 135 public sector universities in the country.
What is Ehsaas scholarship program?
With this program, every year, 50,000 students from underprivileged people will be granted scholarships for 4 to 5-year undergraduate degree programs.
Students who are eligible should apply on an online portal:
How to check my ehsaas scholarship status?
In order to check the Ehsaas Program Application status, the candidate must check NADRA Portal. He/she has to enter the CNIC number and code number on a portal to confirm the registration.
Last year 67,000 scholarships were granted through Ehsaas undergraduate scholarship program. The working committee for Ehsaas Undergraduate Scholarship authorized a budget of Rs6.53 billion. The conference was chaired by Dr Sania Nishtar. Almost 111,685 undergraduate students applied for the scholarship. Out of these candidates, 42,430 were female learners.
The portal was publicly closed for requests on Nov 30, 2021. The analysis of new applications then underwent after some time and the final selection process for Ehsaas undergraduate scholarship was completed by April 2021.
HEC re-opened the Ehsaas Undergraduate Scholarship portal for a period of a fortnight in the second week of March 2021 to stimulate students from medical institutes in the public sector.
Basically, the government of Pakistan started this biggest undergraduate Scholarship program in the history of Pakistan named 'Ehsaas Undergraduate scholarship in 2019'.
Under the Ehsaas undergraduate scholarship program, 200,000 scholarships are to be granted to meriting students in four years.
50% quota is reserved for female students. Ehsaas scholarship is a fully-funded program, which not only encloses educational expenses but a monthly allowance will also be given to the scholars.
Main Features of Ehsaas Undergraduate Scholarship 2021
50,000 Scholarships per year

200,0000 undergraduate scholarships in 4 years

50% of seats reserved for Girls

Full tuition fee

4000 Monthly Stipend

Special Preference to disabled and students belonging to underprivileged areas
Who is eligible for ehsaas scholarship?
Eligibility Criteria for Ehsaas
Under this Ehsaas Undergraduate Scholarship program 2021, Deserving students from low-income households and undergraduate students enrolled in connected public sector institutes are capable to apply.
Only those learners are eligible who got admission on a merit basis in public sector universities. Students who obtained admission on self-finance / self-support strategy are not able to apply for the scholarship.
Moreover, those students who are availing of any other scholarship or stipend from any source are not eligible to apply.
Students already availing of any other scholarship or grant from any other source are ineligible to apply.
This program is only for the students who are regular. Distant learning students are also ineligible.
Ehsaas Scholarship program will give scholarships to the deserving pupils who apply for undergraduate degree programs.
How to Apply for Ehsaas Undergraduate Scholarship 2021?
Eligible candidates can get more information from this portal.
The detailed application form can be provided to the respective university's financial aid office.
Students are directed not to submit the application form directly to HEC or BISP.
what is the last date for ehsaas scholarship 2021?
The last date to apply for Ehsaas Undergraduate Scholarship 2021 was March 31, 2021. Those who missed the opportunity should be vigilant to avail themselves of the next chance.
Ehsaas Scholarship Deadline
The scholarship portal reopened on March 15th. The deadline for Ehsaas Undergraduate Scholarship 2021 was October 30, 2021.
How can I get ehsaas scholarship?
Students apply through an online portal to get the ehsaas scholarship.
If they meet the eligibility requirements they are selected and guided further.
Is there any test for ehsaas scholarship?
Most of the students ask a question that is there any test for Ehsaas Scholarship.
The answer is No. There will be no test administered for Ehsaas Scholarship.
What is the age limit for this program?
Age limit is set by the institution's laws. It declares that the maximum age of eligibility for the scholarship is similar as the maximum age for applying for admission in undergraduate programs at the HEI.
Who is not eligible for ehsaas scholarship?
The eligibility criteria state that the following people can not apply for the undergraduate scholarship program.
Students of two-year post-higher secondary or equal programmes,

Two-year associate degree programmes,

Master's and the nomenclature of BA/BSc programmes
The above-mentioned students are not eligible for Ehsaas undergraduate Scholarship program.