Explore AIOU BS Pakistan Studies ODL Solved Assignments for Spring 2023. Download assignments for 4-year and 2.5-year programs. Enhance exam preparation with guidebooks. Eligibility criteria and passing policy detailed.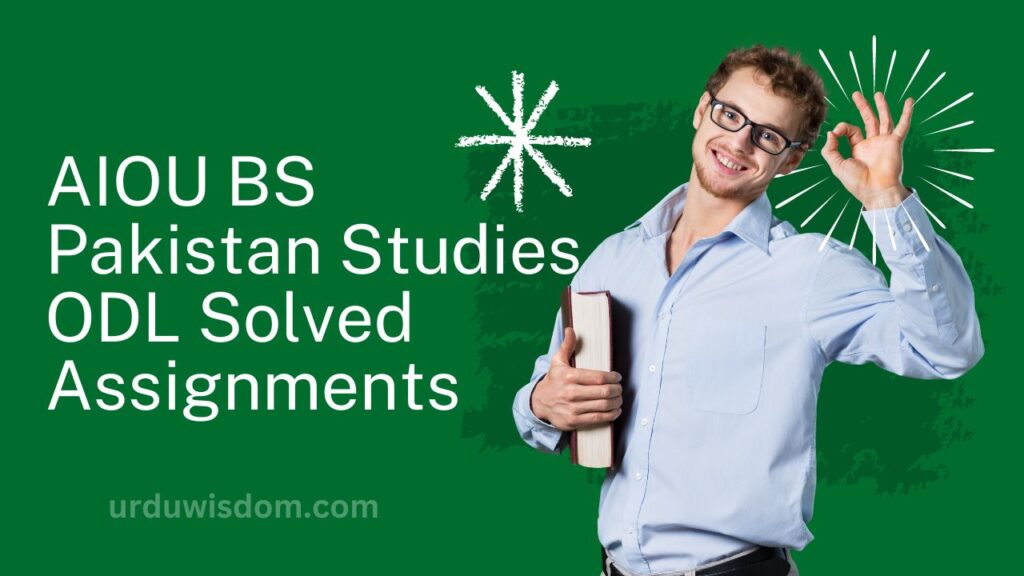 If you are currently enrolled in the BS Pakistan Studies program at Allama Iqbal Open University (AIOU), you've arrived at the appropriate destination. We are pleased to offer meticulously solved assignments tailored for both the 4-year and 2.5-year BS Pakistan Studies programs.
These assignments are conveniently downloadable from our platform. Additionally, we provide the option to acquire supplementary guidebooks, which can greatly aid you in preparing effectively for your upcoming examinations.
Eligibility Criteria:
For those aspiring to pursue a 4-year Bachelor's degree in Pakistan Studies, it's essential to have successfully cleared your intermediate exams with a minimum score of 45%. Similarly, to enrol in the 2.5-year BS Pakistan Studies program, a prerequisite is achieving a minimum of 50% marks in your intermediate exams.
Passing Criteria:
In order to successfully pass a course, a minimum of 50% marks is required in both the final examination and the cumulative score obtained from various components of the course, which encompass assignments, workshops, quizzes, and the final exam. The computation of the final grade takes into account the respective weightage assigned to each element: assignments (20%), workshops and quizzes (30%), and the final examination (50%).
AIOU BS Pakistan Studies ODL Solved Assignments – Spring 2023
BS Pakistan Studies Program (4 Years) / BS Pakistan Studies Program (2.5 Years)
Code
Book Name
No 1
No 2
4485
Introduction to Statistics
5403
Basics of ICT
PDF
PDF
9264
National & International Current Affairs I
9351
Geography of Pakistan I
PDF
PDF
9352
Ideological Foundations of Pakistan
PDF
PDF
9353
Geography of Pakistan II
PDF
PDF
9354
Foreign Policy of Pakistan I
PDF
PDF
9355
Foreign Policy of Pakistan II
PDF
PDF
9356
Pakistani Society & Culture I
PDF
PDF
9357
Archeology of Pakistan
PDF
PDF
9358
Genesis of Pakistan Movement
PDF
PDF
9359
Pakistani Languages & Literature I
PDF
PDF
9360
Political & Constitutional Development in Pakistan I
PDF
PDF
9361
Pakistani Society & Culture II
PDF
PDF
9362
Public Administration
PDF
PDF
9363
Pakistan & Neighbors
PDF
PDF
9364
Pakistani Languages & Literature II
–
–
9365
Political & Constitutional Development in Pakistan II
PDF
PDF
9366
Regional Cultures of Pakistan
PDF
PDF
9367
Economic Development in Pakistan I
PDF
PDF
9368
Urbanization in Pakistan
PDF
PDF
9369
Minorities & Human Rights in Pakistan
PDF
PDF
9370
Economic Development in Pakistan II
PDF
PDF
9371
Political Parties & Pressure Groups in Pakistan
9372
Social Change in Pakistan
9373
Constitutional Development:The Politics of Amendments
9374
Pakistan Studies
PDF
PDF
9375
Research for Development
9376
Research Reports
9377
Natural Resource Management
9401
Islamic Studies
9403
Pakistani Adab I
9404
Public Relations
9407
Compulsory English – I
PDF
PDF
9408
Compulsory English – II
PDF
PDF
9409
Compulsory English – III
PDF
PDF
9410
Introduction to Sociology: Culture & Society
PDF
PDF
9411
Population Studies
9416
English-IV
9417
Introduction to Mathematics & Statistics
9438
Methods of Social Research I: Research Process
9439
Methods of Social Research II: Tools of Data Collection
9440
Sociology of Development: Meaning & Explanation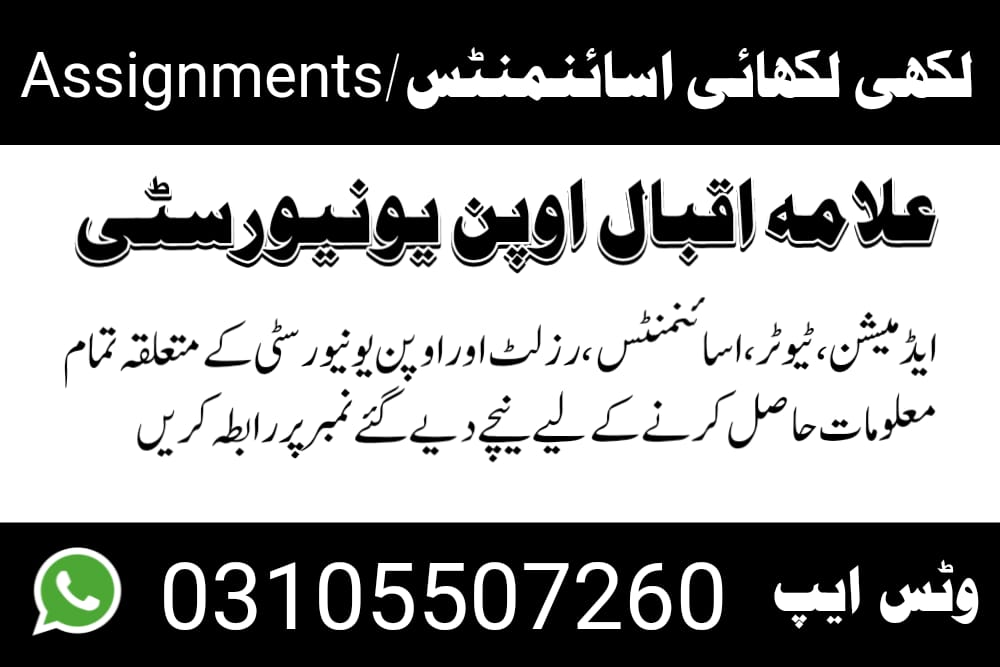 3 Credit Hours Book Assignment Submission Date Spring 2023
Assignment No 1 / Due Date
30-08-2023
Assignment No 2 / Due Date
29-09-2023
Exam Month
October / November 2023
In conclusion, our platform is dedicated to supporting students enrolled in the BS Pakistan Studies program at Allama Iqbal Open University. With accessible solved assignments for both 4-year and 2.5-year programs, along with supplementary guidebooks, we strive to facilitate effective exam preparation